Our latest GeForce Game Ready driver supports the launch of new games, and updates that further enhance your experience. And we've also got support for 3 new G-SYNC Compatible gaming monitors, and 8 new Optimal Playable Settings.
Read on to learn more, and to download and install on Windows 10 and Windows 11 systems, simply fire up GeForce Experience and click the "Drivers" tab.
Discover How We Build Game Ready Drivers, and Deliver The Best Experience For Your Favorite Games
7 years ago, we created the GeForce Game Ready Driver Program, with the goal of giving GeForce gamers the best possible experience in their favorite games. Game Ready Drivers are finely tuned in collaboration with developers and extensively tested across thousands of hardware configurations for maximum performance and reliability.
Since the program's inception in 2014, NVIDIA has launched over 150 Game Ready Drivers, with Day-0 support for over 400 games; in 2021 alone, there were 20 Game Ready Drivers with support for 75 titles. And beyond the games we list support for in our driver articles and release highlights, we have teams dedicated to Unreal Engine, Unity, and other leading development engines. This ensures the thousands of PC indie games released each year, built exclusively with the tools and features provided by said engines, run fantastically at launch.
This process involves hundreds of developers and engineers, working in tandem, and requires thousands of hours of testing each day. For the first time, we're lifting the lid on the efforts we undertake to bring you the best drivers month after month, year after year.
For even further information, head on over to our dedicated article.
Game Ready For Dune: Spice Wars
Dune is back in the spotlight, and now, 30 years after the release of the pioneering Dune II real-time strategy game from Westwood Studios, you can return to Arrakis in Funcom and Shiro Games' Dune: Spice Wars. Based on Frank Herbert's Dune novels, Dune: Spice Wars melds real-time strategy gameplay with tactical pausing and features found in popular Explore, Expand, Exploit, Exterminate 4X games.
Download and install our new Game Ready Driver for the optimum experience in Dune: Spice Wars, and learn more about the game on its official website.
Always Game Ready For New Games & Updates
Game Ready Drivers include optimizations, enhancements and more to support the latest releases and newest title updates. In this driver, we're bringing you support for:
Chernobylite's Ray Tracing Upgrade: The Farm 51's Chernobylite recreated the Chernobyl Exclusion Zone with 3D scanned photogrammetry, and inserted otherworldly elements to create a survival horror game that exited Early Access last year with support for NVIDIA DLSS. In its newest post-release update, ray-traced reflections, ray-traced translucent reflections, ray-traced mesh caustics and ray-traced water caustics have been introduced, giving players an even-better experience.
JX3 Online's DLSS Update: JX3 Online is a martial arts massively multiplayer online role-playing game that's been entertaining PC gamers in China since 2009. On April 28th, JX3 Online will be updated with support for an updated version of DLSS, improving image quality for its millions of players.
Vampire: The Masquerade - Bloodhunt's Early Access Launch: Bloodhunt is a free-to-play battle royale set in Prague, which at night is consumed by a ruthless war between vampire clans. Use your supernatural powers, weapons, and wit to hunt your rivals and dominate the night.
Support For Newly Validated G-SYNC Compatible Displays
Our newest Game Ready Driver also adds support for 3 new G-SYNC Compatible displays that deliver a baseline Variable Refresh Rate (VRR) experience that makes your gaming smoother and more enjoyable.
| | | | | | | |
| --- | --- | --- | --- | --- | --- | --- |
| MANUFACTURER | MODEL | HDR | SIZE | LCD Type | Resolution | VRR Range |
| ASUS | ROG XG259CM | Yes | 25" | IPS | 1920x1080 | 48-240Hz |
| Galaxy | VI-01 | Yes | 27" | IPS | 2560x1440 | 48-165Hz |
| Samsung | G95NA | Yes | 49" | VA | 5120x1440 | 60-240Hz |
These newly-validated monitors give gamers even more choice when searching for a great gaming display. For a complete list of all G-SYNC, G-SYNC ULTIMATE, and G-SYNC Compatible gaming monitors, check out our handy and frequently updated G-SYNC page, which can be sorted and filtered, helping you quickly find the ideal display.
New Games Supported By GeForce Experience's Optimal Settings
GeForce Experience's one-click optimal settings enable you to instantly configure game options for your system's hardware, giving you smooth, optimized gameplay. Over 1000 titles are supported, and since our last driver release we've added support for 8 more:
Death Stranding: Director's Cut

Elex II

Ghostwire: Tokyo

GRID Legends

LEGO Star Wars: The Skywalker Saga

Martha Is Dead

The Planet Crafter

Tiny Tina's Wonderlands
GeForce Experience also enables you to capture and stream your gameplay, take screenshots, upload videos to social networks, and more. For all the details, head here.
Genshin Impact GeForce Reward: Claim Now!
Genshin Impact needs little introduction, being one of the most played and watched games since its free-to-play launch in 2020. Frequent updates constantly expand the game, adding new landmasses and quests for players to experience alone or with 3 friends in online co-op. And with an engrossing story, excellent gameplay, and much-loved characters, Genshin Impact has cemented itself as one of the world's best games.
To celebrate the recent release of Genshin Impact's newest update, Zephyr of the Violet Garden, we've teamed up with developer miHoYo to gift GeForce gamers with a complimentary Genshin Impact GeForce Bundle, containing key items that'll help you in your adventures.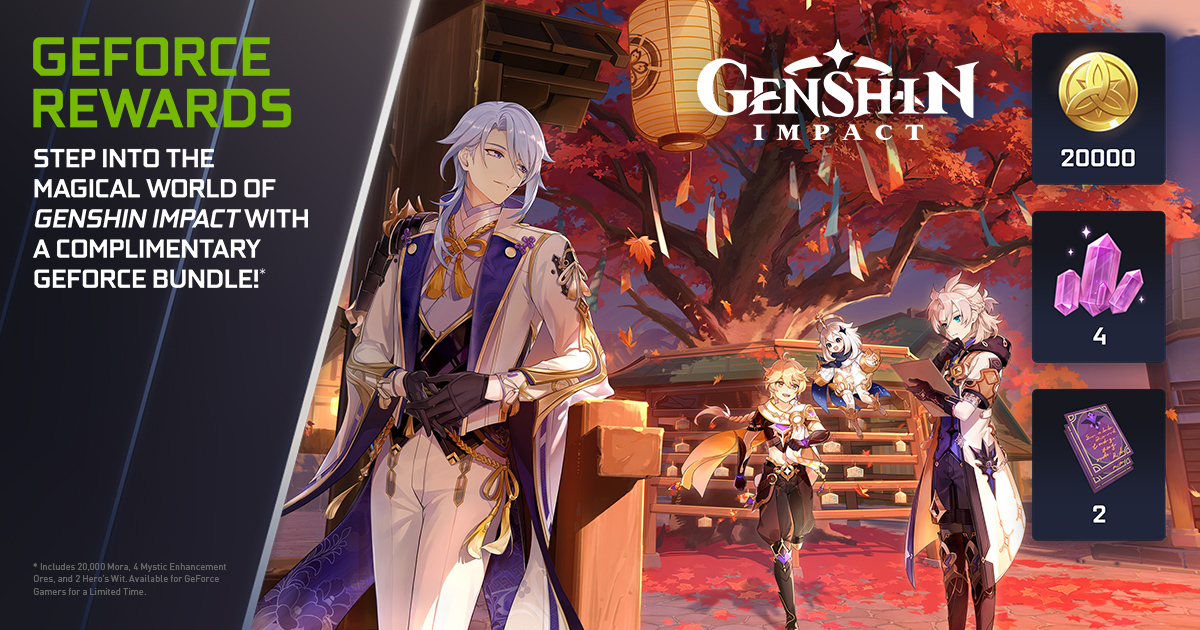 Head here to discover how you can claim the bundle via GeForce Experience.
Introducing Reflex Stats: Automatic, Easy Latency Measurement In GeForce Experience
If you've got GeForce Experience installed, and play Bright Memory Infinite, Fortnite, Rust, or Valorant, you can now use a new feature called NVIDIA Reflex Stats.
Hit Alt+R during gameplay to set up latency measurement, and Reflex will take care of the rest, showing you full system latency, and even total end-to-end system latency with a compatible NVIDIA Reflex mouse and monitor. Head on over to our dedicated NVIDIA Reflex article to learn more.
Plus, you learn about all the other new goings on in the world of NVIDIA Reflex, which makes games more responsive.
GeForce Game Ready Driver - Download Now
Learn more about GeForce Game Ready Drivers here; download the new GeForce Game Ready 512.59 WHQL driver through GeForce Experience.
If you experience any technical issues with the new Game Ready drivers please post a detailed report on the GeForce.com Driver Feedback Forum, where our Customer Care team can better assist you. And if you're looking for a full list of fixes in this driver, for previously-reported issues, head here.