Ray tracing and AI technologies are revolutionizing the way we play and create, and at the forefront of this game-changing movement is NVIDIA RTX, the fastest and most advanced platform for bleeding-edge applications and games.
GeForce RTX RT Cores power ray tracing workloads at previously unimaginable speeds, NVIDIA development tools and initiatives enable developers to make incredible content in record time, and NVIDIA DLSS accelerates performance without sacrificing image quality, giving GeForce gamers the definitive experience.
NVIDIA DLSS is now available for every major game engine, allowing anyone to add its technology to any game. Since the launch of DLSS, over 180 games and applications have added the tech, and today at COMPUTEX 2022 we're unveiling the addition of NVIDIA DLSS to another 12 games, including Deep Rock Galactic, F1® 22, LEAP, Ghost, Loopmancer, Hitman 3, Hydroneer, Propnite, Raji: An Ancient Epic, Vampire: The Masquerade - Swansong, Turbo Sloths, and Warstride Challenges.
For all the details and exclusive new RTX trailers, keep reading.
HITMAN 3 Adds NVIDIA DLSS and Ray Tracing To Its Loadout May 24
IO Interactive's critically acclaimed HITMAN 3 is in its second year of free updates and tomorrow sees the addition of NVIDIA DLSS, ray-traced opaque reflections, ray-traced shadows, and a ton of content.
Enabling ray tracing on a GeForce RTX GPU, desktop or laptop will greatly enhance the fidelity and richness of HITMAN 3's expansive maps. And using NVIDIA DLSS, you can accelerate performance when assassinating Agent 47's targets in the game's bustling cities, country estates, and secure areas you've infiltrated.
With all options maxed out and ray tracing enabled, NVIDIA DLSS boosts your HITMAN 3 frame rates by more than 2X at 4K.
F1® 22 Launches July 1 With NVIDIA DLSS & Ray Tracing
Codemasters' Formula 1Ⓡ racing games have featured NVIDIA RTX technology since 2020, and this year's installment, F1Ⓡ 22, cranks RTX to eleven. For those with GeForce RTX GPUs, desktops and laptops, you can enhance your experience with ray-traced opaque reflections, ray-traced transparent reflections, ray-traced ambient occlusion, and ray-traced shadows. And of course, you can accelerate everything with NVIDIA DLSS, which more than doubled performance in F1Ⓡ 2021.
Check back closer to F1Ⓡ 22's launch in July for our usual slate of benchmarks, and head over to Codemasters' YouTube channel to see a whole lot more of the new game.
Deep Rock Galactic NVIDIA DLSS & DLAA Update Available Now
Ghost Ship Games' Deep Rock Galactic is a continually evolving, frequently updated 1-4 player co-op action game where your band of dwarven, space-exploring miners must head into the depths of a critter-filled asteroid to acquire resources and extract safely. With dozens of enemies on-screen simultaneously, weapon visual effects everywhere, and fully destructible environments, frame rates can struggle at higher resolutions, which is why Ghost Ship Games brought NVIDIA DLSS to Deep Rock Galactic in a recent update.
Drilling down into the options to enable NVIDIA DLSS will boost performance by up to 60% for your GeForce RTX system, giving you the headroom to enjoy Deep Rock Galactic at absolute max settings: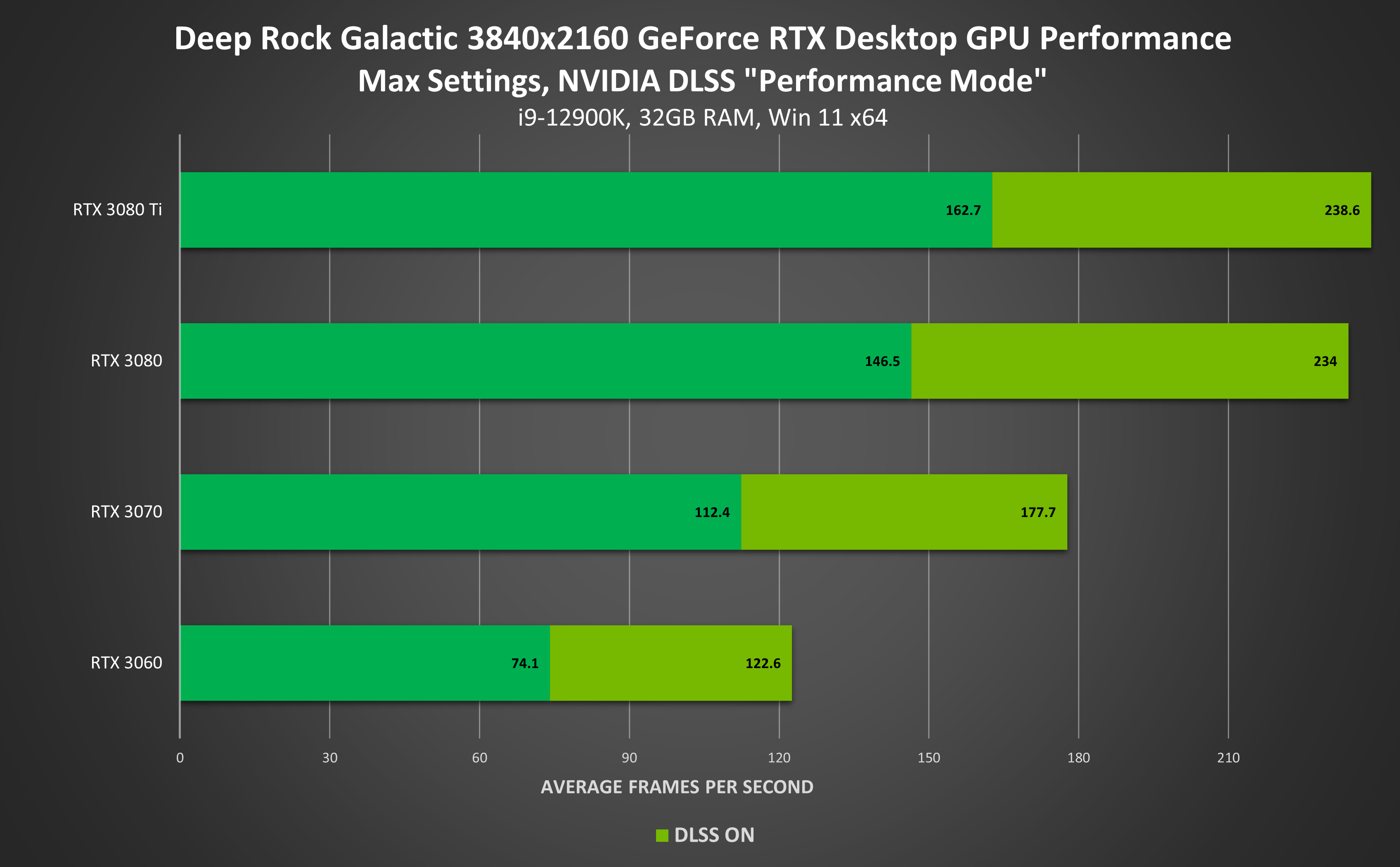 If you've got a higher-end system that's already running at excellent frame rates, you can alternatively enable NVIDIA DLAA in the options. NVIDIA DLAA (Deep Learning Anti-Aliasing) is an AI-based anti-aliasing mode for users who have spare GPU headroom and want higher levels of image quality. DLAA uses the same technology developed for DLSS, but works on a native resolution image to maximize image quality instead of boosting performance.
Loopmancer Launches This Summer With NVIDIA DLSS & Ray Tracing
eBrain Studio's Loopmancer turned heads at last year's E3, grabbing attention with its stylish action and detailed future cyberpunk city. Playing as a detective in this roguelite-platformer action game, you're caught in a death-loop and you'll need to find answers as to why you wake back up in your apartment in Dragon City, in the year 2046, each time you die.
Using freely-available Unreal Engine 4 features, plugins and SDKs, eBrain Studio has rapidly and easily added NVIDIA DLSS and ray-traced reflections to Loopmancer, giving GeForce RTX gamers the best possible experience.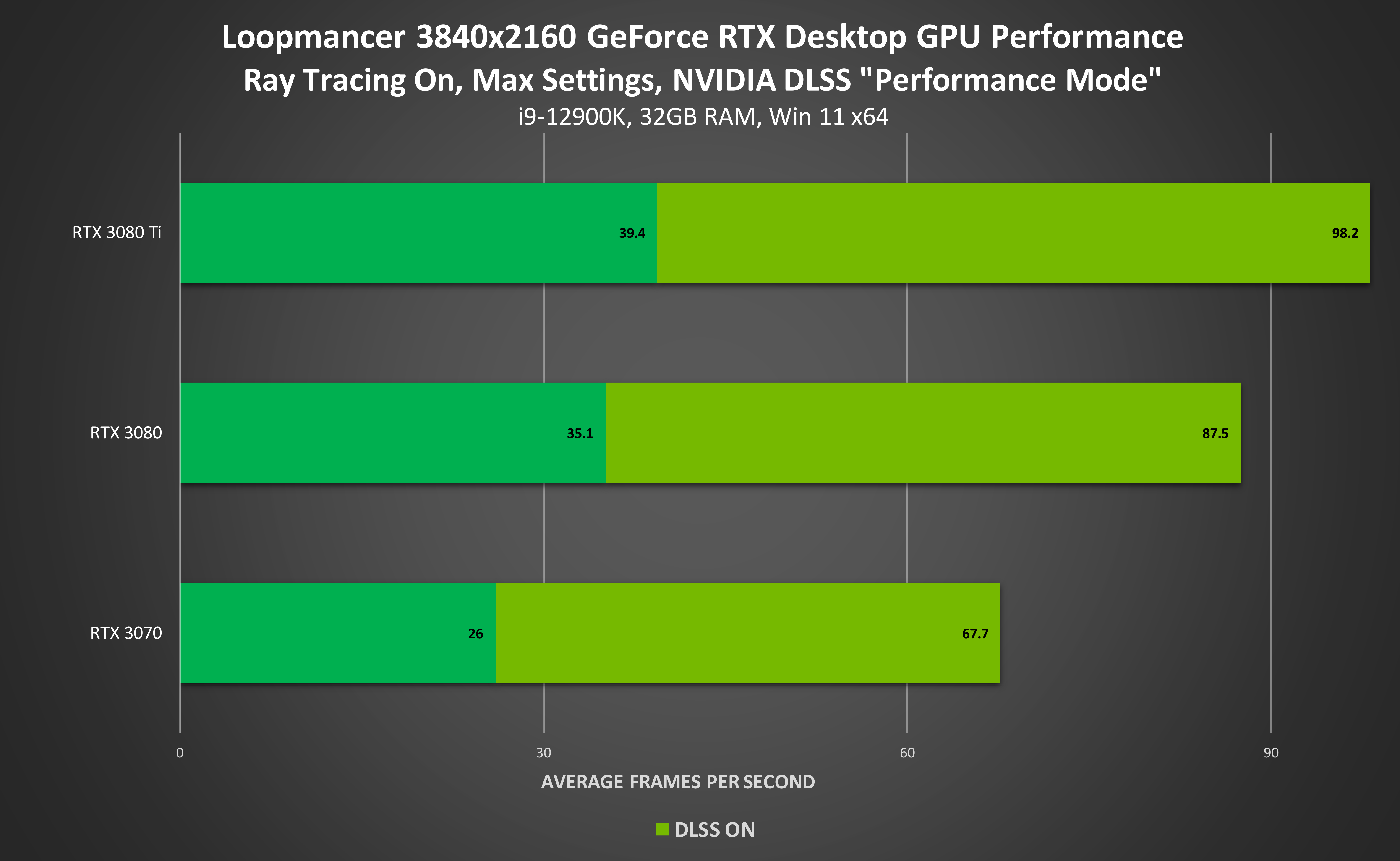 When NVIDIA DLSS is enabled, performance leaps by over 2X, enabling you to enjoy Loopmancer maxed out at 4K with ray tracing enabled.
Unsure if the game's for you? Download the free NVIDIA DLSS-enhanced Loopmancer demo on Steam.
Warstride Challenges Now Available With NVIDIA DLSS & Reflex
Blast hordes of demons at lightning speed in bloody gunfights, and race against the clock to overcome everything that comes your way, in the recently released Early Access shooter, Warstride Challenges. Die and retry to get the highest score in increasingly intense trials, create and share your own runs, and attempt to be the best at the hundreds of levels created by the community.
In this twitch shooter, where speed and aim precision are at the core of the experience, NVIDIA DLSS and NVIDIA Reflex have been added to unlock your full potential. With both enabled, you'll boost performance by more than 2X at 4K, and lower system latency by up to 53%.
And paired with a high refresh rate NVIDIA Reflex esports G-SYNC gaming monitor, you'll have the very best setup to go for the highest scores in Warstride Challenges.
LEAP's High-Speed FPS Action Gets Even Faster With NVIDIA DLSS
Available June 1st on Early Access, LEAP is a fast-paced, multiplayer first-person team-based shooter, featuring epic battles of up to 60 players, each armed to the teeth. Developed by Blue Isle Studios, LEAP pits players against one another in a variety of Competitive game modes featuring high-flying battles. Or, jump into the Special Operations mode and join forces with a team of up to 4 players to work cooperatively through a series of missions as you face off against hordes of enemies. Choose from one of 4 unique classes, each equipped with a powerful arsenal of weapons and game-altering abilities.
For the fastest experience possible, play with a Geforce RTX GPU in your arsenal to boost your performance by more than 2X with NVIDIA DLSS.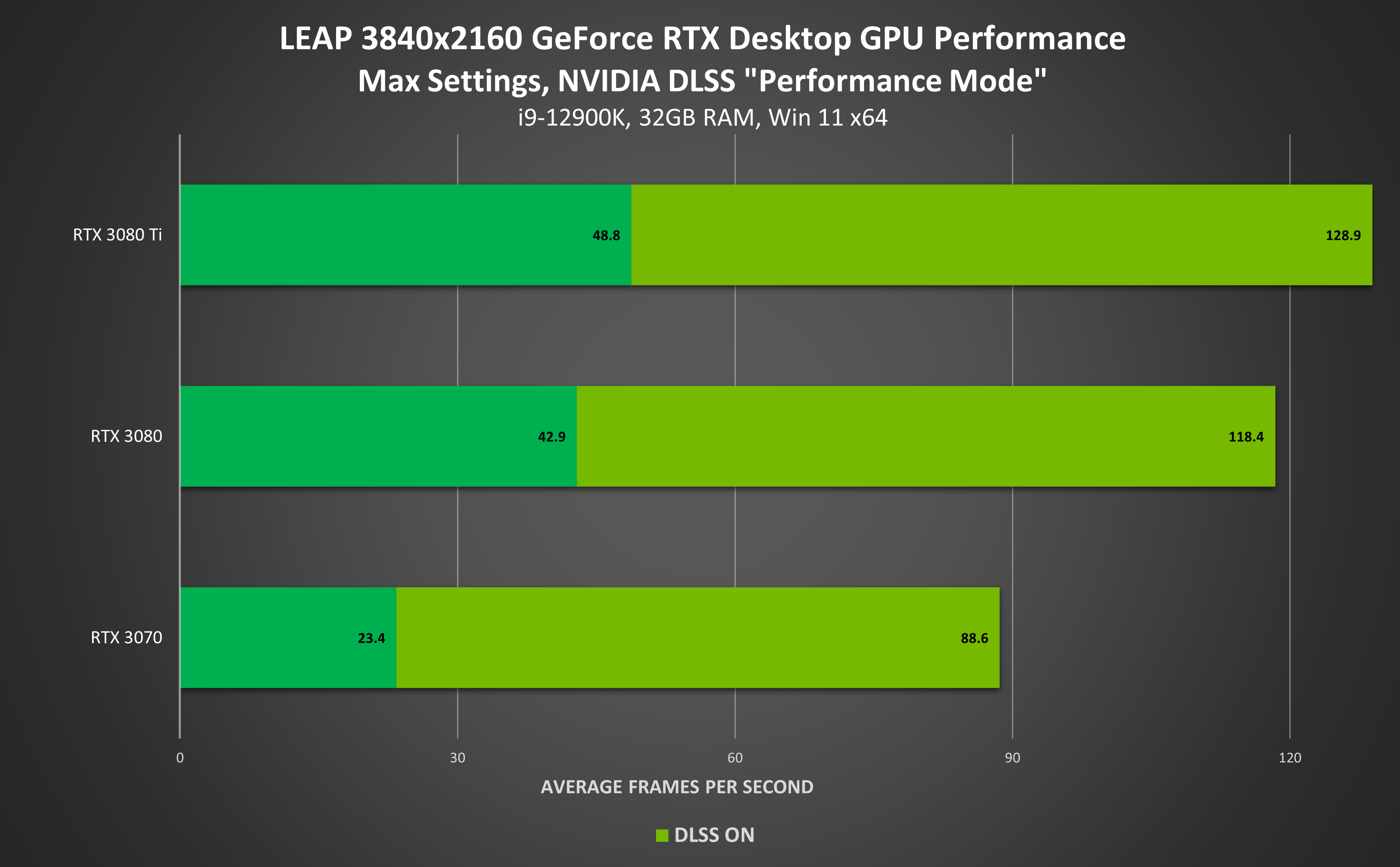 Vampire: The Masquerade - Swansong Is Out Now and Enhanced With NVIDIA DLSS
Available now on the Epic Games Store, Vampire: The Masquerade - Swansong is a new narrative RPG set in the popular Vampire universe, giving players three storylines to shape with important life and death decisions. Progress through the game through their intertwined destinies, deal with their different points of view and use their character sheets to try to separate the truth from the lies. Each character has their own abilities and vampiric disciplines that you can upgrade individually to suit your preferred approach. Will you choose intimidation, seduction, or stealth? It's your decision, as long as you can sate your Hunger for blood.
For the most cinematic experience possible, you'll want to crank up the resolution and detail levels to the max, and with NVIDIA DLSS you can do just that on all GeForce RTX 30 Series GPUs at 4K, where DLSS boosts performance by more than 2X.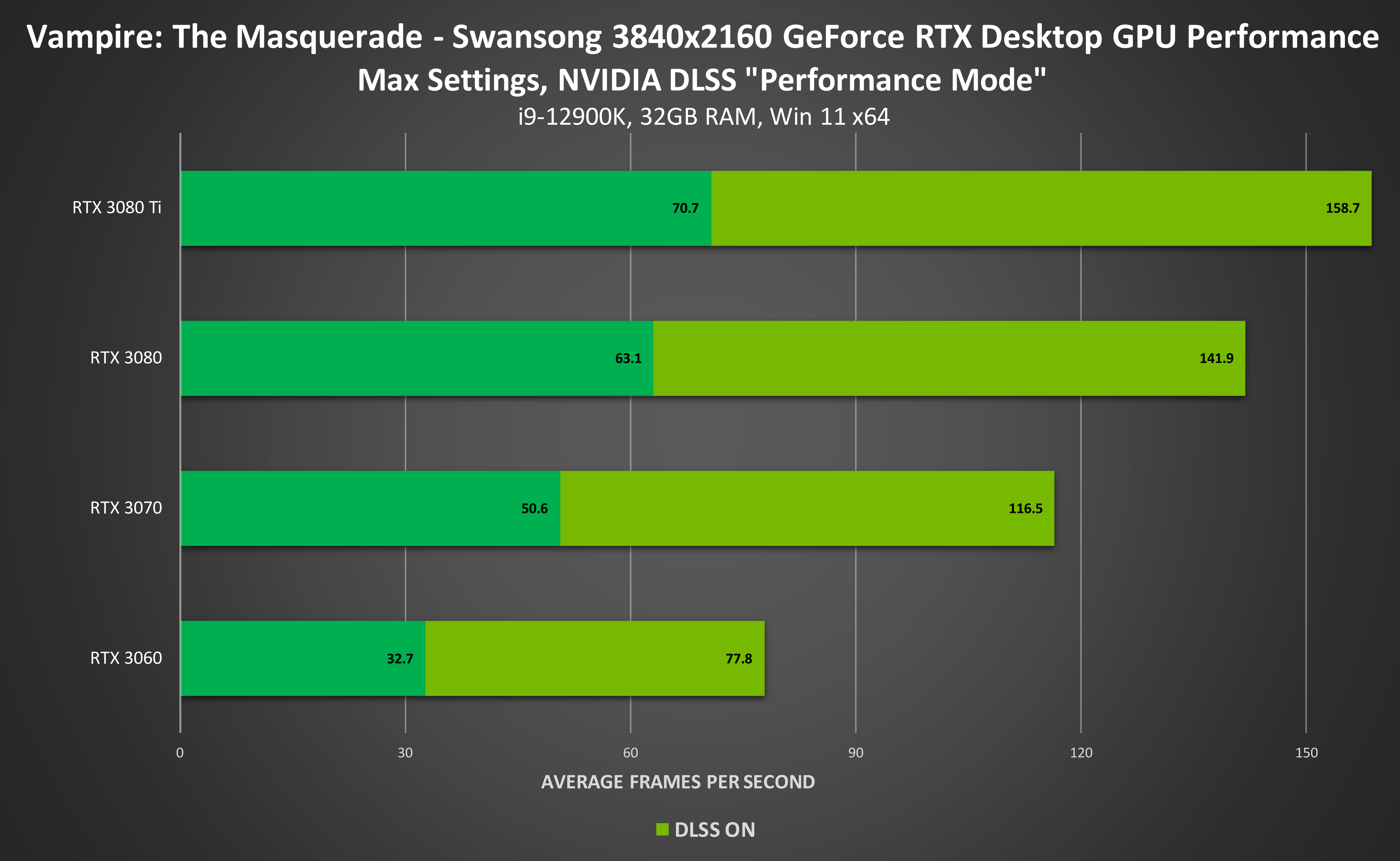 Raji: An Ancient Epic Enhanced Edition Launches May 24 With NVIDIA DLSS & Ray Tracing
Raji: An Ancient Epic is a well-received 2020 indie action adventure game from Nodding Heads Games, set in ancient India, inspired by Hindu and Balinese mythology. Tomorrow, a massive, free, Enhanced Edition update will be released, introducing NVIDIA DLSS, ray-traced reflections, ray-traced ambient occlusion, ray-traced shadows, gameplay changes, and more.
With every setting maxed out, and all ray tracing features enabled, NVIDIA DLSS boosts performance by up to 3X at 4K, and boosts performance by more than 2X at other resolutions, enabling you to experience Raji: An Ancient Epic in all its glory at over 60 FPS.
Turbo Sloths Races Out Of The Gate With NVIDIA DLSS & Ray Tracing This Summer
Craft a massive multi-ton metallic racing car, and slap ludicrous boosters to it to achieve speeds of over 400 km/h in RainStyle Games' Turbo Sloths, an action racer that launches this Summer. If you own a GeForce RTX GPU, desktop or laptop, you can enhance your experience with NVIDIA DLSS, ray-traced reflections, and ray-traced shadows, all of which will be available at launch.
Activating all this tech at 4K will require some serious power, which is where NVIDIA DLSS races into frame. Switch it on with a few clicks, and boost performance by more than 2X in the blink of an eye: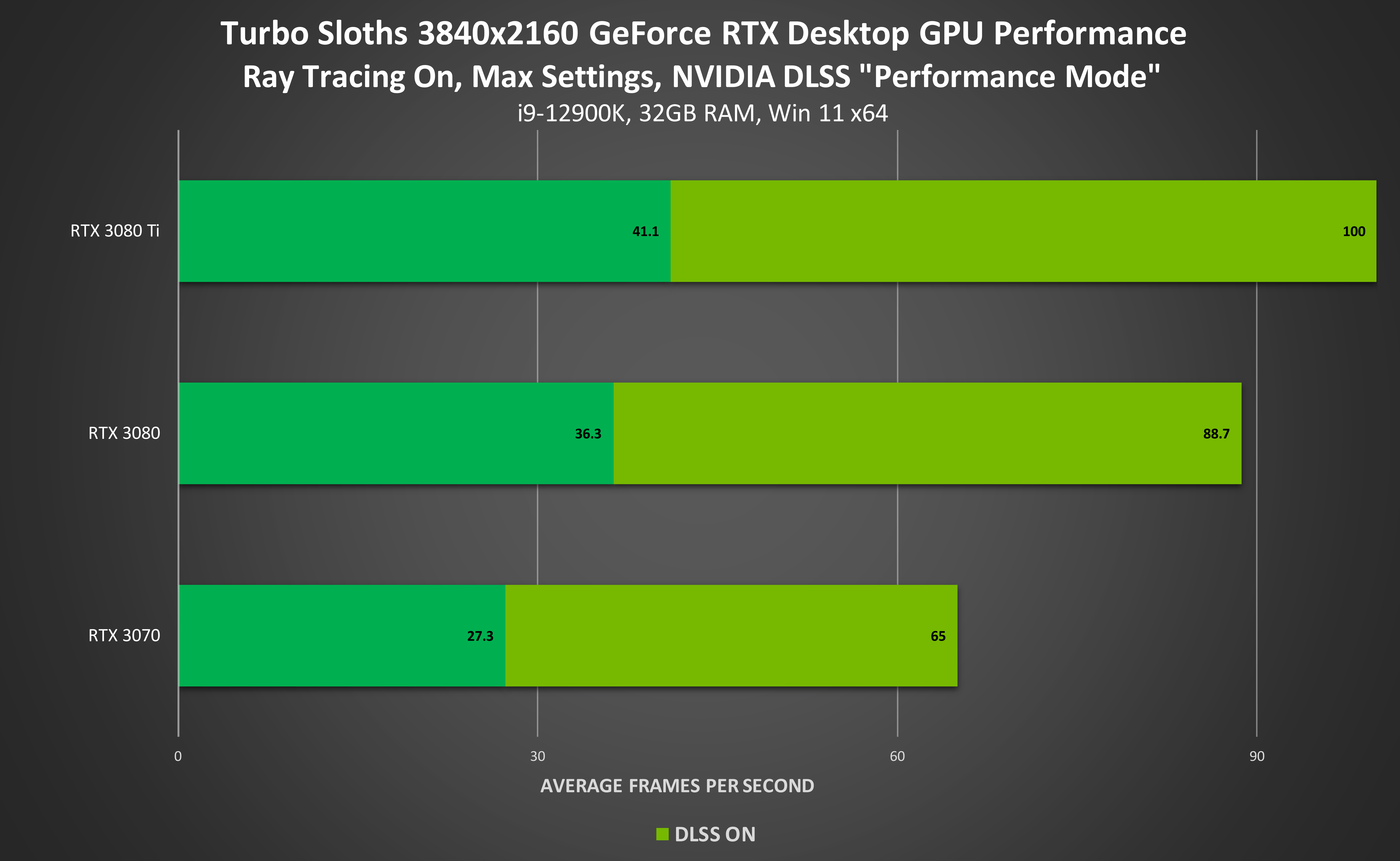 Propnight Adds NVIDIA DLSS May 24
FNTASTIC's Propnight is a 4 vs. 1 multiplayer physics-based prop hunt mixed with classic horror survival. Possess any object in an effort to hide from the killer, and when their back is turned, repair Propmachines to escape the level and live to fight another day.
Tomorrow, May 24th, a new Propnight update and add-on hits Steam, and inside is a special treat: NVIDIA DLSS support which boosts performance by up to 85% at 4K.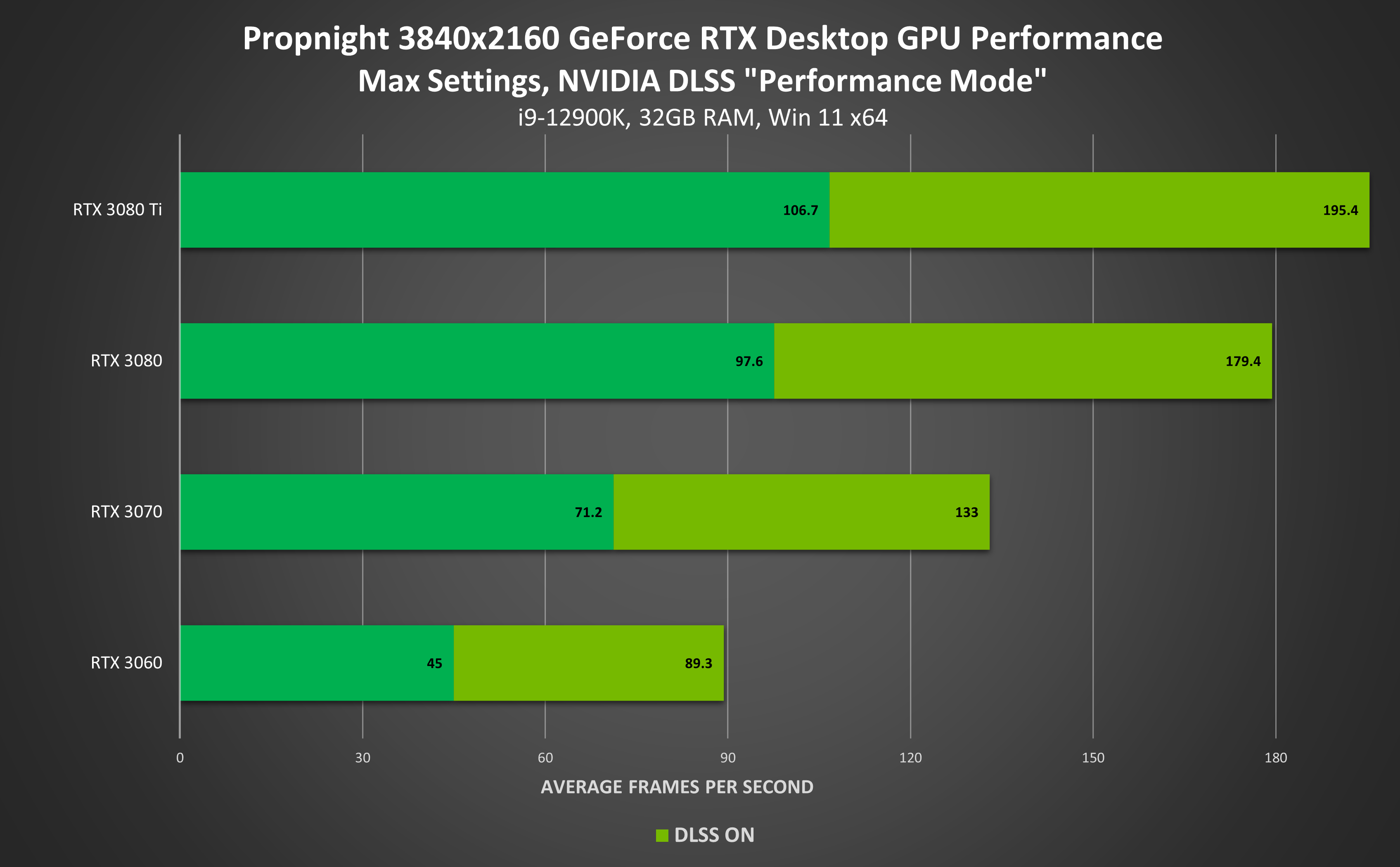 Hydroneer NVIDIA DLSS Update Available Now
Foulball Hangover's Hydroneer is a highly rated mining and base building sandbox indie game that earlier this month celebrated its second anniversary with a giant v2.0 update.
Alongside the many changes, enhancements, and additions is NVIDIA DLSS, which boosts performance by up to 50%, enabling every GeForce RTX gamer to play at 4K with max settings at over 60 FPS: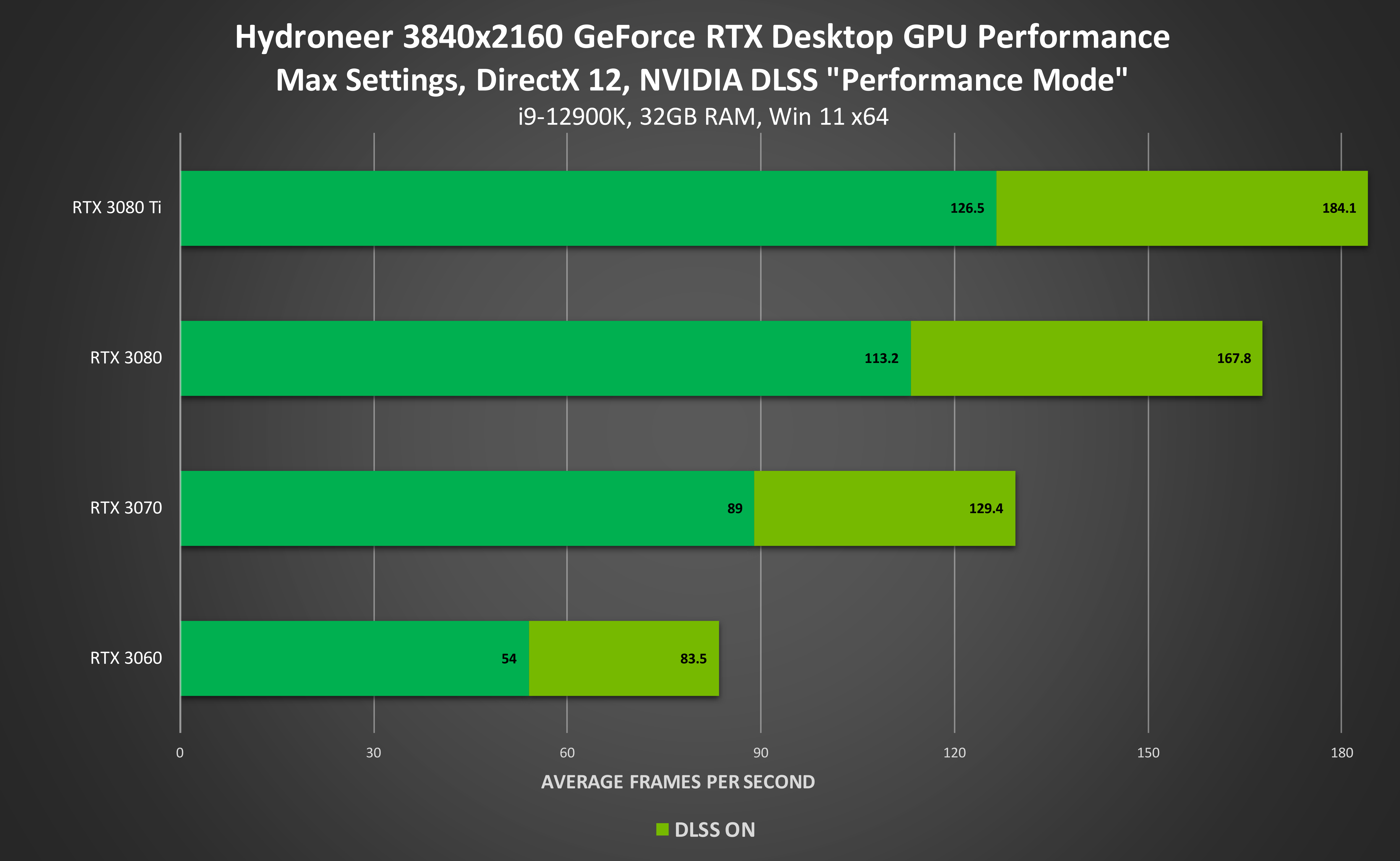 Ghost NVIDIA DLSS Update Available Now
Based on classic Chinese ghost stories, NetEase's first fantasy online game, Ghost, leverages real world myths, legends and historical events to tell the story of the three realms of existence. Players can enjoy the long-running game with its ancient stylized visuals, thrilling MMO combat, and extensive social featureset.
At 4K, with all settings maxed out, NVIDIA DLSS accelerates performance by up to 70%, enabling every GeForce RTX gamer to experience and enjoy Ghost at its absolute best: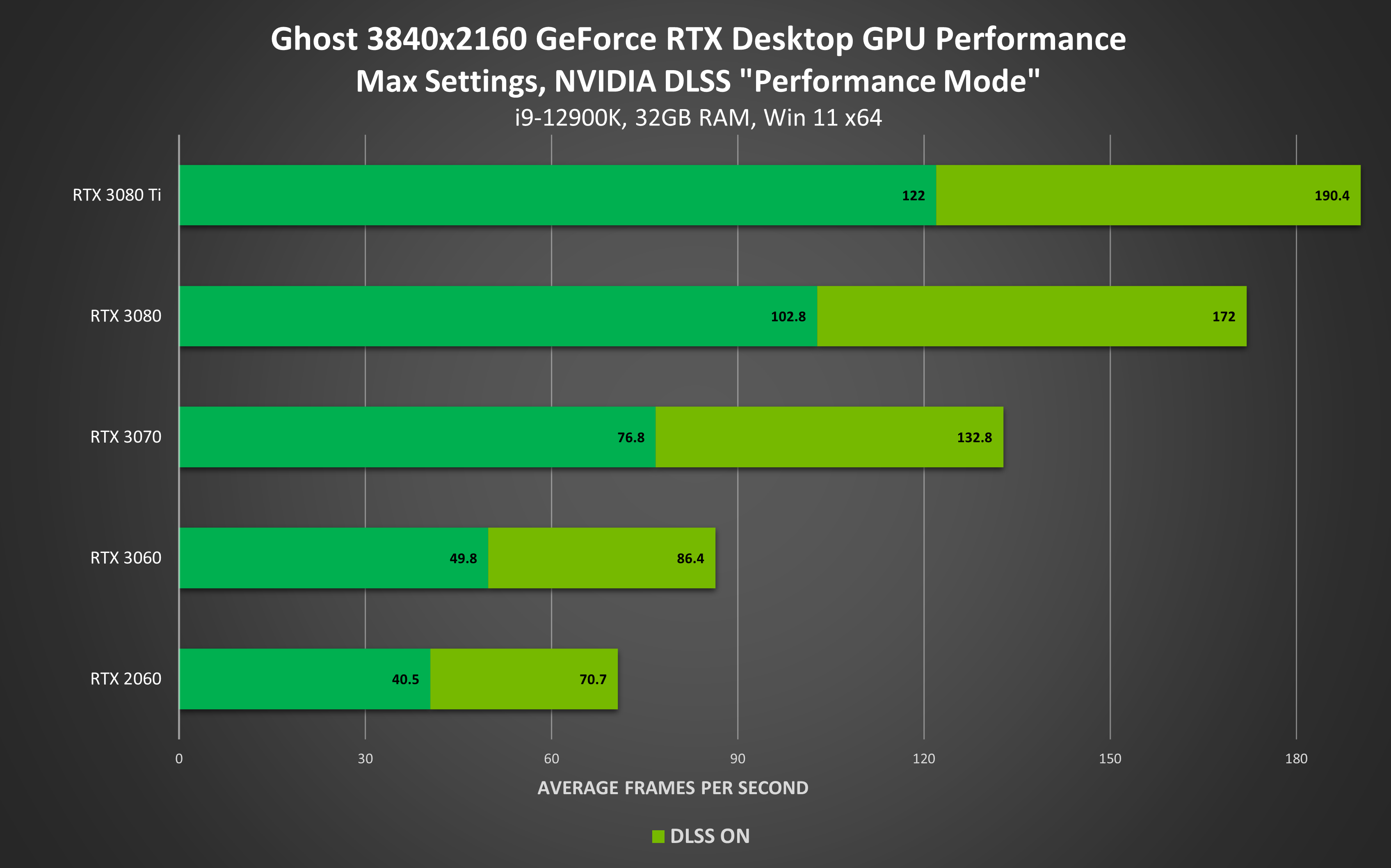 As Always, There's More To Come
To learn what's next for NVIDIA DLSS, and which games are going to add the game-changing technology in the near future, stay tuned to GeForce.com. Each month sees adoption of NVIDIA RTX expand, so be sure to come back soon to learn which games are going to be the next to benefit.
Also, be sure to check out our COMPUTEX 2022 News Roundup. We've announced new NVIDIA Reflex games, next-gen 500Hz gaming monitors, new GeForce RTX and NVIDIA Studio laptops, and more.