Inspired by the iconic horror, humor and action of the Evil Dead franchise, Evil Dead: The Game brings the series' biggest characters together in a pulse-pounding battle with the forces of darkness. Work as a team of four survivors to kick Deadite butt and banish the vile Kandarian Demon. Or become the Demon yourself, using its powers of possession to stop the good guys dead and swallow their souls in exciting multiplayer matches.
When you're playing with up to three others to stop the forces of evil, using the classic Boomstick and chainsaw combo, or hunting down Ash as evil, you can ramp up performance and image quality using NVIDIA DLSS.
NVIDIA DLSS is our groundbreaking AI rendering technology that's available in over 180 games and apps that increases graphics performance using dedicated Tensor Core AI processors on GeForce RTX GPUs. By tapping into the power of a deep learning neural network, we boost frame rates significantly, and generate beautiful, sharp images for your games.
If you own a GeForce RTX graphics card, desktop or laptop, simply enable NVIDIA DLSS in the options and you can accelerate performance by up to 85% at epic settings, allowing all users with a GeForce RTX 3060 Ti or above to play Evil Dead: The Game at over 60 FPS at 4K:
To ensure maximum performance in Evil Dead: The Game, be sure to download and install our latest Game Ready Driver from GeForce.com or GeForce Experience (discover why keeping your drivers up to date is so important in this article).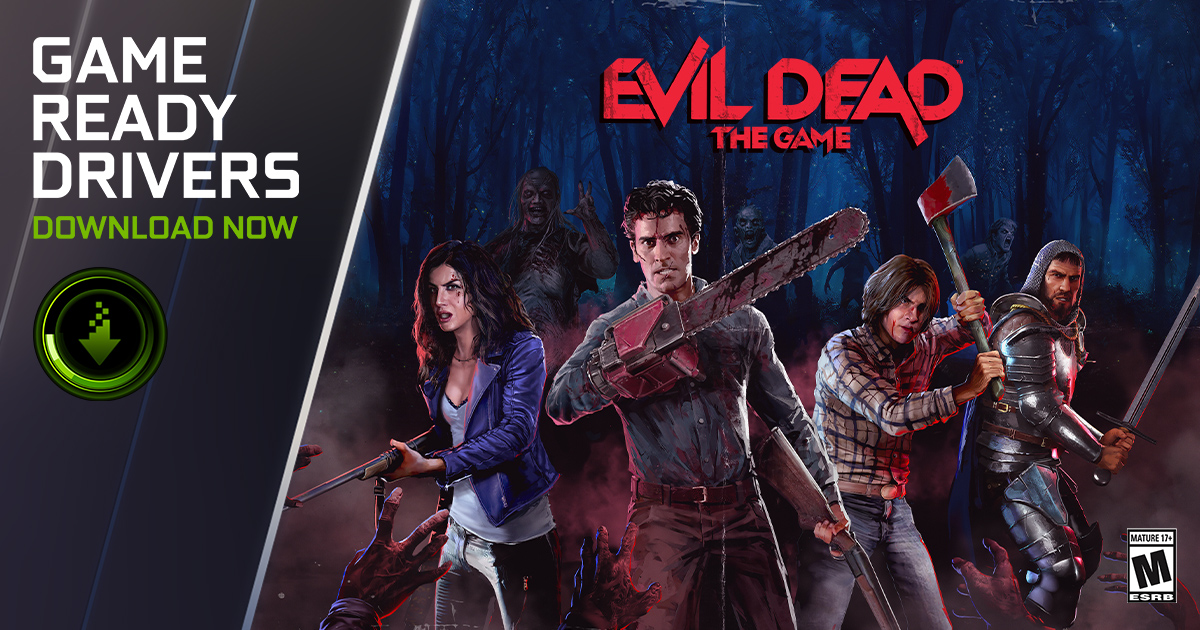 And if you don't have a GeForce RTX PC or laptop, you can still get some Evil Dead: The Game action, enhanced with NVIDIA DLSS, by streaming it from the cloud with NVIDIA GeForce NOW. Members can play over 1,000 of the real and full PC versions of games they already own from Steam, Epic Games Store, Ubisoft Connect, and GOG.com.
GeForce NOW's RTX 3080 Membership gives you the power of a GeForce RTX 3080-class PC in the cloud, enabling streaming sessions at up to 4K on PC and Mac, 4K HDR on NVIDIA SHIELD, and up to 120 FPS on select Android devices.
Head over to the GeForce NOW website to learn more, buy Evil Dead: The Game on the Epic Games Store, and get further info about the game on the official website.
THE EVIL DEAD™ and its related characters are copyrighted trademarks of Renaissance Pictures, LTD. exclusively licensed to Diversion3 Entertainment, LLC. EVIL DEAD is a registered service mark of Renaissance Pictures LTD. All rights reserved. EVIL DEAD 2: DEAD BY DAWN™ is a trademark of STUDIOCANAL S.A.S. All Rights Reserved. © 2022 STUDIOCANAL S.A.S. All Rights Reserved. ARMY OF DARKNESS © 1993 Orion Pictures Corporation. ARMY OF DARKNESS and its related trademarks, logos, characters, and other materials ™ Orion Pictures Corporation & © 1993-2022 Metro-Goldwyn-Mayer Studios Inc. All Rights Reserved. ASH VS EVIL DEAD © 2022 STARZ Entertainment, LLC. All Rights Reserved. EVIL DEAD: THE GAME programming and content is © 2022 Evil Dead GameCo, LLC, assigned under license to Boss Team Games, LLC Additional Game Design ™ and © Diversion3 Entertainment, LLC. All Rights Reserved.