Here at NVIDIA we never stop in our quest to bring you ever-better experiences, faster GPUs, laptops for every need, and tons of other innovations that you won't find anywhere else. At this week's COMPUTEX 2022, NVIDIA made many announcements; everything GeForce is summarized below, and you'll find our full breadth of NVIDIA news in our keynote.
So read on to learn about new RTX games, new Reflex games, new GeForce RTX and NVIDIA Studio laptops, and a groundbreaking new 500Hz G-SYNC esports gaming monitor.
12 More Games Add DLSS , Including F1Ⓡ 22 & HITMAN 3
Each month we work with developers to enhance games with NVIDIA DLSS and other RTX technologies, giving GeForce gamers the definitive experience. To date, over 250 games and applications have added RTX technologies, and at COMPUTEX 2022 we announced that DLSS is headed to another 12 games.
Headlining the new additions are F1Ⓡ 22 and HITMAN 3, which are both introducing support for NVIDIA DLSS and ray-traced effects. DLSS is also coming to or has just launched in Deep Rock Galactic, LEAP, Ghost, Loopmancer, Hydroneer, Propnight, Raji: An Ancient Epic, Vampire: The Masquerade - Swansong, Turbo Sloths, and Warstride Challenges.
Check out NVIDIA DLSS and RTX videos for the games below, and head to our dedicated COMPUTEX 2022 RTX Games article to learn more about each title.
NVIDIA Reflex Coming To ICARUS, My Time At Sandrock, and More
NVIDIA Reflex is a must-have in games, reducing system latency so your actions occur quicker, making you more competitive in multiplayer matches, and making single-player titles more responsive. It's available in the most popular multiplayer and esports games, supported on GeForce graphics cards dating back to the 900 Series, and it takes only a single click to enable.
NVIDIA Reflex is used by over 20 million players each month, making it one of NVIDIA's most successful technologies. And as more players jump on board, more developers do, too. Each month, more add NVIDIA Reflex to their games, with over 35 available already, and another four coming soon.
At COMPUTEX 2022, we announced NVIDIA Reflex is coming to ICARUS in June, and My Time At Sandrock when it launches into Early Access on May 26. Additionally, Reflex has just launched in Warstride Challenges and Soda Crisis.
See how NVIDIA Reflex helps reduce system latency in the videos and charts below, and check out our dedicated COMPUTEX 2022 NVIDIA Reflex article for further information.
New GeForce RTX and NVIDIA Studio Laptops Announced, Now Over 180 Designs!
The demand for laptops has exploded in recent years. Today's models deliver the performance to play the latest games at high detail levels and accelerate workloads in creative and science applications, can connect to multiple high-resolution displays when you're at home or in the office, and when you're on the go have excellent battery life.
For anyone wanting to game or work in a broad range of applications, GeForce laptops have been the go-to for the longest time. And NVIDIA innovations such as DLSS, hardware-accelerated ray tracing, AI, and NVIDIA Broadcast have raised demand to record levels. In the last year alone, there's been a 35% growth in GeForce gaming laptop sales, and a 3X leap in sales of NVIDIA Studio laptops targeted at creatives and professional users of GPU-accelerated apps.
At COMPUTEX 2022, even more GeForce RTX and NVIDIA Studio laptops are being unveiled, bringing the total number of available designs to over 180. Built in a variety of form factors, from dual-screen, easel, and convertible, to portable powerhouses with G-SYNC and 4K displays, you're bound to find the perfect laptop for your needs.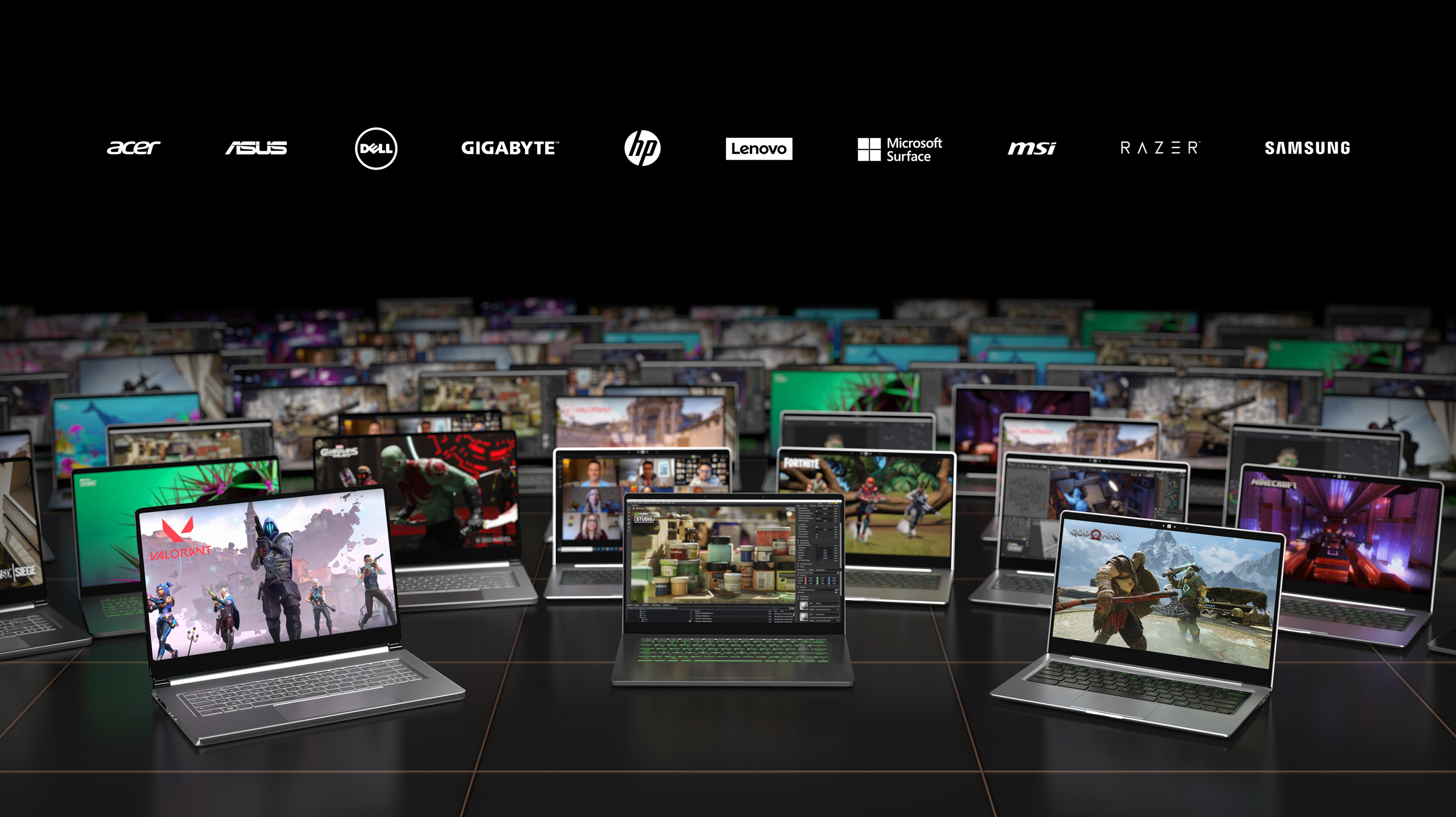 Head over to our COMPUTEX 2022 laptop article to learn more about how GeForce RTX and NVIDIA Studio enhance your experience, and to see some of the new laptops unveiled at the show.
Next-Gen 500Hz G-SYNC Esports & NVIDIA Reflex Gaming Monitors Unveiled
Ever since we revolutionized gaming monitors with the launch of G-SYNC in 2013, we've worked with our partners, and panel manufacturers such as AU Optronics, to craft faster and even-better displays. Less than a decade later, we've now got G-SYNC gaming monitors and TVs in every combination of size, speed and resolution that you could want, but progress still doesn't stop.
At COMPUTEX 2022, we're introducing the newest member of the NVIDIA G-SYNC family - the ASUS ROG Swift 500Hz Gaming Monitor. This 500Hz display has been designed from the ground up for esports, using a brand new "Esports TN panel" for maximum motion clarity. It also boasts NVIDIA G-SYNC Esports Mode with adjustable esports vibrance, and of course complete NVIDIA Reflex Analyzer support, allowing users to measure end to end system latency when using a NVIDIA Reflex mouse and GeForce GPU.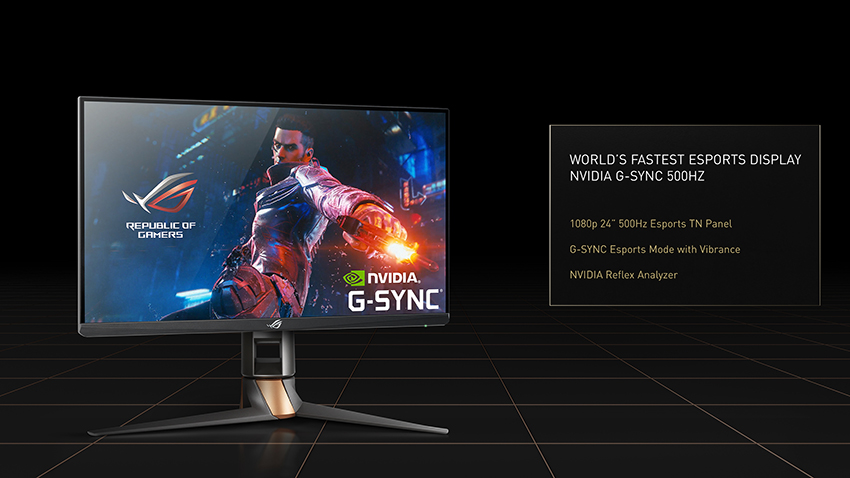 500Hz G-SYNC Esports displays are even faster, have even lower response times, and are specifically tuned for competitive games such as CS:GO, Valorant, Overwatch, and Rainbow Six Siege. Load up the video below to see how this new, cutting-edge display technology further improves target tracking, and allows competitive gamers to spot enemies even sooner:
Flick over to our COMPUTEX 2022 NVIDIA Reflex article to learn more about Reflex and to see how it helps make you a better gamer. You'll also find news about the new ACER Predator X28 4K 152Hz G-SYNC gaming monitor, and two new Cooler Master mice that support the NVIDIA Reflex Analyzer.
New G-SYNC Compatible Philips TVs, Also With Support For GeForce NOW
In 2021, Philips and NVIDIA worked together to deliver some of the first G-SYNC Compatible TVs with HDMI 2.1 support. COMPUTEX 2022 sees the addition of two new G-SYNC Compatible Philips OLED TVs, each with GeForce NOW capabilities, enabling owners to stream games from the cloud.
If you're in the market for a new TV, look out for the Philips OLED807 Series and OLED707 Series with 48, 55, 65 and 77 inch screen sizes. Together with G-SYNC and Philips' unique Ambilight tech, the new TVs will deliver some of the most immersive gaming experiences, free from tearing and stuttering.
For More Announcements…
Stay tuned to GeForce.com! It's the best way to learn about all the new RTX and Reflex game enhancements, new features, and new product launches.