Introducing the GeForce RTX 4070 Ti, available January 5th, starting at $799. The GeForce RTX 4070 Ti is faster than the GeForce RTX 3090 Ti, at nearly half the power, thanks to NVIDIA Ada Lovelace architecture innovations and NVIDIA DLSS 3. In fact, the GeForce RTX 4070 Ti will max out your 1440p monitor, delivering over 120 FPS in modern games like A Plague Tale: Requiem, Warhammer 40,000: Darktide, and F1Ⓡ 22.
With the GeForce RTX 4070 Ti, gamers can experience 2023's upcoming titles at their very best, and marvel at advanced ray tracing in Cyberpunk 2077, Portal with RTX, The Witcher 3: Wild Hunt, and many more jaw-dropping ray-traced titles.
1440p is a sweet spot for many enthusiast gamers. Pixel counts are 78% higher than 1080p, greatly increasing graphical clarity and detail. High refresh rate 1440p monitors are widely available at great prices. And graphics cards capable of playing the latest titles at 1440p at max settings, at high frame rates, are now available.
The GeForce RTX 4070 Ti is perfect for these PC gamers, thanks to its 7680 CUDA Cores and 12 GB of super-fast GDDR6X memory.
For users with a GeForce GTX 1080 Ti or GeForce RTX 2080, the GeForce RTX 4070 Ti offers a tremendous upgrade. Combined with DLSS 3 technology, the GeForce RTX 4070 Ti delivers an incredible 12x relative performance upgrade over the legendary GeForce GTX 1080 Ti.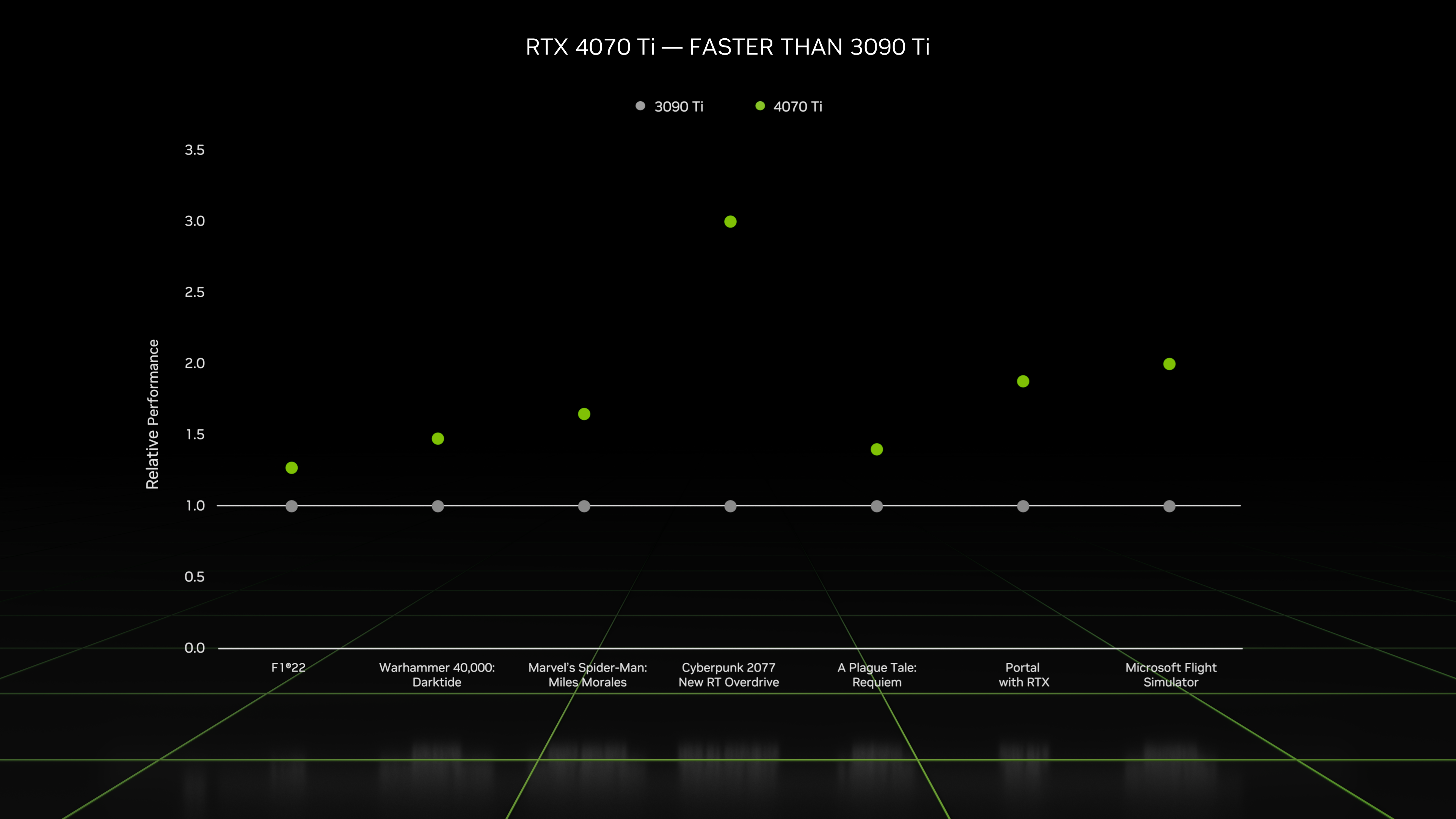 The GeForce RTX 4070 Ti supports NVIDIA's newest RT and Tensor Cores that are more powerful than previous GPUs, and supports new features, including Displaced Micro-Meshes and NVIDIA DLSS 3.
NVIDIA DLSS is a breakthrough in AI-powered graphics that massively boosts performance, and its adoption is happening at record breaking speeds, with over 250 gaming and creative apps available now. And thanks to Unreal Engine 4, Unreal Engine 5, and Unity plugins, it's easy for developers to add it to their project.
For news on the latest and greatest games adding support for NVIDIA DLSS 3, head on over to our new RTX Games article.
In addition to running faster than the GeForce RTX 3090 Ti, the GeForce RTX 4070 Ti uses 43% less power on average while gaming: just 226W, versus the 3090 Ti's 398W. And while idle, web browsing, or watching videos, its power usage barely registers thanks to architectural enhancements of the GeForce RTX 40 Series.
| | | | |
| --- | --- | --- | --- |
| | RTX 3090 Ti | RTX 3080 (12 GB) | RTX 4070 Ti |
| Idle (W) | 16 | 21 | 12 |
| Video Playback (W) | 26 | 27 | 20 |
| Average Gaming (W) | 398 | 340 | 226 |
| TGP (W) | 450 | 350 | 285 |
GeForce RTX 40 Series GPUs enable live streamers and video editors to use AV1, the next generation codec. Live streamers will be able to push higher resolutions and frame rates, with improved quality at the current max bit rates in popular streaming apps and platforms. Combined with incredible gaming performance, GeForce RTX 4070 Ti GPUs enable streaming the latest PC games with RTX at up to 4K 60FPS and 1440p 120FPS with AV1 encoding.
AV1 is also enabled in the top video editing apps, including Adobe Premiere Pro (via the Voukoder plugin), DaVinci Resolve, and Jianying (the top video editing app in China). Along with the improved quality that AV1 delivers, GeForce RTX 4070 Ti features dual 8th Generation NVIDIA Encoders, bringing video editors up to 2X video export speed.
3D creators see up to 70% increase in performance compared to the GeForce RTX 3070 Ti in the most popular apps — like Blender, Unity, Unreal Engine and Chaos V-Ray. They also unlock creative freedom by unifying 3D assets, libraries, and tools in NVIDIA Omniverse.
And all creators can benefit from the new 4th generation Tensor Cores for AI tools, providing up to 2X increased performance compared to last gen.
The GeForce RTX 4070 Ti also includes all the same advancements, enhancements, and innovations as other GeForce RTX 40 Series graphics cards, enabling you to reduce system latency with NVIDIA Reflex for smoother gaming, for example. And don't forget, every existing GeForce innovation and enhancement is also available for buyers of GeForce RTX 40 Series graphics cards, including G-SYNC, GeForce Experience one-click overclocking and game optimization, Shadowplay recording, and so much more. See the full list here.
With the leading ray tracing performance of the Ada architecture, NVIDIA DLSS 3, Reflex, and a ton of other cutting edge tech, the GeForce RTX 4070 Ti is a great max settings 1440p gaming GPU.
GeForce RTX 4070 Ti Available January 5th
If you want to add the GeForce RTX 4070 Ti to your system, or want a pre-built with the beyond fast graphics card, head over to our Product Finder from January 5th, 6am PT to see what's available in your region.
The GeForce RTX 4070 Ti will be available from top add-in card providers ASUS, Colorful, Gainward, GALAX, GIGABYTE, INNO3D, KFA2, MSI, Palit, PNY and ZOTAC, as well as from gaming system integrators and builders worldwide.
To put your upgraded system through its paces, download the new Game Ready Driver launching January 5th, then play one of the latest NVIDIA DLSS 3 games.
And to learn more about all the future games and apps adding support for RTX technologies, bookmark GeForce.com.