Editor's note: This post is part of our weekly In the NVIDIA Studio series, which celebrates featured artists, offers creative tips and tricks, and demonstrates how NVIDIA Studio technology improves creative workflows. We're also deep diving on new GeForce RTX 40 Series GPU features, technologies and resources, and how they dramatically accelerate content creation.
Broadcasters have an arsenal of new features and technologies at their disposal.
These include the eighth-generation NVIDIA video encoder on RTX 40 Series GPUs with support for the open AV1 video-coding format; new NVIDIA Broadcast app effects like Eye Contact and Vignette; and support for AV1 streaming in Discord — joining integrations with software including OBS Studio, Blackmagic Design's DaVinci Resolve, Adobe Premiere Pro via the Voukoder plugin, Wondershare Filmora and Jianying.
Livestreamer, video editor and entertainer Nilson1489 steps In the NVIDIA Studio this week to demonstrate how these broadcasting advancements elevate his livestreams — in style and substance — using a GeForce RTX 4090 GPU and the power of AI.
In addition, the Warbb World Challenge, hosted by famed 3D artist Warbb, is underway. It invites artists to create their own 3D worlds. Prizes include an NVIDIA Studio laptop, RTX 40 Series GPUs from MSI and ArtStation gift cards. Learn more below.
Better Broadcast Benefits
Content creators looking to get into the livestreaming hustle, professional YouTubers and other broadcasters regardless of skill level or audience can benefit from using GeForce RTX 40 Series GPUs — featuring the eighth-generation NVIDIA video encoder, NVENC, with support for AV1.
The new AV1 encoder delivers 40% better efficiency. This means livestreams will appear as if bandwidth was increased by 40% — a big boost in image quality — in popular broadcast apps like OBS Studio.
Discord, a communication platform with over 150 million active monthly users, has enabled end-to-end livestreams with AV1. This dramatically improves screen sharing — whether for livestreaming, online classes or virtual hangouts with friends — with crisp, clear image quality at up to 4K resolution and 60 frames per second.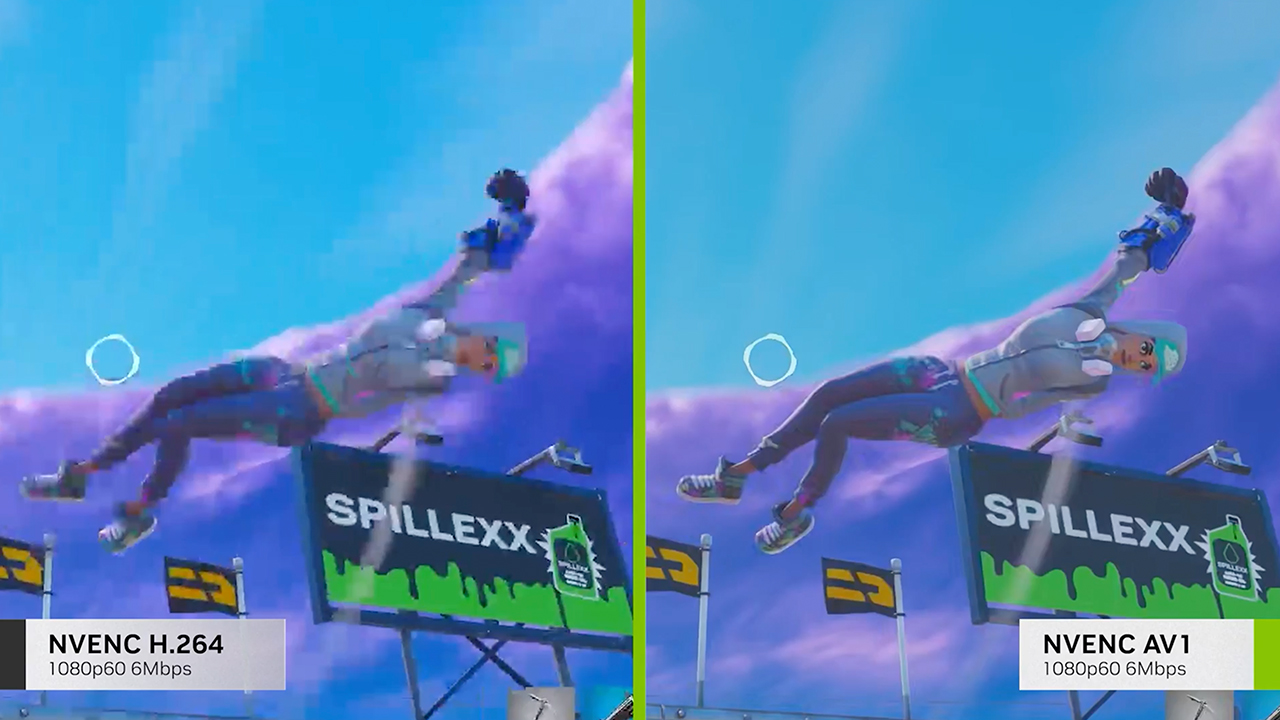 AV1 increases bandwidth and video quality by up to 40%.
The integration takes advantage of AV1's advanced compression efficiency, so users with AV1 decode-capable hardware will experience even higher-quality video. Plus, users with slower internet connections can now enjoy higher-quality video streams at up to 4K and 60fps resolution.
In addition, NVIDIA Studio recently released NVIDIA Broadcast 1.4 — a tool for livestreaming and video conferencing that turns virtually any room into a home studio — with two effects, Eye Contact and Vignette, as well as an enhancement to Virtual Background that uses temporal information. Learn more about Broadcast — available for all RTX GPU owners including this week's featured artist, Nilson1489.
Give a Boost to Broadcasts
Hailing from Hamburg, Germany, Nilson1489 is a self-taught livestreamer. He possesses a deep passion — stemmed from his involvement in the livestreaming community — for helping to improve the creative workflows of emerging broadcasters who are eager to learn.
Nilson1489 said he invested in a GeForce RTX 4090 GPU expecting better visual livestreaming quality across the board and considerable time savings in his creative workflows. And that's exactly what he experienced.
"NVIDIA RTX GPUs have the best GPU acceleration for my creative apps as well as the best quality when it comes to recording inside OBS Studio," the livestreamer said.
Nilson1489 streams primarily in OBS Studio, which means the AV1 encoder automatically boosts bandwidth by 40%, dramatically improving video quality.
"With NVIDIA Broadcast, I'm able to look on my display to read notes or focus on tutorial elements without losing eye contact with the audience," Nilson1489 said.
As a teacher for creators and consultant for various brands and clients, Nilson1489 leads daily calls and workshops over Microsoft Teams, Zoom and other video conference apps supported by NVIDIA Broadcast. He can read notes and present while keeping strong eye contact with his followers, made possible by NVIDIA Broadcast's new Eye Contact feature.
His GeForce RTX 4090 GPU proved especially handy when exporting final video files with its dual AV1 video encoders, he said. When enabled in video-editing and livestreaming apps — such as Adobe Premiere Pro via the Voukoder plug-in, DaVinci Resolve, Wondershare Filmora and Jianying — export times are cut in half, with improved video quality. This enabled Nilson1489 to export from Premiere Pro and upload his videos to YouTube at least twice as fast as his competitors.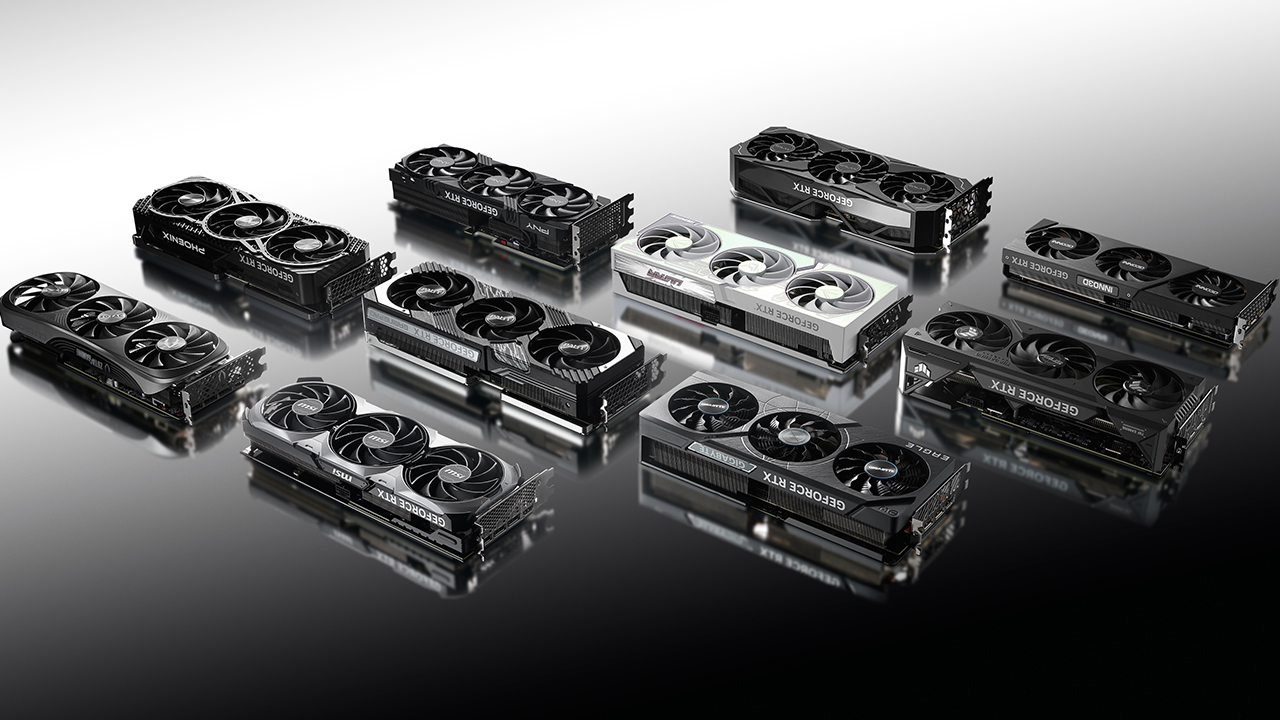 NVIDIA GeForce RTX GPUs.
The right GeForce RTX GPU can make a massive difference in the quality and quantity of content creation, as it did for Nilson1489.

Livestreamer Nilson1489.
Check out Nilson1489's YouTube channel for streaming tutorials.
Create a 3D World, Win Serious Studio Hardware
3D talent Robin Snijders, aka Warbb, along with NVIDIA Studio presents the Warbb World Challenge, where 3D artists are invited to transform a traditionally boringspace into an extraordinary scene using assets provided by Warbb. Everyone starts with the same template: an empty room, table, laptop and person.
A panel of creative talents, including Warbb,In the NVIDIA Studio artist I Am Fesq, Noxx_art, Don Diablo and two NVIDIA reps will judge entries based on creativity, originality and visual appeal. Contest winners will receive incredible prizes, including an MSI Creator Z16P 3080 Ti Studio Laptop, RTX 40 Series GPUs from MSI and ArtStation gift cards.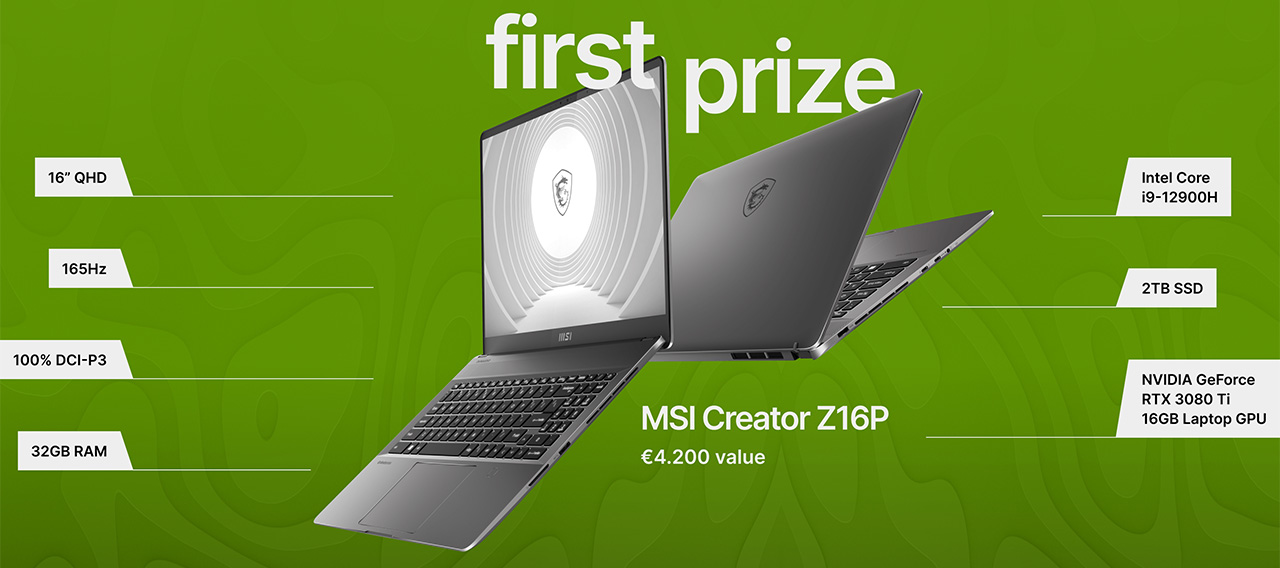 The Warbb World Challenge's grand prize: an MSI Creator Z16P Studio Laptop equipped with an NVIDIA RTX 3080 Ti GPU.
Enter by downloading the challenge assets, upload the submission to ArtStation with the hashtags #WarbbWorld and #NVIDIAStudio, then share on social media channels with #WarbbWorld and #NVIDIAStudio. NVIDIA Studio could feature you in an in-depth interview to add exposure to your world.
The challenge runs through Sunday, Feb. 19. Terms and conditions apply.
Follow NVIDIA Studio on
Instagram
,
Twitter
and
Facebook
. Access tutorials on the
Studio YouTube channel
and get updates directly in your inbox by subscribing to the
Studio newsletter
.