Uncover the source of the supernatural darkness in Remedy Entertainment's Alan Wake 2, with the power of the GeForce RTX 40 Series. Experience two beautiful yet terrifying worlds enhanced with full ray tracing for the highest levels of fidelity, accelerated and enhanced by DLSS 3.5 with Ray Reconstruction. And get the most responsive gameplay possible thanks to NVIDIA Reflex. Solve the deadly mysteries of Alan Wake 2 with RTX On - the definitive way to play.
In 2019, NVIDIA and Remedy Entertainment partnered to enhance Control, one of the first ray-traced and DLSS-enhanced games, which to this day remains a stunning title that demonstrates the advanced capabilities of the PC platform. In Alan Wake 2, our technical partnership takes the PC edition of Remedy's new, eagerly awaited game to the next level with fully ray-traced, path-traced graphics that are beyond anything you've previously seen.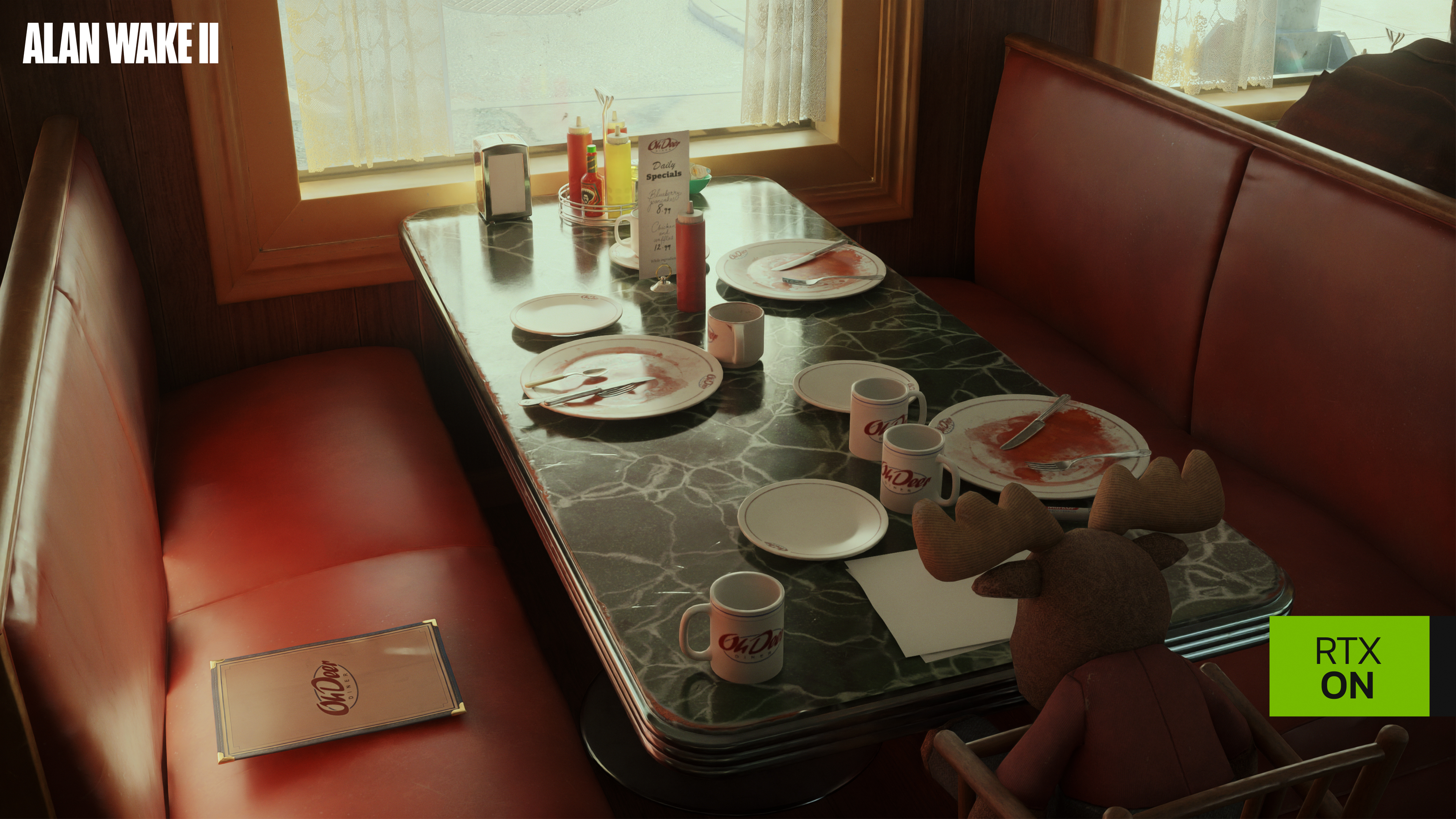 Click here for a 4K comparison
To celebrate our technical partnership, we're today introducing a new Alan Wake 2 GeForce RTX 40 Series Bundle, available until November 13th. Buyers of eligible GeForce RTX 4070, 4070 Ti, 4080 and 4090 graphics cards and desktop PCs, or a laptop with a GeForce RTX 4090 Laptop GPU, RTX 4080 Laptop GPU, or RTX 4070 Laptop GPU from select retailers and etailers will receive a digital copy of the game*, to play when released on October 27th.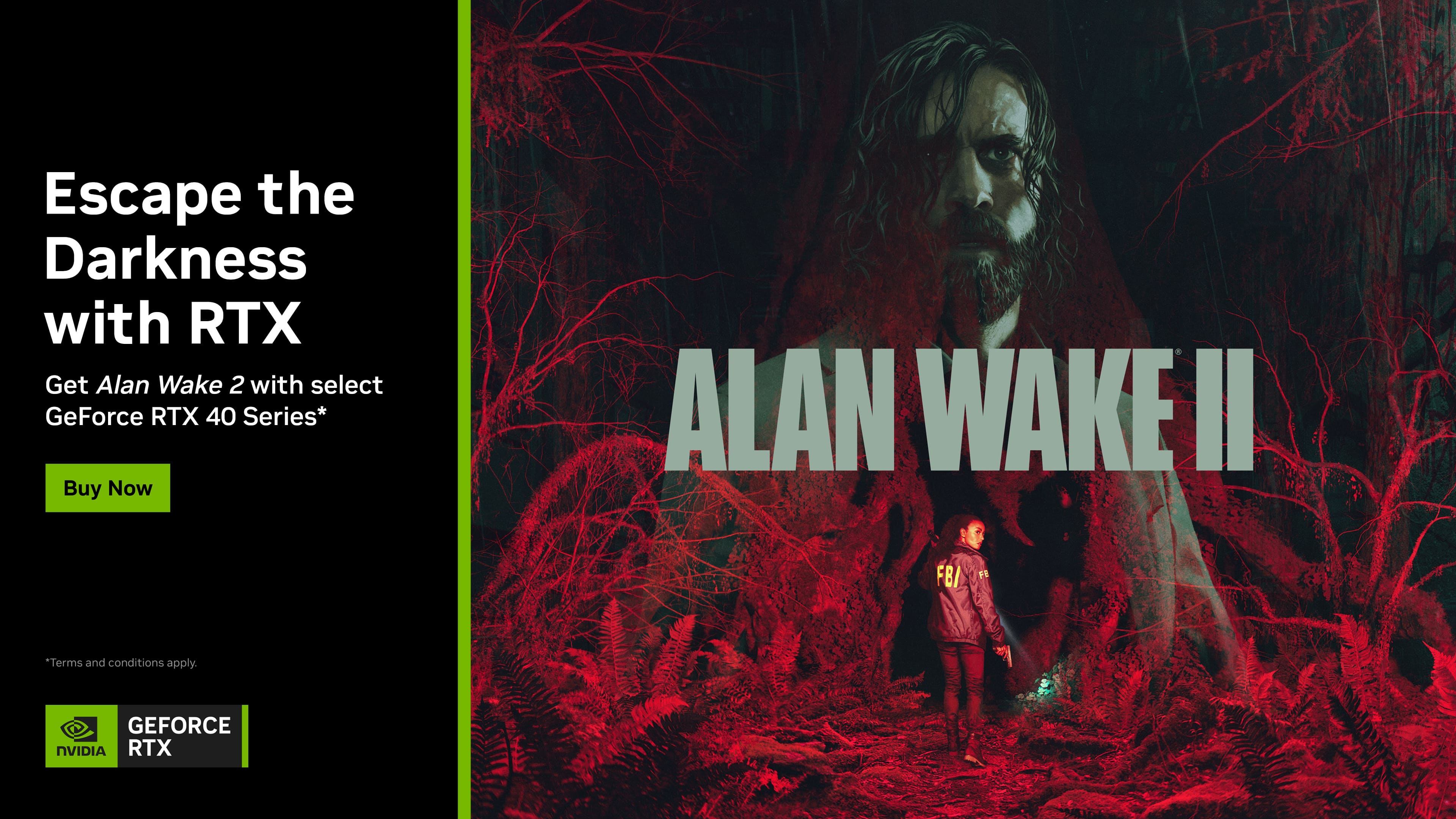 You'll find eligible GPUs, desktops and laptops at numerous system builders and retailers worldwide. Head to the Alan Wake 2 bundle homepage to see the complete list of participating partners in your country.
Once you've bought any qualifying product, you'll receive email instructions on how to redeem your bundle, and just a few clicks later you'll add Alan Wake 2 to your Epic Games Store account. And by installing our Game Ready Driver that'll be released shortly before the game's launch, your new hardware will be ready to rock and roll, delivering the definitive experience in this highly anticipated game.
*While supplies last. Bundle applies for qualifying GeForce RTX 4090, GeForce RTX 4080, GeForce RTX 4070 Ti, GeForce RTX 4070 desktop or graphics card or laptop with a GeForce RTX 4090 Laptop GPU, GeForce RTX 4080 Laptop GPU, or GeForce RTX 4070 Laptop GPU. Please see Terms & Conditions for a full list of qualifying partner products. Games must be redeemed via GeForce Experience™ application on a qualifying graphics card, desktop or laptop. Customers must meet the age requirement for the game to redeem. Regional/Country Requirements: Some coupons require that they be redeemed in specific regions or countries. Please redeem the code in the appropriate region/country.
Alan Wake 2 is developed by Remedy Entertainment Plc and published by Epic Games Inc. Copyright © Remedy Entertainment Plc 2023. "Alan Wake" is a trademark of Remedy Entertainment Plc, registered in the United States and other countries. All rights reserved.