Our newest Game Ready driver is primed for Call of Duty®: Modern Warfare® III's PC multiplayer open beta, and for the release of Forza Motorsport and Lords of the Fallen.
To download and install, head to the Drivers tab of GeForce Experience or GeForce.com.
Call of Duty: Modern Warfare III PC Multiplayer Open Beta Early Access Available October 12th With DLSS Super Resolution & Reflex
Ahead of Call of Duty: Modern Warfare III's launch on November 10th, PC gamers can participate in the multiplayer beta, enhanced with DLSS 2 Super Resolution and NVIDIA Reflex. If you've pre-purchased Call of Duty: Modern Warfare III, you can begin playing October 12th, and from October 14th everyone can download and play until October 16th.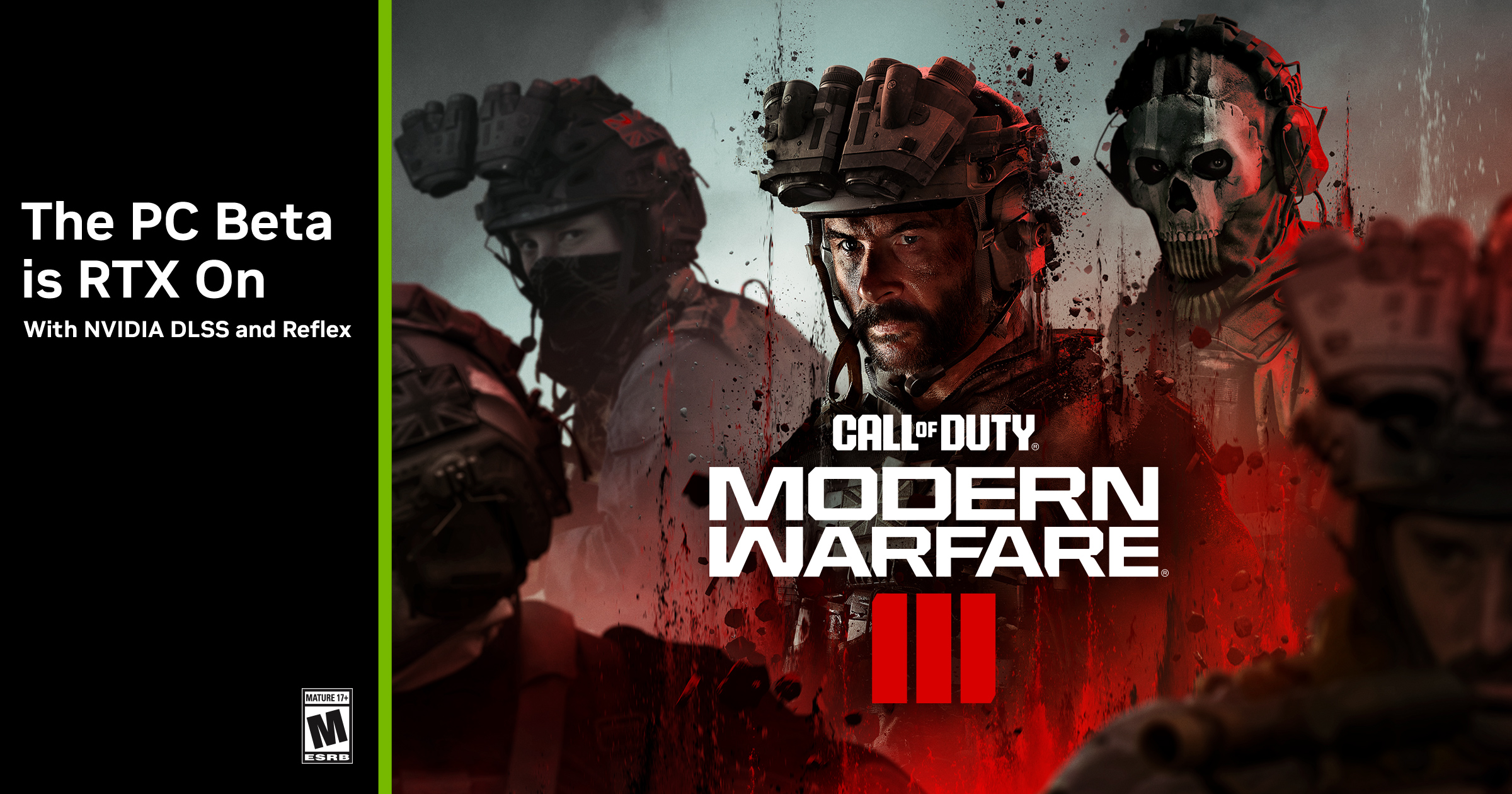 The beta is cross play-enabled, and features a selection of Core Multiplayer maps from the 16 iconic launch maps of 2009's Call of Duty: Modern Warfare 2 that are being brought over and modernized for Call of Duty: Modern Warfare III. And if that wasn't enough, you can also play Ground War to experience new maps, features and vehicles that will be introduced this year.
In the campaign, launching November 2nd for players who have pre-purchased Call of Duty: Modern Warfare III, and in the full game launching November 10th, GeForce RTX 40 Series gamers can also activate DLSS 3 Frame Generation for even faster frame rates. Learn more in our Call of Duty: Modern Warfare III tech article.
For the definitive PC experience at each stage of the game's release, download and install the latest Game Ready Driver.
Game Ready For Forza Motorsport
Turn 10 Studios' Forza Motorsport launches today, giving racing fans over 500 realistically-rendered cars with cutting-edge physics to compete across 20 dynamic world-famous tracks, online or against new, highly competitive AI racers. For a complete breakdown of the newest enhancements and additions to the long-awaited entry in this venerable, much-loved racing franchise, scroll down to the Motorsport News on the official Forza Motorsport website.
Get the fastest frame rates and smoothest racing experience possible by installing our new Game Ready Driver.
Game Ready For Lords of the Fallen, Enhanced With DLSS 3
HEXWORKS and CI Games' Lords of the Fallen launches October 13th with day-one support for DLSS 3 Frame Generation, enabling GeForce RTX 40 Series gamers to crank up the settings and multiply their frame rates.
After an age of the cruelest tyranny, the demon God, Adyr, was finally defeated. But Gods… do not fall forever. Now, aeons later, Adyr's resurrection draws nigh. As one of the fabled Dark Crusaders, journey through both the realms of the living and the dead in this expansive RPG experience, featuring colossal boss battles, fast challenging combat, thrilling character encounters, and deep, immersive storytelling. Will your legend be one of light… or one of darkness? A vast world awaits in an all-new, dark fantasy action-RPG, featuring a vast, interconnected world more than five times larger than the original game.
With AI-powered Frame Generation, GeForce RTX 40 Series gamers can multiply frame rates by 2.9X on average at 4K, with every setting maxed out, by an average of 2.2X at 1440p, and by an average of 2.1X at 1080p: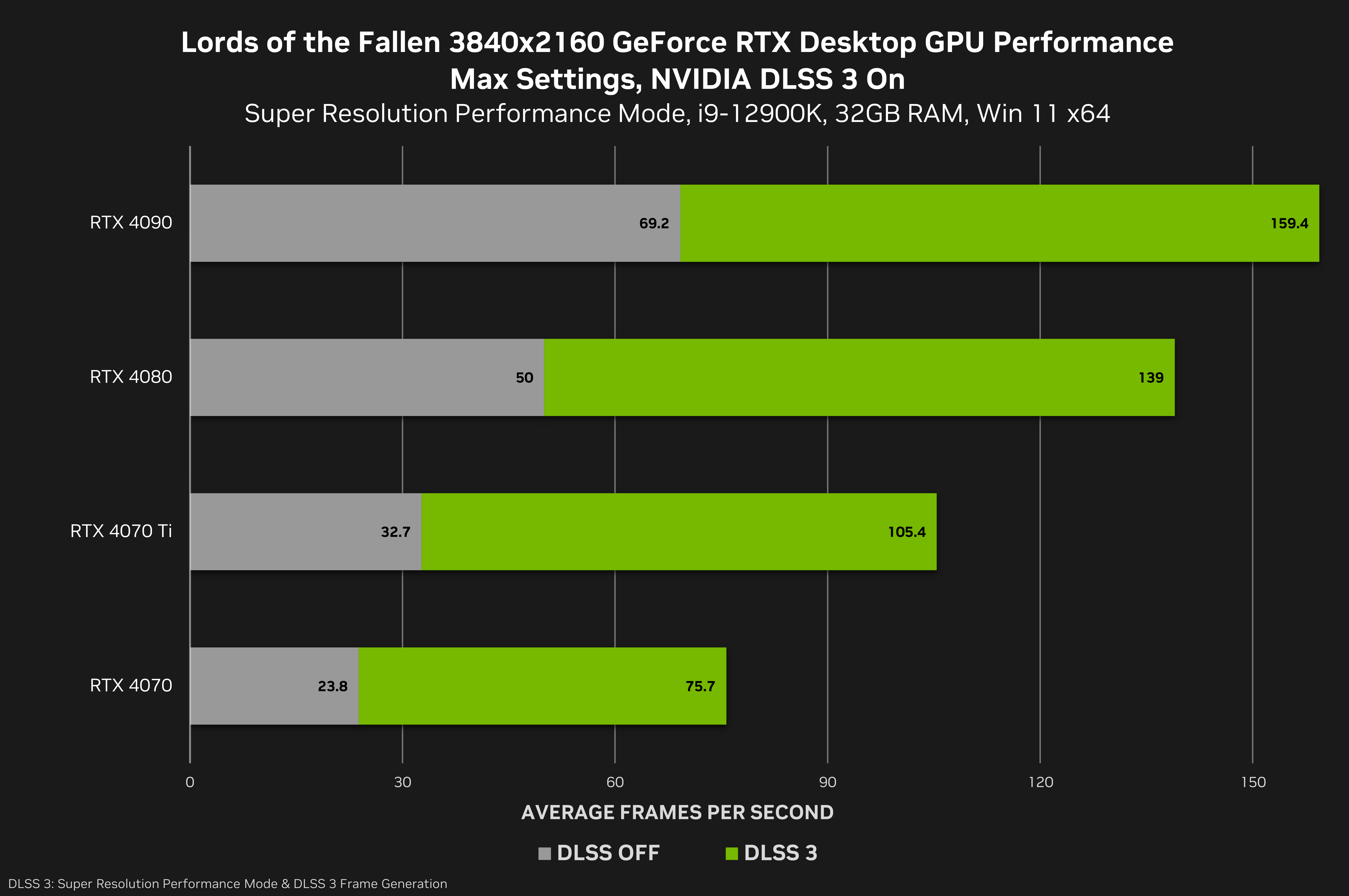 GeForce Game Ready Driver - Download Now
Learn more about GeForce Game Ready Drivers here; download the new GeForce Game Ready 537.58 WHQL driver through GeForce Experience.
If you experience any technical issues with the new Game Ready drivers please post a detailed report on the GeForce.com Driver Feedback Forum, where our Customer Care team can better assist you. And if you're looking for a full list of fixes in this driver, for previously-reported issues, head here.