Each week, we bring you news of the latest DLSS and ray tracing integrations in games and apps.
Last week, Lords of the Fallen launched with DLSS 3, the DLSS and Reflex-enhanced Call of Duty: Modern Warfare III Beta began, we launched our Alan Wake 2 GeForce RTX 40 Series bundle, and we highlighted the recent release of Highrise City with DLSS 2.
This week, NARAKA: BLADEPOINT upgrades to DLSS 3, while Slender: The Arrival and Warhammer: Vermintide 2 introduce support for DLSS 3 in new updates. Additionally, HOT WHEELS UNLEASHED™ 2 - Turbocharged and AirportSim hit virtual shelves in the near future with day one support for DLSS 2. And Land of the Vikings recently exited Early Access with support for DLSS 2.
Read on for all the details.
NARAKA: BLADEPOINT Upgrades To DLSS 3 On October 19th
Developed by 24 Entertainment and published by NetEase Games Global, NARAKA: BLADEPOINT is a 60-player melee-focused Battle Royale in where players can experience a unique fighting gameplay, combining fast movements in a large environment and a deep and intense melee combat system based on combos, parries, and counters.
Each week, NARAKA: BLADEPOINT is one of the top 10 most played games on Steam. Having previously given all GeForce RTX gamers access to DLSS 2 and Reflex, 24 Entertainment is now upgrading to DLSS 3. See Frame Generation's performance multiplication in action for yourself in our new, exclusive NARAKA: BLADEPOINT DLSS 3 performance comparison video:
A new Fan weapon will be also added to the arsenal with the latest update, so be sure to come and try it out.
Slender: The Arrival 10 Year Anniversary Update Launches October 18th, Featuring DLSS 3
Slender: The Arrival is the official videogame adaption of Slender Man, the paranormal phenomenon that has terrified the curious-minded all around the globe. Originally released by Blue Isle Studios in October 2013, the team has returned to their first-person horror game for a massive 10th anniversary update launching October 18th!
Players will experience the horror of Slender: The Arrival with all-new Unreal Engine 5.2 graphics, and an entirely new chapter has been added, further expanding the story of Slender Man.
To ensure GeForce gamers can enjoy the expanded high fidelity horror experience at fast frame rates, Slender: The Arrival's 10th Anniversary Update includes support for DLSS 3, multiplying performance by 2.8X on average at 4K: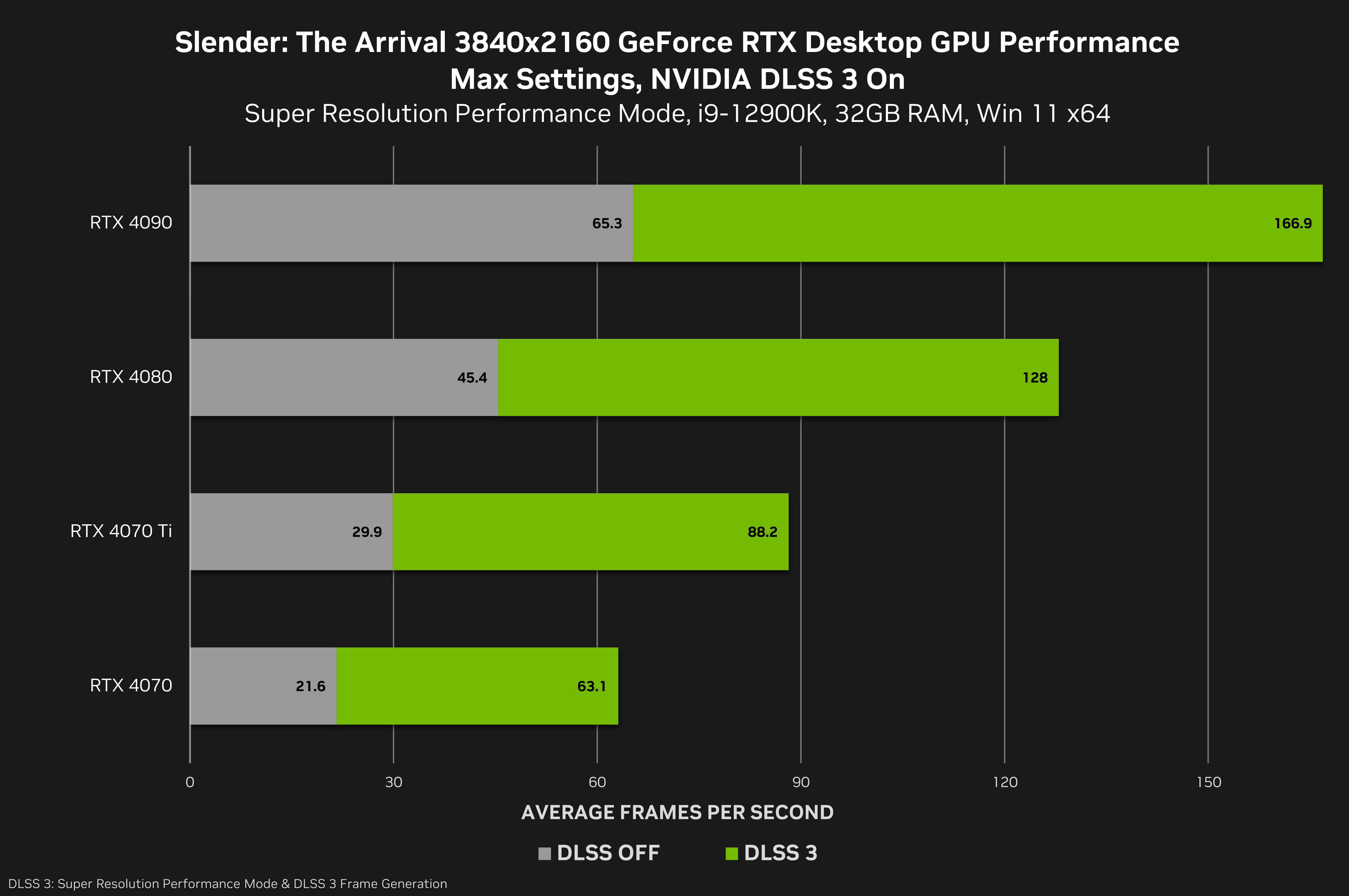 At 1440p and 1080p, performance is multiplied by 2.1X and 2X on average, respectively, ensuring all GeForce RTX 40 Series gamers can be petrified at high frame rates:
Blue Isle Studios' 10th anniversary update is only the beginning of Slender: The Arrival's return - in 2024, the team's releasing a cooperative multiplayer mode, a cross-platform modding kit, enabling you to create and download new Slender adventures, and new, official DLC story chapters with new regions to explore, characters to meet, and horrors to survive. Follow Slender: The Arrival on Steam to keep abreast of the latest updates to this classic horror title.
Warhammer: Vermintide 2 Adds DLSS 3 & Reflex On October 19th
Fatshark's enormously-popular co-op action game, Warhammer: Vermintide 2, is introducing support for DLSS 3 on October 19th! Warhammer 40,000: Darktide launched with DLSS 3, and now our game-changing, performance multiplying AI-powered technology is coming to their critically acclaimed Warhammer Fantasy Battles melee-focused game.
Learn more about the new update, which also introduces the new Necromancer career for Sienna, on the official Warhammer: Vermintide 2 website.
AirportSim Launches October 19th With DLSS 2
Iceberg Interactive and MS GAMES' AirportSim is a new Advanced Airport Ground Handling Simulator launching October 19th. Featuring true-to-life visuals and operations, licensed planes and vehicles, real airports and live weather conditions, you can accurately simulate the day to day tasks of airport operators, and even do so online with friends in co-op.
From day-one, AirportSim will include support for DLSS 2, accelerating frame rates significantly - see for yourself by downloading the DLSS 2-enhanced demo from Steam today.
HOT WHEELS UNLEASHED™ 2 - Turbocharged Launches October 19th With DLSS 2
The world's raddest cars are back and taking the fun to the next level, in Milestone's HOT WHEELS UNLEASHED™ 2 - Turbocharged. Race over 130 vehicles with crazy new mechanics and even more vehicle types, including monster trucks, motorbikes and ATVs. Plus, build your tracks within stunning new environments, race your way through a story-driven campaign, and try the many different game modes when racing locally or online.
DLSS 2 was supported in the original HOT WHEELS UNLEASHED™, and will be available at launch in HOT WHEELS UNLEASHED™ 2 - Turbocharged when it goes live October 19th, giving GeForce RTX gamers the fastest frame rates possible in this high speed racer.
Land Of The Vikings, Featuring DLSS 2, Exits Early Access
Iceberg Interactive and Laps Games' Land of the Vikings is a survival colony sim game. Build and lead your village, and expand it into a thriving city. A wise Jarl must manage resources, survive harsh conditions, and guide their fellow Vikings to work together through social conflict.
In June, Land of the Vikings added support for DLSS 2, and now the game has exited Early Access with a ton of new content, so head on over to Steam to check it out. And if you do, be sure to activate DLSS to accelerate your frame rates.
Check Back Next Week For Even More RTX Games
Each week there are even more DLSS integrations arriving for an array of games. Check back next week for a rundown of the next DLSS and RTX games, and head here to see the complete list of several hundred DLSS-enhanced games and apps.