Our latest Game Ready driver accelerates your performance when activating DLSS 3 in new NARAKA: BLADEPOINT and Warhammer: Vermintide 2 game updates.
Additionally, RTX Video Super Resolution has been updated, further enhancing its capabilities and bringing support to GeForce RTX 20 Series GPUs. And Stable Diffusion performance is now up to 2X faster!
To download and install, head to the Drivers tab of GeForce Experience or GeForce.com.
Game Ready For NARAKA: BLADEPOINT's DLSS 3 Upgrade
Developed by 24 Entertainment and published by NetEase Games Global, NARAKA: BLADEPOINT is a 60-player melee-focused Battle Royale in where players can experience a unique fighting gameplay, combining fast movements in a large environment and a deep and intense melee combat system based on combos, parries, and counters.
Each week, NARAKA: BLADEPOINT is one of the top 10 most played games on Steam. Having previously given all GeForce RTX gamers access to DLSS 2 and Reflex, 24 Entertainment is now upgrading to DLSS 3. See Frame Generation's performance multiplication in action for yourself in our new, exclusive NARAKA: BLADEPOINT DLSS 3 performance comparison video:
A new Fan weapon will be also added to the arsenal with the latest update, so be sure to come and try it out.
Game Ready For Warhammer: Vermintide 2's DLSS 3 Update
Fatshark's enormously-popular co-op action game, Warhammer: Vermintide 2, is introducing support for DLSS 3 on October 19th! Warhammer 40,000: Darktide launched with DLSS 3, and now our game-changing, performance multiplying AI-powered technology is coming to their critically acclaimed Warhammer Fantasy Battles melee-focused game.
Learn more about the new update, which also introduces the new Necromancer career for Sienna, on the official Warhammer: Vermintide 2 website.
RTX Video Super Resolution Version 1.5 Brings Improved Quality & Support For The GeForce RTX 20 Series
RTX Video Super Resolution (VSR), launched at CES earlier this year, uses AI to enhance streaming video by removing compression artifacts, and sharpening edges when upscaling.
Our new version 1.5 update, included in today's Game Ready Driver, further improves the quality of RTX VSR, increasing the level of detail and preserving image details during the upscaling process for a sharper and crisper image overall. Plus, with expanded RTX VSR support, owners of GeForce RTX 20 Series GPUs can benefit from the same AI-enhanced video as those on GeForce RTX 30 and 40 Series GPUs.

RTX Video Super Resolution 1.5 improves detail and sharpness compared to 1.0
RTX Video Super Resolution can now also enhance video when played back at native resolution. This means that you can enjoy the benefits of RTX VSR even on a 1080p display when watching 1080p streams. In these instances, RTX VSR will remove distracting compression artifacts and enhance the image.
RTX VSR 1.5 now de-artifacts video played at native resolution
To enable RTX Video Super Resolution on your GeForce RTX PC and laptops, open the NVIDIA control panel and under "Adjust Video Settings", enable "Super resolution".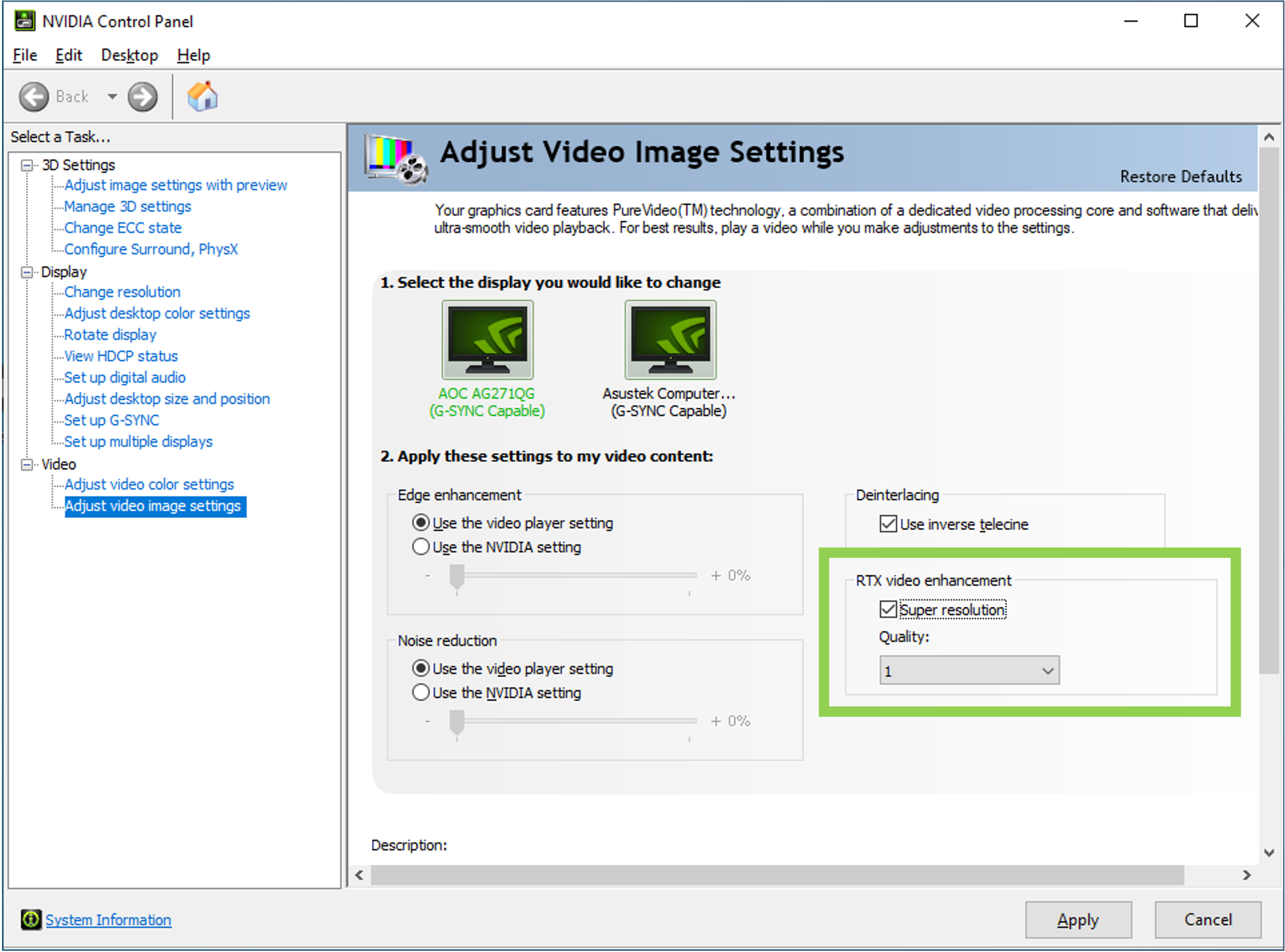 Users can specify quality levels between 1 (lowest) to 4 (highest). Higher quality levels will result in sharper images and improved artifact reduction. Higher quality levels require additional GPU resources, so if users need more horsepower to run creative apps or games while playing video, the quality level can be adjusted. All GeForce RTX GPUs are able to comfortably upscale using quality level 1, and xx70 class or higher are able to play most content at quality level 4.
For more information on setup and troubleshooting, please view our FAQ.
Stable Diffusion Gets A Major Boost With RTX Acceleration
One of the most common ways to use Stable Diffusion, the popular Generative AI tool that allows users to produce images from simple text descriptions, is through the Stable Diffusion Web UI by Automatic1111. In today's Game Ready Driver, we've added TensorRT acceleration for Stable Diffusion Web UI, which boosts GeForce RTX performance by up to 2X.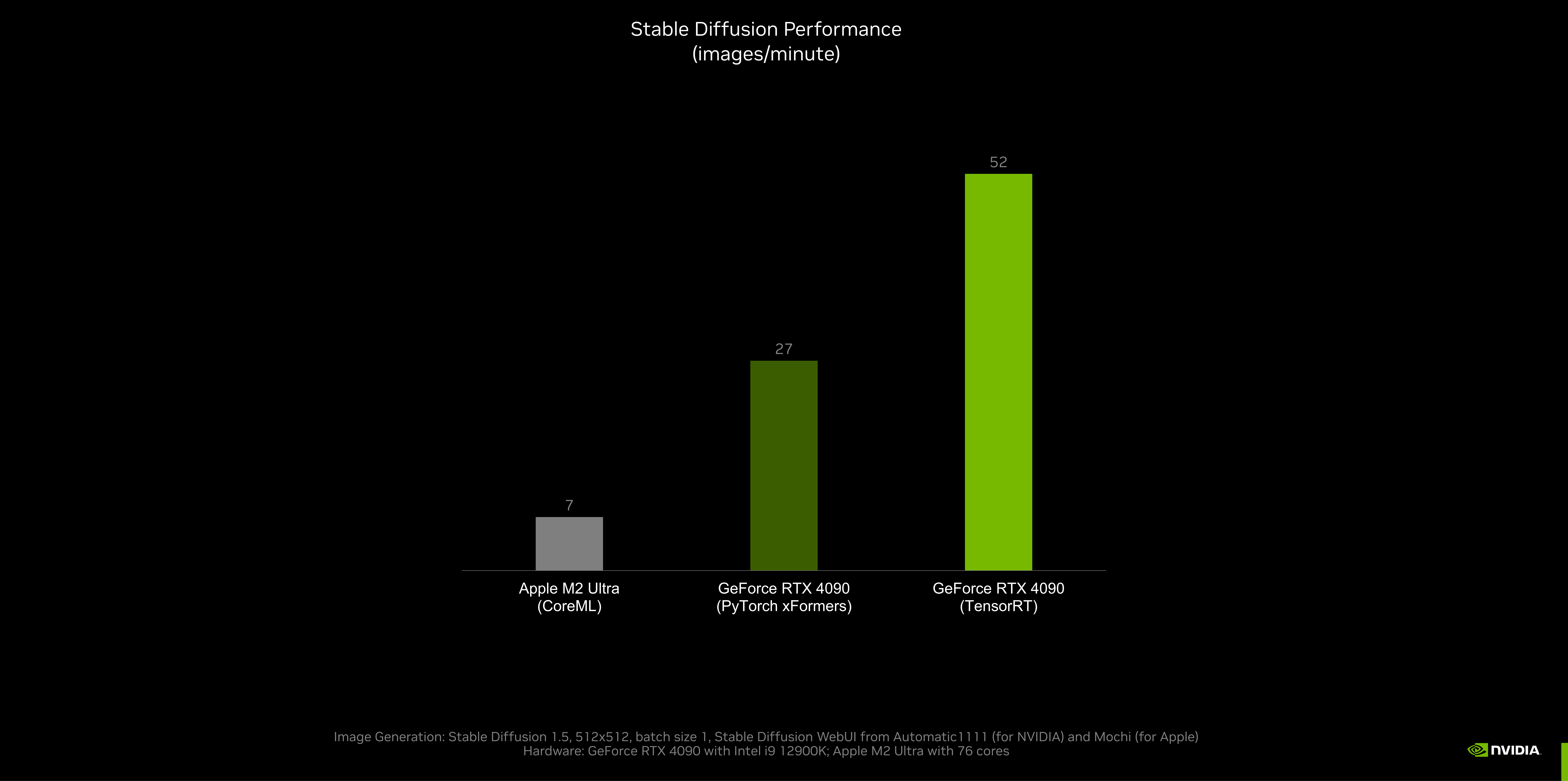 Image generation: Stable Diffusion 1.5, 512 x 512, batch size 1, Stable Diffusion Web UI from Automatic1111 (for NVIDIA) and Mochi (for Apple).
Hardware: GeForce RTX 4090 with Intel i9 12900K; Apple M2 Ultra with 76 cores
This enhancement makes generating AI images faster than ever before, giving users the ability to iterate and save time.
Get started by downloading the extension today. For details on how to use it, please view our TensorRT Extension for Stable Diffusion Web UI guide.
New Games Supported By GeForce Experience's Optimal Settings
GeForce Experience's one-click optimal settings enable you to instantly configure game options for your system's hardware, giving you smooth, optimized gameplay. Over 1000 titles are supported, and since our last driver release we've added support for 14 more:
Counter-Strike 2
EA SPORTS FC 24
Forza Motorsport
Lies of P
Mortal Kombat 1
NBA 2K24
Party Animals
PAYDAY 3
Sunkenland
The Crew Motorfest
Total War: PHARAOH
Warhaven
We Were Here Expeditions
Witchfire
GeForce Experience also enables you to capture and stream your gameplay, take screenshots, upload videos to social networks, and more. For all the details, head here.
GeForce Game Ready Driver - Download Now
Learn more about GeForce Game Ready Drivers here; download the new GeForce Game Ready 545.84 WHQL driver through GeForce Experience.
If you experience any technical issues with the new Game Ready drivers please post a detailed report on the GeForce.com Driver Feedback Forum, where our Customer Care team can better assist you. And if you're looking for a full list of fixes in this driver, for previously-reported issues, head here.