Our latest Game Ready driver delivers the definitive experience in Call of Duty: Modern Warfare III, featuring NVIDIA DLSS 3, NVIDIA DLAA and NVIDIA Reflex.
Additionally, there's support for Starfield's Steam beta update, which is now available with DLSS 3, DLAA and NVIDIA Reflex, ahead of its official release at a later date. Learn how to opt-in to the beta on Bethesda's blog.
To download and install, head to the Drivers tab of GeForce Experience or GeForce.com.
Game Ready For Call of Duty: Modern Warfare III
Call of Duty: Modern Warfare III is available now! In the cinematic campaign, Captain Price and Task Force 141 face off against the ultimate threat, the ultranationalist war criminal Vladimir Makarov, who's extending his grasp across the world, causing Task Force 141 to fight like never before. Once you've dug into the action-packed single-player campaign, head online to defeat Zombies in an exciting open-world co-op experience that takes the Zombies mode everyone knows and loves to the next level. If you prefer Multiplayer, dip into the selection of Core Multiplayer maps from the 16 iconic launch maps of 2009's Call of Duty: Modern Warfare 2 that are being brought over and modernized for Call of Duty: Modern Warfare III.
In each mode, GeForce gamers can accelerate frame rates with AI-powered DLSS, or maximize image quality with DLAA. And gameplay gets even more responsive thanks to the day-one inclusion of NVIDIA Reflex in Call of Duty: Modern Warfare III.
In Call of Duty: Modern Warfare III's built-in benchmark, cranking all settings to max at 4K sees performance increase by 1.8X on average when activating DLSS 3, enabling max setting gameplay at over 100 FPS on the GeForce RTX 4070, and at up to 200 FPS on the GeForce RTX 4090: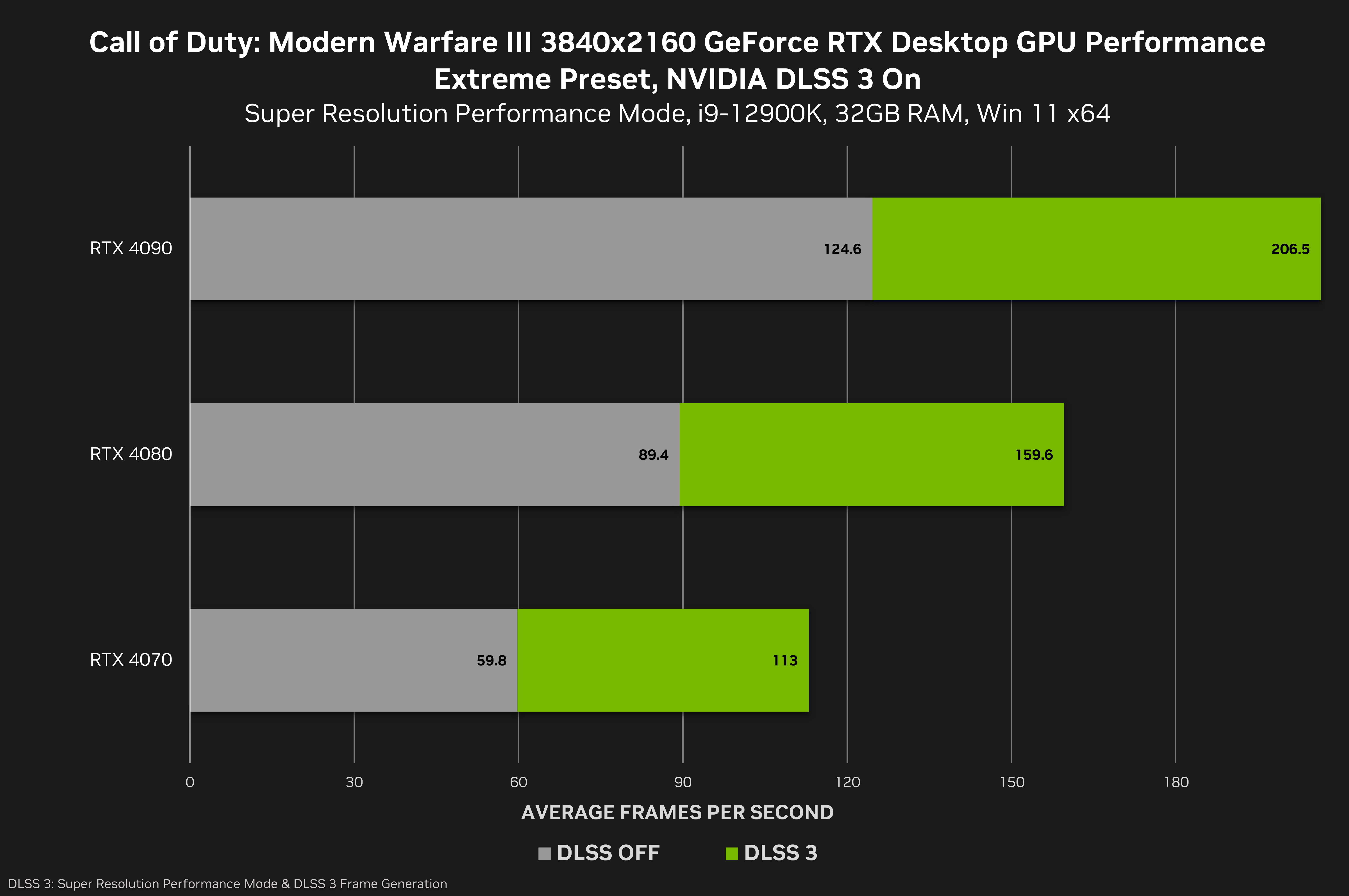 "Every frame of action counts in Call of Duty. Once again, NVIDIA introduces major innovations with DLSS 3 Frame Generation. Along with DLSS Super Resolution and Reflex, it allows us to bring faster and smoother gameplay to the PC version of Call of Duty: Modern Warfare III." - Marc-Alexandre Milot, Design Director, Beenox
At 1440p, DLSS 3 boosts performance by 1.6X, enabling 100 FPS+ gameplay on the entire lineup of GeForce RTX 40 Series graphics cards, and up to 240 FPS gameplay on the GeForce RTX 4090: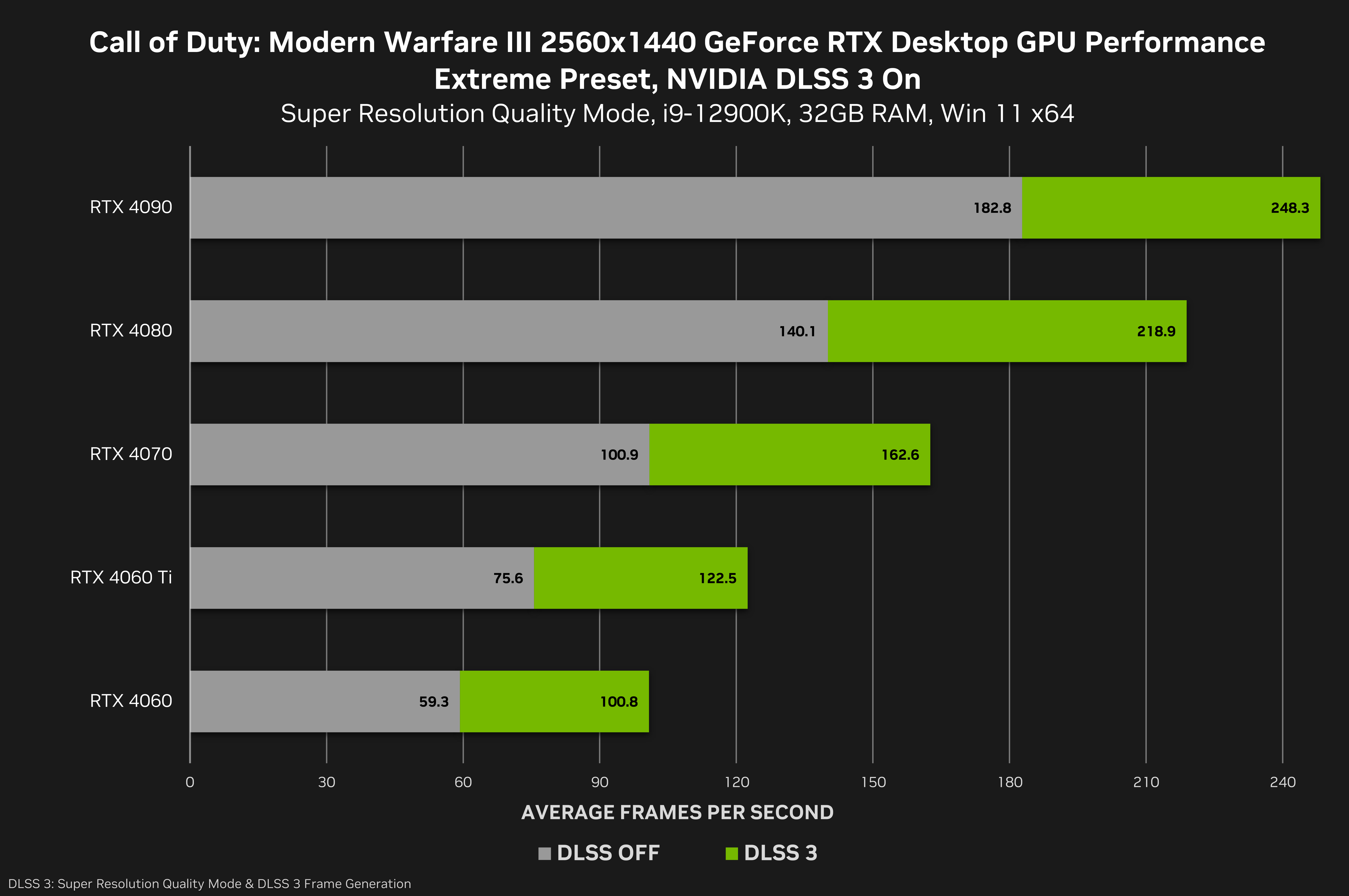 At 1080p, DLSS 3's 1.5X performance boost enables you to hit esports frame rates on all GeForce RTX 40 Series GPUs, and allows you to max out the highest refresh rate displays on the GeForce RTX 4090, which achieves a 300 FPS result: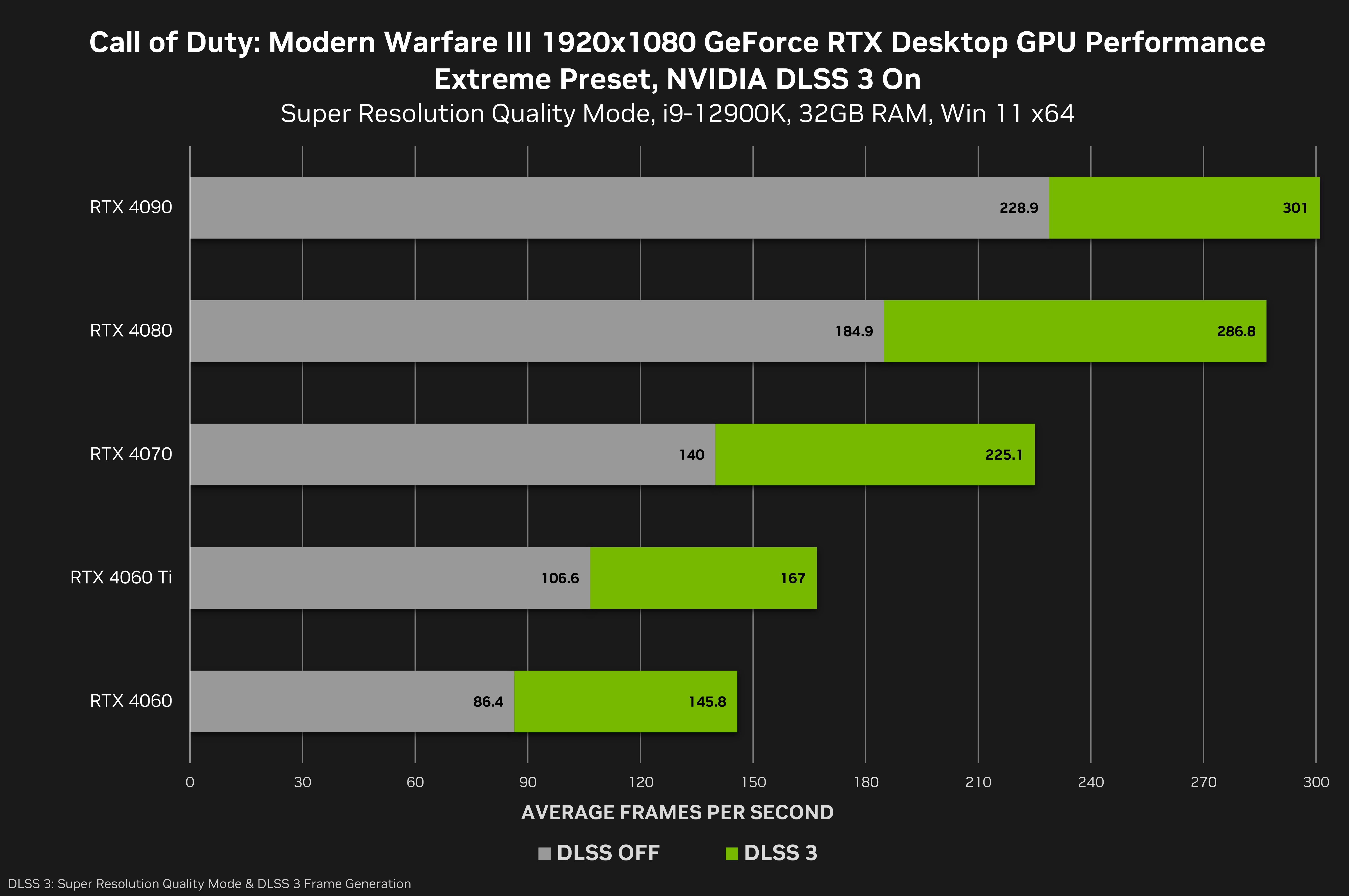 On GeForce RTX 40 Series laptops, DLSS 3 increases performance by 1.6X at both 1080p and 1440p, enabling all owners to game at fast frame rates, and at up to 230 FPS on GeForce RTX 4090 laptops:
With such fast frame rates on so many GPUs, you may want to supercharge image quality with NVIDIA DLAA, an AI-based anti-aliasing mode that utilizes the same technology developed for DLSS. DLAA uses a native resolution image to maximize image quality, rather than boosting performance, and in Call of Duty: Modern Warfare III DLAA can be combined with DLSS Frame Generation for the highest possible image quality, and excellent performance.
Also, be sure to activate NVIDIA Reflex, which has helped GeForce gamers reduce system latency in Call of Duty: Black Ops Cold War, Call of Duty: Vanguard, Modern Warfare, Modern Warfare II, and Call of Duty: Warzone™. In Call of Duty: Modern Warfare III, Reflex reduces system latency by up to 28%.
Together with the high frame rates delivered by DLSS and low latency delivered by Reflex, competitive players receive the definitive experience on GeForce RTX 40 Series PCs and laptops.
GeForce Game Ready Driver - Download Now
Learn more about GeForce Game Ready Drivers here; download the new GeForce Game Ready 546.17 WHQL driver through GeForce Experience.
If you experience any technical issues with the new Game Ready drivers please post a detailed report on the GeForce.com Driver Feedback Forum, where our Customer Care team can better assist you. And if you're looking for a full list of fixes in this driver, for previously-reported issues, head here.