Each week, we bring you news of the latest DLSS and RTX integrations in games and apps. Last week, Call of Duty: Modern Warfare III launched with DLSS 3, and Like A Dragon Gaiden: The Man Who Erased His Name with DLSS 2.
This week, Desynced adds support for DLSS 3, Warhammer Age of Sigmar: Realms of Ruin arrives with DLSS 2, the DLSS 2-enhanced Earth: Revival Open Beta begins, and the DLSS 3-enhanced Remnant II gets even better with the launch of The Awakened King DLC later today.
Additionally, Starfield's Steam beta update is now available with DLSS 3, DLAA and NVIDIA Reflex, ahead of its official release at a later date. Learn how to opt-in to the beta on Bethesda's blog.
To learn more about all our other announcements, read on.
Desynced Update Adds DLSS 3 On November 16th
Desynced is an Early Access sci-fi strategy game with fully customizable units and behaviors, from Stage Games Inc. and Forklift Interactive. Gather, build, research, and explore the unknown. Alone or with friends, unveil the mystery of an AI on the edge of self-awareness and uncover the hidden truth in this blend of strategy, automation, and exploration.
Previously, we announced Desynced would be adding DLSS, and now we can reveal the performance uplift - once a new game update is released on November 16th with support for DLSS 3, frame rates will be multiplied by an average of 2.2X at 4K, with every setting maxed out: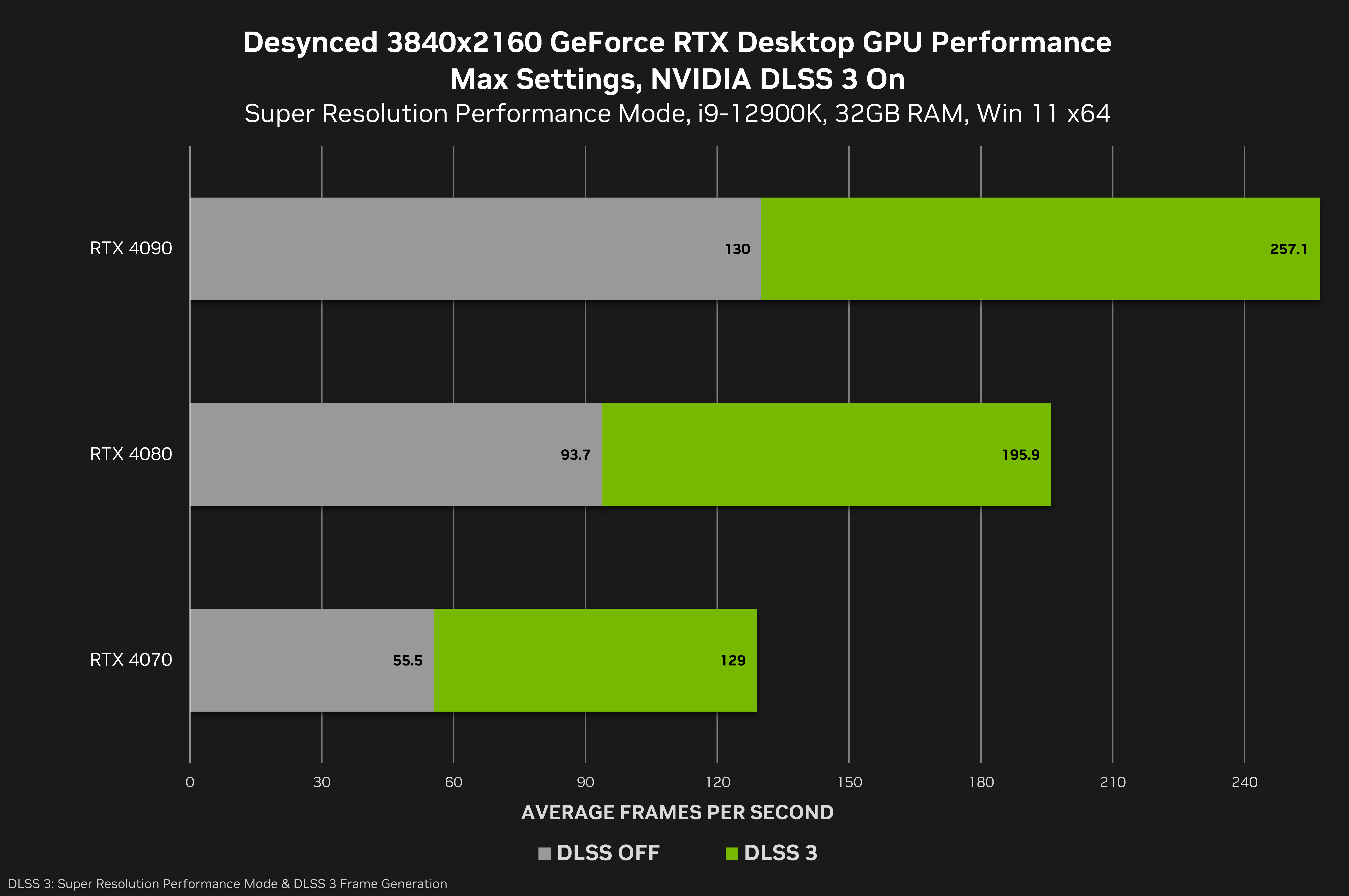 At both 1440p and 1080p performance is boosted by 1.7X on average, enabling GeForce RTX gamers to play Desynced at up to 500 FPS at 1080p:
Remnant II: The Awakened King DLC Available Today: Get The Definitive Experience On GeForce RTX GPUs
Remnant II from Gunfire Games is the sequel to the best-selling game Remnant: From the Ashes that pits survivors of humanity against new deadly creatures and god-like bosses across terrifying worlds. Play solo or co-op with two other friends to explore the depths of the unknown to stop an evil from destroying reality itself.
Released to critical acclaim on July 25th, Remnant II has earned glowing praise from gamers around the world, and is breaking all sorts of records for the franchise. Later today, The Awakened King DLC arrives, adding a new quest chain to solve in the beautifully rendered Losomn. You'll encounter new enemies and bosses, your arsenal will expand with new items, armor and weapons, and players will even unlock a powerful new Archetype, the Ritualist.
GeForce RTX gamers can tailor their Remnant II experience with a full gamut of DLSS modes. DLSS 2 enables all GeForce RTX users to accelerate frame rates, DLSS 3 gives GeForce RTX 40 Series users the power of frame rate multiplication for the fastest performance possible, and DLAA uses a native resolution image to maximize image quality, rather than boosting performance. You can even combine DLAA and DLSS 3 Frame Generation for excellent image quality, and performance.
Using DLSS 3, GeForce RTX 40 Series gamers can multiply Remnant II frame rates by an average of 3.5X, enabling owners of the GeForce RTX 4070 and faster cards to enjoy the game at max settings at 4K, at over 60 FPS: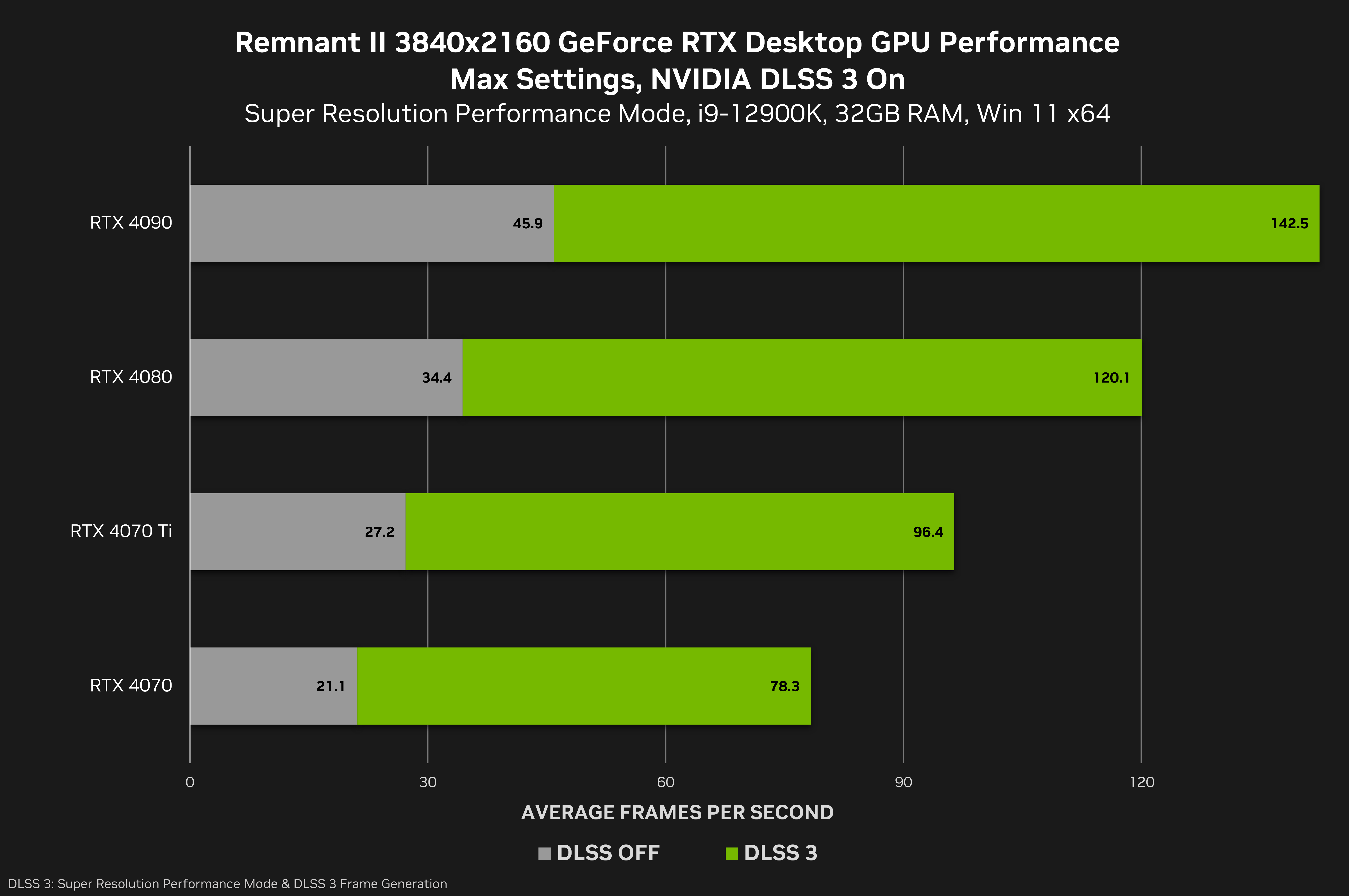 Warhammer Age of Sigmar: Realms of Ruin Available November 17th With DLSS 2 & DLAA
Frontier Developments' Warhammer Age of Sigmar: Realms of Ruin is a new real-time strategy game set in the iconic Warhammer fantasy universe. Become a warlord and lead four unique factions to conquer the wild and savage Realm of Ghur in tense and tactical battles wrapped around a rich, character driven, cinematic story. And once you've won the war, head online for 1v1 and 2v2 competitive matches on a roster of ready-made maps, or craft your own in the comprehensive Map Editor.
When Warhammer Age of Sigmar: Realms of Ruin launches on November 17th, GeForce RTX gamers can immediately activate DLSS 2, accelerating frame rates by an average of 63% at 4K, with every setting cranked to the max.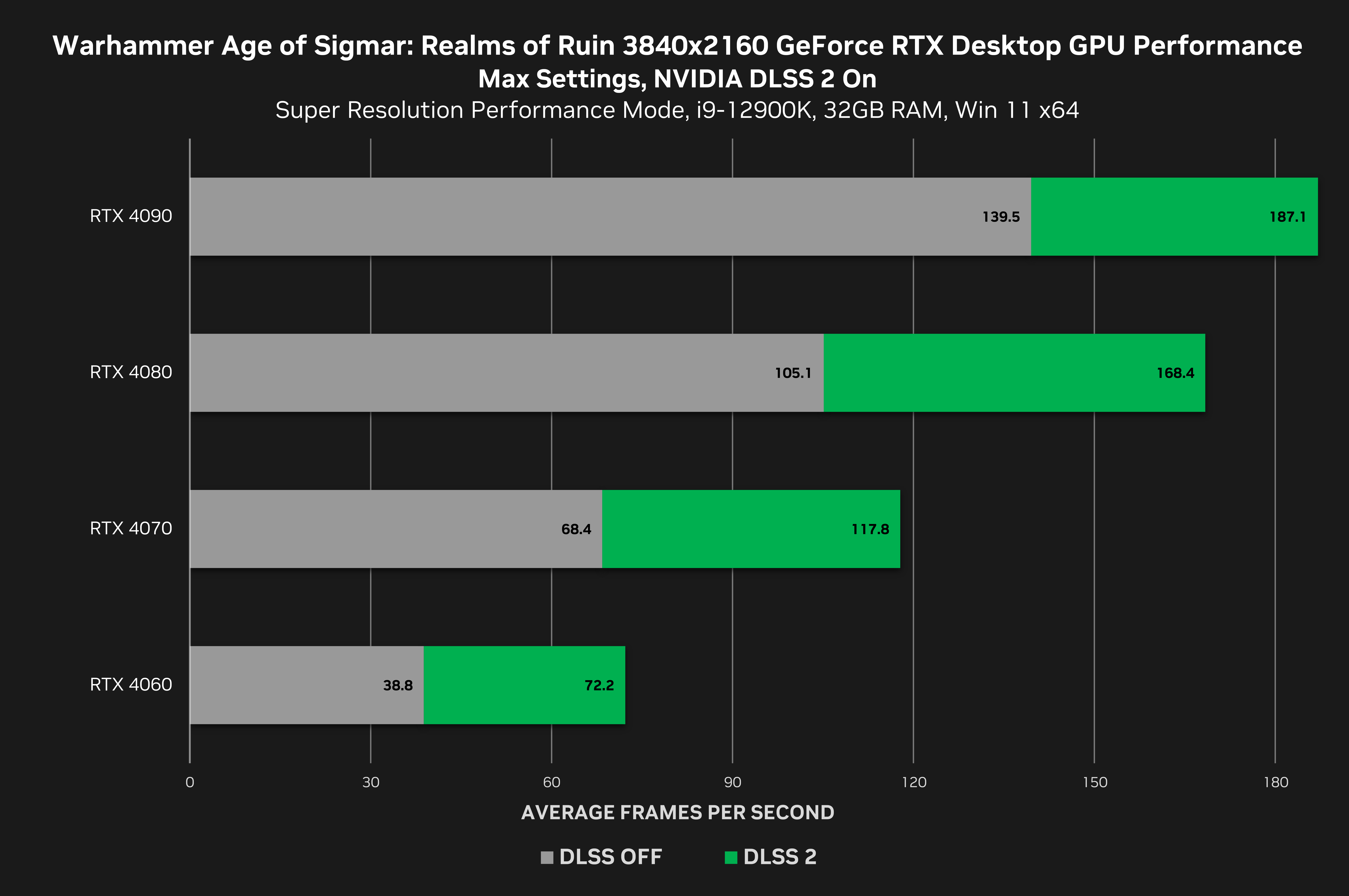 If you find your frame rate fast enough, consider activating NVIDIA DLAA, an AI-based anti-aliasing mode that utilizes the same technology developed for DLSS. DLAA uses a native resolution image to maximize image quality, rather than boosting performance.
Also, if you pre-purchase the Deluxe or Ultimate Editions of Warhammer Age of Sigmar: Realms of Ruin, you can play up to three days earlier, starting November 14th.
Earth: Revival Open Beta Begins November 16th With DLSS 2 Support
In Earth: Revival, a sci-fi open world survival game, an alien invasion has ravaged the planet, and despite 'winning', the remnants of humanity struggle to survive in contaminated zones with limited resources, and the ever-present threat of stranded alien survivors who are also attempting to survive. Explore a vast open world, craft and build resources and shelter to survive, fight alien attackers in third person, and begin the process of reclaiming and rebuilding the planet.
On November 16th, gamers in the Chinese mainland, Hong Kong, Macao, Taiwan and Japan can jump into the Earth: Revival Open Beta. To play, visit the official site for more information. You will be a survivor of the planet: explore this collapsed and disordered world, collect materials, restore energy, and assemble technological weapons and equipment; retake the stronghold, reconstruct your living space, and revive our homeland.
In-game, GeForce RTX owners can activate DLSS 2 to accelerate frame rates by an average of 57% at 4K, with all settings maxed out: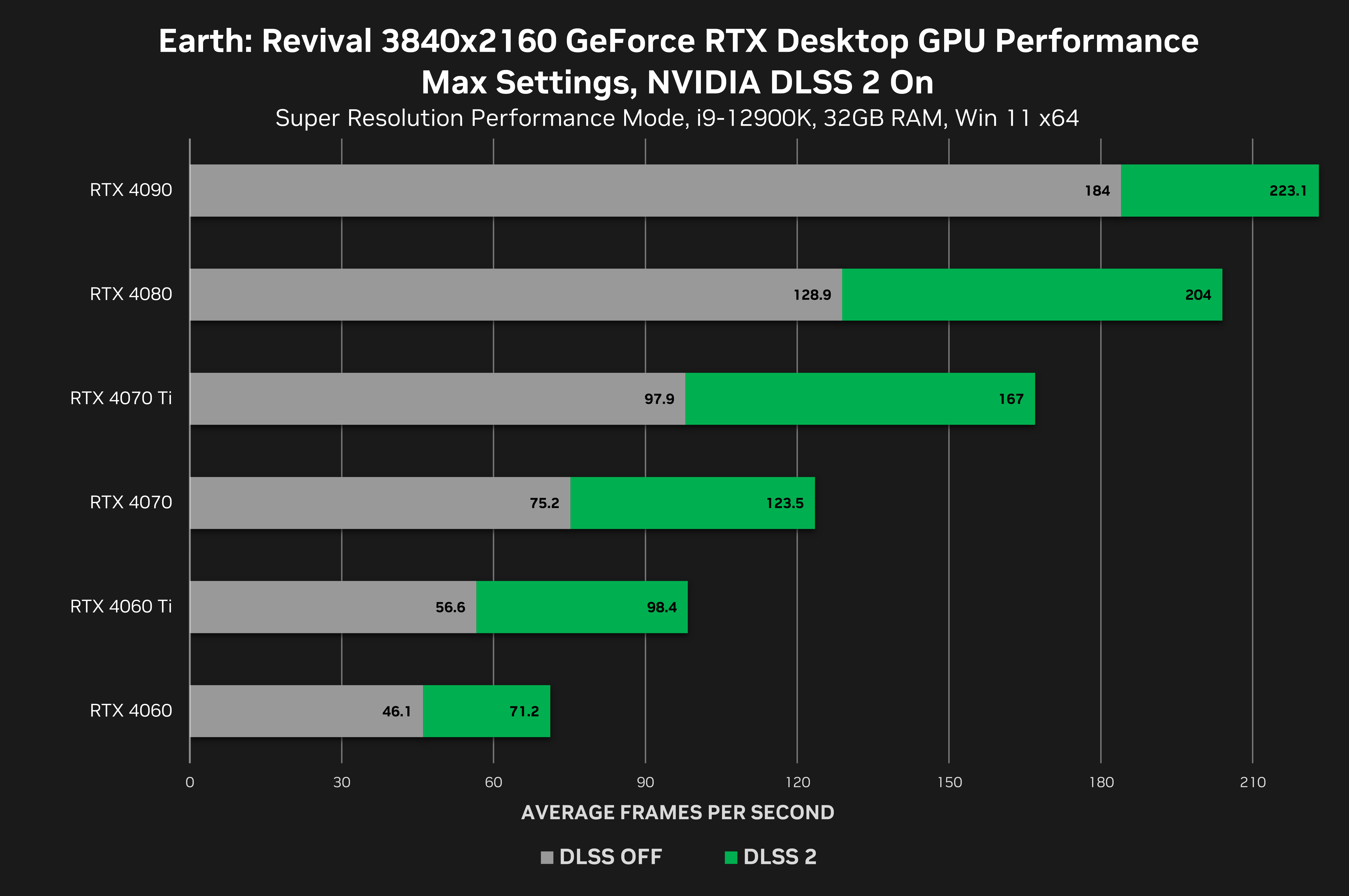 The Lord of the Rings: Return to Moria™, Featuring DLSS 2, Available Now
Summoned to the Misty Mountains by Lord Gimli Lockbearer, players take control of a company of Dwarves tasked to reclaim the lost spoils from the Dwarven homeland of Moria—known as Khazad-dûm or Dwarrowdelf—in the depths below their very feet.
Set in a procedurally generated Dwarven realm of Moria, no two adventures will be alike, and every expedition is traversable either solo or online with up to seven companions. Players can mine to craft greater gear and resources, but beware mining makes noise, and noise created in the quiet deep threatens to awaken the dangers below: where there's clatter, there's combat. Excavate the mysteries of three legendary mountains, extract precious metals, scrape to survive, and battle unspeakable forces to learn the secret of the Shadow that lurks within Free Range Games and North Beach Games' The Lord of the Rings: Return to Moria™.
GeForce RTX gamers can crank settings and enjoy the fastest frame rates thanks to the day-one inclusion of DLSS 2, which increases performance by an average of 2.5X at 4K: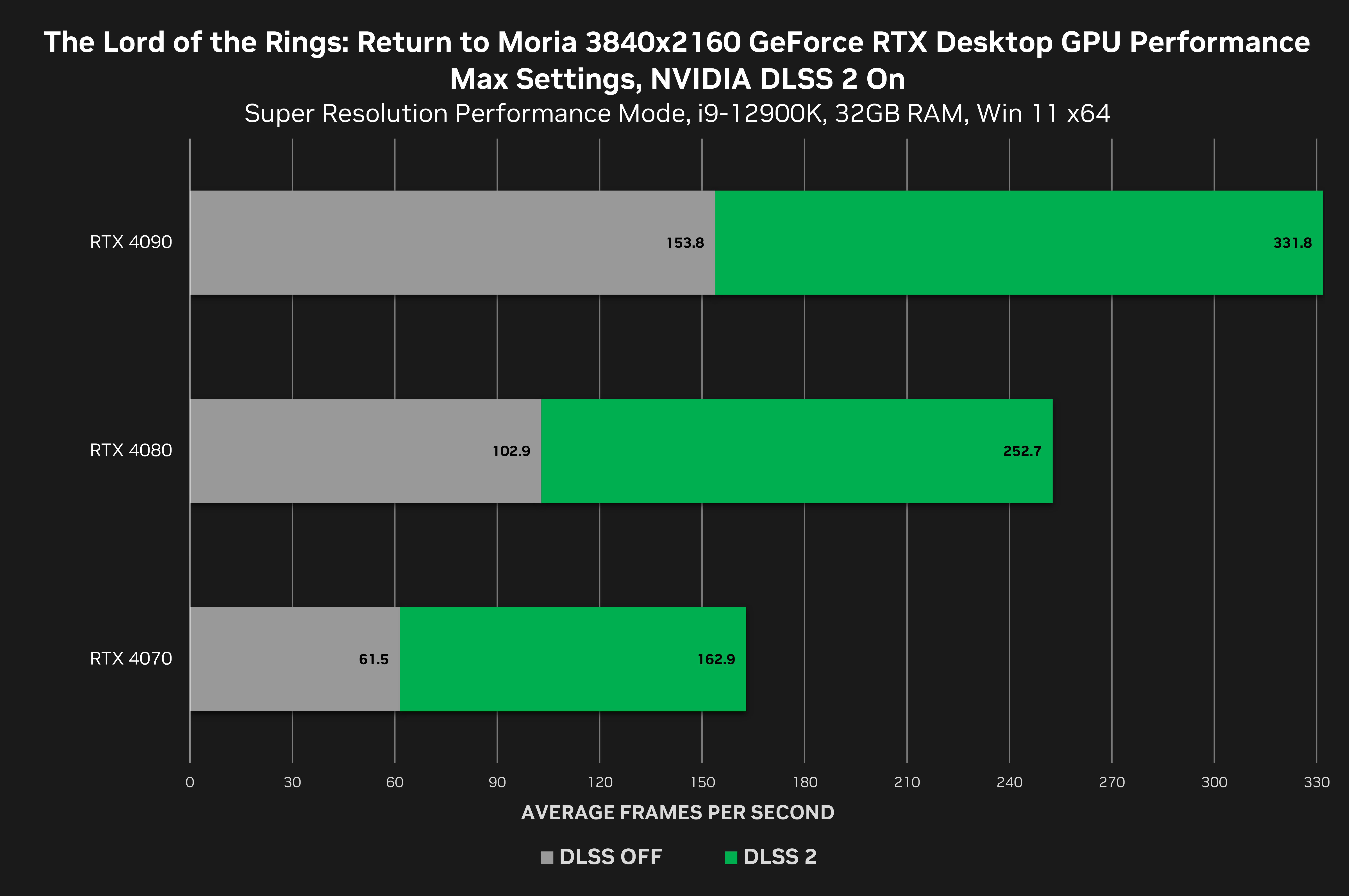 At 2560x1440, frame rates are boosted by an average of 60%, enabling every GeForce RTX 40 Series GPU owner to play The Lord of the Rings: Return to Moria™ at over 120 FPS, with frame rates topping 400 on the GeForce RTX 4090: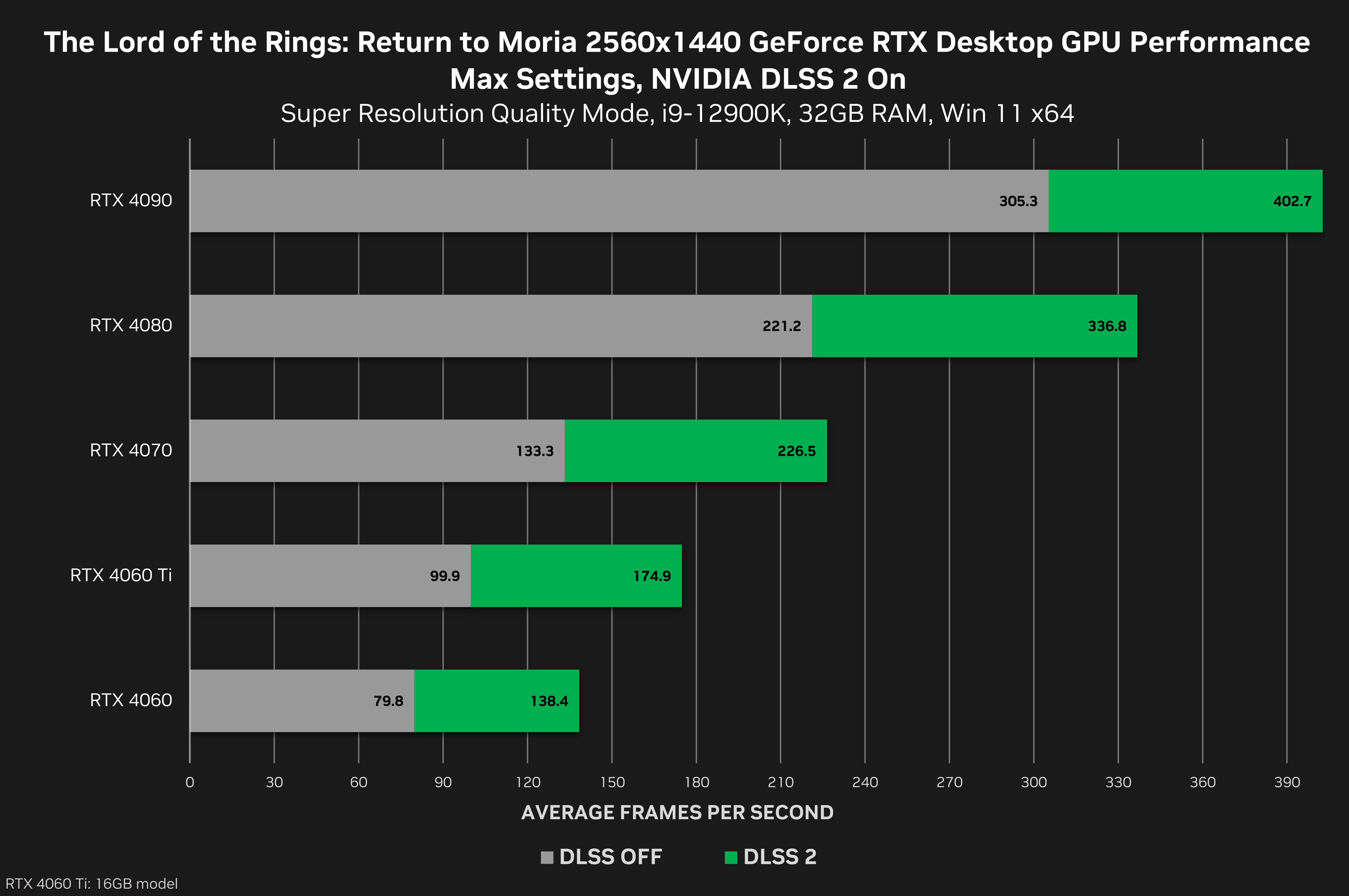 Check Back Next Week For Even More RTX Games
Each week there are even more DLSS integrations arriving for an array of games. Check back next week for a rundown of the next DLSS and RTX games, and head here to see the complete list of several hundred DLSS-enhanced games and apps.