Our newest GeForce Game Ready Driver further optimizes the DLSS 3-enhanced Atomic Heart, which is available now, and gets your system ready for the two-week closed beta for Embark Studios' THE FINALS, a highly-anticipated multiplayer PvPvP first-person shooter, featuring a full slate of NVIDIA technology, and massively destructible environments.
Plus, we're introducing support for RTX Video Super Resolution, which uses AI to improve the quality of video streamed through Google Chrome and Microsoft Edge browsers on GeForce RTX 30 and 40 Series GPUs.
Please note, this release was updated on March 14th, 2023 to incorporate new fixes. If you installed the original version, you can download the new version, 531.29 WHQL, from the Drivers tab of GeForce Experience and GeForce.com.
Game Ready For Atomic Heart Available Now With DLSS 3
In Mundfish's Atomic Heart, humans live in a utopia full of wonders, in harmony with their loyal and fervent robots. But with the upcoming launch of a new neural network version allowing them to control robots just mere days away, terrifying machines, superpowered robots and mutated creatures rise up against their creators, and only you can save Atomic Heart's idealized world.
When Atomic Heart launched on February 21st, GeForce RTX gamers had class-leading performance, plus support for NVIDIA DLSS 3, NVIDIA DLSS 2 and NVIDIA Reflex.
When DLSS 3 is enabled, 4K performance with a GeForce RTX 4090 is boosted by 90% to 184 FPS, and with a GeForce RTX 4080 it's increased by 80% to 146 FPS. With a GeForce RTX 4070 Ti at 1440p, DLSS 3 increases performance by 62%, running at max settings at over 160 FPS. DLSS 3 can also help boost performance in CPU-bound scenarios.
Download and install the new Game Ready Driver now to ensure your system's primed for the launch of DLSS 3, and to further optimize your experience today.
Game Ready For THE FINALS Closed Beta
Embark Studios' THE FINALS is an upcoming free-to-play shooter set in a highly destructive world, making each match unique. Players form teams of three and enter tournaments with multiple teams duking it out simultaneously to progress to the next round. The goal is to collect, carry, and bank boxes of cash - the team with the most cash at the end of the round wins. But team wipes and steals see the pendulum of success swing widely from moment to moment, putting contestants on the edges of their seats each and every match.
On March 7th, a new two-week closed beta begins, giving gamers a chance to sample THE FINALS before its launch later this year. To participate, simply head to the game's Steam page, and sign up via the button near the top of the page. Once the beta begins and your participation is confirmed, you'll be able to download the game client via your Steam Library.
Selected players will discover support for NVIDIA DLSS, NVIDIA Reflex and hardware-accelerated RTXGI ray tracing, accelerating performance, making gameplay more responsive, and enhancing image quality.
For further information, head to GeForce.com's THE FINALS Closed Beta article, and to ensure your system takes full advantage of our technology, download and install the new Game Ready Driver.
RTX Video Super Resolution Now Available!
Available today with the new Game Ready Driver, RTX Video Super Resolution uses AI and RTX Tensor Cores to improve the quality of video watched in a Chrome or Edge browser by removing blocky compression artifacts and upscaling video resolution. This improves video sharpness and clarity, and lets people watch online content – whether from Twitch, YouTube, Netflix or Hulu – in its native resolution on high-resolution displays up to 4K.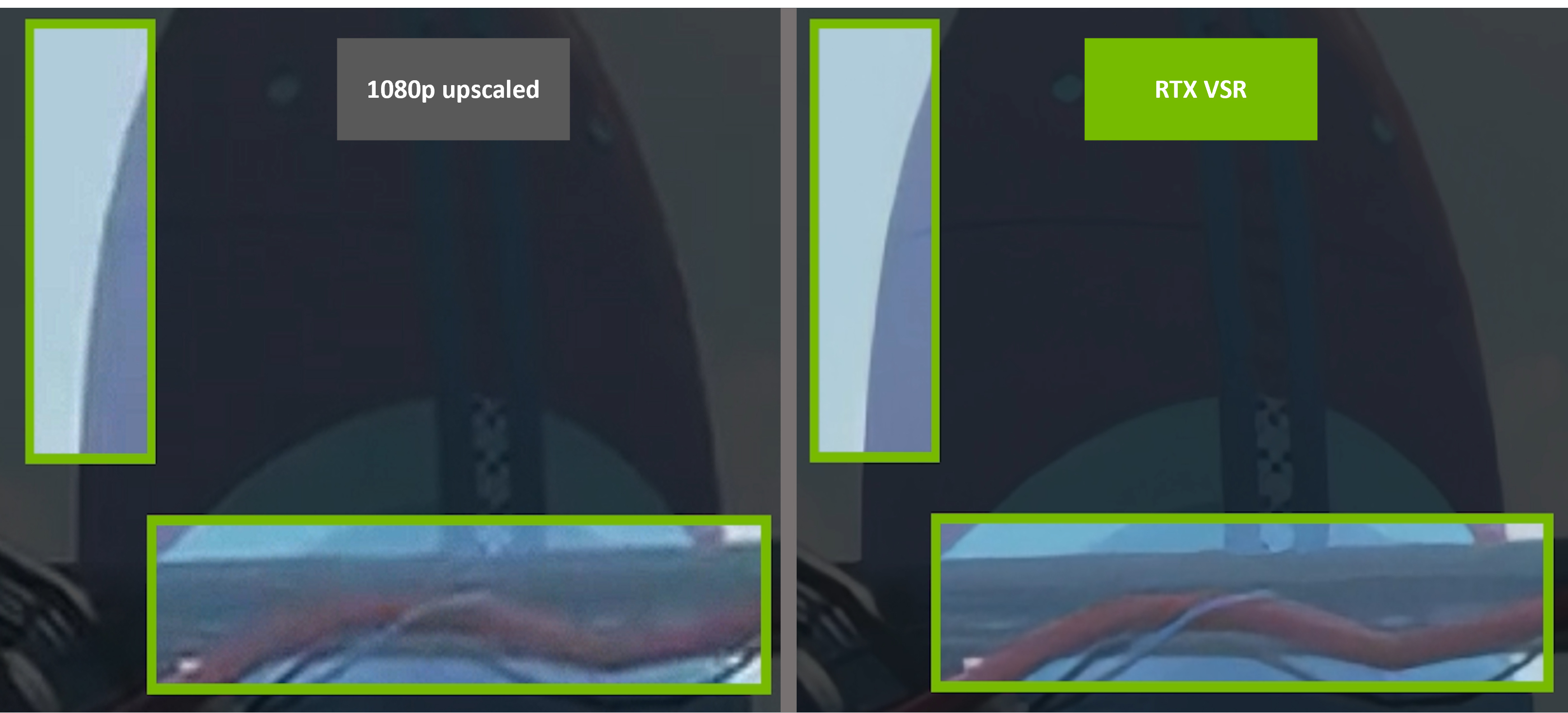 RTX Video Super Resolution sharpens edges and removes artifacts, as you can see in this 1080p to 4K VSR Upscaling game video example, with a 2x zoom highlighting the differences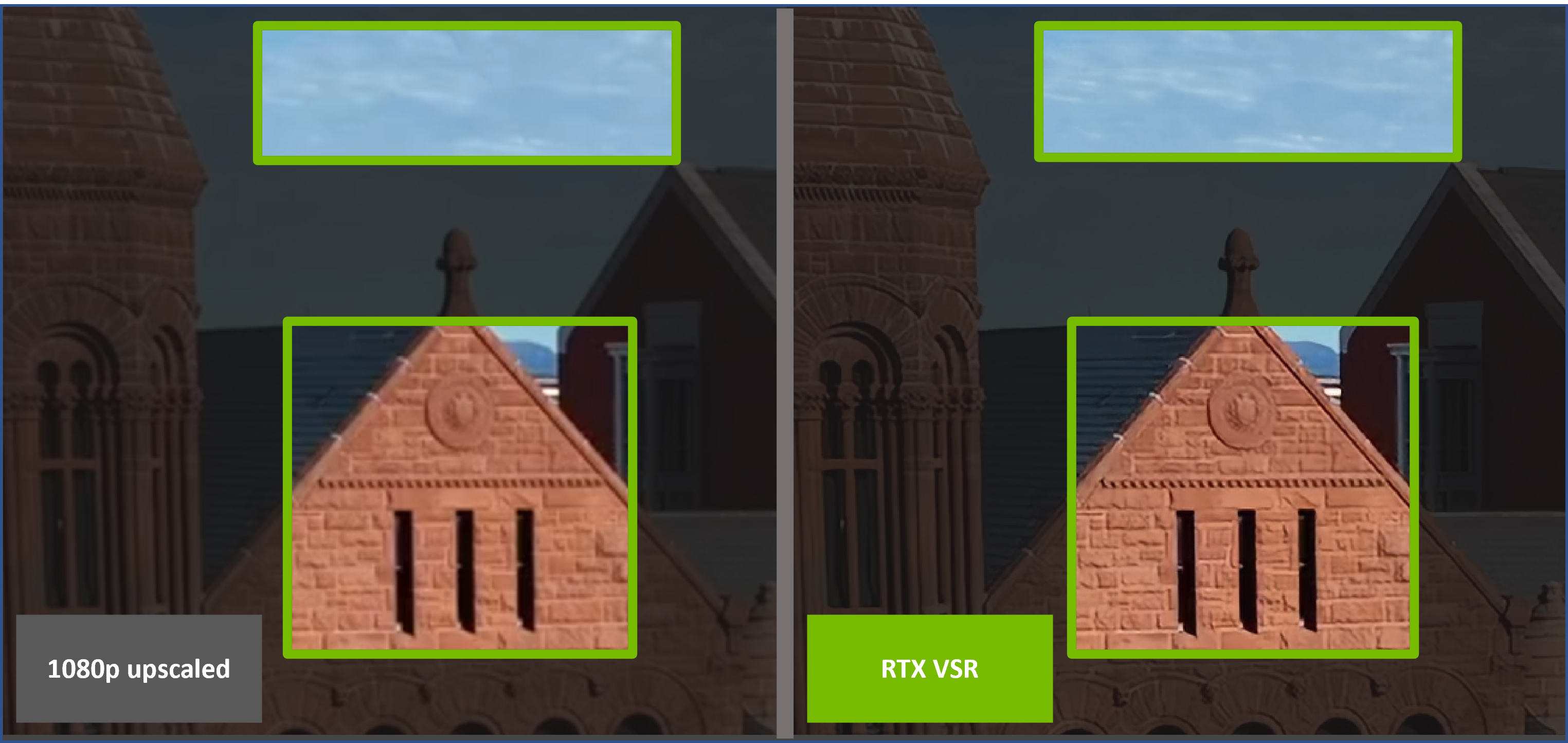 RTX VSR models are trained on a wide variety of video genres, from gaming to live video.
In this example, we're upscaling a real-world video from 1080p to 4K with VSR Upscaling on the right, and basic bilinear upscaling on the left, and applying a 2x zoom to highlight the differences.
Before enabling RTX VSR on your PC, your Chrome or Edge browser will need to be updated to the latest version. Chances are, your browser has already been updated. If you would like to manually verify you are on the latest, follow these guides:
To enable VSR on your GeForce RTX 30 or 40 series PCs, open the NVIDIA control panel and under "Adjust Video Settings", enable "Super resolution".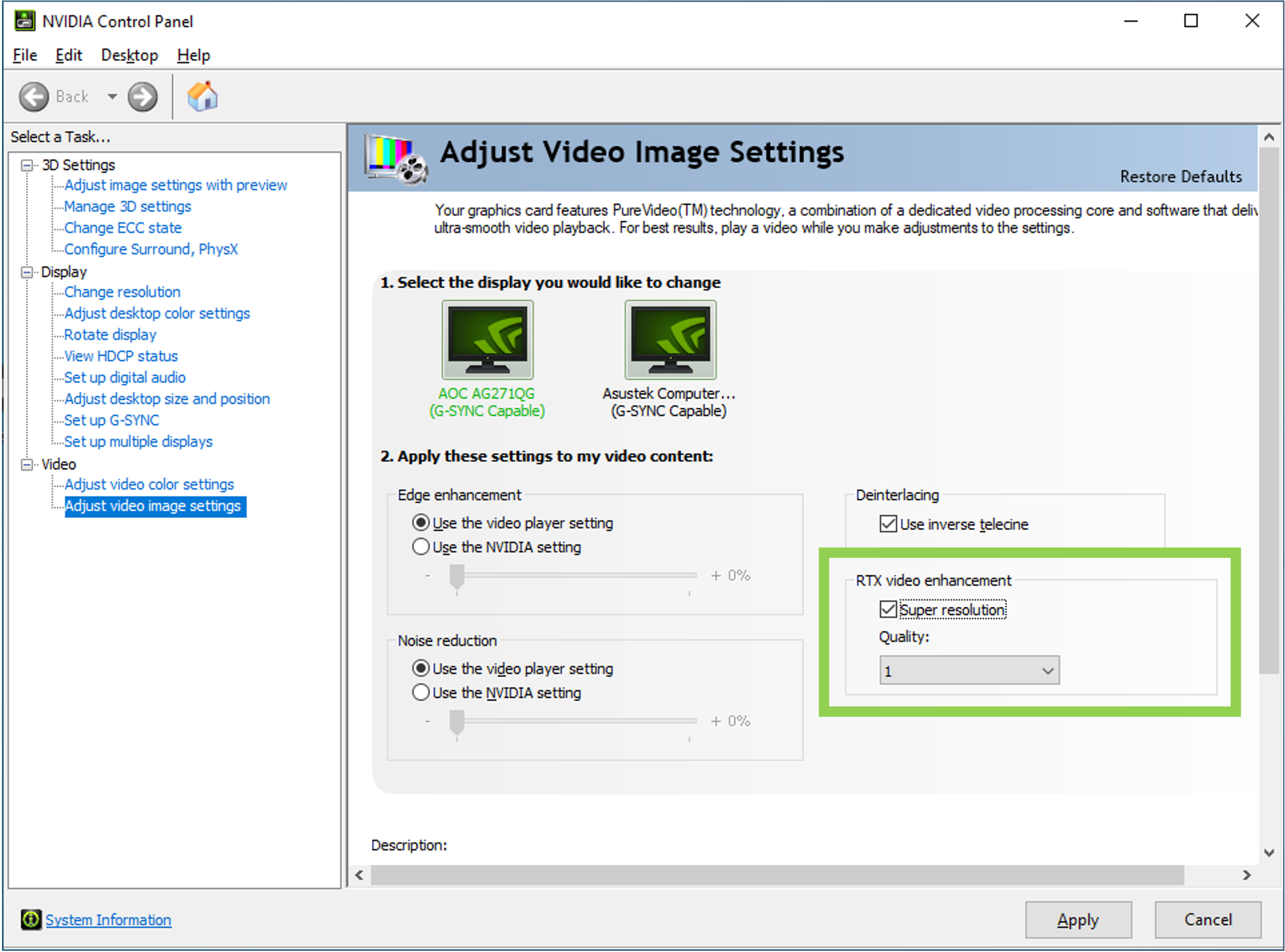 Users can specify quality levels between 1 (lowest) to 4 (highest). Higher quality levels will result in sharper images and improved artifact reduction. Higher quality levels require additional GPU resources, so if users need more horsepower to run creative apps or games while playing video, the quality level can be adjusted. All 30 and 40 series RTX GPUs are able to comfortably upscale using quality level 1, and xx70 class or higher are able to play most content at quality level 4.
For more information on laptop setup and troubleshooting, please view our FAQ.
New Games Supported By GeForce Experience's Optimal Settings
GeForce Experience's one-click optimal settings enable you to instantly configure game options for your system's hardware, giving you smooth, optimized gameplay. Over 1000 titles are supported, and since our last driver release we've added support for 7 more:
Atomic Heart

Company of Heroes 3

Hogwarts Legacy

PERISH

Sons Of The Forest

The Settlers: New Allies

Warlander
GeForce Experience also enables you to capture and stream your gameplay, take screenshots, upload videos to social networks, and more. For all the details, head here.
GeForce Game Ready Driver - Download Now
Learn more about GeForce Game Ready Drivers here; download the new GeForce Game Ready 531.29 WHQL driver through GeForce Experience.
If you experience any technical issues with the new Game Ready drivers please post a detailed report on the GeForce.com Driver Feedback Forum, where our Customer Care team can better assist you. And if you're looking for a full list of fixes in this driver, for previously-reported issues, head here.