Our latest GeForce Game Ready Driver unlocks the full potential of fast and efficient GeForce RTX 40 Series laptops, starting with GeForce RTX 4090 and GeForce RTX 4080 models that launch today.
Our new driver is also a recommended update for all GeForce RTX gamers, due to the inclusion of optimizations and NVIDIA DLSS support for highly anticipated games, including Hello Neighbor 2 and PERISH. For strategy game fans, there are day-0 optimizations for Company of Heroes 3, and World of Warcraft players gain support for NVIDIA Reflex.
Plus, we've got support for 10 new G-SYNC Compatible gaming displays, and 5 new GeForce Experience Optimal Playable Settings profiles.
To download and install, head to the Drivers tab of GeForce Experience or GeForce.com, and read on for further details.
Game Ready For GeForce RTX 4090 & 4080 Laptops
Today, we welcome a new era of laptop computing, powered by the NVIDIA Ada Lovelace architecture, NVIDIA DLSS 3, GeForce RTX 4090 & 4080 Laptop GPUs, and new 5th generation Max-Q technologies, which multiply performance and deliver unprecedented efficiency.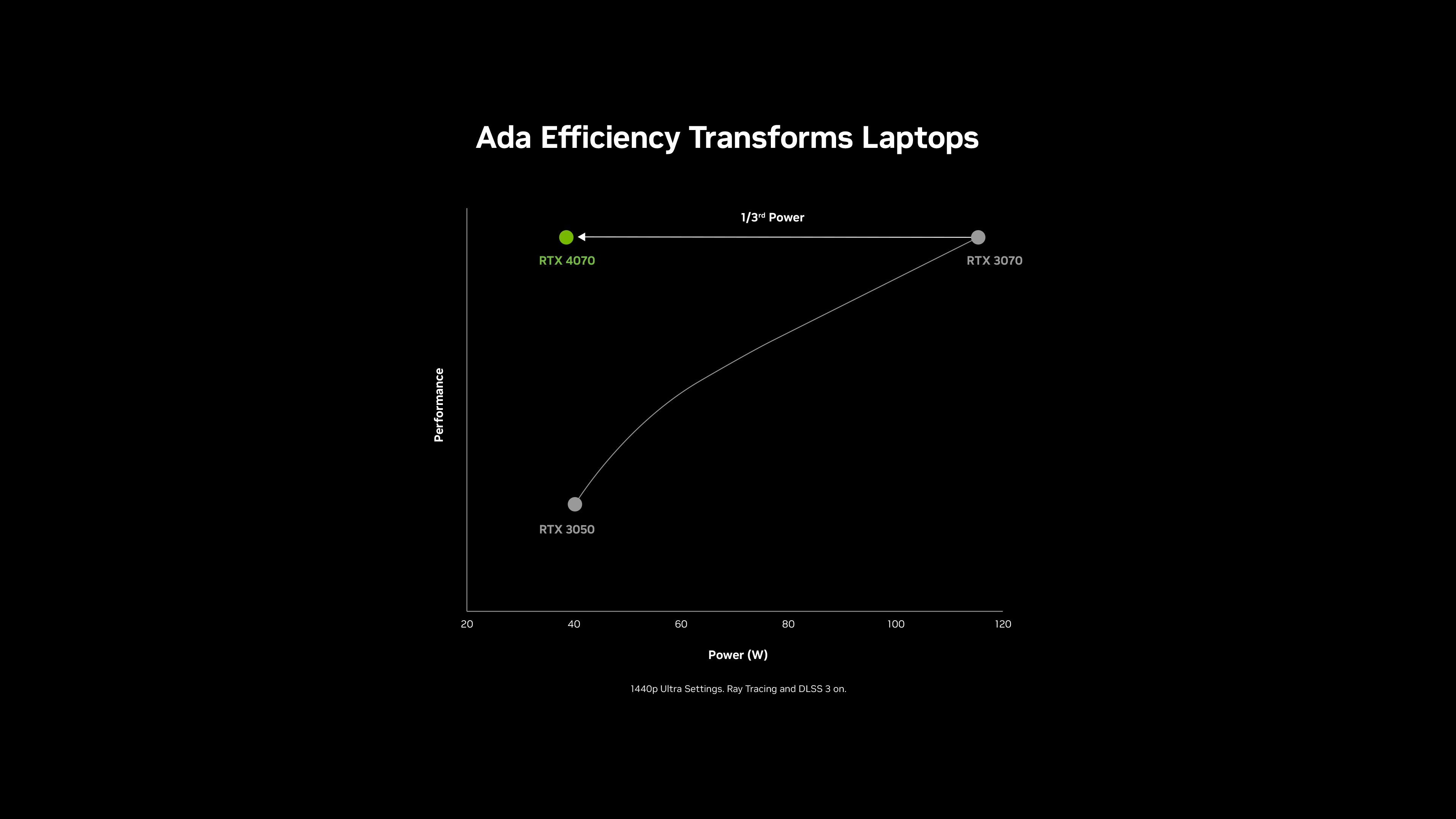 Starting today, our critically acclaimed GeForce RTX 40 Series GPUs come to laptops, beginning with the launch of GeForce RTX 4090 and 4080 models.
The world's fastest laptops, powered by GeForce RTX 4090 and 4080 laptop GPUs enable users to game at previously impossible detail levels and speeds, and to power through creative workloads in a fraction of the time, all in thin and light form factors.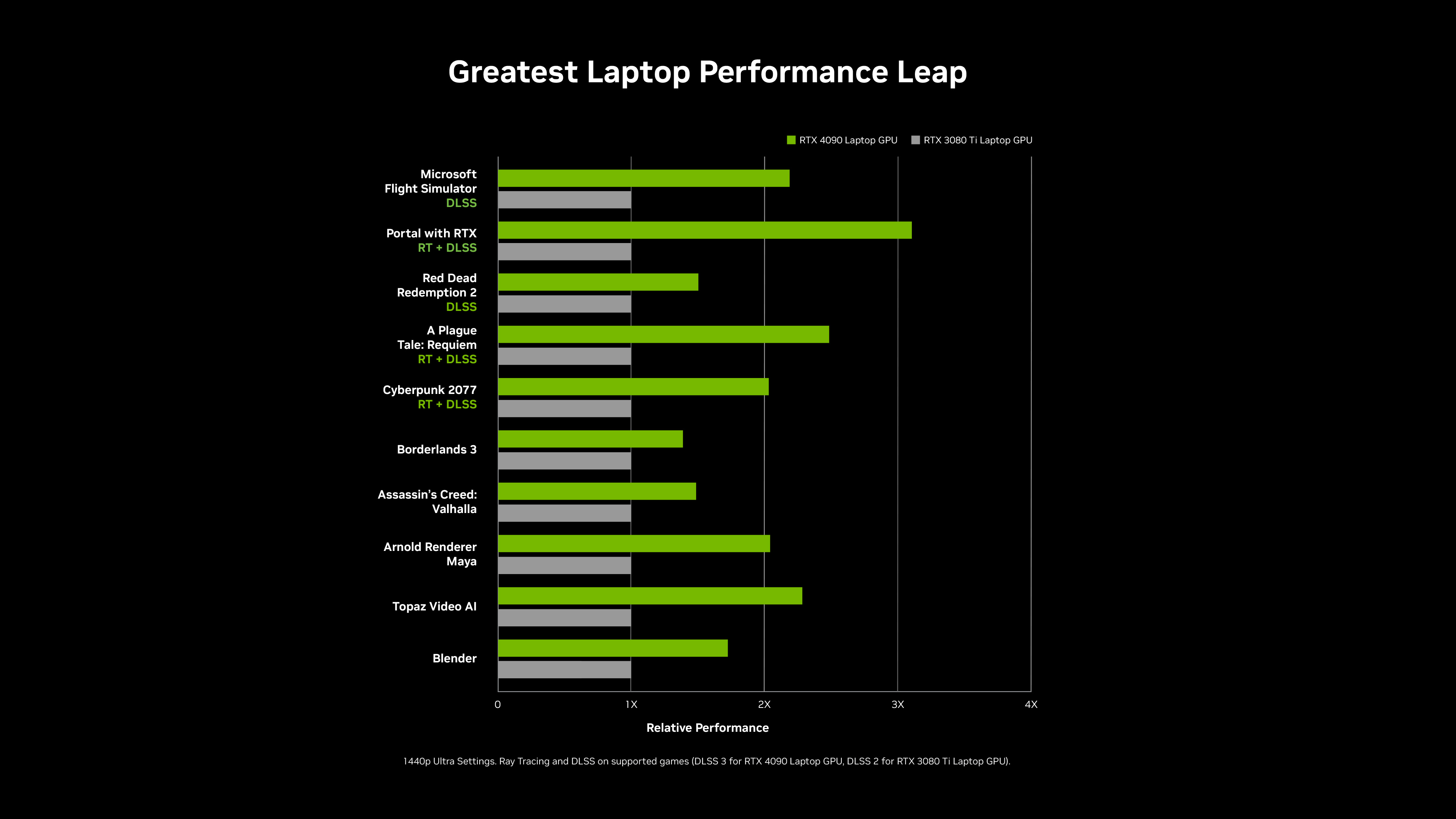 If you pick up one of these new laptops, download and install our new Game Ready Driver for the optimum experience, and to learn more, head on over to our GeForce RTX 40 Series laptop announcement article.
Game Ready For New Blockbuster Games
Game Ready Drivers include optimizations, enhancements, and more, to support the latest releases and newest title updates. In our new driver, we've got launch support for several highly anticipated releases, giving players the best possible experience when gaming on GeForce RTX graphics cards, desktops and laptops:
Support For Newly Validated G-SYNC Compatible Displays
Our newest Game Ready Driver also adds support for 10 new G-SYNC Compatible displays that deliver a baseline Variable Refresh Rate (VRR) experience that makes your gaming smoother and more enjoyable.
| | | | | | | |
| --- | --- | --- | --- | --- | --- | --- |
| Manufacturer | Model | HDR | Size | Panel Type | Resolution | VRR Range |
| AOC | PD32M | Yes | 32" | IPS | 3840x2160 | 48-144Hz |
| ASUS | XG32AQ | Yes | 32" | IPS | 2560x1440 | 48-144Hz |
| ASUS | XG27AQV | Yes | 27" | IPS | 2560x1440 | 48-165Hz |
| IO-Data | GCQ271HA | Yes | 27" | IPS | 2560x1440 | 59-165Hz |
| Lenovo | Y27-30 | Yes | 27" | IPS | 1920x1080 | 48-165Hz |
| LG | 27GR950 | Yes | 27" | OLED | 2560x1440 | 48-240Hz |
| LG | 45GR95QE | Yes | 45" | OLED | 3440x1440 | 40-240Hz |
| MSI | G321Q | Yes | 32" | IPS | 2560x1440 | 60-165Hz |
| ViewSonic | VX2781-2K-Pro/2 | Yes | 27" | IPS | 2560x1440 | 48-170Hz |
| ViewSonic | VX2781-4K-Pro | Yes | 27" | IPS | 3840x2160 | 48-150Hz |
These newly-validated monitors give gamers even more choice when searching for a great gaming display. For a complete list of all G-SYNC, G-SYNC ULTIMATE, and G-SYNC Compatible gaming monitors, check out our handy and frequently updated G-SYNC page, which can be sorted and filtered, helping you quickly find the ideal display.
New Games Supported By GeForce Experience's Optimal Settings
GeForce Experience's one-click optimal settings enable you to instantly configure game options for your system's hardware, giving you smooth, optimized gameplay. Over 1000 titles are supported, and since our last driver release we've added support for 5 more:
Dead Space

Dual Universe

Goat Simulator 3

Paragon: The Overprime

STALCRAFT
GeForce Experience also enables you to capture and stream your gameplay, take screenshots, upload videos to social networks, and more. For all the details, head here.
GeForce Game Ready Driver - Download Now
Learn more about GeForce Game Ready Drivers here; download the new GeForce Game Ready 528.49 WHQL driver through GeForce Experience.
If you experience any technical issues with the new Game Ready drivers please post a detailed report on the GeForce.com Driver Feedback Forum, where our Customer Care team can better assist you. And if you're looking for a full list of fixes in this driver, for previously-reported issues, head here.