Each week we're bringing you the latest news on games launching with NVIDIA DLSS and advanced ray tracing. Last week, the much-anticipated technology preview of Cyberpunk 2077's Ray Tracing: Overdrive Mode, powered by DLSS 3, launched to critical acclaim. And DLSS 2 was added to High On Life and Like a Dragon: Ishin!.
This week, DLSS is now available in 290 released games and apps, including Bleak Faith: Forsaken, Romancelvania, and Sherlock Holmes The Awakened. Read on to learn more.
DLSS Is Now Available In 290 Released Games & Apps
NVIDIA DLSS 2 is available in a vast array of games, from the biggest blockbusters to titles made by just one person. In recent weeks, a varied selection of new DLSS 2-enhanced games have hit Steam, taking us a total of 290 DLSS-accelerated games and apps. In case you missed the most recent releases, here's a quick roundup.
Explore the last remnants of civilization in this vast, unforgiving, and interconnected world. Learn what is left of its history. Discover pockets of natural life in the perpetually expanding Omnistructure. Lose yourself in a journey unlike any other. Find your purpose in the world.
Bite into Romancelvania, a darkly comic genre mashup, combining side-scrolling action and tongue-in-cheek romance into one completely absurd and unforgettable adventure.
Experience a nerve-racking Lovecraftian adventure, rebuilt from the ground up with modern graphics and gameplay. Become Sherlock Holmes, and find yourself at the heart of the terrifying Cthulhu Mythos as you investigate a series of mysterious disappearances in Europe and the US.
Now available on Steam with new content, Sifu is a realistic third-person brawler with tight Kung Fu combat mechanics and cinematic martial arts action embarking you on a path for revenge.
In each game, along with the many other games and apps that already support NVIDIA DLSS 2, all GeForce RTX gamers can accelerate their performance, and use the headroom provided to crank up the settings, for the most detailed and immersive gameplay experience possible.
GeForce RTX 4070 Available Now: Max Out Your Games At 1440p
The new GeForce RTX 4070 is available now worldwide, with NVIDIA DLSS 3, and all the other advancements and benefits of the NVIDIA Ada Lovelace architecture, enabling you to max out your favorite games at 1440p.
In the 290 DLSS-enhanced games and apps, your frame rates with the GeForce RTX 4070 get even higher, and with NVIDIA DLSS 3's Frame Generation technology, you'll get the definitive experience in the most demanding titles, and those packed with a multitude of ray-traced effects.
Press and YouTubers have taken the new GeForce RTX 4070 through their rigorous tests, and here's a sampling of what they had to say:

"NVIDIA's $599 GeForce RTX 4070 delivers superb 1440p gaming and ray tracing performance backed by excellent features like DLSS 3 Frame Generation and NVIDIA Reflex." - PCWorld
"One reason to go for an RTX 40-series class card over an older generation is the jump from DLSS 2 to DLSS 3, Nvidia's performance optimization technology, that the newer Ada architecture made over Ampere. DLSS 3 delivers significant gains over its predecessor." - CNET
"Throw DLSS 3.0 into the mix, with the black magic of Frame Generation, and you've now got a mighty tasty upgrade to what was a fantastic GPU back in the day." - PC Gamer
"DLSS makes the RTX 4070 into an actual 4K contender, which hasn't really been the case for any xx70 Nvidia cards in the past. And even if you're sticking to 1440p, you're going to make the high frame rates this graphics card naturally manages even higher. The technology really has never been better…" - IGN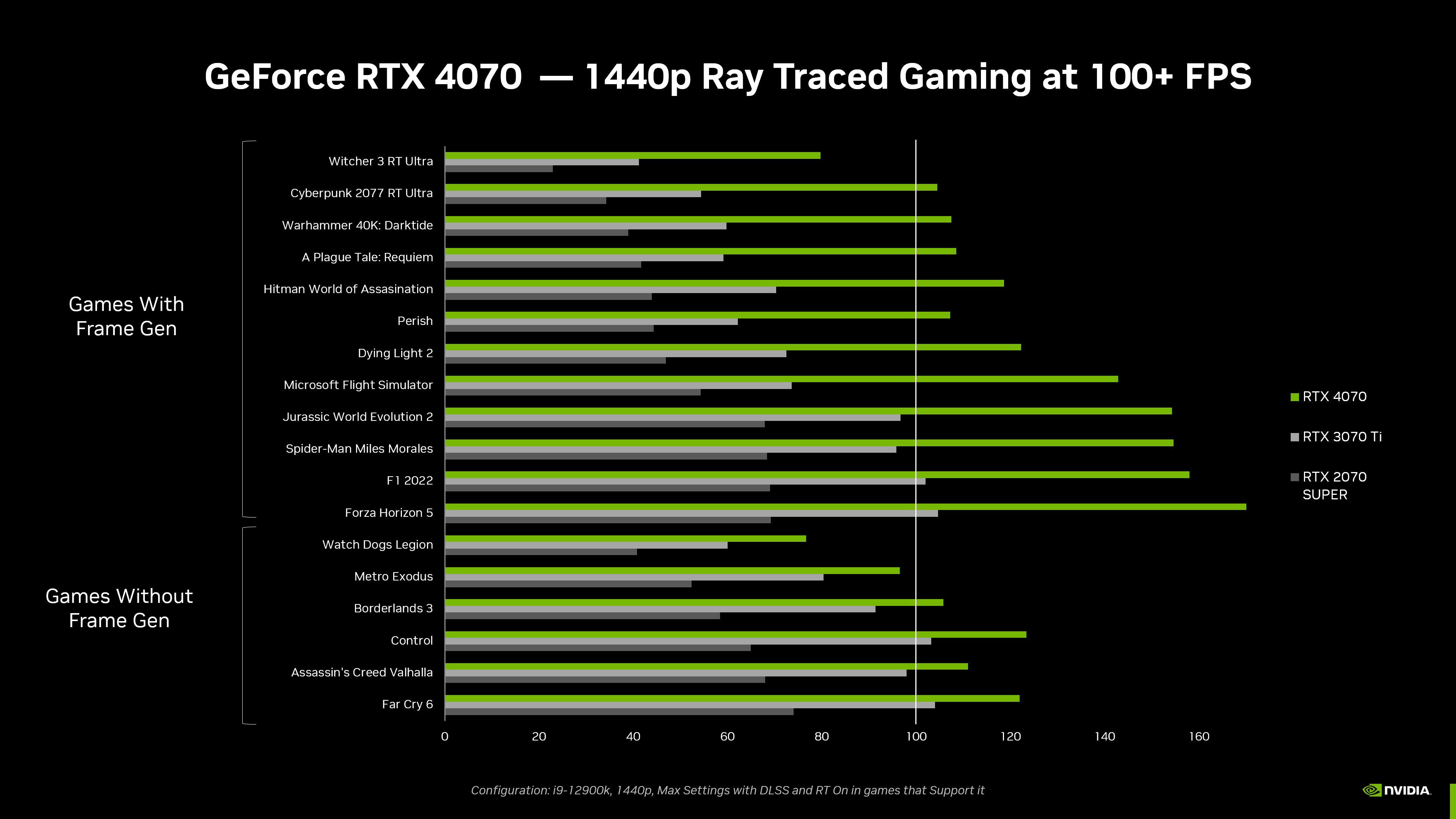 Cyberpunk 2077 Technology Preview Of Full Ray Tracing Mode Released: "This Is The Future"
The technology preview of Cyberpunk 2077's Ray Tracing: Overdrive Mode is now available powered by DLSS 3. This free update enhances the game's already-amazing visuals with full ray tracing, otherwise known as path tracing, taking immersion and image quality to new heights.
For even more info on the making of the new Ray Tracing: Overdrive Mode, check out our interview with CD PROJEKT RED
Gamers and media have been checking the incredible new mode out, and just about everyone agrees that it offers a preview of gaming's future, where everything is accurately and realistically rendered, immersing you in the action:
"This is the future" - Forbes
"the New Pinnacle of Graphics" - WCCFTech
"Looks Glorious" - GLITCHED
"... one of the greatest achievements in real time graphics rendering to date." - Digital Foundry
"Frame Generation in Cyberpunk 2077 works extremely well" - HotHardware
"Switch the magic DLSS button on and you'll see framerates skyrocket" - Dexerto
For the technology preview of Cyberpunk 2077's Ray Tracing: Overdrive Mode, we currently recommend a GeForce RTX 40 Series GPU and NVIDIA DLSS 3.
Those without a game-ready device can also experience Cyberpunk 2077 with DLSS 3 and full ray tracing in the new Ray Tracing: Overdrive Mode by streaming it from the cloud with a GeForce NOW Ultimate membership, which gives you the power of a GeForce RTX 4080-class PC in the cloud.
Check Back Next Week For More
DLSS releases are continuously dropping into the newest blockbusters and latest indie games. Check back next week for a rundown of the latest developments in the world of DLSS.