Our latest GeForce Game Ready Driver unlocks the full potential of the new GeForce RTX 4070. To download and install, head to the Drivers tab of GeForce Experience or GeForce.com.
The new GeForce RTX 4070 is available now worldwide, equipped with 12GB of ultra-fast GDDR6X graphics memory, and all the advancements and benefits of the NVIDIA Ada Lovelace architecture, enabling you to max out your favorite games at 1440p.
A Plague Tale: Requiem, Dying Light 2 Stay Human, Microsoft Flight Simulator, Warhammer 40,000: Darktide, and other demanding games run at over 100 frames per second thanks to DLSS 3. And so do popular DLSS 2 games, such as Battlefield 2042, Call of Duty: Modern Warfare II, and Marvel's Guardians of the Galaxy.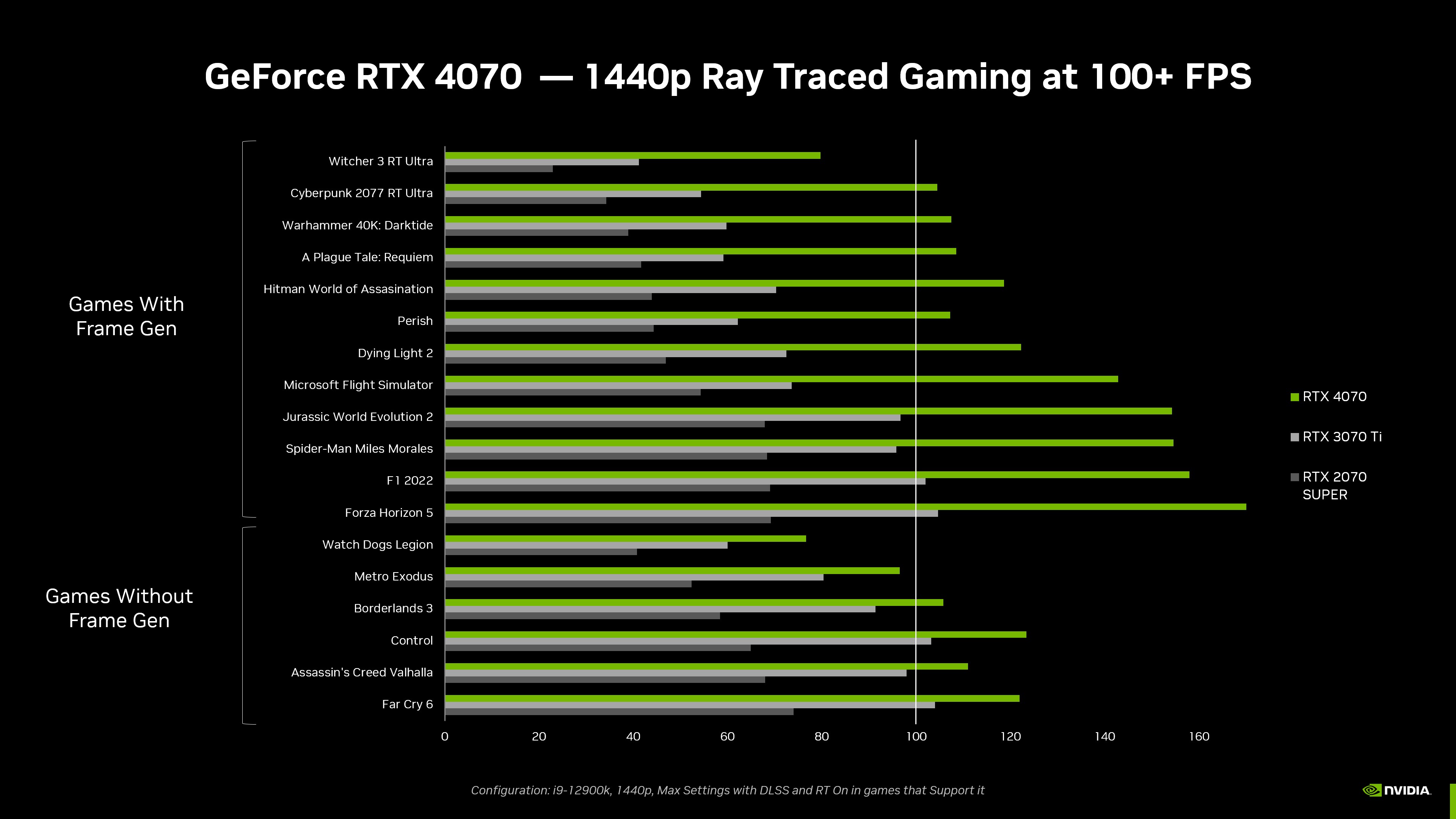 And like other GeForce RTX 40 Series GPUs, the GeForce RTX 4070 is much more efficient than previous generation products, using 23% less power on average than the GeForce RTX 3070 Ti, while running up to 1.7x faster with DLSS 3 when gaming.
The GeForce RTX 4070 also includes all the same advancements, enhancements, and innovations as other GeForce RTX 40 Series graphics cards, granting you access to a massive ecosystem of technologies and features that improve your gaming experiences, productivity, and creativity.
Press and YouTubers have taken the new GeForce RTX 4070 through their rigorous tests, and here's a sampling of what they had to say:
"The new 1440p gaming leader" - Engadget

"Throw DLSS 3 into the mix, with the black magic of Frame Generation, and you've now got a mighty tasty upgrade to what was a fantastic GPU back in the day." - PC Gamer

"NVIDIA hit the sweet spot for performance, size, power, noise, and temperatures, and with that, this could be a great SFF card." - LanOC

"NVIDIA's $599 GeForce RTX 4070 delivers superb 1440p gaming and ray tracing performance backed by excellent features like DLSS 3 Frame Generation and NVIDIA Reflex." - PCWorld

"From high 1080p gaming to low 4K, as well as for mid range graphics and video production, NVIDIA's RTX 4070 graphics card has got it covered." - CNET

"When compared to the Ampere cards we tested, the RTX 4070 feels like a good generational leap, especially if you're upgrading from the RTX 3070 Ti to Lovelace. It not only provides a boost in rasterization applications but provides a generational leap with its ray tracing performance. Throw DLSS on top of that and it begins to make an extremely compelling argument." - MMORPG
For a complete rundown of the GeForce RTX 4070's capabilities and features, be sure to check out our comprehensive announcement article.
New Games Supported By GeForce Experience's Optimal Settings
GeForce Experience's one-click optimal settings enable you to instantly configure game options for your system's hardware, giving you smooth, optimized gameplay. Over 1000 titles are supported, and since our last driver release we've added support for 4 more:
Big Ambitions

Resident Evil 4

Smalland: Survive The Wilds

The Last of Us Part I
GeForce Experience also enables you to capture and stream your gameplay, take screenshots, upload videos to social networks, and more. For all the details, head here.
GeForce Game Ready Driver - Download Now
Learn more about GeForce Game Ready Drivers here; download the new GeForce Game Ready 531.61 WHQL driver through GeForce Experience.
If you experience any technical issues with the new Game Ready drivers please post a detailed report on the GeForce.com Driver Feedback Forum, where our Customer Care team can better assist you. And if you're looking for a full list of fixes in this driver, for previously-reported issues, head here.