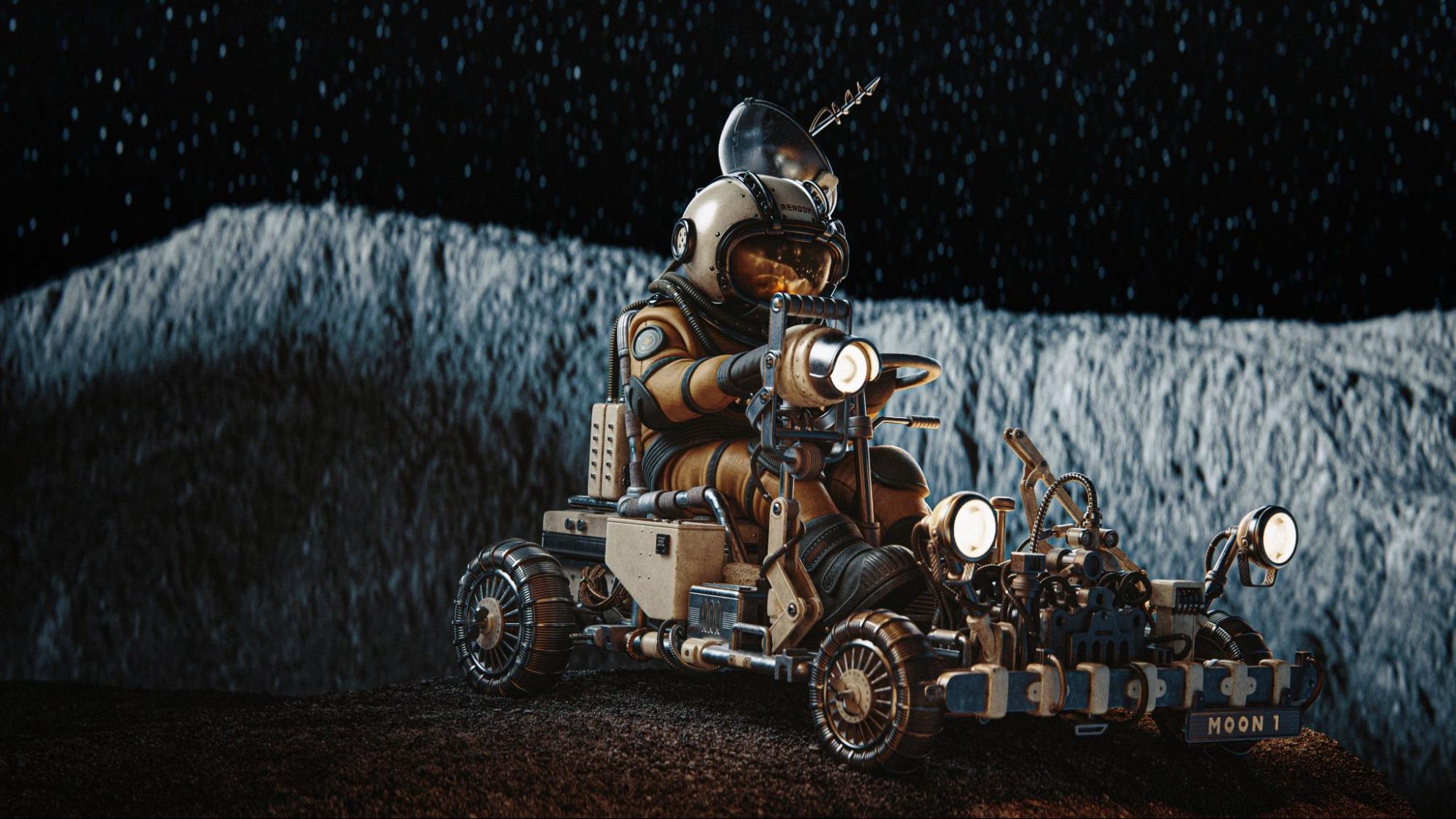 Editor's note: This post is part of our weekly In the NVIDIA Studio series, which celebrates featured artists, offers creative tips and tricks and demonstrates how NVIDIA Studio technology improves creative workflows.
When it comes to converting 2D concepts into 3D masterpieces, self-taught visual development artist Alex Treviño has confidence in the potential of all aspiring creators.
"You may think it's a complicated process, but trust me, it's easier than you think," he said.
The featured content creator of this week's In the NVIDIA Studio installment, Treviño is the founder of AENDOM, a project with the mission of creating artwork rooted in storytelling elements and sharing creative processes to educate and inspire the next generation of artists.
From this initiative, the Lunar Rover collection was born.
Shooting for the Moon
The story behind the Lunar Rover collection comes from an exploration of grief and inspired by the work of artist Mattias Adolfsson.
However, Treviño wanted to translate Adolfsson's detailed and playful caricature style into his own 3D design.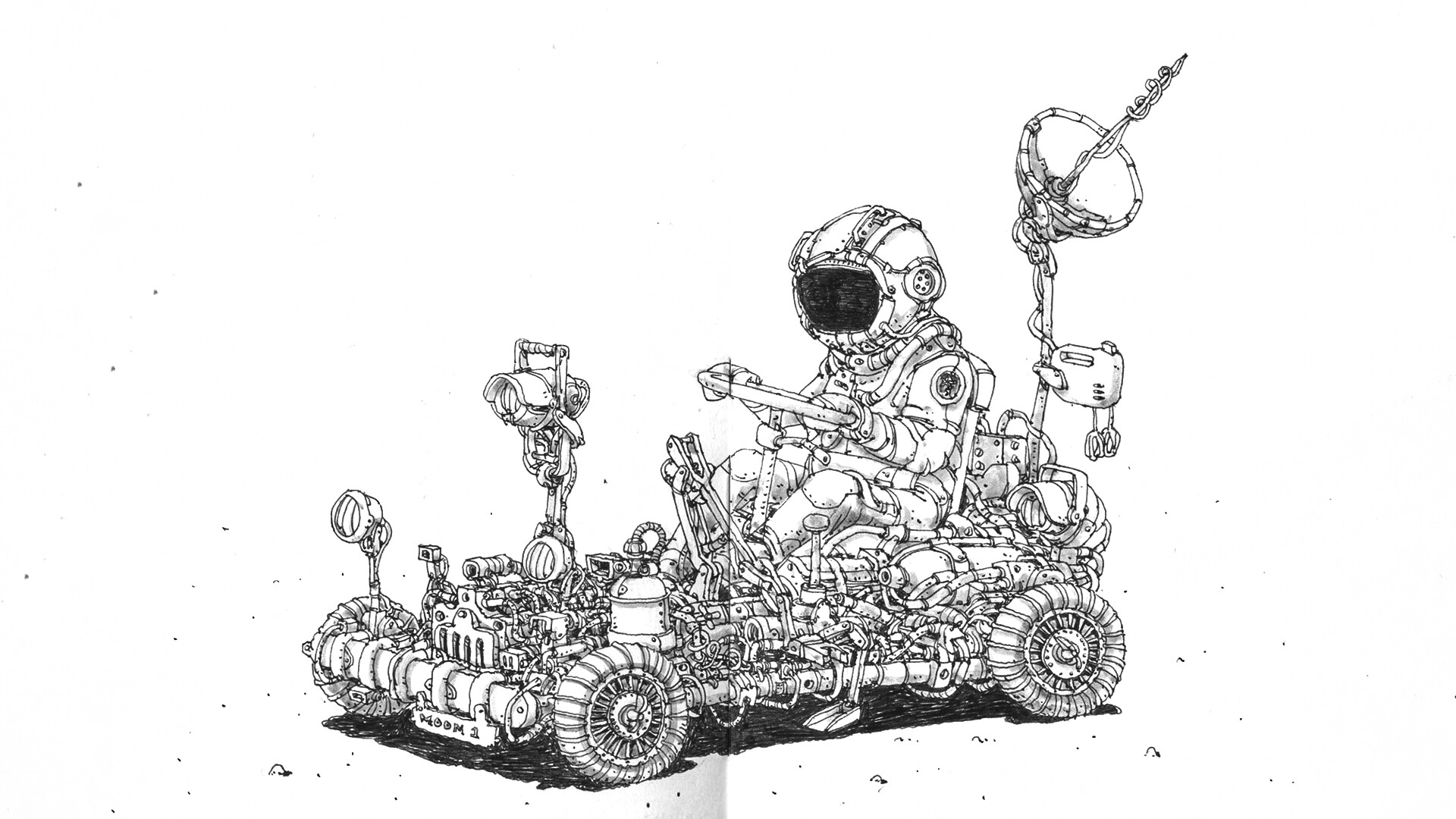 Treviño's inspiration, credit Mattias Adolfsson.
Treviño started gathering reference imagery and creating mood boards with the standalone program PureRef, which allowed him to play with different perspectives and styles while in the conceptual phase.
"I wanted the character to explore a desolate landscape where it is clear that, despite loneliness and abandonment, he continues to explore in allusion to the emotions of grief," Treviño said.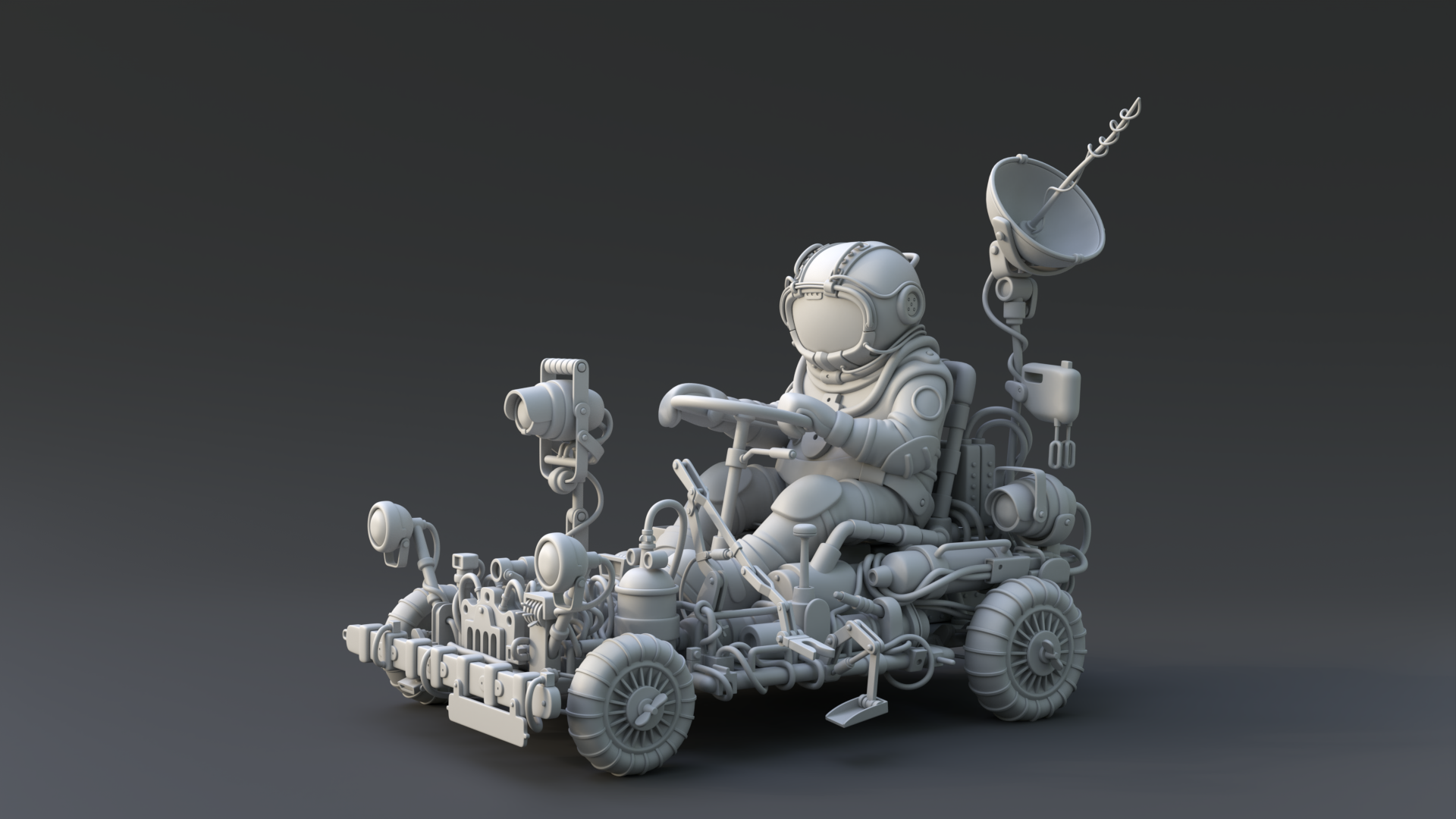 Advanced sculpting in Blender.
He then shaped and sculpted models in his preferred 3D app, Blender. Using its Cycles' RTX-accelerated OptiX ray tracing in the viewport, powered by his GeForce RTX 3080 Ti GPU-equipped PC, Treviño unlocked interactive, photorealistic modeling with smooth movement in the viewport.
"NVIDIA GPUs have a wide range of support and powerful performance, which ensures that I can rely on my GPU to work correctly and render images faster and with higher quality." — Alex Treviño
Next, Treviño applied UV mapping to his models, which allowed him to texture them in Adobe Substance 3D Painter to create realistic, detailed textures.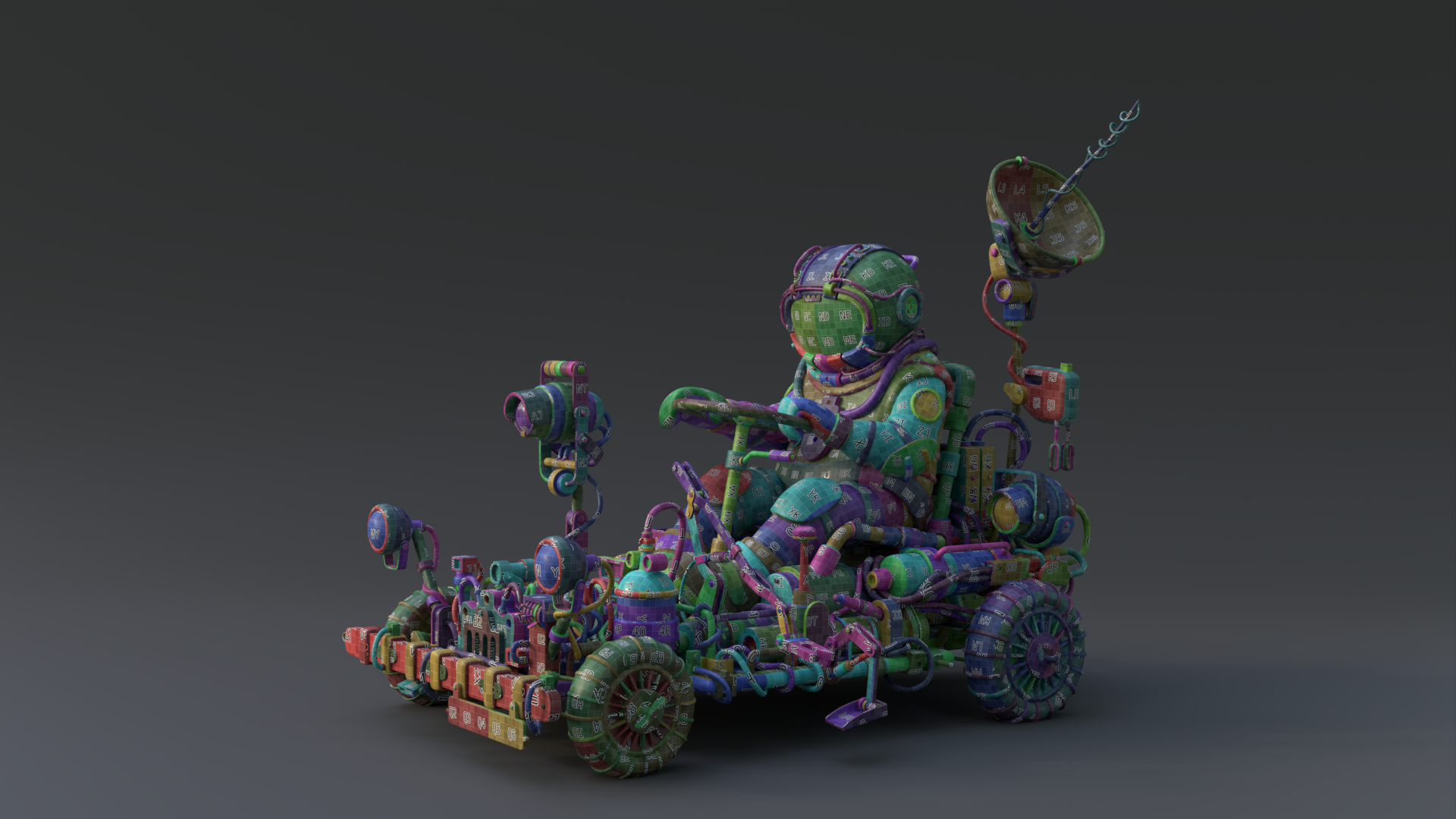 UV mapping in Blender.
RTX-accelerated light and ambient occlusion baking optimized assets in mere moments.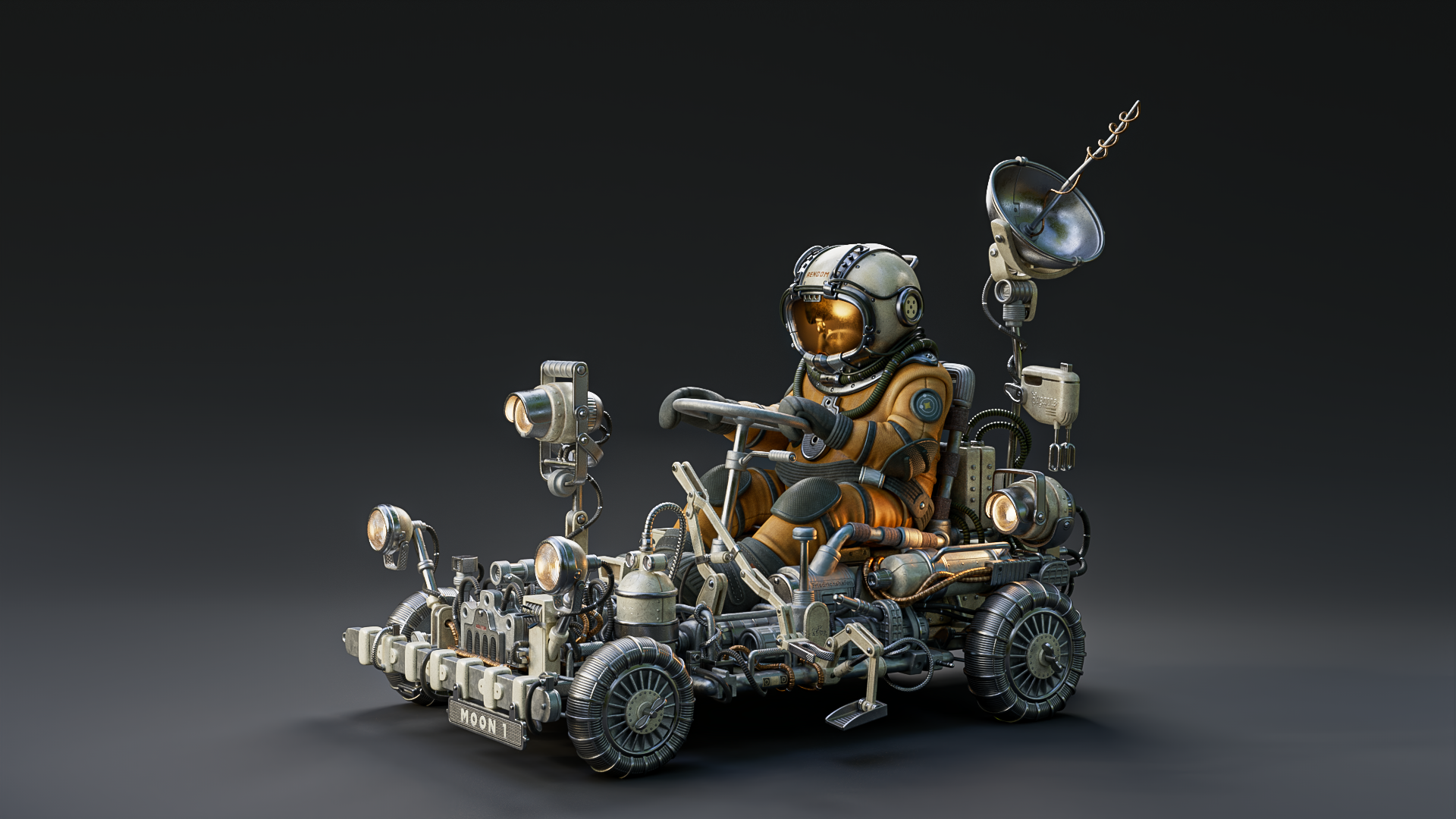 Textures created in Adobe Substance 3D Painter.
"My GeForce RTX GPU's capabilities were essential while texturing," Treviño said. "Movement without lag and the ability to make speedy material changes effortlessly were especially helpful while swapping looks."
Treviño moved to Adobe Illustrator to create alphas — color components that represent degrees of transparency or opacity of colors — as well as masks and patterns.
"GPU acceleration and AI-enabled features are essential tools, as they allow me to work more efficiently and produce higher-quality results." — Alex Treviño
He returned to Blender, taking advantage of RTX-accelerated OptiX ray tracing in Blender Cycles for the fastest final-frame render.
Finally, Treviño imported the project into Adobe Photoshop for postproduction work, including adjusting color grading, sharpness, noise and chromatic aberration, and using look-up tables for retouching — just a few of the 30+ GPU-accelerated features at his disposal.
Stunning details in postproduction and color correction thanks to Adobe Photoshop.
The end result achieved Treviño's goal of creating a desolate landscape and alluding to the emotions of grief.

Beautiful yet desolate.
For a more detailed look at Treviño's creative process, check out his five-part tutorial series, Creating 3D Lunar Rover w/ Alex Treviño, live on the NVIDIA Studio YouTube channel.
https://www.youtube.com/playlist?list=PL4w6jm6S2lzvy-mfeIHJiAmqN6ARz-DJt
Discover exclusive step-by-step tutorials from industry-leading artists, inspiring community showcases and more, powered by NVIDIA Studio hardware and software.
Lunar Lessons Learned
Treviño has three monumental pieces of advice for aspiring artists:
Learn the basics of the entire pipeline process. Learn about modeling, texturing, rendering, post-production, marketing and promotion. Expertise across the board isn't required but ahow soo general understanding of each step is.
Don't be afraid to experiment. The best way to learn is by doing. Try new things and experiment with different techniques. Mistakes will lead to growth and evolved artistry.
Find a community of like-minded artists. Connect in multiple communities to learn from others, share work and get valuable feedback.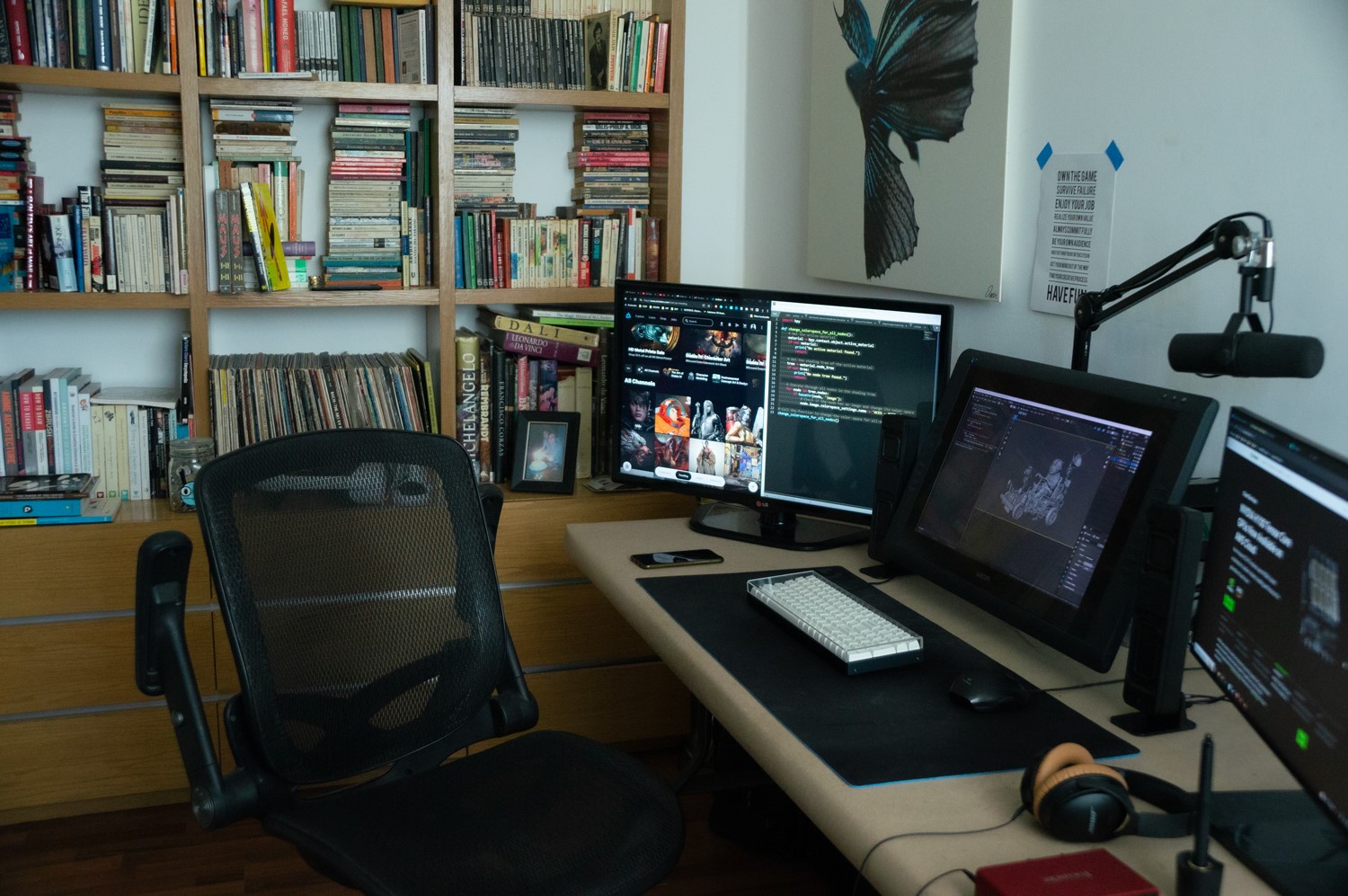 3D visual development artist Alex Treviño.
Check out Treviño's portfolio on Instagram.
Follow NVIDIA Studio on Instagram, Twitter and Facebook. Access tutorials on the Studio YouTube channel and get updates directly in your inbox by subscribing to the Studio newsletter.