Great games don't have to come from large studios, just ask FYQD-studio, the one-man development team behind Bright Memory. Released into Early Access last year, this fast-paced title places you in the role of Shelia, an agent that's trying to save the world from a terrorist organization while battling an army of reanimated creatures. Now, Bright Memory has updated its Early Access release with ray-traced reflections and NVIDIA DLSS.
Bright Memory is built on the Unreal Engine 4 and combines the ranged shooting style of a traditional FPS, with quick-paced combo attacks from melee skills, and close-range abilities normally found in action titles. When the new update is installed, the power of ray-tracing will bring reflective surfaces to life with detailed, high-quality lifelike reflections. And with DLSS, you're sure to get the best performance and visual fidelity possible on your GeForce RTX GPU.
To enable ray-traced reflections, ensure you have the latest Game Ready Driver, Windows 10 update and game patch installed, then navigate to Options > Graphics > switch Ray Tracing on. At the same time, you can also enable NVIDIA DLSS.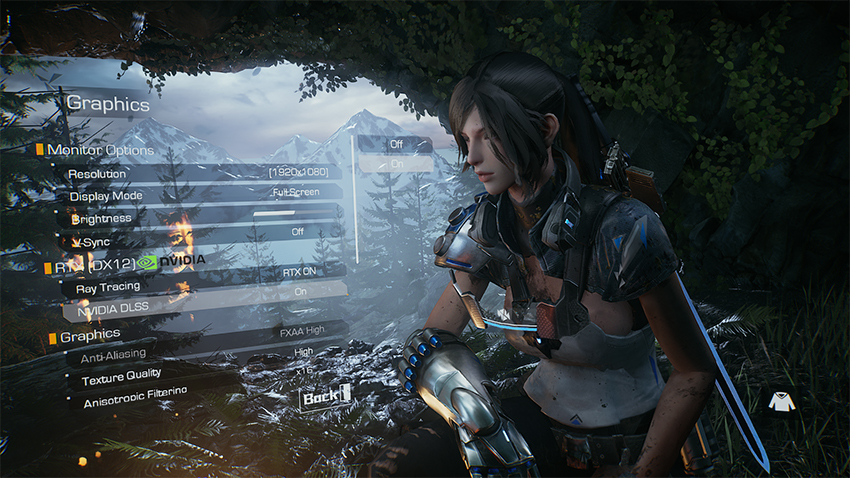 NVIDIA DLSS Boosts Performance in Bright Memory
Ray-traced reflections add a new layer of lifelike visual effects to an already beautiful game, and DLSS uses the power of deep learning and AI to improve the game's performance and anti-aliasing. This allows you to achieve higher frame rates without having to sacrifice the game's incredible visual fidelity.
In Bright Memory, DLSS is able to improve performance significantly when compared to the game's native AA solution, without sacrificing quality. In fact, organic objects such as plants and trees tend to look better when using DLSS than at native resolutions.
In terms of raw performance, this means that with DLSS you can crank the in-game graphics and ray-tracing settings to their maximum, while maintain a solid 60+ FPS at 1920x1080 on a GeForce RTX 2060:
Most importantly, DLSS achieves this performance while keeping image quality comparable to native resolutions with TAA.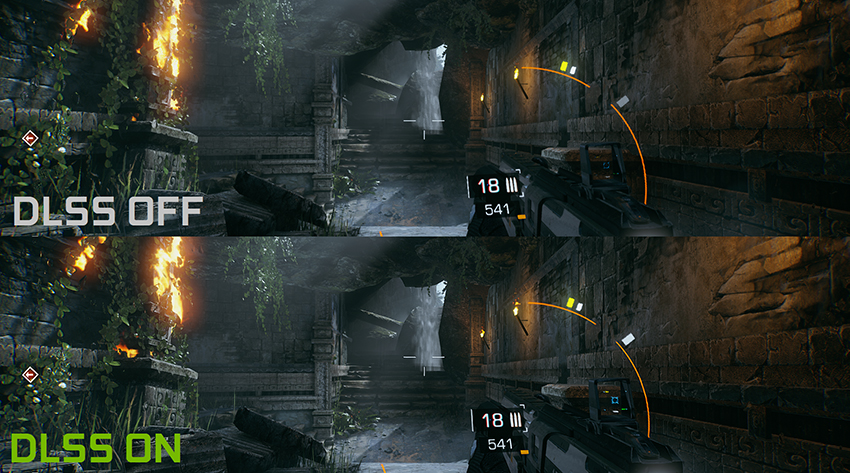 Images captured at 1080p with RTX 2060
Above, DLSS maintains the detailed lines in the cracks and fissures, and patterns in the stones ensuring that the textures and depth cues are preserved. Additionally, the enhanced detail reconstruction helps strengthen the definition around grass blades and leaves which prevents the softness/blurriness of the native image with TAA.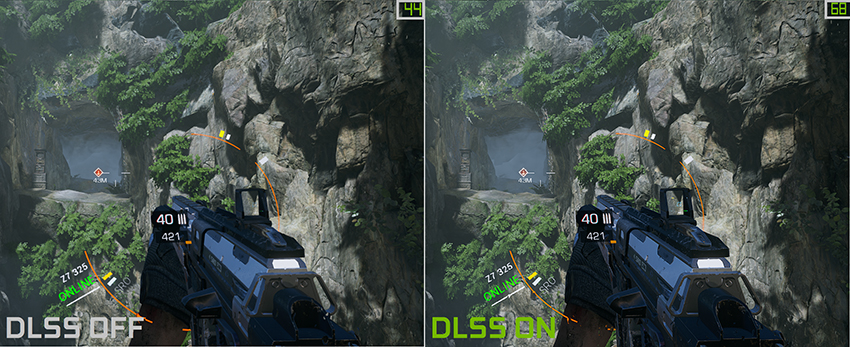 Images captured at 1080p with RTX 2060
Bright Memory is currently in Early Access on Steam, and any Early Access buyers will receive a copy of Bright Memory: Infinite when it's released. This is the next step in the game's development, and will deliver more content, more levels, and even better features and graphics to Early Access owners.
Stay tuned to GeForce.com for the latest updates and announcements regarding ray-tracing, DLSS, and other exciting visual technologies. We kicked the year off by announcing a number of upcoming titles that will benefit from these technologies, and there's far more to come.