Dying Light was a hugely successful zombie-themed survival horror action role-playing game, enjoyed by 17 million players. Back in 2015, we partnered with Techland to enhance the original Dying Light with high-fidelity NVIDIA graphics tech. And now, we're excited to announce that we have once again partnered with Techland to take the Dying Light 2 visual experience to the next level, with the addition of cutting-edge real-time ray tracing.
"RTX has allowed us to push the visual boundaries of Dying Light 2. Being an open world game set in a world of the infected it's important for us to really create as realistic an experience as possible," said Pawel Rohleder, Techland's CTO. "We're excited to push the limits of graphic fidelity and see where the full implementation of RTX takes us."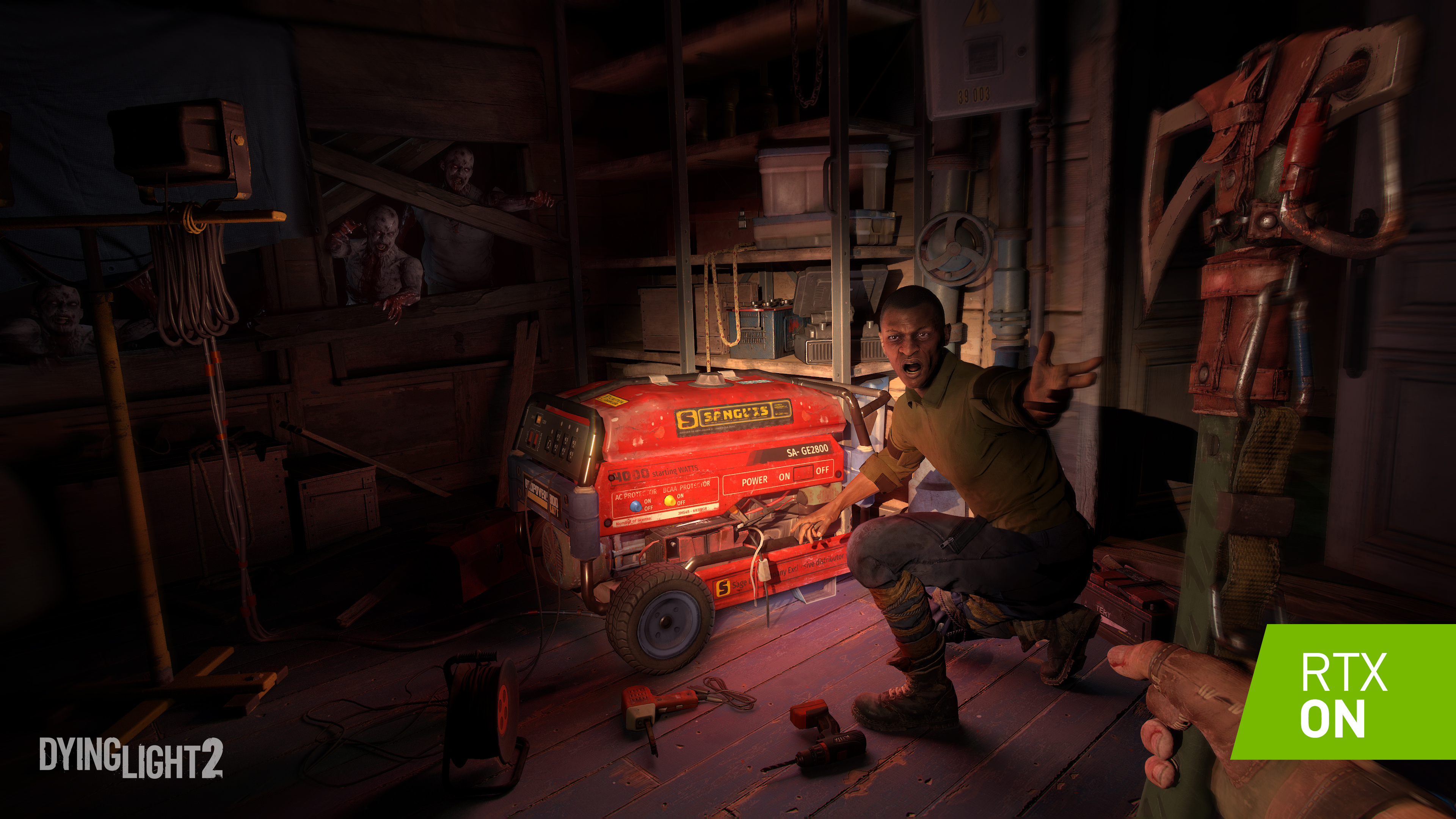 Click to open an interactive RTX ON-RTX OFF screenshot comparison
15 years after the events of the first Dying Light, humanity has lost to the virus, a new society has formed, and different factions vie for power. And the infected skulk in dark buildings and basements, until night comes and they reclaim the streets.
Playing as Aiden Caldwell, an infected survivor with high-flying parkour skills and brutal combat abilities, you'll experience a unique post-apocalyptic vision of a Modern Dark Ages - an unforgiving reality where you are as likely to perish at the hand of a human as you are by the infected. In this bleak, desolate world, your quick thinking and Aiden's skills are the only things that let you dive into darkness and emerge alive. Make ambiguous decisions and witness how they impact the world on multiple levels, transforming The City, and ultimately deciding its fate.
"Dying Light 2 joins an ever-growing roster of AAA blockbusters to embrace real-time ray tracing," added Matt Wuebbling, head of GeForce marketing at NVIDIA. "With the ray-traced tech being introduced, GeForce gamers will experience lifelike effects that were simply impossible to render before GeForce RTX GPUs made real-time ray tracing a reality."
Stay tuned to GeForce.com for more details regarding Dying Light 2 and be sure to check out our other Gamescom 2019 announcements.
About Techland
Founded in 1991 in Poland, Techland is a renowned independent game developer, distributor, and global publisher for all leading platforms, including PC, Sony PlayStation, the Xbox One family of devices, including Xbox One X. Techland is best known for the original Dead Island games, the Call of Juarez series, and most recently for Dying Light and its expansion The Following - the game has been played by over 17 million unique players to date. To top that, our experienced teams allow us to work on two of our own AAA titles at the same time. Comprised of over 400 professionals across three offices in Poland, the company is committed to delivering unforgettable experiences and using the latest technology for innovative entertainment, which includes the proprietary C-Engine. For more information about the company itself, visit the official website at: www.techland.net.
All product titles, publisher names, trademarks, artwork, and associated imagery are trademarks, registered trademarks and/or copyright material of their respective owners. All rights reserved.