Since we announced support for Adaptive-Sync Variable Refresh Rate monitors, we've been testing every model available, with those that passed several tests being marked "G-SYNC Compatible". This validation ensures that buyers receive a baseline Variable Refresh Rate (VRR) experience that makes gaming smoother, clearer, and more enjoyable.
We've completed our first phase of testing, getting our hands on as many Adaptive-Sync monitors as we could, and we've got the results ready to share with you.
To date, 503 VRR monitors have passed through our lab, and 28 (5.56%) have received G-SYNC Compatible validation, meaning 475 monitors failed.
Why? 273 failed for lacking a VRR range of at least 2.4:1 (e.g. 60Hz-144Hz), meaning you were unlikely to get any of the benefits of VRR as your framerate wasn't within the tight range offered.
And while some may have had a sufficient VRR range, 202 of those also failed due to image quality (flickering, blanking) or other issues. This could range in severity, from the monitor cutting out during gameplay (sure to get you killed in PvP MP games), to requiring power cycling and Control Panel changes every single time.
And in 33 other cases, we couldn't get hold of a monitor to test as they were no longer manufactured.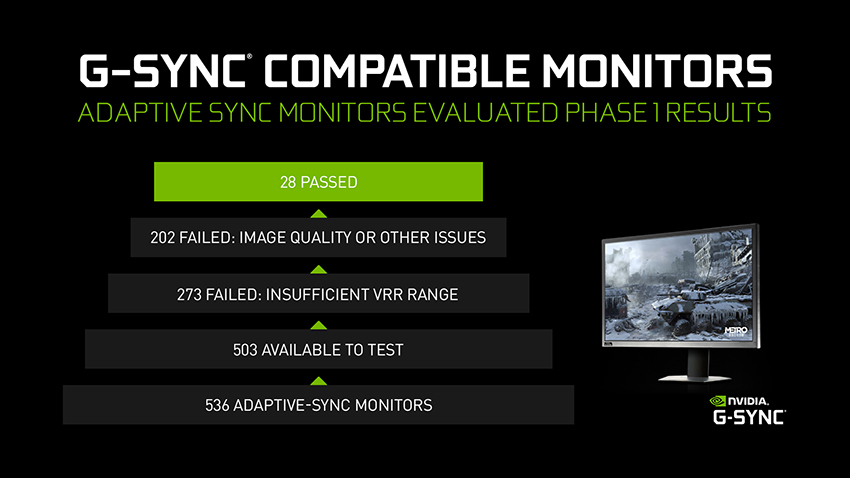 In the course of our testing, we collected a bunch of other interesting info about the many VRR models available. For instance, 55% have a maximum VRR refresh rate below 75Hz, so if you like to game with a higher framerate, perhaps for a competitive edge, VRR will never activate, so you'll always have tearing, or will always have V-SYNC enabled to avoid tearing, which increases input latency, making gameplay feel less responsive.
Percentage of Monitor Models by Refresh Rate

Refresh Rate (Hz)

G-SYNC

G-SYNC Compatible

Adaptive-Sync

>144

50%

39%

4%

76 - 144

41%

58%

41%

<75

9%

3%

55%
Note: All G-SYNC and G-SYNC ULTIMATE displays activate G-SYNC VRR from 1Hz to the display's max refresh rate, whereas G-SYNC Compatible and Adaptive-Sync displays only activate VRR in a specific refresh rate range
With GeForce RTX graphics cards delivering high levels of performance in the latest titles, such as Apex Legends, Mordhau, Rage 2, and World War Z, our testing showed that gamers buying displays with VRR refresh rates that max out at 75Hz will in fact spend the majority of their time gaming without any VRR. For that reason, we instead recommend that high refresh rate gamers buy G-SYNC or G-SYNC ULTIMATE displays that operate from 1Hz to the display's maximum refresh rate, or G-SYNC Compatible displays with higher maximum VRR refresh rates, and wider VRR ranges.
For G-SYNC Compatible displays, we also noted the maximum refresh rates during testing, and the breakdown of passes and fails: over 300 failed monitors had a max 75Hz refresh rate or lower, and/or super slim VRR ranges, only 3 monitors that passed reached 120Hz, and the majority of the others had a refresh rate of 144Hz or higher. However, 76% of these higher refresh rate G-SYNC Compatible monitors run at only 1920x1080, limiting game detail and clarity.
Furthermore, the majority of G-SYNC Compatible monitors use TN displays, limiting fidelity, pixel response times, viewing angles, color accuracy, and a multitude of other display facets.
In comparison, a far greater number of G-SYNC and G-SYNC ULTIMATE monitors feature superior VA or IPS displays, giving you improved color and contrast, and better overall image quality. All run from 1Hz to their maximum supported refresh rate, and there are numerous 2560x1440, 4K, and high-def Ultrawide displays available to game on.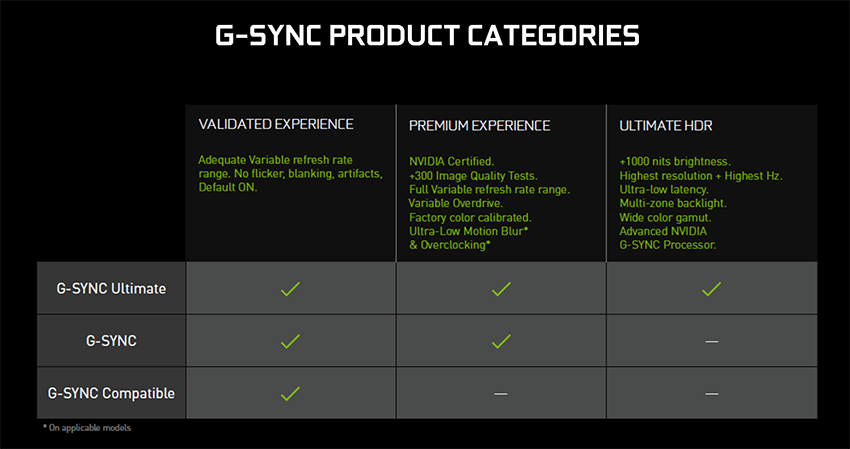 When scrolling through the full list of G-SYNC, G-SYNC ULTIMATE, and G-SYNC Compatible gaming monitors, you'll see that G-SYNC and G-SYNC ULTIMATE offer a complete, varied range of display sizes, refresh rates and panel types, plus the many other G-SYNC improvements that guarantee the very best experience straight out of the box.
This all made possible by our rigorous G-SYNC and G-SYNC ULTIMATE validation process that sees us working with manufacturers and partners from a product's conception, through to its development, and finally to its release. For a look behind the scenes, check out LinusTechTips' video below:
NVIDIA has continually raised the bar for Variable Refresh Rate gaming since we invented G-SYNC in 2013, and at Computex 2019 we have unveiled the next generation of enthusiast gaming monitors, crafted with cutting-edge Mini LED technology. Learn more in this article, and be sure to download and install our new Game Ready Driver to update your system with support for a further 3 G-SYNC Compatible gaming monitors.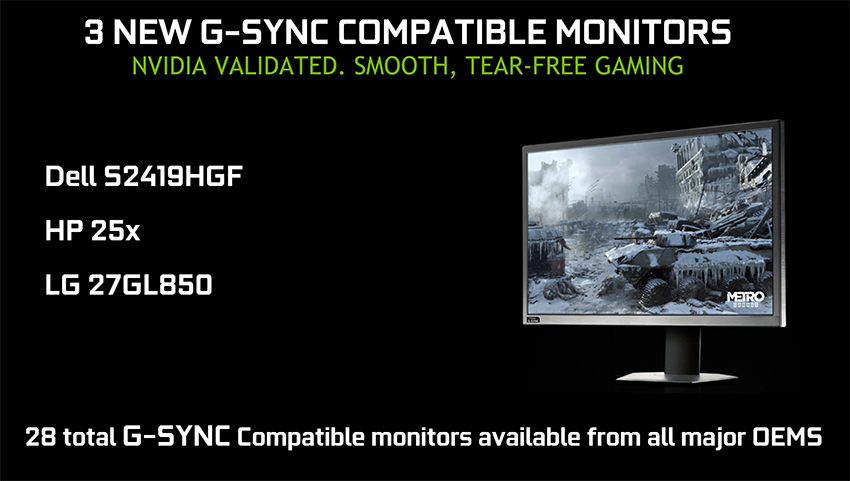 For G-SYNC Compatible's next phase, we'll continue testing newly-released adaptive sync monitors for G-SYNC Compatibility, and bringing you support for those that do pass in new Game Ready Drivers.
For further news about the latest G-SYNC, G-SYNC ULTIMATE and G-SYNC Compatible developments, stay tuned to
GeForce.com
.