This week, NVIDIA's out in force at Gamescom, the world's largest gaming expo. Yesterday, we announced ray tracing for blockbusters like Minecraft and Dying Light 2 , and shared plenty of new trailers and screenshots for Bloodlines 2, Call of Duty: Modern Warfare, Watch Dogs: Legion, and other upcoming AAA ray-traced titles.
Today, we're celebrating our GeForce gaming community by releasing a special Gamescom Game Ready Driver that packs some big software optimizations for Apex Legends, Battlefield V, Forza Horizon 4, Strange Brigade and World War Z, which increase framerates by up to 23%.
Also included are several new beta features based on feedback and requests from our community -- an Ultra-Low Latency mode for faster input response, an Integer Scaling display mode for pixel art games, and a new GeForce Experience Freestyle sharpen filter. Lastly, our new driver brings support for 3 new G-SYNC Compatible gaming monitors, and day-0 game support for Remnant: From The Ashes.
For all the details, read on!
Up To 23% Faster Performance In Popular Games
Our software engineers have been busy, crafting some sweet optimizations for Apex Legends, Battlefield V, Forza Horizon 4, Strange Brigade and World War Z that boost performance by up to 23%, compared to our previous driver, 431.60: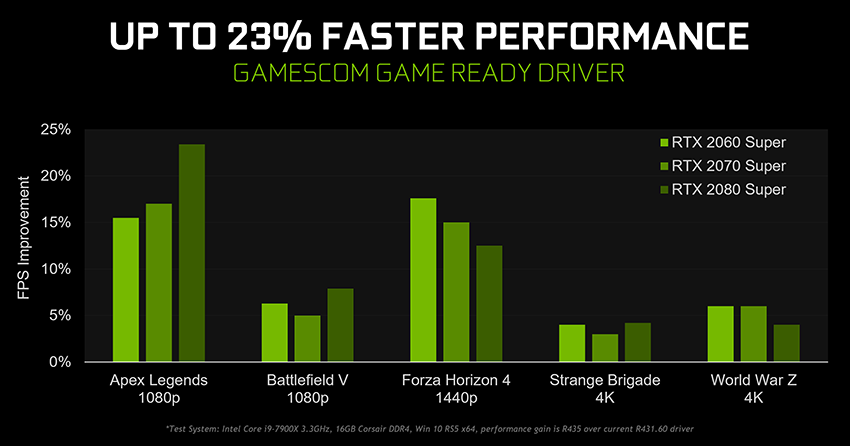 For the nitty-gritty on each of those results, across multiple resolutions and GPUs, check out the charts below.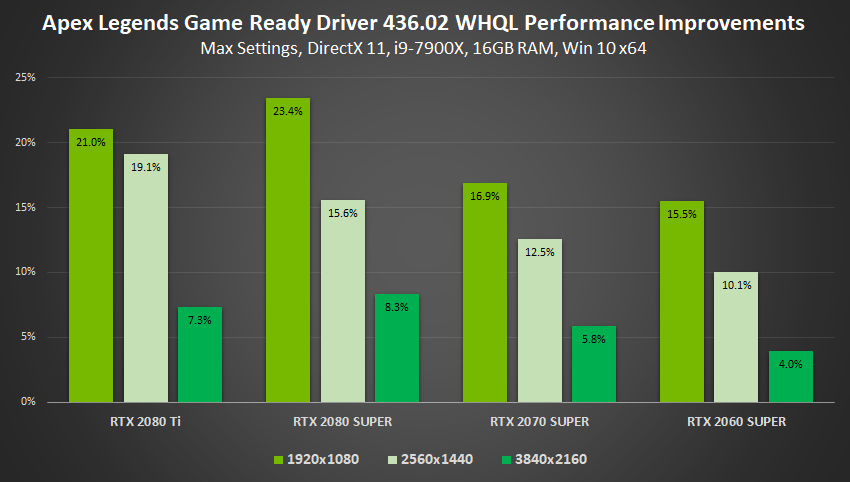 New Ultra-Low Latency Options For Faster Input Response
We know that gaming isn't just about raw FPS – gamers also want great image quality and faster response times. So we're introducing a new Ultra-Low Latency mode that gives gamers the ability to get the low latency feeling of high framerates, without having to compromise their graphics quality settings or resolution to get there.
The NVIDIA Control Panel has -- for over 10 years -- enabled GeForce gamers to adjust the "Maximum Pre-Rendered Frames", the number of frames buffered in the render queue. By reducing the number of frames in the render queue, new frames are sent to your GPU sooner, reducing latency and improving responsiveness.

With the release of our Gamescom Game Ready Driver, we're introducing a new Ultra-Low Latency Mode that enables 'just in time' frame scheduling, submitting frames to be rendered just before the GPU needs them. This further reduces latency by up to 33%: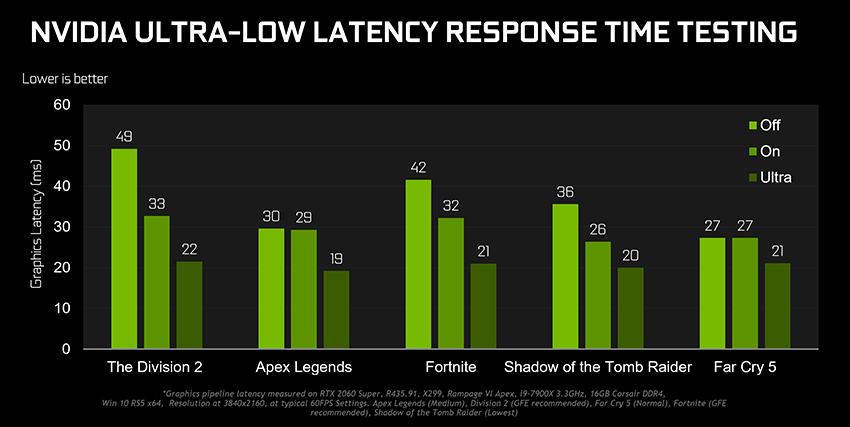 Low Latency modes have the most impact when your game is GPU bound, and framerates are between 60 and 100 FPS, enabling you to get the responsiveness of high-framerate gaming without having to decrease graphical fidelity.
To select a Low Latency mode, open the NVIDIA Control Panel, head to "Manage 3D Settings", and scroll down to "Low Latency Mode". Three options are available:
Off: The game's engine will automatically queue 1-3 frames for maximum render throughput
On: Limits the number of queued frames to 1. This is the same setting as "Max_Prerendered_Frames = 1" from prior drivers
Ultra: Submits the frame just in time for the GPU to pick it up and start rendering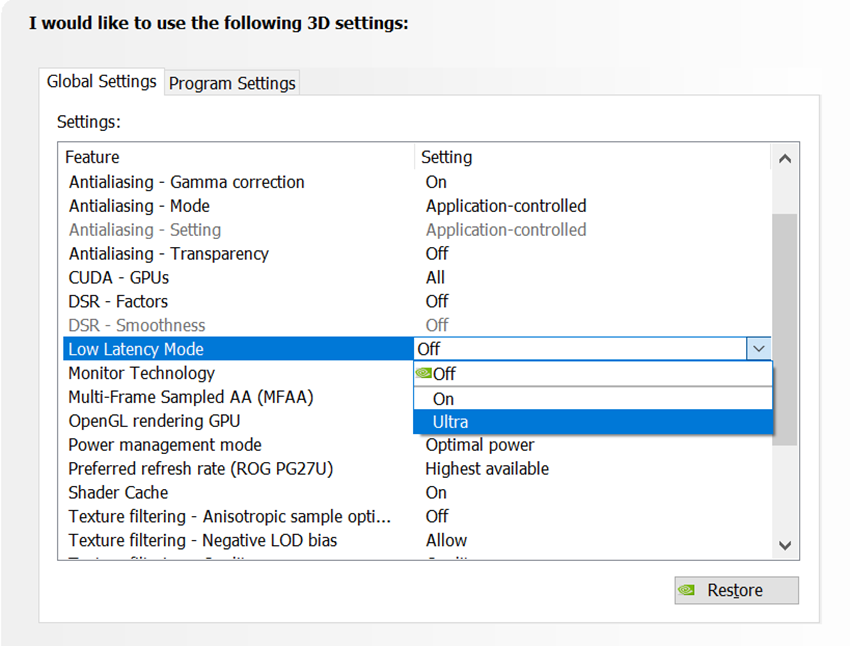 Note: you can apply all latency options on a per-game basis on the "Program Settings" tab
Our new Low Latency Mode is being released in beta with support for all GPUs in DX9 and DX11 games (in DX12 and Vulkan titles, the game decides when to queue the frame).
GPU Integer Scaling: Sharper Upscaling for Retro and Pixel Art Games
Retro and Pixel Art games like FTL, Hotline Miami, and Terarria are loved by many in our GeForce community. When played on higher-resolution displays, though, many pixel art games have to scale to fit the display, resulting in a blurry image. To address this, our community requested an image scaling mode called Integer Scaling, which preserves detail on pixel-art games when the resolution is increased.
Well, we've heard the call, and thanks to a hardware-accelerated programmable scaling filter available in Turing, GPU Integer Scaling is finally possible!
So if you have a GeForce RTX or GeForce GTX 16-Series GPU, and have installed our new Game Ready Driver, you can enable an Integer Scaling beta in the NVIDIA Control Panel, in the "Adjust Desktop Size and Position" Display menu: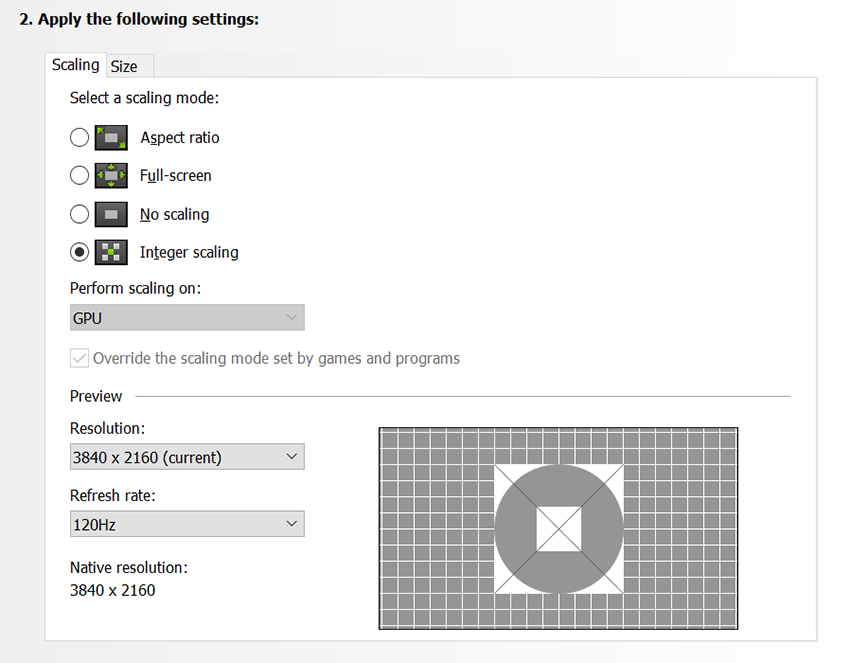 When enabled in retro games, emulators and pixel-art titles that lack resolution-scaling filters, the difference in clarity and fidelity is dramatic: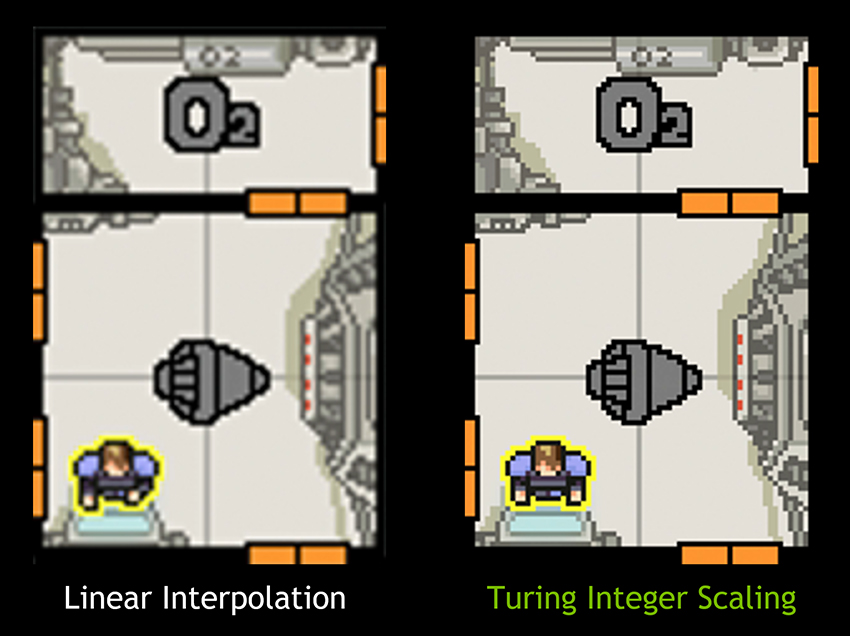 On the left, FTL is seen running at 4K with traditional scaling, and on the right 4K with Integer Scaling, for a far clearer, sharper picture that preserves the game's intended style and appearance
Please note, if you make your own image comparisons, they cannot be created with traditional screenshot techniques as the display scaler will be compared to the GPU scaler. Instead, photograph the display, or use a hardware capture card that records the final image as output to the screen.
GeForce Experience Adds New Freestyle Sharpening Filter
GeForce Experience can optimize games, update drivers, record gameplay, stream, capture in-game photos, and much more. One feature, NVIDIA Freestyle, allows gamers to apply and stack custom filters to personalize their gaming experience.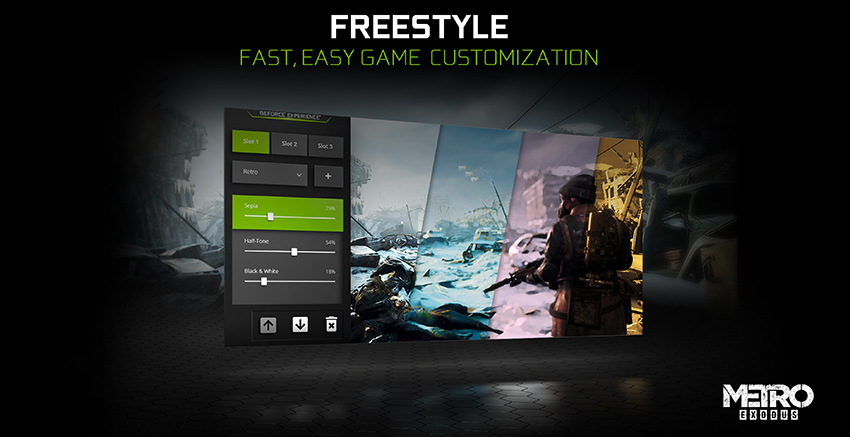 As part of our new Game Ready Driver, we are releasing a new Sharpen Freestyle filter with improved image quality and performance compared to our existing "Detail" Freestyle filter. The image quality of the new filter is improved, and the performance impact is roughly half that of the prior filter.

Freestyle sharpening is different from other solutions in a couple of ways: Freestyle gives gamers the ability to customize the amount of sharpness, from 0 to 100%, and apply this customization on a per game basis using the in-game overlay. We believe sharpness is based on personal preference and varies from game to game, so with Freestyle we designed a simple solution that remembers your settings in each game.
NVIDIA Freestyle also offers broader API support than other solutions, letting you enhance over 600 games DX9, DX11, DX12 and Vulkan API games. And we'll continue to add support for more as part of our Game Ready Driver releases.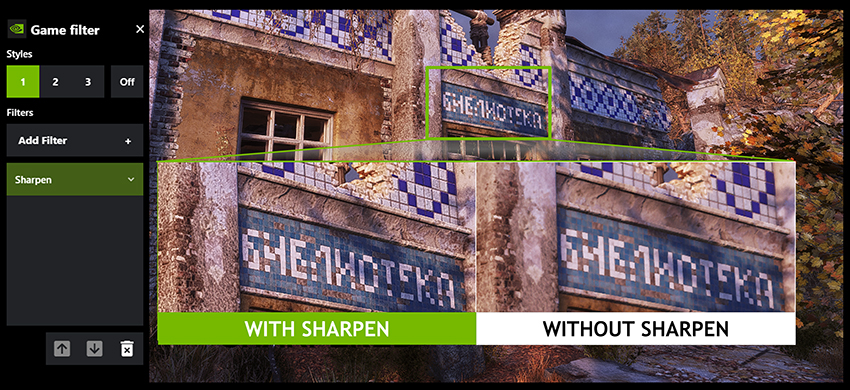 To use NVIDIA Freestyle, install GeForce Experience, and press Alt+F3 to activate the Freestyle In-Game Overlay. Add the Sharpen Filter included in the latest game ready driver, as well as other filters to customize the look and feel of your game. Your preferences are saved separately for each game and applied for future sessions.
Support For Newly Validated G-SYNC Compatible Displays
Our newest Game Ready Driver driver is adding support for an additional three G-SYNC Compatible displays - gaming monitors that deliver a baseline Variable Refresh Rate (VRR) experience that makes your gaming smoother, clearer, and more enjoyable. Learn more here.
Today's newly-validated models are the ASUS VG27A, ACER CP3271, and ACER XB273K GP, giving gamers even more choices when searching for a great gaming monitor.
For a complete list of all G-SYNC, G-SYNC ULTIMATE, and G-SYNC Compatible gaming monitors, check out our handy and frequently updated G-SYNC page.
30-Bit Color Support
First introduced in our Studio Driver in July, our new Game Ready Driver adds support for 30-bit color across all product lines, including GeForce and TITAN, allowing for seamless color transitions without banding. With 24-bit color, a pixel can be built from 16.7 million shades of color. By increasing to 30-bit color, a pixel can now be built from over 1 billion shades of color, which eliminates the abrupt changes in shades of the same color.
Multiple creative applications currently take advantage of 30-bit color, including Adobe Photoshop, Adobe Premiere Pro, Autodesk RV, Colorfront Transkoder, Assimilate Scratch, and Foundry Nuke.
Optimal Playable Settings For More Games
As part of our Game Ready program, NVIDIA has recently added Optimal Playable Settings (OPS) for even more games, including Wolfenstein Youngblood, Dota Underlords, F1 2019, The Sinking City, BATTALION 1944, Gloomhaven, Bloodstained: Ritual of the Night, Pathologic 2, Rune 2, Observation, Beyond Two Souls, Heavy Rain, DEAD OR ALIVE Xtreme Venus Vacation, Blood of Steel, and Attack on Titan 2.
To optimize your game, open GeForce Experience, click on the game tile in the Games Tab, and hit "Optimize".
GeForce Game Ready Driver - Download Now
Game Ready Drivers are the gold standard for the gaming industry, delivering unprecedented game support, frequent performance optimizations, and beneficial new features that make your experience even better.
We hope you have a great time gaming on the new GeForce Game Ready 436.02 WHQL drivers, our 105th set of Game Ready drivers hand-crafted over the past 5 years. To install, head on over to the GeForce Experience Drivers tab.
We'd love to hear your feedback on our new beta features - if you have any, or encounter any technical issues, please let us know on the GeForce.com Driver Feedback Forum, where our Customer Care team are available to help, and our product teams are looking for your next set of requests.
A list of fixes in this driver for previously-reported issues can be found here, and if you'd like to see all our new gaming announcements, including a whole load made at Gamescom 2019, head to GeForce.com.