Our latest GeForce Game Ready driver introduces support for the new GeForce RTX 2060 graphics card, and G-SYNC Compatible displays.
To download and install, simply fire up GeForce Experience and click the "Drivers" tab.
Introducing The GeForce RTX 2060
GeForce RTX graphics cards are the world's fastest, giving gamers the performance to enjoy the latest and greatest games at stunning levels of detail. Now, the $349 GeForce RTX 2060 joins the action, delivering advanced ray tracing and AI features, plus levels of performance previously available only in high-end gaming GPUs, at a price point within reach of PC gamers worldwide.
Offering max-setting 60+ FPS gaming at 1920x1080, and excellent high-setting performance at 2560x1440, the RTX 2060 gives users an in-game experience that beats the GTX 1070 Ti and is on average 60% faster than the prior-generation GTX 1060. Furthermore, the RTX 2060 features the same AI and Ray Tracing technology as the RTX 2080 Ti, 2080 and 2070, enabling RTX 2060 owners to enjoy BattlefieldTM V at 60 frames per second, with amazing real-time ray-tracing effects enabled.
Learn more about the new RTX 2060, and our BattlefieldTM V and AnthemTM bundle, in our dedicated article. And be sure to download and install the new Game Ready driver if you're adding a GeForce RTX 2060 to your system.
Introducing G-SYNC Compatible Displays
Earlier this month, at CES 2019, we announced support for G-SYNC Compatible monitors, which will deliver a baseline variable refresh rate (VRR) experience on GeForce GTX 10-Series and GeForce RTX 20-Series graphics cards and laptops.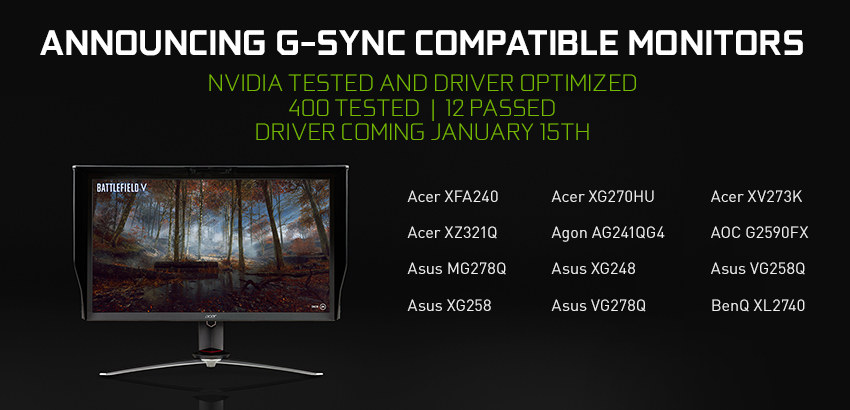 If you have a compatible monitor VRR features will be enabled automatically following the installation of today's driver, and any future drivers, giving you an improved experience in games.
If your monitor isn't listed, you can enable the tech manually from the NVIDIA Control Panel. It may work, it may work partly, or it may not work at all. To give it a try:
Connect the monitor to your GeForce RTX 20-Series or GeForce GTX 10-Series graphics card using a DisplayPort cable

Enable the Variable Refresh Rate functionality of your display by using the monitor's controls and On-Screen Display
Open the NVIDIA Control Panel from the bottom right of Windows
Expand the "Display" section
Click on "Set up G-SYNC"
Tick the "Enable G-SYNC, G-SYNC Compatible" box
Tick the "Enable settings for the selected display model" box
Click "Apply" on the bottom right
If the above isn't available, or isn't working, you may need to go to "Manage 3D Settings", click the "Global" tab, scroll down to "Monitor Technology", select "G-SYNC Compatible" in the drop down, and then click "Apply"
Additionally, you may need to go to "Change Resolution" on the left nav and apply a higher refresh rate, or different resolution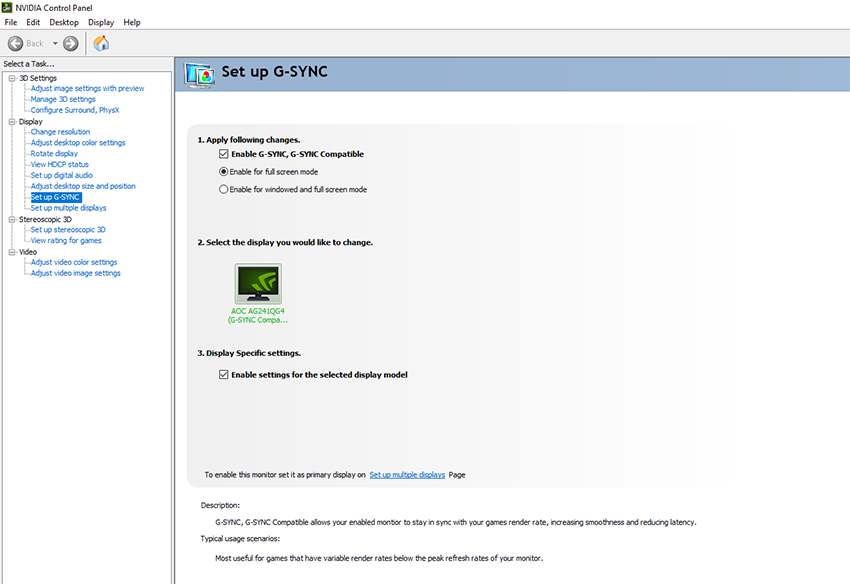 For the best gaming experience we recommend NVIDIA G-SYNC and G-SYNC Ultimate monitors: those with G-SYNC processors that have passed over over 300 compatibility and quality tests, and feature a full refresh rate range from 1Hz to the display panel's max refresh rate, plus other advantages like variable overdrive, refresh rate overclocking, ultra low motion blur display modes, and industry-leading HDR with 1000 nits, full matrix backlight and DCI-P3 color.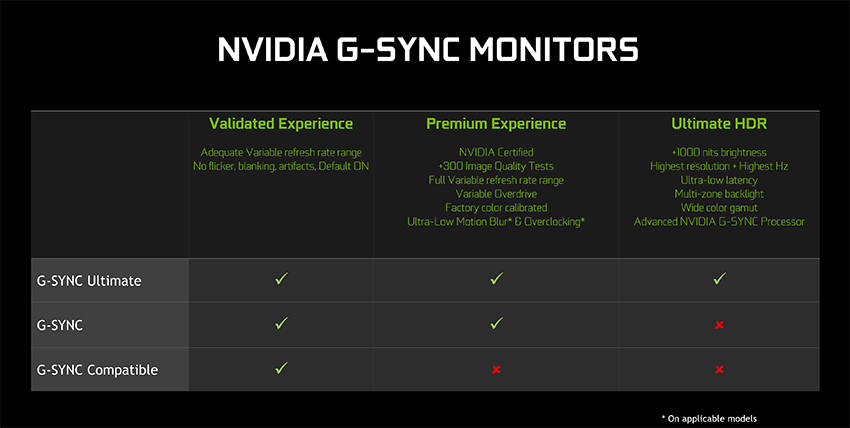 But if you're in the market for an entry level VRR experience, G-SYNC Compatible validation gives you new purchase possibilities, and the knowledge of which monitors will deliver baseline VRR benefits with your GeForce graphics card.
Learn more and read about our other G-SYNC announcements in this CES 2019 G-SYNC article.
GeForce Game Ready Driver - Download Now
You can download the new GeForce Game Ready 417.71 WHQL drivers through GeForce Experience, our free, game-enhancing application, which records and streams gameplay, and grants you access to giveaways.
If you experience any technical issues with the new Game Ready drivers please post a detailed report on the GeForce.com Driver Feedback Forum, where our Customer Care team can better assist you. A list of fixes in this driver for previously-reported issues can be found here.