According to Valve's Steam Hardware Survey, 63% of the survey's participants use a 1920x1080 display, and our own data shows that 80% of GeForce gamers play on GeForce GTX 1060, or older, GPUs and laptops. Increasingly, these are unable to keep pace with rapidly improving graphics, and lack sufficient VRAM for ever-larger textures and shadow maps. Which is why we're introducing two affordable GPU upgrades that will instantly get your system back on its game, giving you fast, smooth performance at 1920x1080 in the latest games, with settings turned way up.
Additionally, we've launched new GeForce Experience and Control Panel features that will further improve your experiences in many games. For all the details, keep reading.
Introducing The GeForce GTX 1660 SUPER
The new $229 MSRP GeForce GTX 1660 SUPER is available today from our partners. Designed for high-fidelity 1920x1080 gaming, it's up to 1.5x faster than a GeForce GTX 1060 6GB, and is significantly faster than older, still-popular GPUs like the GeForce GTX 750 Ti.

Making it SUPER is the addition of 14 Gbps GDDR6 VRAM, which boosts peak memory bandwidth to 336 GB/s (a 75% improvement over the GeForce GTX 1660's 8 Gbps 192 GB/s GDDR5 VRAM). In games, that accelerates your frame rates by up to 20%, giving you a smoother, more responsive experience, and the option to crank detail up even more.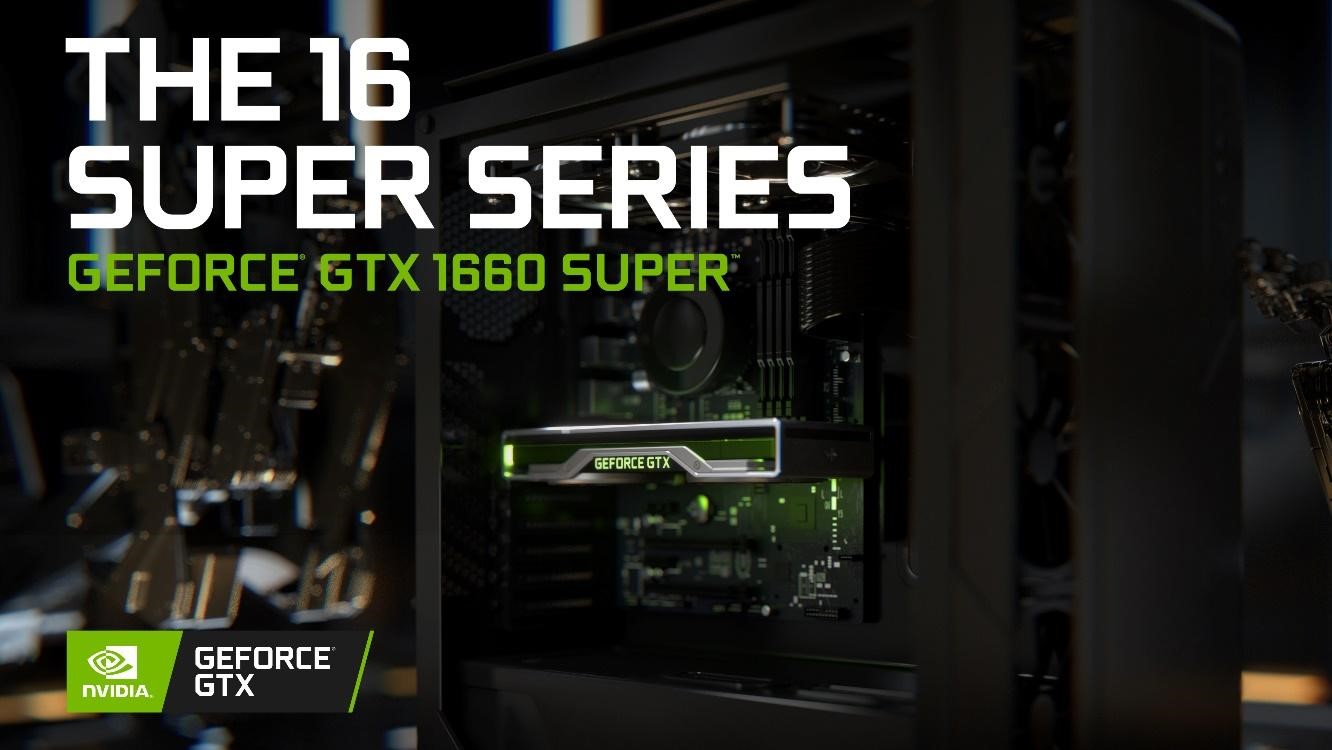 And like other award-winning GeForce GTX 16 Series GPUs, the new GTX 1660 SUPER features all our Turing optimizations and enhancements, including Concurrent FP+INT performance-accelerating Advanced Shaders, high-quality, low-impact NVENC broadcast encoding, and a ton of additional unmatched tech that improves your gameplay.
So, if you want a great gaming experience at 1920x1080, consider upgrading your system with the GeForce GTX 1660 SUPER, available now.
Introducing The GeForce GTX 1650 SUPER
Launching November 22nd, the GeForce GTX 1650 SUPER offers entry-level gamers on a tight budget a significant boost in performance, and access to our ecosystem of critically acclaimed NVIDIA technology.

Paired with an entry level or mid-range CPU, and a G-SYNC Compatible gaming monitor, the GeForce GTX 1650 is an excellent option for a budget build that will deliver excellent performance on high settings in many popular games. And like the GTX 1660 SUPER, it too includes support for superior Turing NVENC broadcasting, and the other aforementioned tech.
And by joining team NVIDIA, you'll get day-0 updates for the latest games, constant updates for popular games, access to GeForce Experience and its mountain of tech, and instant access to the new features we're constantly developing, like those announced below.
For availability, stay tuned to your favorite manufacturers' websites on November 22nd.
New Features For GeForce Gamers
We've supported our GPUs for years and years, adding new game optimizations and bug fixes, and entirely new features that improve your gaming. With the release of our newest Game Ready Driver, we're introducing three new technologies that enable you to customize, enhance, and accelerate your gameplay.
ReShade Filters Now Supported In GeForce Experience
With over 3 million downloads last year, ReShade benefits from a vibrant modding community that creates amazing post-processing shaders for PC gaming. With the latest Game Ready Driver and GeForce Experience update, GeForce gamers can tap into hundreds of ReShade filters and easily apply them in their favorite games using NVIDIA Freestyle or Ansel.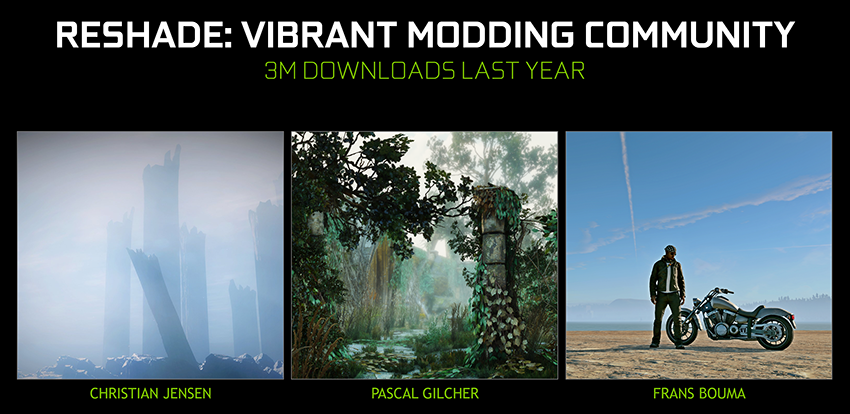 For details on how to activate and use this exciting new feature, head on over to this dedicated article.
Sharpening Now In The NVIDIA Control Panel, with Optional Upscaling Feature
In August, we introduced a GeForce Experience Sharpening filter to improve clarity in titles that supported NVIDIA Freestyle. Now, we've integrated the improved image-sharpening filter in the NVIDIA Control Panel for even faster performance, and support for all DirectX 9, 10, 11 and 12 games. It has adjustable sharpening sliders and offers a per-game profile, so gamers can customize the level of sharpness for each of their favorite games, or just enable it globally for every game they play.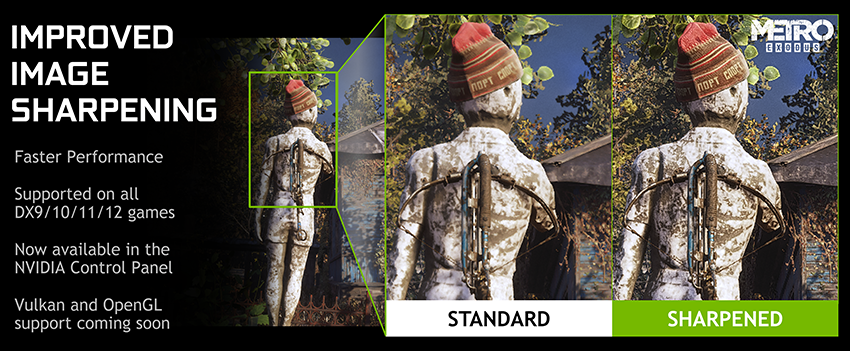 The new Control Panel Sharpening tech is supported in all DX9, DX10, DX11 and DX12 games
In addition, we've added a GPU Scaling feature that uses your GPU to render at a lower resolution and scale to native resolution for higher performance. For instance, if you have a 2560x1440 display, but set your game resolution to 1920x1080 because the game is too demanding for your current GPU, we'll upscale the game's graphics to 2560x1440 using a high-quality scaler, and then add a dose of sharpening to improve clarity.
For details on how to use these two new enhancements, head on over to this article.
NVIDIA Ultra Low Latency Mode Exits Beta With New G-SYNC Support and Further Optimizations
Back in August we also introduced gamers to NVIDIA Ultra-Low Latency (NULL), a rendering mode that reduces the delay between a mouse click or keyboard press and the action occurring on-screen.

Now, NULL is out of beta with additional optimizations, and is even better when used together with G-SYNC, eliminating tearing while reducing input latency: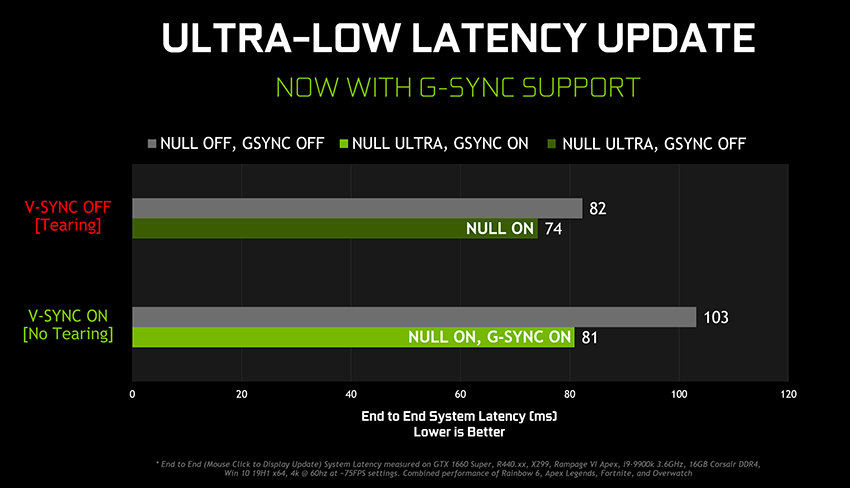 For more info, and instructions on using NULL, head on over to our tech article.
Download The New Game Ready Driver Now For All This Goodness
To get your hands on all of our latest enhancements and additions, as well as support for the new GeForce GTX 1660 SUPER, download and install our new Game Ready Driver.
And to learn about the release of other game and hardware technologies, in addition to new NVIDIA products, stay tuned to GeForce.com.