Our Quake II RTX ray-traced remaster of Quake II was the talk of the town at GDC, wowing gamers new and old with its top-to-bottom enhancements that improve virtually every aspect of the 1997 classic.
Now, we can confirm that Quake II RTX will be released on June 6th, 2019. If you have a GeForce RTX graphics card, or other capable hardware, you can experience the first 3 levels of the game for free, fully remastered with path-traced graphics and a variety of other enhancements. And if you own a copy of Quake II, you can play the campaign in its entirety, and play against others in online multiplayer.
Furthermore, the source code will be posted to GitHub, enabling others to expand on our work with further advancements and enhancements, or to use the code to ray trace Quake II mods and total conversions.
The June 6th release will also look even better thanks to numerous improvements to image quality, and new additions that add even more path-traced enhancements. Highlights include:
Improved Global Illumination rendering, with three selectable quality presets, including two-bounce GI
Multiplayer support
Time of day options that radically change the appearance of some levels
New weapon models & textures
New dynamic environments (Stroggos surface, and space)
Better physically based atmospheric scattering, including settings for Stroggos sky
Real-time reflectivity of the player and weapon model on water and glass surfaces, and player model shadows, for owners of the complete game (the original Shareware release does not include player models)
Improved ray tracing denoising technology
All 3,000+ original game textures have been updated with a mix of Q2XP mod-pack textures and our own enhancements
Updated effects with new sprites and particle animations
Dynamic lighting for items such as blinking lights, signs, switches, elevators and moving objects
Caustics approximation to improve water lighting effects
High-quality screenshot mode that makes your screenshots look even better
Support for the old OpenGL renderer, enabling you to switch between RTX ON and RTX OFF
Cylindrical projection mode for wide-angle field of view on widescreen displays
To see many of these enhancements in action, check out our new Quake II RTX trailer:
Why Did You Make Quake II RTX?
We're massive fans of the original, and even-bigger fans of technology, so when presented with the opportunity to remaster a classic game with all that ray tracing can offer, we jumped at the chance. Quake II RTX demonstrates the possibilities of ray tracing, and offers a glimpse at the future of gaming, with realistic real-time lighting, shadows and effects.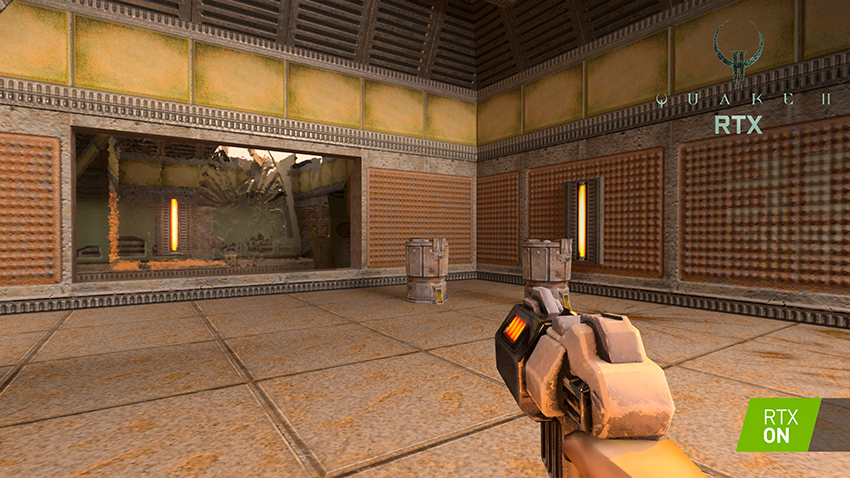 Click to load an RTX ON vs. RTX OFF interactive screenshot comparison, demonstrating the power of path tracing
Tim Willits, Studio Director of id Software and one of the creators of the original Quake franchise, said, "It's rare that a PC game has the impact and longevity of Quake II, and seeing it reimagined with ray tracing 20 years later is something special for me. Equally special is the relationship with NVIDIA, whom we have worked with since the early days of 1st-person shooters. Seeing how NVIDIA integrated modern features into this classic game is really exciting."
How Do We Get Quake II RTX?
On June 6th, at 6am PT, we'll release Quake II RTX as a direct download on our website. This will include the first 3 levels of the game, released freely in 1997 as shareware, plus all our new technological enhancements, updated textures, and enhanced models.
New environment and time of day options enable you to alter the appearance of many scenes and levels
If you have the original Quake II release, download and install Quake II RTX from our website, run the installer, and point it to the full copy of Quake II when prompted so it can copy over the full game's levels and assets.
When you boot Quake II RTX, you'll get to enjoy the complete campaign, and experience multiplayer with real-time path tracing.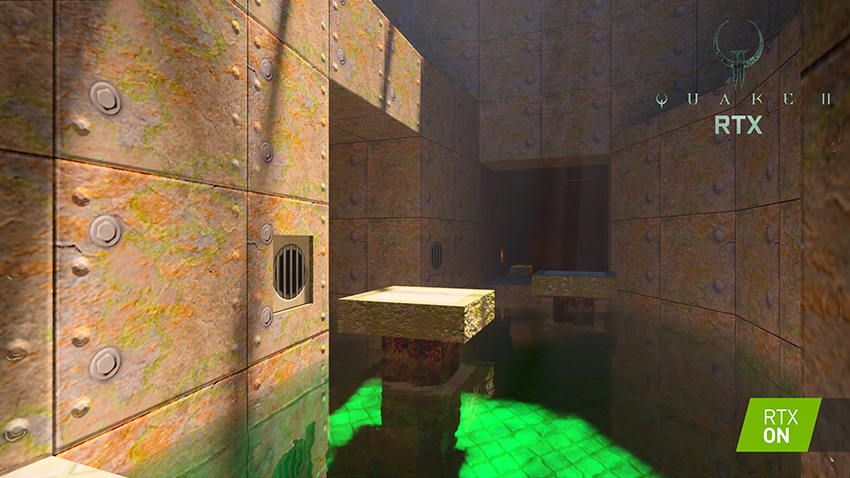 Click to load an RTX ON vs. RTX OFF interactive screenshot comparison
What Hardware Do We Need For Quake II RTX?
As Quake II RTX uses path tracing for the rendering of virtually everything, a GeForce RTX GPU with performance-accelerating RT Cores is strongly recommended. As detailed in our ray tracing deep-dive, high ray tracing workloads necessitate the use of RT Cores, and Quake II RTX has the highest workloads of any ray-traced game released to date.
NVIDIA's Tony Tamasi explains and demonstrates how path tracing creates a stunning experience, and how its use affects performance
As such, we're recommending players have a GeForce RTX 2060 in their PCs or laptops:
Quake II RTX Minimum System Requirements
OS: Windows 7 64-bit or Ubuntu 16.04 LTS 64-bit
Processor: Intel Core i3-3220, or AMD equivalent
Memory: 8 GB RAM
Graphics: NVIDIA GeForce RTX 2060, or higher
Storage: 2GB available space
Quake II RTX Runs On Vulkan And The New NVIDIA VKRay Extension – Will There Be A Linux Release?
There will indeed be a Linux release of Quake II RTX, and it'll launch alongside the Windows edition on June 6th. Come back then and check out our release article for download and installation details.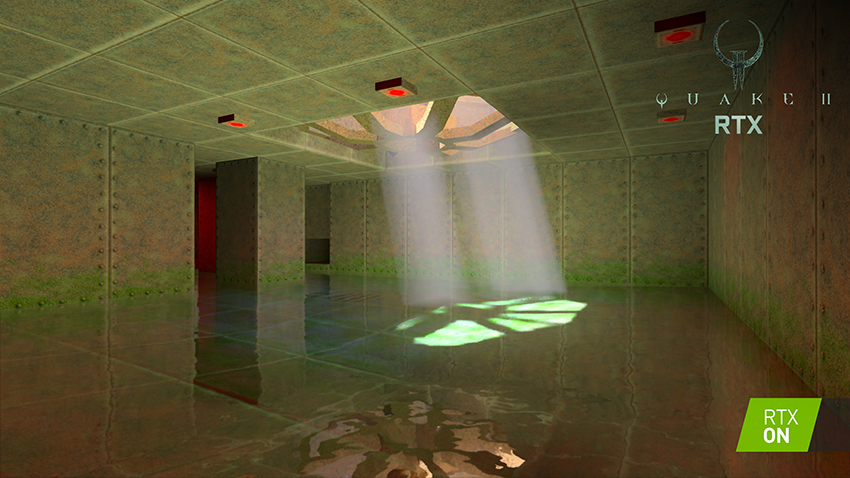 Click to load an RTX ON vs. RTX OFF interactive screenshot comparison, and compare to this screenshot, showing how our environment, lighting and time of day options can transform the look of many Quake II RTX scenes
Will The Official Quake II Expansion Packs Be Supported?
We haven't had the opportunity to update the expansion packs for Quake II RTX, but with the source code for Quake II RTX being freely available on Github other Quake II fans may take on the challenge.
Click to load an RTX ON vs. RTX OFF interactive screenshot comparison
Is There Anything Else We Should Know?
Just that ray tracing is the biggest leap in game graphics since 3D gaming took off circa 1994, and that Quake II RTX demonstrates many of ray tracing's benefits and possibilities, offering realistic, visually stunning enhancements for just about every effect and feature.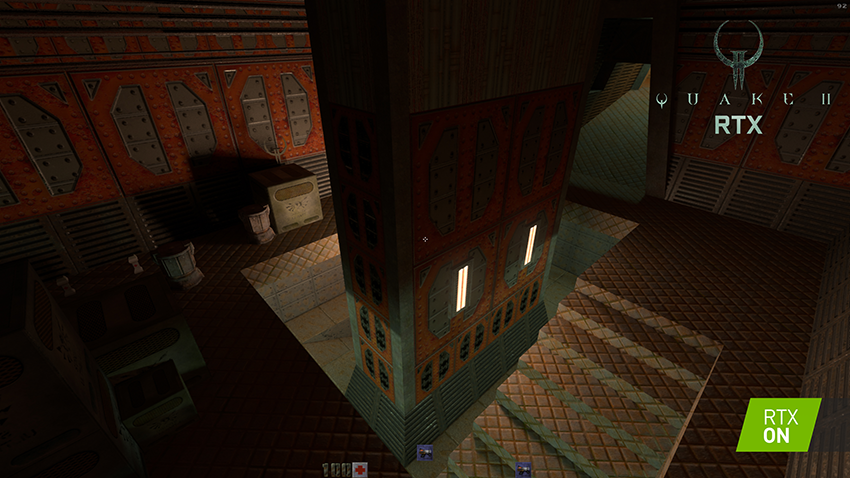 Click to load an RTX ON vs. RTX OFF interactive screenshot comparison
For more background on the project, check out our Quake II RTX announcement article, and for more on the possibilities or ray tracing, head on over to our Ray Tracing Deep Dive. And for the game itself, head here on June 6th for download details.
© 1997 id Software LLC, a ZeniMax Media company. QUAKE, id, id Software, id Tech and related logos are registered trademarks or trademarks of id Software LLC in the U.S. and/or other countries. Bethesda, Bethesda Softworks, ZeniMax and related logos are registered trademarks or trademarks of ZeniMax Media Inc. in the U.S. and/or other countries. All Rights Reserved.
This product is based on or incorporates materials from the sources listed below (third party IP). Such licenses and notices are provided for informational purposes only.
Quake II: Copyright (C) 1997-2001 Id Software, Inc. Licensed under the terms of the GPLv2.
Q2VKPT: Copyright © 2018 Christoph Schied. Licensed under the terms of the GPLv2.
Quake2MaX "A Modscape Production": Textures from Quake2Max used in Quake2XP. Copyright © 2019 D Scott Boyce @scobotech. All Rights Reserved. Subject to Creative Commons license version 1.0. Roughness and specular channels were adjusted in texture maps to work with the Quake II RTX engine.
Q2XP Mod Pack: Used with permission from Arthur Galaktionov.
Q2Pro: Copyright © 2003-2011 Andrey Nazarov. Licensed under the terms of the GPLv2.