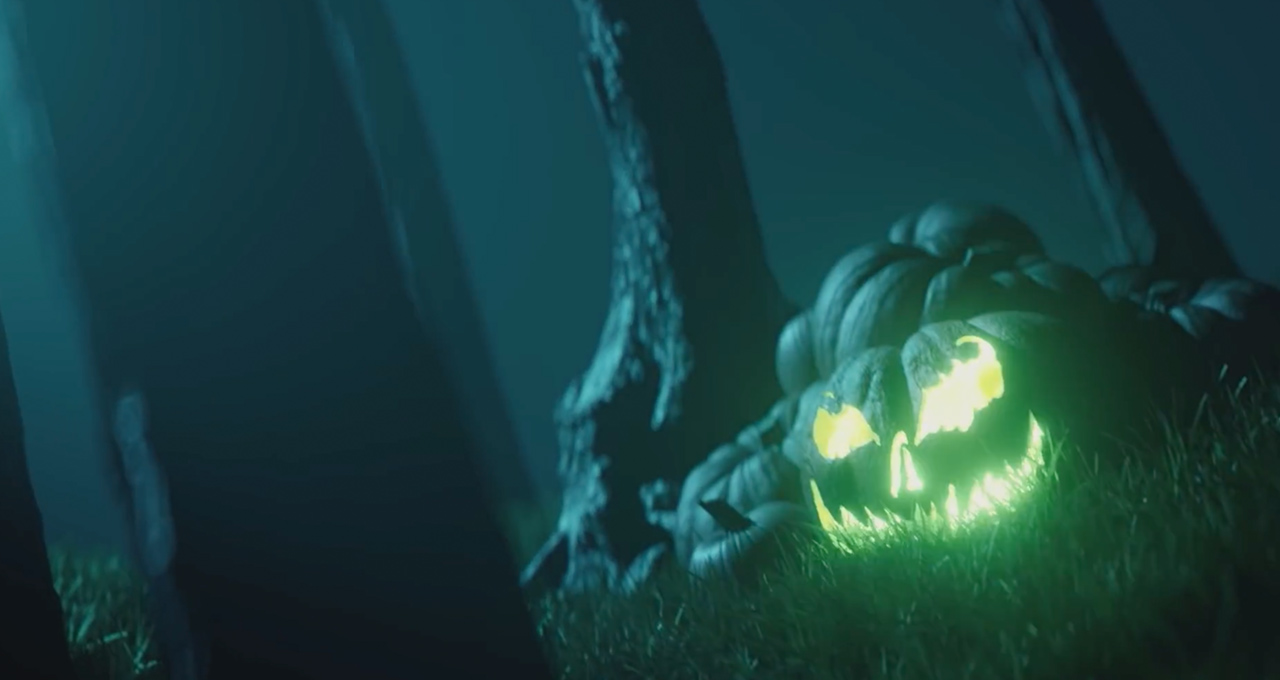 Editor's note: This post is part of our weekly In the NVIDIA Studio series, which celebrates featured artists, offers creative tips and tricks, and demonstrates how NVIDIA Studio technology improves creative workflows. We're also deep diving on new GeForce RTX 40 Series GPU features, technologies and resources, and how they dramatically accelerate content creation.
Artists deploying the critically acclaimed GeForce RTX 4090 GPUs are primed to receive significant performance boosts in key creative apps. OBS Studio and Google Chrome enabled AV1 encoding; Topaz AI-powered apps and ON1 software added Tensor Core acceleration; and VTube Studio integrated NVIDIA Broadcast augmented-reality features that enable high-quality, seamless control of avatars.
Plus, a special spook-tober edition of In the NVIDIA Studio features two talented 3D artists and their Halloween-themed creations this week.
3D and special effects artist Eric Tualle, better known as ATOM, shares his short film sequence, Mr. Pumpkin, which was created to test motion-capture techniques and the render speeds of his new GeForce RTX 4090 GPU.
NVIDIA 3D artist Sabour Amirazodi might be the biggest Halloween fan ever. Look no further than the extraordinary, stunning light show he creates for his neighborhood every year. His workflow is powered by a mobile workstation equipped with an NVIDIA RTX A5000 GPU.
Finally, check out the #From2Dto3D challenge highlights, including NVIDIA Studio's favorite inspirational artwork brought to life in beautiful 3D.
Tricks and Treats With RTX
The new GeForce RTX 40 Series GPUs feature incredible upgrades in dedicated hardware, including third-generation RT Cores, fourth-generation Tensor Cores and an eighth-generation NVIDIA dual AV1 encoder. These advancements deliver turbocharged creative workflows and accelerate creative apps in 3D modeling, video editing and more with AI-powered features.
OBS Studio software version 28.1 added AV1 encoding support with the new NVIDIA Encoder, known as NVENC, delivering 40% better livestreaming efficiency. These livestreams will appear as if bandwidth was increased by 40% — a big boost in image quality. Plus, AV1 added high dynamic range support.
Google Chrome released an update to enable AV1 encoding on all its browser apps, also offering a 40% gain in livestreaming efficiency.
VTube Studio recently integrated the NVIDIA Broadcast app, adding AI-powered face tracking. Using the app requires only a simple webcam, which eliminates the need for expensive, specialized hardware. This gives many more artists the tools to become a VTuber and existing ones better avatars that match their expressions.
Topaz Lab's Video AI v3.0 release introduced an AI stabilization model that reduces shaky camera motion by estimating camera movement and transforming frames for smoother video footage. The update also introduced an AI slow-motion model, calledApollo, which builds on past motion models by handling nonlinear motion and motion blur.
Furthermore, v3.0 added functionality that enables multiple AI models to tackle a single project simultaneously. For example, an AI model can upscale footage while enabling stabilization. These features and models run faster on NVIDIA GPUs with the adoption of the NVIDIA TensorRT software development kit. The app also now supports the popular dual NVIDIA AV1 encoder, enabling users to run previews from multiple video input files and export several projects simultaneously.
NVIDIA also collaborated with photo-editing software company ON1 to bring a massive performance boost to the ON1 Resize app. Advanced effects can now be applied more than 2x faster, and additional enhancements are in the works.
Artists Give Em Pumpkin to Talk About
ATOM has been creating content for more than a decade. His work is influenced by his love of older TV shows, moody artwork and the darker emotions found in human nature.
"Human emotions have always inspired me in art, especially negative ones, because that's what makes us stronger in life," he said. "That's why I like dark things."
His short film Mr. Pumpkin playfully experiments with motion capture, bringing the title character and his technical tribulations to life. ATOM wanted to ensure the atmosphere was right for this film. He created the tone of a mysterious forest at night, full of volumetric light and mist. Mr. Pumpkin himself can be instantly recognized as the hero of Halloween.
Photogrammetry — a method of generating 3D models using a series of photographs — continues to be adopted as a bonafide method for creating quality 3D assets quickly. It's where ATOM's journey began, with a real-life pumpkin.
ATOM captured video of the pumpkin within a homemade motion-square setup that rotated his prop for a complete scan. The artist then uploaded the footage to Adobe After Effects and exported the frames into an image sequence within Adobe Substance 3D Sampler before uploading them to Maxon's Cinema 4D.
"It's a real revolution to be able to do this kind of motion capture at home, when previously it would have required hiring a full motion-capture studio," noted ATOM.
With a full-fidelity model, ATOM refined the pumpkin — sculpting until the shape was perfect. He then adjusted textures and colors to reach his ideal look. Even lighting the scene was quick and easy, he said, thanks to the GPU-accelerated viewport that ensures smooth interactivity with complex 3D models due to his GeForce RTX 4090 GPU.
ATOM applied volumetric effects such as clouds, fog and fire with virtually no slowdown, underlining the importance of GPUs in 3D content creation.
After animating and locking out the remaining scene elements, ATOM exported files to Topaz Labs Video AI. RTX-accelerated AI enlargement of footage retained high-fidelity details and high temporal stability while up-resing to 4K resolution.
ATOM adores sharing techniques with the creative community and helping others learn. "I'm trying to transmit as much as I can about the world of 3D, cinema and everything that is visually beautiful," he said.
For his workflow, NVIDIA Studio and RTX GPUs remain critical or, as he says, "a central element in digital creation … its place is paramount in all critical creative apps the community uses today."

3D and special effects artist ATOM.
Check out ATOM's tutorials and content on his YouTube channel.
The Haunted Sanctuary Awaits
As a creative director and visual effect producer, NVIDIA artist Sabour Amirazodi brought his 16+ years of multi-platform experience in location-based entertainment and media production to his own home, creating an incredible Halloween installation. Make sure to have the volume on when watching this video showcasing his Haunted Sanctuary:
The project required projection mapping, so the artist used GPU-accelerated MadMapper software and its structured light-scan feature to map custom visuals onto the wide surface of his house.
Amirazodi accomplished this by connecting a DSLR camera to his mobile workstation powered by an NVIDIA RTX A5000 GPU. The camera shot a series of lines, took pictures and translated to the projector's point of view an image on which to base a 3D model. Basic camera matching tools found in Cinema 4D helped recreate the scene.
Amirazodi used the lidar camera on his mobile device to scan his house while walking around it. He then created a complete 3D model for more refined mapping and exported it as an FBX file.
Amirazodi worked within Cinema 4D and OTOY OctaneRender to texture, rig, animate, light and render scenes. The GPU-accelerated viewport ensured smooth interactivity with the complex 3D models.
Amirazodi then moved to the composite stage, importing his cache of models into Adobe After Effects. With the software's over 45 GPU-accelerated effects, his RTX A5000 GPU assisted in touching up scenes faster, especially when correcting color and reducing unwanted noise.
To make this installation possible, Amirazodi had to render a staggering 225GB worth of video files, consisting of approximately 18,000 frames in 4K resolution, using Cinema 4D with OctaneRender.
OTOY's OctaneRender is RTX accelerated, and ray tracing delivers lightning-quick exports. "There's no way I would have been able to render all of those frames without my RTX A5000 GPU," the artist said.
When asked why he went through all this effort, Amirazodi gave a touching answer: "My kids," he said. "With the pandemic, we couldn't fulfill our tradition of attending the Disneyland haunted house, so I had to bring the haunted house back to my home."

NVIDIA artist Sabour Amirazodi.
Amirazodi's advice to prospective artists is simple — pick a theme and stick with it. "Gather inspiration from your favorite creative community, like TurboSquid, ArtStation or Sketchfab, then just start creating and getting things going," he said. "Let instincts take over to more quickly discover your flow state."
Amirazodi specializes in video editing, 3D modeling and interactive experiences. Check out the creative savant's work on IMDb.
2D to 3D, Easy Peasy
NVIDIA Studio extends a warm thank you to all the #From2Dto3D challenge participants, including:
@AnaCarolina_Art — The alien model that helped land your first full-time industry job is simply stunning.
@yetismack3d — The union of a minion and a xenomorph may be unholy, but it's beautiful nonetheless.
@eyedesyn — From one of our editors, "Oh my gosh, that's adorable!" Evoking emotion through art is an artist's dream, well done.
Follow NVIDIA Studio on Instagram, Twitter and Facebook for regular artistic inspiration, and be the first to learn more about the upcoming winter challenge.
Access tutorials on the Studio YouTube channel and get updates directly in your inbox by subscribing to the Studio newsletter.