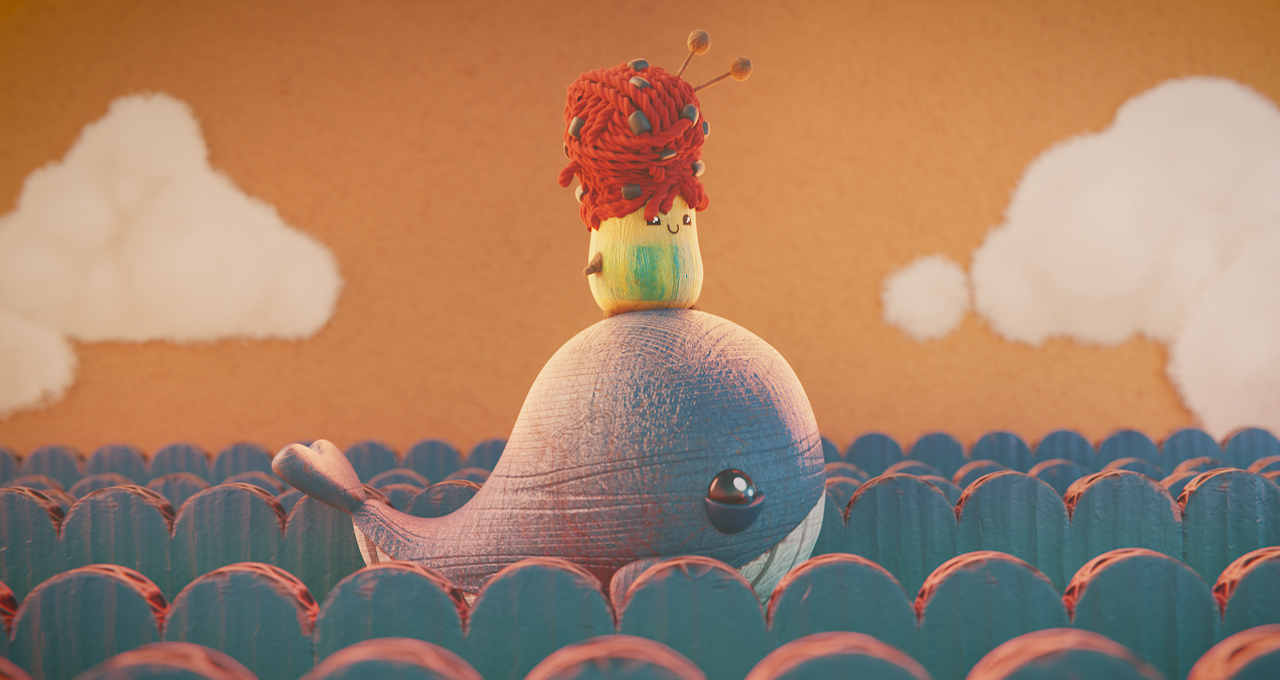 Generative AI is helping creatives across many industries bring ideas to life at unprecedented speed.
This technology will be on display at Adobe MAX, running through Thursday, Oct. 12, in person and virtually.
Adobe is putting the power of generative AI into the hands of creators with the release of Adobe Firefly. Using NVIDIA GPUs, Adobe is bringing new opportunities for artists and more looking to accelerate generative AI — unleashing generative AI enhancements for millions of users. Firefly is now available as a standalone app and integrated with other Adobe apps.
Recent updates to Adobe's most popular apps — including for Adobe Premiere Pro, Lightroom, After Effects and Substance 3D Stager, Modeler and Sampler — bring new AI features to creators. And GeForce RTX and NVIDIA RTX GPUs help accelerate these apps and AI effects, providing massive time savings.
Video editors can use AI to improve dialogue quality with the Enhance Speech (beta) function and work faster with GPU accelerated decoding of ARRIRAW camera original digital film clips up to 60% faster on RTX GPUs compared to on an Apple MacBook Pro 16 M2 Max in Premiere Pro. Plus, take advantage of improved rotoscoping quality with the Next-Gen Roto Brush (version 3.0) feature now available in After Effects.
Photographers and 2D artists now have new Lens Blur effects in Lightroom, complementing ongoing optimizations that improve performance in its Select Object, Select People and Select Sky features.
These advanced features are further enhanced by NVIDIA Studio Drivers, free for RTX GPU owners, which add performance and reliability. The October Studio Driver is available for download now.
Finally, 3D artist SouthernShotty returns to In the NVIDIA Studio to share his 3D montage of a mix of beautifully hand-crafted worlds — built with Adobe apps and Blender and featuring AI-powered workflows accelerated by his GeForce RTX 4090 Laptop GPU.
MAXimizing Creativity
Adobe Creative Cloud and Substance 3D apps run fastest on NVIDIA RTX GPUs — and recent updates show continued time-saving performance gains.
Tested on NVIDIA Studio laptops with GeForce RTX 4050 and 4090 Laptop GPUs with Intel Core i9 13th Gen; MacBook Pro 14" with M2 Pro; and MacBook Pro 16" with M2 Max. Performance measures total time to apply Enhanced Speech effect to video clip within Adobe Premiere Pro.
Premiere Pro's Enhance Speech (beta) feature, currently in beta, uses AI to remove noise and improve the quality of dialogue clips so that they sound professionally recorded. Tasks are completed 8x faster with a GeForce RTX 4090 Laptop GPU compared to MacBook Pro 16 with M2 Max.

Tested on NVIDIA Studio laptops with GeForce RTX 4050 and 4090 Laptop GPUs with Intel Core i9 13th Gen; MacBook Pro 14" with M2 Pro; and MacBook Pro 16" with M2 Max. Performance measures total time to apply export ARRIRAW footage within Adobe Premiere Pro.
Premiere Pro professionals use ARRIRAW footage — the only format that fully retains a camera's natural color response and great exposure latitude. ARRIRAW video exports can be done 1.6x faster on GeForce RTX 4090 Laptop GPUs than on the MacBook Pro 16 with M2 Max.
Additionally, After Effects users can access the Next-Gen Roto Brush feature in beta, powered by a brand-new AI model. It's ideal for isolating subjects such as overlapping limbs, hair and other transparencies more easily, saving time.
RTX GPUs shine in 3D workloads. Substance 3D Stager's new AI-powered, GPU-accelerated denoiser allows almost instantaneous photorealistic rendering.
Substance 3D Modeler's recent Hardware Ray Tracing in Capture Mode capability uses NVIDIA technology to export high-quality screenshots 2.4x faster than before.
Meanwhile, Substance 3D Sampler's AI UpScale feature increases detail for low-quality textures and its Image to Material feature makes it easier to create high-quality materials from a single photograph.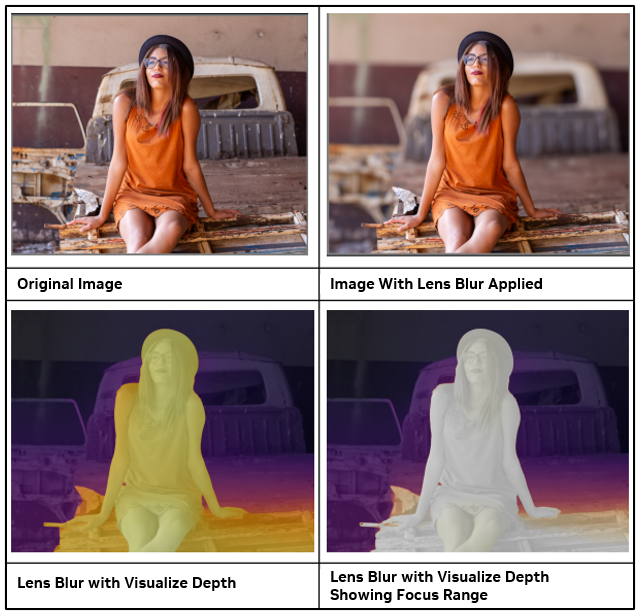 Lens Blur in Adobe Lightroom.
Photographers have long used the popular Super Resolution feature in Adobe Camera Raw, which is supported by Photoshop, and gives 3x faster performance on a GeForce RTX 4090 Laptop GPU compared to a MacBook Pro 16 M2 Max. Now, Lightroom users have AI-driven capabilities with the Lens Blur feature for applying realistic lens blur effects,Point Color for precise color adjustments to speed up color correction, and High Dynamic Range Outputfor edits and renders in an HDR color space.
Adobe Firefly Glows #76B900
Adobe Firefly provides users with generative AI features, utilizing NVIDIA GPUs in the cloud.
Firefly features such as Generative Fill — to add, remove and expand content in Photoshop, and Generative Expandto expand scenes with generative content — help complete tasks instantly in Adobe Photoshop.
Adobe Firefly-powered feature Generative Fill in Adobe Photoshop.
Adobe Illustrator offers the Generative Recolor feature, which enables graphic designers to explore a wide variety of colors, palettes and themes in their work without having to do tedious manual recoloring. Discovering the perfect combination of colors now takes just a few seconds.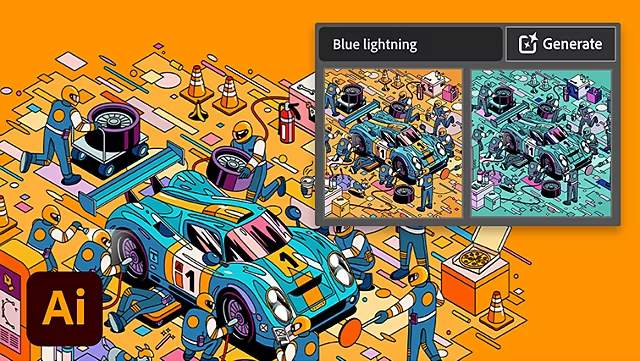 Adobe Firefly-powered feature Generative Recolor in Adobe Illustrator.
Adobe Express offers the Text to Image feature to create incredible imagery from standard prompts, and the Text Effects feature helps stylize standard text for use in creating flyers, resumes, social media reels and more.
These powerful AI capabilities were developed with the creative community in mind — guided by AI ethics principles of content and data transparency — to ensure ethically and morally responsible output.
NVIDIA technology will continue to support new Adobe Firefly-powered features from the cloud as they become available to photographers, illustrators, designers, video editors, 3D artists and more.
MAXed Out AI Fun
Independent filmmaker and artist SouthernShotty knows the challenges of producing content alone and how daunting the process can be.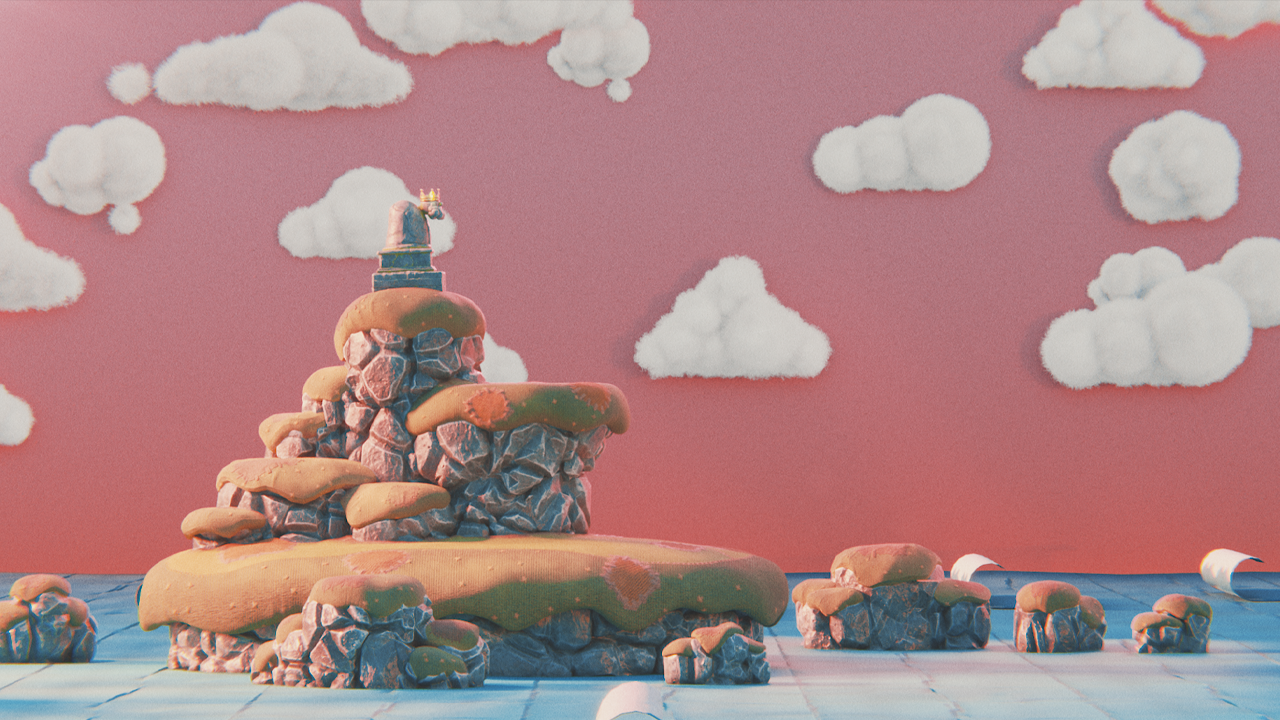 SouthernShotty's artwork invokes childlike emotions with impressive visuals.
As such, SouthernShotty is always looking for tools and techniques to ease the creative process. To accelerate his workflow, he combined new Adobe AI capabilities accelerated by his GeForce RTX 4090 GPU to achieve incredible efficiency.
The artist kept his 3D models fairly simple, focusing on textures to ensure that the world would match his vision. He deployed one of his favorite features, the AI-powered Image to Material in Adobe Substance 3D Sampler, to convert images to physically based rendering textures.
"I'm a big fan of the NVIDIA Studio Driver support, because it adds stability and reliability." - SouthernShotty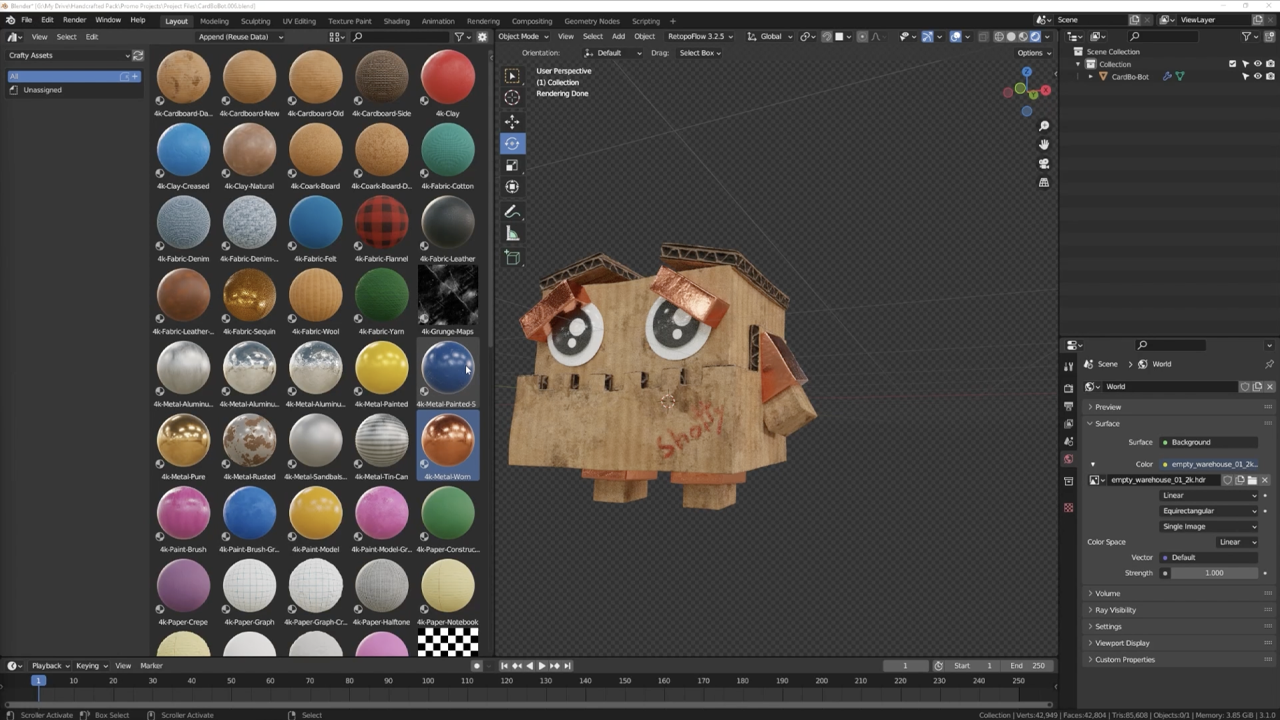 Applying textures in Blender.
RTX-accelerated light and ambient occlusion baking allowed SouthernShotty to realize the desired visual effect in seconds.
His RTX GPU continued to play an essential role as he used Blender Cycles' RTX-accelerated OptiX ray tracing in the viewport for interactive, photorealistic rendering.
As the 3D montage progresses, the main character appears and reappears in several new environments. Each new location is featured for only a second or two, but SouthernShotty still needed to create a fully fleshed out environment for each.
"It's so fast that I can pretty much preview my entire scene in real time and see the final result before I ever hit the render button." - SouthernShotty
Normally this would take a substantial amount of time, but an AI assist from Adobe Firefly helped speed the process.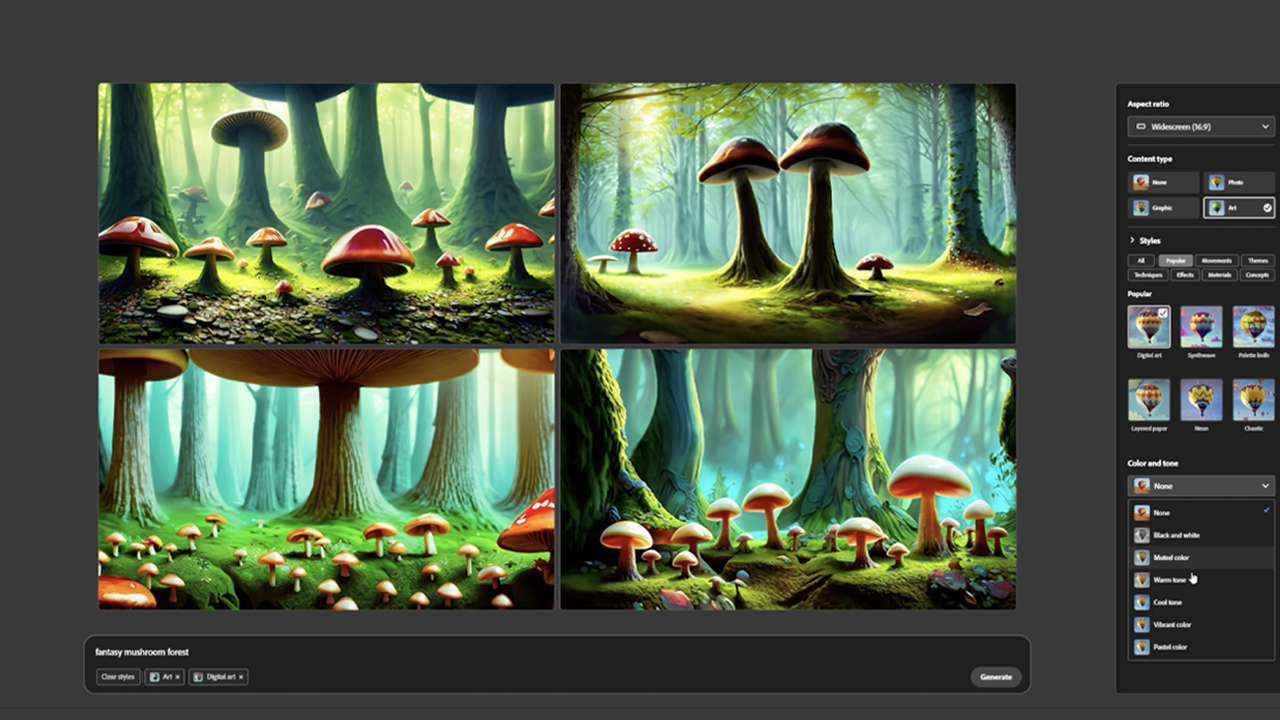 Adobe is committed to developing generative AI responsibly, with creators at the center.
SouthernShotty opened the app, entered "fantasy mushroom forest" as the text prompt and then made minor adjustments by tinkering with the digital art, golden hour, for lighting, and wide-angle settings for composition. When satisfied with the result, he downloaded the image for further editing in Photoshop.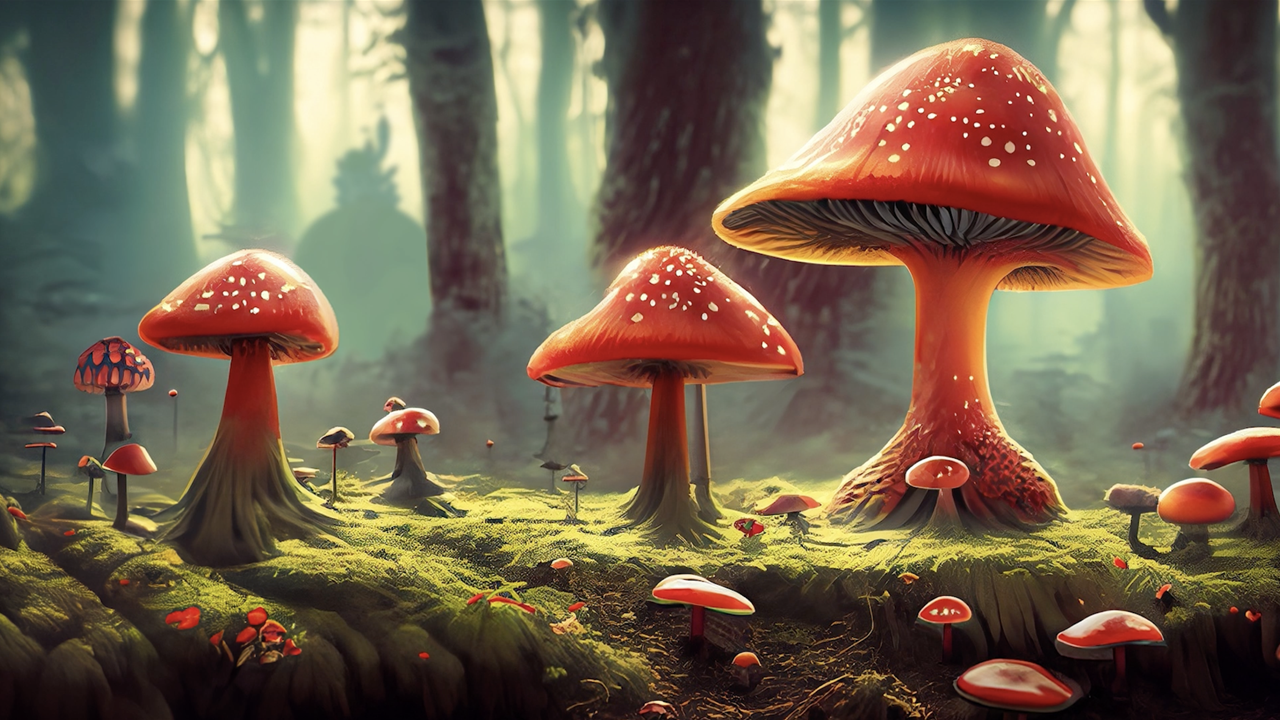 An entirely new image is generated in minutes with Adobe Firefly, powered by GeForce RTX GPUs.
SouthernShotty then used the AI-powered Generative Fill feature to remove unwanted background elements. He used the Neural Filters optimization to color match a castle element added in the background, then used Generative Fill again to effortlessly blend the castle in with the trees.
Finally, SouthernShotty used the Neural Filters optimization in the new Lens Blur feature to add depth to the scene — first exporting depth as a separate layer and then editing in Blender to complete the scene.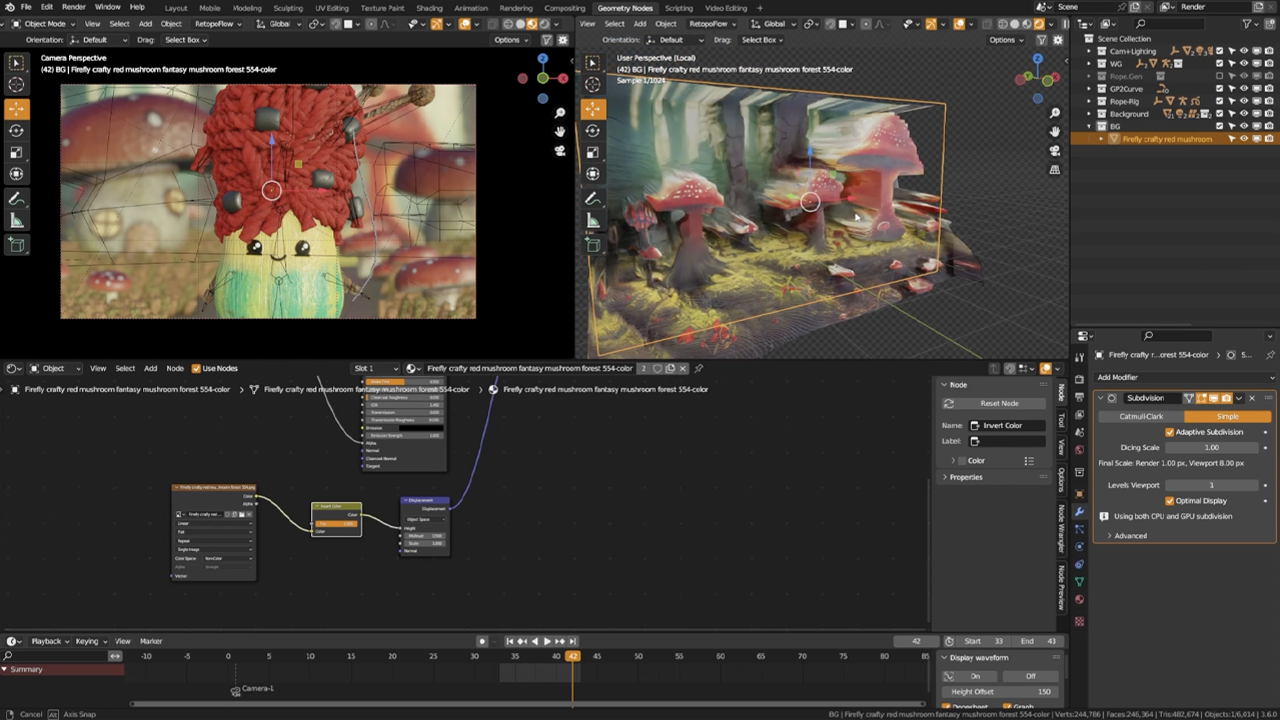 Editing the depth map in Blender.
"My entire process was sprinkled with GPU-acceleration and AI-enabled features," said SouthernShotty. "In Blender, the GeForce RTX 4090 GPU accelerated everything — but especially the live render view in my viewport, which was crucial to visualizing my scenes."
Check out SouthernShotty's YouTube channel for Blender tutorials on characters, animation, rigging and more.
Follow NVIDIA Studio on Instagram, Twitter and Facebook. Access tutorials on the Studio YouTube channel and get updates directly in your inbox by subscribing to the Studio newsletter.