In the direct sequel to the record-breaking Call of Duty®: Modern Warfare® II, Captain Price and Task Force 141 face off against the ultimate threat, the ultranationalist war criminal Vladimir Makarov, who's extending his grasp across the world, causing Task Force 141 to fight like never before.
NVIDIA DLSS has been featured in Activision's Call of Duty: Black Ops Cold War, Call of Duty: Vanguard, Modern Warfare, Modern Warfare II, and Call of Duty: Warzone™. Our long-standing Call of Duty technical partnership continues with the inclusion of NVIDIA DLSS 3 and NVIDIA Reflex in Call of Duty: Modern Warfare III, launching November 10th.
PC Multiplayer Open Beta Early Access Available October 12th With DLSS Super Resolution & Reflex
Ahead of Call of Duty: Modern Warfare III's launch, PC gamers can participate in the multiplayer beta, enhanced with DLSS 2 and NVIDIA Reflex. If you've pre-purchased Call of Duty: Modern Warfare III, you can begin playing October 12th, and from October 14th everyone can download and play until October 16th.
The beta is cross play-enabled, and features a selection of Core Multiplayer maps from the 16 iconic launch maps of 2009's Call of Duty: Modern Warfare 2 that are being brought over and modernized for Call of Duty: Modern Warfare III. And if that wasn't enough, you can also play Ground War to experience new maps, features and vehicles.
Make Gameplay Even More Responsive With Reflex
NVIDIA Reflex is a must-have in games, reducing system latency so your actions occur quicker, giving you a competitive edge in multiplayer matches, and making single-player titles more responsive and enjoyable. NVIDIA Reflex is now used by over 50 million players each month and is activated by 90% of GeForce gamers in over 80 supported titles.
NVIDIA Reflex is synonymous with responsive gaming, and can be found in the latest and greatest games, and recent Call of Duty titles. The tradition continues in Call of Duty: Modern Warfare III, ensuring GeForce gamers can make gameplay even more responsive, giving them a greater chance at victory in every mode, and the campaign.
Call of Duty: Modern Warfare III Multiplayer Beta Game Ready Driver
To get your system game ready for the Call of Duty: Modern Warfare III multiplayer beta, head to the Drivers tab of GeForce Experience or GeForce.com to download and install.
GeForce Game Ready Drivers deliver the best experience for your favorite PC games. They're finely tuned in collaboration with developers and extensively tested across thousands of hardware configurations for maximum performance and reliability. Game Ready Drivers also allow you to optimize game settings in GeForce Experience with a single click, and empower you with the latest NVIDIA technologies.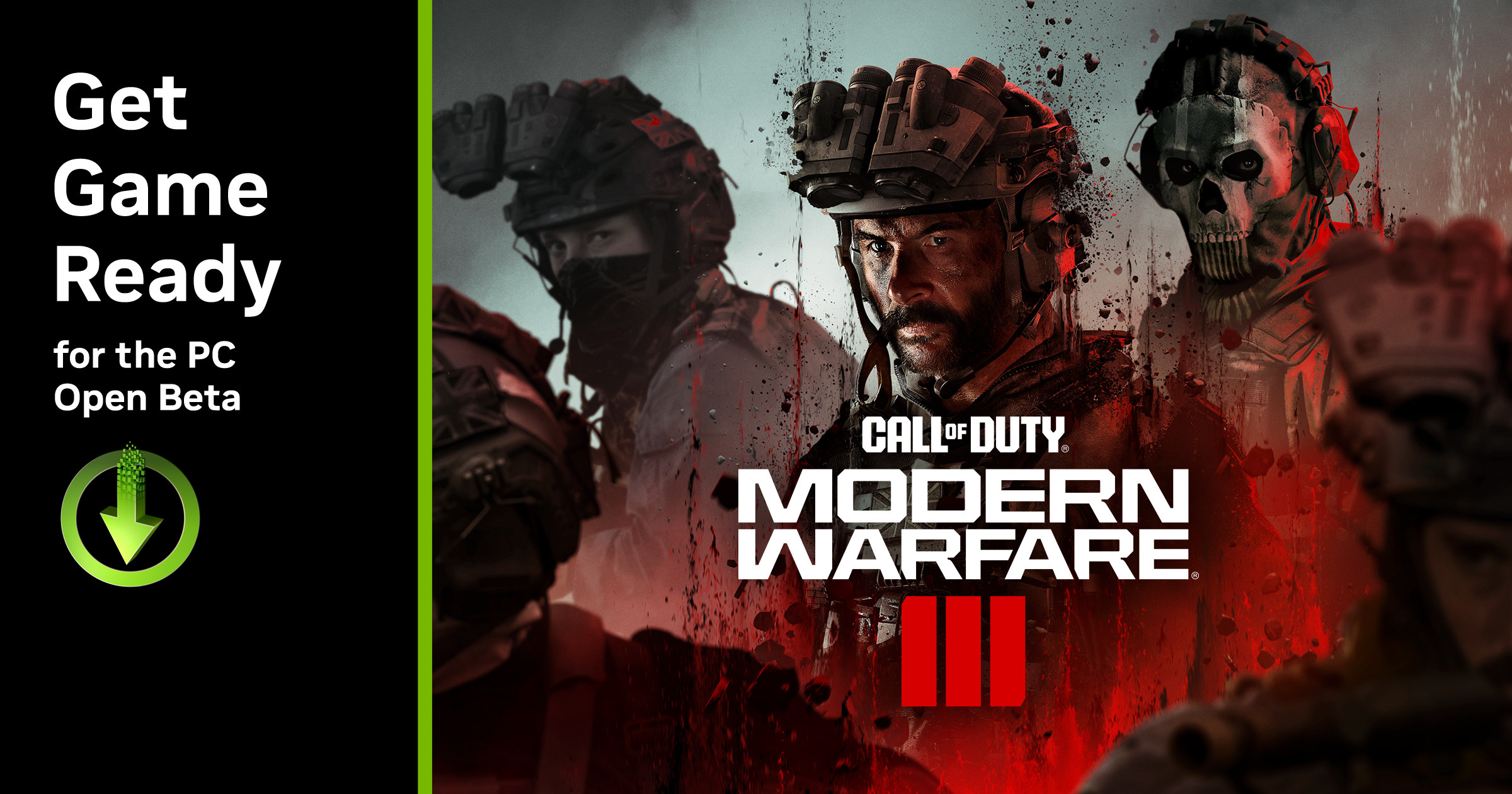 DLSS 3 Coming To Call of Duty: Modern Warfare III At Launch
Thanks to DLSS 3, GeForce RTX 40 Series gamers can max out frame rates with Frame Generation, and other GeForce RTX users can accelerate performance with DLSS 2's critically acclaimed Super Resolution technology. Powered by new hardware capabilities of the NVIDIA Ada Lovelace architecture, DLSS 3 generates entirely new high quality frames, rather than just pixels.
If you pre-purchase Call of Duty: Modern Warfare III, you can continue the story of Task Force 141 during Campaign Early Access, starting November 2nd, enhanced with NVIDIA DLSS 3 Frame Generation and NVIDIA Reflex.
Then, on November 10th, Call of Duty: Modern Warfare III launches officially, along with its Multiplayer and Zombies modes, and all of the game's other content. For a complete rundown, head to the official Call of Duty: Modern Warfare III website, where the latest reveals and newest information can be found.
Get The Definitive PC Experience With GeForce RTX
Thanks to DLSS 3, Reflex and the unparalleled performance of GeForce RTX 40 Series GPUs, you'll have the definitive Call of Duty: Modern Warfare III PC experience on GeForce RTX 40 Series graphics cards and laptops.
For more on the performance of Call of Duty: Modern Warfare III on GeForce RTX 40 Series GPUs, stay tuned to GeForce.com, where you'll also find details about the newest integrations of our game-changing technologies in other titles.