NVIDIA Reflex is a must-have in games, reducing system latency so your actions occur quicker, giving you a competitive edge in multiplayer matches, and making single-player titles more responsive and enjoyable. NVIDIA Reflex is now used by over 50 million players each month, is available in 9 of the top 10 competitive shooters, including Counter-Strike 2, and is activated by 90% of GeForce gamers in over 90 supported titles.
NVIDIA Reflex is synonymous with responsive gaming, and can be found in the latest and greatest games. Since our last update, Alan Wake 2, Call of Duty: Modern Warfare III, and RIPOUT have all launched with support, and Desynced will add Reflex later this week. Furthermore, Overwatch 2: Season 8 and World of Warcraft: The War Within will be even more responsive upon release thanks to Reflex, which is already delivering the definitive experience in their respective base game's for GeForce owners.
Read on for all the details.
World of Warcraft: The War Within Coming 2024 - Experience It At Its Best With NVIDIA Reflex
At BlizzCon 2023, Blizzard Entertainment announced The Worldsoul Saga™, featuring three upcoming expansions for the critically acclaimed massively multiplayer online game, World of Warcraft®. Players will begin their adventure deep beneath the surface in the World of Warcraft: The War Within™ expansion, slated for release in 2024. World of Warcraft: Midnight™ and World of Warcraft: The Last Titan™ will round out a three-part saga that calls players home to save Azeroth.
"Beginning with The War Within, The Worldsoul Saga™ is grown from the seeds of what captured the hearts of players around the world when they first set foot in Azeroth," said World of Warcraft executive producer Holly Longdale. "For veteran players, the last 20 years have led to this, and for those who have never set foot in Azeroth, this is a whole new adventure."
"The War Within, Midnight, and The Last Titan encompass one of the most ambitious creative endeavors ever attempted for World of Warcraft, designed as standalone narratives that feed into an overall story arc," said Warcraft general manager John Hight. "Alongside these epic adventures, the ongoing quality-of-life feature updates players have come to expect from us since Dragonflight will continue in The War Within, further setting us up for the next 20 years and beyond,"
The War Within begins with an ancient civilization rising to power deep beneath the surface of the planet, as heroes of both the Alliance and Horde alike are bombarded with visions—some are of the Light, while others see an alternate, darker fate. Players can journey to a new level cap of 80, roll a new character with the new playable Allied Race, the Earthern, explore new zones, battle through new Delves, Dungeons and Raids, and so much more!
NVIDIA Reflex has already reduced system latency for millions of World of Warcraft players, and for those returning to the game for The War Within, or entering the world of Azeroth anew, Reflex will provide the best system latency for GeForce RTX owners and will decrease system latency by up to 26% as far back as GeForce GTX 900 Series users.
Simply enable Reflex with a couple of clicks in Graphic Settings -> Low Latency Mode -> NVIDIA Reflex, or NVIDIA Reflex + Boost, and your experience will instantly be more responsive, making gameplay snappier, and giving you the lowest system latency possible.
RIPOUT Available Now In Early Access With Reflex, DLSS 3 & Ray Tracing
Pet Project Games' RIPOUT is an online co-op horror first-person shooter that will have players fight their way through procedurally generated derelict ships filled with mutants capable of reconfiguring their alien bodies. Survive with your trusty Pet Gun companion, collect loot, and customize your character to fit your playstyle. Will you and your trusty Pet Gun find Sanctuary in time, or will you perish alongside the rest of Earth's residents?
RIPOUT recently entered Early Access, and from day one GeForce RTX 40 Series gamers have been able to activate NVIDIA Reflex and DLSS 3, reducing system latency by up to 58%, and accelerating performance by an average of 2.8X at 4K, with max settings and ray tracing enabled.
Alan Wake 2 Available Now With Full Ray Tracing, Reflex & DLSS 3.5
Remedy Entertainment's eagerly awaited Alan Wake 2 is now available, and has received rave reviews for its engrossing gameplay and incredible visuals. Published by Epic Games, Alan Wake 2 features jaw-dropping fully ray-traced graphics, enhanced and accelerated by DLSS 3.5 with Ray Reconstruction. Players will explore two beautiful yet terrifying worlds, boasting the most advanced visuals seen to date in gaming, searching for the source of a supernatural darkness that has trapped Alan in an endless nightmare.
Activating NVIDIA Reflex in Alan Wake 2 sees system latency reduced, giving you an edge over the supernatural horrors that threaten your life and sanity.
For further information about Alan Wake 2's incredible graphics and technology, head on over to our Alan Wake 2 launch article.
Desynced Update Adds Reflex & DLSS 3 On November 16th
Desynced is an Early Access sci-fi strategy game with fully customizable units and behaviors, from Stage Games Inc. and Forklift Interactive. Gather, build, research, and explore the unknown. Alone or with friends, unveil the mystery of an AI on the edge of self-awareness and uncover the hidden truth in this blend of strategy, automation, and exploration.
A new game update arriving November 16th introduces support for Reflex and DLSS 3, reducing system latency by up to 50%, and multiplying frame rates by 2.2X at 4K, with every setting maxed out.
Counter-Strike 2 Available Now For All, Featuring NVIDIA Reflex
In case you missed the news, Counter-Strike 2 has been officially released, and we've worked closely with Valve to integrate NVIDIA Reflex for reduced system latency. If you've got a GeForce GTX 900 Series or newer GPU, you can reduce system latency by up to 35% by simply enabling NVIDIA Reflex. See for yourself in our new Counter-Strike 2 video, where frame rates exceed 400 FPS, and latency is as low as 5.5 milliseconds:
Coupled with a GeForce RTX 40 Series GPU, gamers can hit sub 15 ms latency, which is why Counter-Strike 2 GeForce gamers have overwhelmingly adopted Reflex, with over 90% of them playing with Reflex enabled.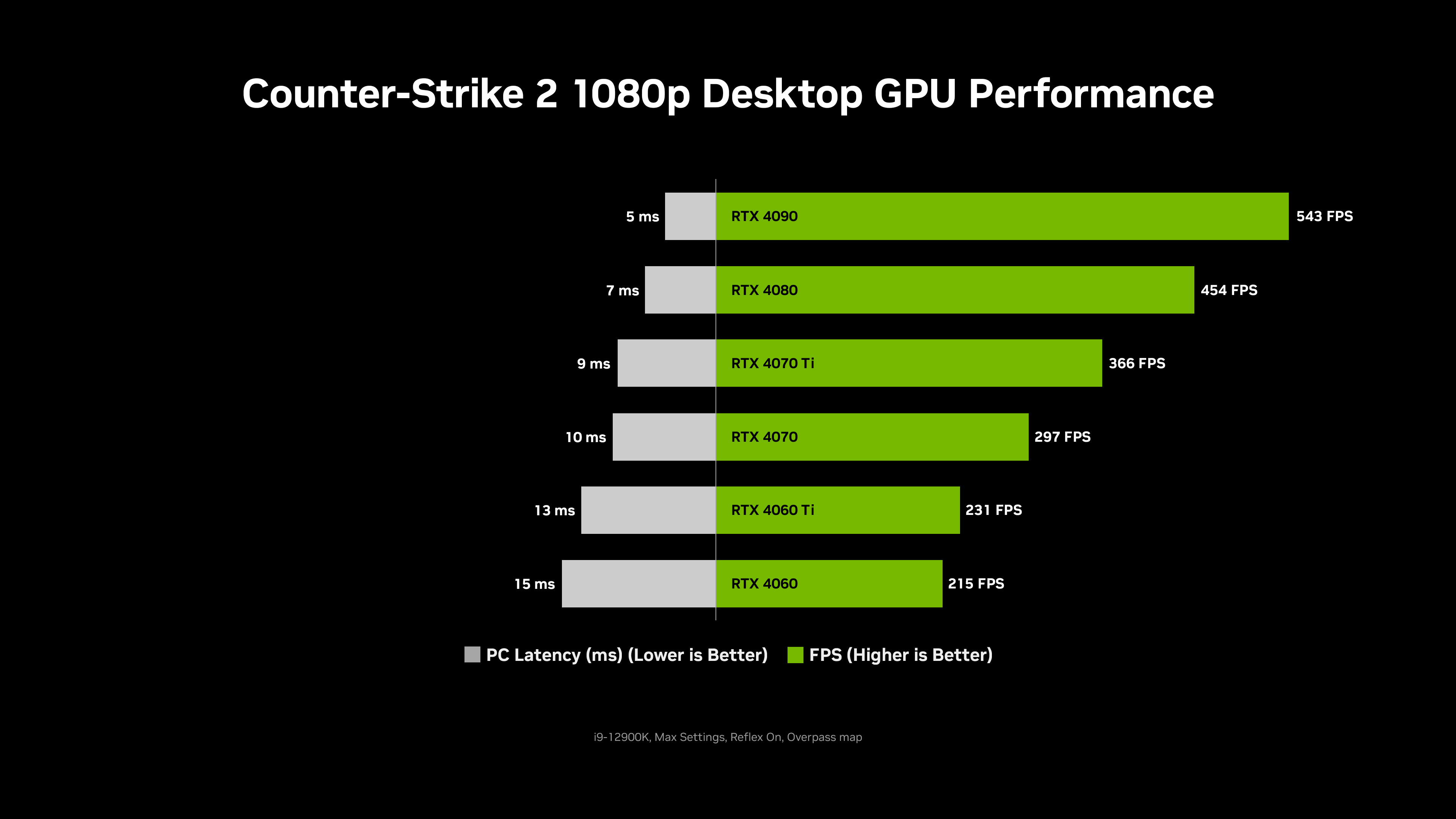 Counter-Strike Asia Championship, which took place last week in Shanghai, is one of the first major Counter-Strike 2 tournaments featuring top teams Ence, G2, Faze, Astralis, Mouz and Ninjas In Pyjamas. The Counter-Strike pros participating played on the latest GeForce RTX 40 Series GPUs for the best performance and used NVIDIA Reflex for the lowest latency. Check out the results of the tournament here.
Activating Reflex lowers system latency, allowing you to acquire targets faster, react more quickly, and increase aim precision in Counter-Strike 2:
Learn more in our Counter-Strike 2 NVIDIA Reflex launch article, and further reduce your system's latency by following our Counter-Strike 2 Reflex Steam guide.
Overwatch 2: Season 8 Coming Soon
NVIDIA Reflex enables GeForce gamers to play with minimal system latency in Overwatch 2's highly competitive multiplayer matches. Overwatch 2: Season 8 is launching December 5th, and headlining the season is the introduction of Mauga, a powerful, brawling Tank Hero who will tear through the competition with his incendiary and volatile chainguns.
Mauga features a kit that is designed to bash through the front lines and brawl with his opponents in close-quarter combat, by wielding two powerful Chainguns that can either be fired individually or in unison. Ignite enemies with his Incendiary Chaingun "Gunny" to burn them when they take enough damage, then finish them with a critical hit from his Volatile Chaingun "Cha-Cha." Paired with his Berserker Passive, which grants Mauga temporary health whenever he deals critical damage, he's a mountain on the battlefield.
Mauga's not just a leading star—he also brings a host of new abilities to support his team as well. Mauga can break his way through the front lines with Overrun, a charging ability that cannot be stopped by any crowd control abilities, and stomps into opponents dealing a powerful knockback. When the fight gets intense for his team, he has Cardiac Overdrive to engage both of his hearts and create an aura that reduces incoming damage, allowing allies to heal themselves while dealing damage.
Finally, when he really wants to tango up close with his foes, Mauga can unleash Cage Fight, his ultimate ability. Cage Fight traps nearby opponents in a cylindrical fighting ring. This barrier blocks enemy incoming damage or healing from the outside, forcing those trapped inside to face Mauga with Gunny, Cha Cha, and a barrage of infinite ammunition. If you can't take him down quickly, the last thing you might see is his charming smile.
Using NVIDIA Reflex on a GeForce RTX 40 Series GPU, your actions have improved responsiveness in Overwatch 2, occurring virtually without delay, and performance is so high that you'll see the action at its best with maximum clarity.
Activate NVIDIA Reflex now and in all future seasons of Overwatch 2 to give yourself the best chance of success.
More To Come Soon
Even more new NVIDIA Reflex games, plus Reflex-compatible mice and monitors are on their way, so stay tuned to GeForce.com to learn more when the news drops; check out the complete list of currently supported games and devices on our NVIDIA Reflex website.