GeForce Garage

Overview
High-end machines built by specialist PC manufacturers are examples of stunning engineering and expert craftsmanship. However, there is no substitute for the sense of pride and satisfaction that comes from designing and building your very own gaming PC machine from the bottom up, assembled from parts you selected according to your needs and desires.
For those of us with no experience, it seems like a daunting task to build a powerful gaming PC rig. That's why we created GeForce Garage, a resource center that will guide you through the process whether you're a DIY beginner or seasoned vet.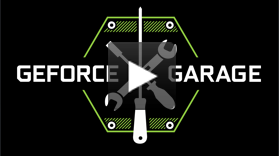 Start Your GeForce Garage Training
Whether you're just learning about PCs or trying to find the next cool mod, we have guides for every skill level.
Apprentice

[ 5 Guides ]

Technician

Basic Hardware Installation Guides

[ 10 Guides ]

Expert

Advanced Hardware Installation Guides

[ 15 Guides ]

Master

Performance Tuning and Custom Modding

[ 7 Guides ]
Not Sure Where Your DIY Skills Lie ?
Use our Interactive DIY Level Finder to find the guides that are right for you.