Metal Gear Solid V: The Phantom Pain Graphics & Performance Guide
Featured Stories
,
Guides
Late last year PC gamers were treated to Metal Gear Solid V: Ground Zeroes, the first Metal Gear game on PC since 2003's Metal Gear Solid 2: Substance. A tasty morsel of Metal Gear gameplay, Ground Zeroes acted as a prologue to Metal Gear Solid V: The Phantom Pain, giving gamers a preview of the action, story and themes of the main event, which is now available to buy and play on all platforms.
Using the same Fox Engine as Ground Zeroes, The Phantom Pain features Physically-Based Rendering, Subsurface Scattering, and a multitude of other techniques and effects that impressed those who played the prologue. In-game, little has changed in the nine months between the release of the two games, bar a remix of the graphics settings, though as expected The Phantom Pain is a more demanding title due to its greater scale, new gameplay options, and frequent visual effects.
With extensive knowledge of the Fox Engine, and dozens of hours of hands-on time with both titles, we've run the numbers, compared the settings, and demonstrated why Metal Gear Solid V: The Phantom Pain looks and plays best on PC in our latest Graphics & Performance Guide. So set aside some time, and check out the info and images below to see why you should play The Phantom Pain on PC, and preferably with a GeForce GTX GPU.
Guide Contents:
System Requirements
Konami's Metal Gear Solid V: The Phantom Pain system requirements reflect the game's scalability, enabling you to reduce graphical detail to previous-generation levels, and up to and beyond the capabilities of current-generation consoles.
Konami's Minimum Specifications
OS: Windows 7 64-bit or Windows 8 64-bit) (64-bit OS Required)
Processor: Core i5-4460 (3.40GHz) or better; Quad-core or better
Memory: 4GB RAM or above
Graphics: GeForce GTX 650 or above
DirectX: Version 11 or above
Konami's Recommended Specifications
Processor: Core i7-4790 (3.60GHz) or better; Quad-core or better
Memory: 8GB RAM or above
Graphics: GeForce GTX 760 or above
To reach those higher detail levels requires much more in the way of GPU horsepower, our testing shows, and as such we'd recommend the following GPUs for high settings at a variety of resolutions:
No longer will you receive a locked 60 frames per second with max settings on a years old PC, as you did in Ground Zeroes. To find out why, keep on reading.
Metal Gear Solid V: The Phantom Pain: The PC Difference
As with Ground Zeroes, The Phantom Pain looks and plays significantly better on PC thanks to higher-resolution effects, higher-quality shading, support for 4K and 5K resolutions, and support for PC-only technologies, such as Dynamic Super Resolution (DSR), ShadowPlay, GameStream, GameStream Co-Op, and G-SYNC.
To highlight in-game enhancements, Konami created a couple of comparisons showing the same scenes on PC and PlayStation 4, where the most technically-advanced console edition of the game can be found.
Note the increased number of lights, the higher levels of detail, and the higher-resolution shadowing, along with many other smaller improvements.
In the second comparison, detail all around is of a higher quality once more, particularly so on the road, and on distant trees and cliffs. Note too the improved ambient occlusion shadowing around the sandbags, and across the scene.
In general, just about every effect, feature and texture is of a higher quality on PC, where Kojima Productions can demonstrate the full capabilities of the Fox Engine. For a look at how Depth of Field is improved on PC, enabling the creation of cinema-style cutscenes, skip to the Depth of Field section.
Ambient Occlusion
Ambient Occlusion (AO) adds contact shadows where two surfaces or objects meet, and where objects block light from reaching another nearby game element. The AO technique used and the quality of the implementation affects the accuracy of AO shadows, and whether new shadows are formed when the level of occlusion is low. Without Ambient Occlusion, scenes appear flat and unrealistic, and objects float on surfaces. In The Phantom Pain we see Screen Space Ambient Occlusion (SSAO) employed, as it was in Ground Zeroes, albeit with a name change in the settings menu.
While far from the best technique available, SSAO is nonetheless a welcome addition; without its inclusion image quality would be diminished as the following comparisons demonstrate.
The above comparisons were from Ground Zeroes, where the effect of settings can be more clearly seen due to the tight packing of content to fit within the game's small play area, and an abundance of man-made structures with detailed industrial-design. In The Phantom Pain, in contrast, the massive zones are wide-open, punctuated by the odd structure, the occasional enemy outpost, and a few larger settlements and locations. To date, the places we've visited have yet to rival the detail and density of Ground Zeroes' military base, though once The Phantom Pain servers are online players can import Ground Zeroes' save games to revisit the location. As such, the effects of settings are generally better demonstrated in Ground Zeroes as the on-off differences are immediately evident.
In comparison, here is the much-more subtle impact of Ambient Occlusion in The Phantom Pain:
Interior locations typically differ in The Phantom Pain, too, with many being dark or pitch black, though in some cases Ambient Occlusion can still be clearly seen.
Performance: As the Ambient Occlusion technique and implementation is unchanged in The Phantom Pain, the comparative performance impact of the setting's options are almost identical in the most detailed area we could locate.

Note: Ambient Occlusion is dependent on "Post Processing" Medium, or higher, also being enabled.
If you're seeking extra performance simply lower Ambient Occlusion to High and regain a handful of frames per second, as during gameplay you're unlikely to notice the difference in fidelity, especially when crawling along your belly at night.
If you're interested in a superior Ambient Occlusion implementation for The Phantom Pain, try our NVIDIA Control Panel Ambient Occlusion override.
Depth of Field
In Ground Zeroes, Depth of Field, Post-Processing Anti-Aliasing, Bloom, and other effects were grouped together in the Screen Filtering setting, with no options to adjust each individual effect (until modders found a way).
Like Motion Blur, Depth of Field divides opinions, so to save everyone the effort of modding files Depth of Field is now available as a dedicated setting. However, this only affects gameplay, as famed game director Hideo Kojima progresses The Phantom Pain's story with Hollywood-style cinematics, replete with simulated out of focus camera effects.
On PC, Depth of Field is upgraded from a 'gather' technique to a 'scatter' technique, enabling better transitions between focal areas, and variable blurring per frame. The resolution of the blur has also been greatly improved to reduce artifacts, and artist-controlled Bokeh effects are now included, enabling Kojima and co. to apply out of focus shapes to specific game details, as demonstrated below.
Using identical frames from the PlayStation 4 edition of Ground Zeroes, we can exemplify this engine-wide improvement to PC Depth of Field below in a similar interactive comparison.
Depth of Field is focused and applied by the cinematic director. Without it, the fidelity and 'style' of cut scenes suffers greatly.
A second comparison from the PlayStation 4 edition of Ground Zeroes further highlights the PC's massively improved Depth of Field effects, which apply less blur in the foreground, and higher quality blur in the background.
During gameplay, Depth of Field is used when aiming with weapons, when crouching, when driving and riding in vehicles, and to blur portions of the screen for stylistic effect, as the following interactive comparison demonstrates.
Performance: Extensively used throughout the game, Depth of Field adds an extra bit of style, and in our opinion is well-worth using. With a performance cost of around 5 frames per second though, it may be a tad too expensive for some. Our recommendation: sacrifice things like Extra High Ambient Occlusion first, and only turn off Depth of Field if absolutely necessary.
Effects
The main mission of Ground Zeroes had little in the way of special effects until an in-game, non-interactive cutscene at its conclusion. In comparison, The Phantom Pain is filled with effects from the off, taking a major toll on performance in many scenes, and causing sudden framedrops throughout the game. These effects take the form of fog, dust storms, rain storms, thunder storms, explosions, weapon impacts, grenade smoke and visual effects, gadget effects, dust effects from movement and actions, and much, much more.
This dramatically-increased use of effects has one of the largest impacts on performance in The Phantom Pain, and will undoubtedly force max settings Ground Zeroes players to lower settings or resolution.
As in Ground Zeroes, the difference between detail levels is in the number and quality of particles, and the density and quality of other effects. Direct comparisons are tricky as effects are always moving and slightly randomised; below, you can view one of the clearer examples we managed to capture, highlighting the accuracy and fidelity of the effect, and how the quality of its interaction with shadows decreases with the detail level.
Further complicating capture and benchmarking is the introduction of dynamic weather, a day-night cycle that constantly changes lighting and shadowing, and a cloud system we'll get to later. As part of that dynamic weather system, rain returns from Ground Zeroes, though it is now supplemented by heavier storms and thunder and lightning.
As in Ground Zeroes, the number of rain drops and their quality is reduced as the detail level is decreased. Drops that remain are stretched out to simulate the appearance of heavy rain, but unless you're looking up through a spotlight beam, as in our comparison, it's unlikely you'll notice the difference during gameplay.
The other effects are too random to properly show in comparisons, so instead please peruse the following screenshots that show some of the new effects in action.
Performance: As touched upon earlier, the number of effects being rendered can put serious strain on performance in The Phantom Pain, as exemplified by our performance numbers below.
If "Off" were an available detail level, its number would be a solid 60 frames per second, meaning even on Low an intensive set of effects can send frame rates plummeting by over one third. A further sizable drop comes from enabling Extra High, which ramps up the fidelity of the effects far above what's possible on consoles, and improves the quality of light and shadow interaction, blurring shadows cast on smoke, for example.
At lower resolutions the impact of Effects and its Extra High setting aren't as extreme, but even on our GTX 980 Ti system Extra High managed to push our performance below a locked 60 frames per second at 2560x1440, which didn't happen with any other setting.
If you're an all-guns-blazing player be prepared for a rougher time, as your guns, gadgets and grenades will spawn many more effects, and as the enemy fights back with mortars, machine guns, tanks, and helicopters, your field of view will be filled with explosions and smoke. For sneakers, performance is much more consistent, but you'll still encounter Effects' performance impact at higher-resolutions during cutscenes and when initiating multiple Fulton extractions.
Regardless of your gaming style, Effects Extra High is worth trying at lower resolutions, just to see if your system can cope. If it can't, kick it down to High. At 4K or even 5K, you'll need a top-end system or high-end SLI system to avoid framedrops below 30, such is the intensity of Effects Extra High at higher resolutions.
Lighting
Recent years have seen game engines gravitate towards deferred rendering and lighting, enabling the creation of realistically-lit scenes that contain additional dynamic lights and improved lighting all around. As with almost everything newer and better, the performance impact is higher, especially when making full use of its capabilities. On consoles, the number of dynamic lights in Ground Zeroes and The Phantom Pain is limited, as clearly shown by the comparisons from each game below:

Metal Gear Solid V: Ground Zeroes PC vs. PlayStation 4 Interactive Comparison

Metal Gear Solid V: The Phantom Pain PC vs. PlayStation 4 Interactive Comparison
On PC performance isn't an issue, enabling Kojima Productions to render all lighting simultaneously, greatly improving image quality when looking across Ground Zeroes' tightly-packed Camp Omega. In The Phantom Pain, however, settlements and developed locations are spread far and wide, and in our time with the game have never approached the density or visual complexity of Camp Omega. Nevertheless, Lighting has a high impact on image quality during any night mission, with its Extra High setting being a must-have on any system.
Throughout The Phantom Pain you'll frequently return to your base of operations, which expands as you invest in its capabilities. Here, the impact of Lighting Quality is best seen in The Phantom Pain, with the base's many lights being disabled beyond a short range. It's also worth noting that with the game's massive draw distances and level of detail scaling, even Extra High can't enable lighting on the distant, connected base buildings, which is unfortunate as this would greatly enhance the appearance of the zone as you fly in at night.
Performance: With most Phantom Pain locations having fewer lights, the performance cost of Lighting is ever slightly lower than it was in Ground Zeroes, accelerating performance by one whole frame per second.
With a high visual impact in most night scenes, it's strongly recommended that you lower other settings before downgrading this high-impact setting, which offers considerable benefits above and beyond the obvious due to its influence on shading and shadowing.
Model Detail
The Fox Engine's poorly-named Level of Detail setting adjusts the amount of visible geometry in a scene, the number of objects rendered, the quality of said objects, and the density of foliage. Across our screenshots and comparisons you'll see thinner tufts of grass, fewer cacti and bushes, fewer power lines, less detailed objects, and less detailed buildings, all at medium to long range distances. At close range, the occasional bush or piece of grass is thinned out, but on the whole Model Detail has a minor impact on image quality.
In The Phantom Pain, the sparser environments make the impact of Model Quality even harder to spot. For example, in this set of images the most visible change is the reduction in quality of trees, but under closer examination we can observe the removal of detail on and around buildings, and the eventual removal of terrain decoration and small tufts of grass.
Performance: Lowering the setting's detail level has a minimal impact on image quality in screenshots, but during gameplay you will encounter additional pop-in and fade-in as objects and other affected items are approached. Your tolerance for this will likely dictate your choice of setting if you're in need of performance, but even looking out across the most detailed locations you're only going to regain a couple of frames per second by selecting Low. In our opinion, it's a poor trade that merely diminishes the experience.
Post Processing
In Ground Zeroes, players could enable Screen Filtering, a collection of visual effects that included Anti-Aliasing, Bloom, Depth of Field, and the PC-exclusive Screen Space Reflections, which helped differentiate the PC release from the console launch nine months prior.
Now, the setting's known as Post Processing, and with that name change come several other adjustments for The Phantom Pain. First and foremost, Screen Space Reflections no longer feature, to the best of our knowledge, having failed to find examples in any unlocked location or mission. If you checked out our Ground Zeroes guide you'll have seen that only specific puddles could clearly reflect detail, while a few other select surfaces could reflect light or blurred detail, such as the truck in our comparison.
In The Phantom Pain, said puddles are nowhere to be seen because the dynamic weather system doesn't dynamically create and destroy them, and similar-looking trucks appear to lack the same reflective properties. In areas where bodies of water can be found, such as the marshes and rivers in the second gameplay zone you unlock, we have yet to discover any real-time reflections, and in many cases not even pre-canned, simulated reflections.
In one interior gameplay location, highlighted in a comparison below, reflections of select objects were cast on the floor, but even with Post Processing set to Off they were still rendered, suggesting a different implementation than the one used in Ground Zeroes. In cut scenes, sun glasses and gas masks are occasionally rendered with reflections, as are a couple of mirrors at the start of the game (which we can't show for fear of spoilers), but their level of fidelity and the fidelity of the aforementioned gameplay reflections fall far below that of Ground Zeroes' real-time Screen Space Reflections.

The quality of the reflection is marginally better on Extra High, but nowhere near the level of fidelity seen on Ground Zeroes' special Screen Space Reflection surfaces.
September 7th Update: Having now played almost all of The Phantom Pain, we can confirm that reflections are only used in a few locations, typically under very specific lighting conditions, and are only viewable from select angles and distances. Furthermore, their quality is far below that of the reflections in Ground Zeroes, and they are always enabled regardless of the settings chosen, which is probably why they are of a lower quality.
Outside of a few scenes in the Prologue, the previously shown floor found in a couple of buildings, and some subtle uses in Mother Base under very specific conditions, the most visible use of these reflections is in a late-game mission that we're hopefully not spoiling in the interactive comparisons below.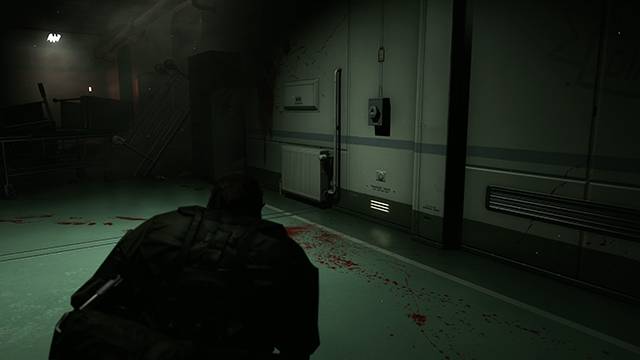 For reasons unknown, the reflections are slightly more visible on detail levels other than Extra High in this mission.
Ultimately, we'd much prefer Ground Zeroes' higher-quality reflections in the overworld, where'd they have a much larger impact on image quality; an unfortunate step backwards.
Elsewhere, Low sees select light flares and light halos complement Bloom Lighting, though the former pair of additions do appear to require "Effects" Low, or higher, to also be enabled.
On High, Post-Process Anti-Aliasing is enabled as it was in Ground Zeroes, and as before its quality remains uneven: moderate screen-wide blurring is observed in all scenes, yet aliasing remains on certain game elements, even at 4K. In Ground Zeroes, modders discovered a workaround to enable and disable specific elements of "Screen Filtering", allowing for the injection of superior post-processing solutions like SMAA, which tackled aliasing issues. Expect the same to occur here shortly after launch.

1920x1080 interactive comparison

3840x2160 interactive comparison
High is also necessary for Ambient Occlusion and Depth of Field to work, making its performance impact considerable. If the two interlinked settings are disabled we observe performance reductions of only a few frames per second, on account of the low-cost post-process anti-aliasing technique being the only addition at this detail level.
Furthermore, in addition to enabling Depth of Field (if the dedicated Depth of Field setting is also enabled), High and Extra High adjust the quality and precision of the blur, too.
Performance: Despite the supposed removal of Screen Space Reflections, and the relocation of Depth of Field to a separate option, the performance impact of the setting formerly known as "Screen Filtering" is drastically higher in The Phantom Pain. The likely cause is a combination of the game's increased scale, larger focus on action, and increased number of effects, which are enhanced by the Post Processing setting. This in particular comes heavily into play on Extra High, where the improvements to Depth of Field and many other effects have a considerable impact on performance.
If you're in search of extra performance, dial Post Processing down to High, and decrease the quality of Ambient Occlusion and Effects to High, reducing the performance impact of the visual effects that are enhanced by Post Processing. Despite the high performance cost, you're unlikely to want to go lower until you can override Anti-Aliasing and Ambient Occlusion.
Shadows
On PC, Shadow Quality is significantly improved, with clear, well defined shadows visible on Extra High. Similarly, shadow filtering is bolstered, tackling the vast majority of shadow aliasing on max settings. Finally, the number of simultaneous shadows that can be rendered has been greatly increased, creating richer scenes full of dynamic shadows cast by Lighting's extra deferred lights. For a look at console shadowing, skip back to our earlier section.
With a switch to rural environments full of trees, bushes and grass for The Phantom Pain, Shadow Quality gains extra importance when in close proximity to foliage, but across a wider view the simpler, more organic game elements aren't as greatly affected by a reduction in shadow quality. And in the desolate deserts, shadows are few and far between.
To better highlight the importance of higher-resolution shadows, extra shadow filtering, and extra shadows, which are only present in the PC release, please excuse us while we switch back to Ground Zeroes, where the busy, highly-developed, man-made Camp Omega environment created more complex shadows than we've seen to date in The Phantom Pain.
Performance: A progressive increase in shadow quality is observed as the quality level is raised, and with each tick up there's a minimal decrease of performance, on par with that seen in Ground Zeroes.
If you're searching for extra performance, drop Shadow Quality to High if you really must, but we wouldn't recommend going any lower - on Medium there's an appreciable reduction in shadow quality in all scenes, and Low sees the complete loss of all shadow definition, harming image quality substantially.
Texture Filtering
The Anisotropic Filtering introduced by Texture Filtering sharpens The Phantom Pain's textures ever so slightly in the majority of scenes, but occasionally clearly more visible examples of its benefits can be found, such as on muddy surfaces. The Ground Zeroes comparison below is representative of The Phantom Pain's Anisotropic Filtering image quality on such surfaces, but offers a clearer look at the improvement thanks to the lighting conditions and terrain decoration.
More often than not, however, The Phantom Pain's terrain is sandy or covered in grass and other objects and therefore doesn't visibly benefit to the same degree, as demonstrated below.
Performance: As in most games Texture Filtering has a minute cost and should be maxed out on all systems. Note, the addition of NVIDIA Control Panel Anisotropic Filtering has no noticeable impact on image quality, unlike in many other games.
Textures
The Phantom Pain PC uses the same textures as The Phantom Pain PS4, though with the addition of improved Texture Filtering, higher display resolutions, improved Depth of Field, improved Post-Process Anti-Aliasing, and various other tweaks, they appear sharper and clearer on PC.
As in Ground Zeroes, the Fox Engine prefers to reduce the quality of distant textures before decreasing the quality of those most visible, and never decreases the quality of Snake's texturing. With terrain decoration, visual effects, and maxed out Texture Filtering, the differences between Extra High and High are nigh on imperceptible, and on Medium only select surfaces in specific lighting conditions are noticeably affected. On Low, nearby textures and objects do suffer as you would expect, but not to the extent seen in other titles.
Performance: The Phantom Pain's cross-platform textures aren't the sharpest or most detailed you'll see, though they are perfectly adequate. Helping matters, the many post-process effects in play obscure the occasional low-res object or surface, and with your eyes firmly locked on guard movements and enemy sight lines texture quality typically isn't an issue, especially if you're doing it right by sneaking at night. And, as expected, Texture Quality has a negligible impact on performance, meaning there's no reason to use anything other than Extra High, assuming you have the necessary VRAM.
In our Ground Zeroes Graphics & Performance Guide we concluded that a 2GB GPU was sufficient for the highest-quality textures in the enclosed Camp Omega, and pondered whether 2GB would also be sufficient in the wide-open Phantom Pain. Following a several hour, non-stop session on a 2GB GPU, and several benchmarks, the answer would appear to be, "Yes, 2GB is AOK". No adverse effects were observed, and no stutters recorded. For 4K, meanwhile, 4GB is all you appear to need.
Volumetric Clouds
In Ground Zeroes, you could on occasion observe dynamic cloud shadows on the terrain during daytime Side Ops. Now, you can select whether to enable or disable the clouds that cast those ever-so-subtle shadows, courtesy of The Phantom Pain's new Volumetric Clouds option.
Performance: Some extra detail in the sky adds to image quality when you look up, and on the ground fidelity is increased ever so slightly given the right lighting conditions. However, at a cost of 8 frames per second Volumetric Clouds may be a tad too expensive for some.
NVIDIA Dynamic Super Resolution
Ground Zeroes and The Phantom Pain benefit greatly from higher rendering resolutions, more so than any other games in recent memory, as the rendering of many game elements is directly tied to the number of sample points: if an element isn't within a sufficient number of sample points it simply isn't displayed. By raising the resolution the number of sample points is increased, additional game elements are rendered, and overall fidelity greatly improved.
If this is the first you're hearing of sample points imagine your screen with a grid overlaid: each pixel of a game element, be that a blade of grass, a character, an object, or a building will fall within one or more of the grid's squares, and if half or more of a pixel is inside a square it is correctly rendered. In most instances fine detail is only affected to any great extent by this, with several pixels falling outside of squares, preventing them from being rendered. This leads to grass with visible gaps along the blades, and leaves with missing branches, to name but two examples. To rectify the problem the screen resolution can be increased, adding more squares to the grid, each smaller in size, giving fine detail a greater chance to fall sufficiently within a square and be rendered.
In the case of the latest Metal Gear games we see the expected increase in detail as the resolution increases, but as it does we also see entirely new items rendered, most typically in the background where even guard towers and trees are comparatively small. The cause: these game elements are required to be included in a specific number of sample points before being displayed. This makes sense at sub-HD resolutions as sub-HD players a) wouldn't be able to see the detail, and b) would have their performance improved by the removal of the extra polygons. However, even at 1920x1080 when running max settings at a locked 60 frames per second we still aren't seeing everything Ground Zeroes and The Phantom Pain have to offer, with new detail being introduced even at 3840x2160.
Ground Zeroes' densely packed locale benefits significantly more than The Phantom Pain's sparser locations, therefore remaining the better game to highlight the improvements that are possible with an increase of resolution.
In comparison, one of the more detailed locations we've found to date in The Phantom Pain changes little across resolutions as most detail exists as larger objects, or large pieces of geometry. A closer look reveals the loss of some grass and small objects, and a decrease in geometric detail of cliffs in the background, but for the most part the detail level remains unchanged.
Despite the lack of significant detail-related improvements in the scene, image quality does increase considerably, with much-improved anti-aliasing, higher-quality effects, clearer texturing, and much, much more.
Thankfully, you no longer have to buy a 4K monitor, or dabble in the black art of Custom Resolutions to get a 4K-quality picture. Instead, simply activate NVIDIA Dynamic Super Resolution (DSR). How it works is simple: compatible games, such as Metal Gear Solid V: The Phantom Pain, are rendered at a higher, more detailed resolution, and the image intelligently shrunk back down to the resolution of your monitor using a custom-made filter, giving you up to 4K-quality graphics on your screen. The video explains more, and the images below show how to activate the setting in the NVIDIA Control Panel. In-game, simply select one of the new resolutions to enable DSR.
With DSR enabled, Metal Gear textures are sharper and clearer, aliasing is reduced, objects have better definition, vegetation is more detailed and free of artifacts, and distant game detail is improved by the aforementioned increase in sample points. Below, additional interactive comparisons exemplify the massive increase in quality obtained from enabling 4K DSR in The Phantom Pain.
One of the Fox Engine's weaknesses is that it suffers greatly from sub-pixel artifacts, which can occasionally be seen even at close range at 1920x1080. By switching to a higher resolution artifacts are removed, or eliminately entirely, and detail is increased considerably.
At 1920x1080, the number of sample points is too low to render the fine detail in chain link fences and similarly detailed surfaces, resulting in a patchy, transparent apperance at medium range. At 4K, the increase in resolution benefits them massively, and as the detail is rendered it can also be lit during night missions, further improving image quality.
Even at medium view distances objects appear from the ether when the resolution is increased. Here, building lights and a wooden pallet are only rendered at 2560x1440, and higher resolutions.
Larger scene elements can vanish, too. In this example, we observe a cliff line failing to render because of insufficient sample points.
And finally, texture clarity receives a visible boost at higher rendering resolutions.
The best way to examine these improvements, free from Photoshop scaling, is to download the source images below, open each in Windows Photo Viewer or a similar application, zoom in on specific portions, and compare side by side using Windows' half-and-half display mode.
Don't worry if you can't run at 4K, any resolution increase brings increased detail screen-wide and makes your experience that bit better. For the best DSR results download the GeForce Game Ready Metal Gear Solid V: The Phantom Pain 355.82 Drivers, and if you dislike configuring settings manually let GeForce Experience auto-configure Metal Gear Solid V: The Phantom Pain and DSR on your behalf.
Performance: At reference speeds, our reference GeForce GTX 980 Ti ran at a locked 60 frames per second until 2560x1440 in our demanding benchmark, which used a spoilerific, fairly repeatable segment of gameplay to test as many effects and features as possible.
For greatly improved performance, a few settings can be dialed down a notch, but for 60 FPS at 3840x2160 you'll definitely require a high-performance SLI system or Battlebox given the increased demands of The Phantom Pain's Extra High settings and wide-open zones.
Metal Gear Solid V: The Phantom Pain 4K Screenshot Gallery
You've seen the up-close benefits of Dynamic Super Resolution and 4K in our interactive comparisons above. Now, see the wider impact of higher rendering resolutions in our 4K screenshot gallery.
G-SYNC: Eliminating Stutters & Tearing For The Ultimate Experience
NVIDIA revolutionised computer displays in 2013 with the introduction of variable refresh rates, enabling gamers to enjoy highly responsive, tear-free, stutter-free experiences on G-SYNC monitors. Reviews are phenomenal, and gamers everywhere agree that it's painful to play on anything other than a G-SYNC display once you're used to the flawless experience it provides.
With The Phantom Pain's more demanding visual effects, frame drops, stuttering, and screen tearing are frequently observed on a wide variety of systems, and even on high-end GPUs when the resolution is cranked up. To avoid feeling the effects of a frame drop, and to eliminate stuttering and screen tearing, upgrade your experience with a G-SYNC monitor.
Game Ready Metal Gear Solid V: The Phantom Pain Driver
For the best The Phantom Pain experience we recommend updating to the new Metal Gear Solid V: The Phantom Pain GeForce Game Ready Drivers. Included are the latest performance optimisations and tweaks for Metal Gear Solid V: The Phantom Pain, and a Phantom Pain SLI profile. Download now from GeForce.co.uk, or via GeForce Experience.
GeForce Experience: Optimal Playable Settings With A Single Click
The best way to automatically configure and apply Metal Gear Solid V: The Phantom Pain's game settings for your specific system configuration is through GeForce Experience, an invaluable tool for all GeForce GTX users. In addition to optimizing over 300 games, the free GeForce Experience application can automatically update drivers and profiles, record and stream gameplay with ShadowPlay, and can wirelessly stream PC games, including Metal Gear Solid V: The Phantom Pain, to NVIDIA SHIELD devices.
Taking into account your GPU and CPU, as well as many additional factors, GeForce Experience's game recommendations can be applied with a single click, and are updated over time should developer patches and NVIDIA drivers improve performance further still. This one-click solution is perfect for gamers who wish to play instead of fiddling, and for those with little experience in configuring settings for an optimal experience.
This month, we'll launch an early access beta for "Share", our new feature that enables you to quickly capture and share gameplay, and to hand the controls of your game to a friend in another location, on another computer. Alternatively, play side by side with them in co-op games and local multiplayer games. Called GameStream Co-Op, the mode's garnering a great deal of interest, and will be particularly helpful if you hit a brick wall during a tricky Phantom Pain stealth section. Learn more here.
NVIDIA Control Panel HBAO+ Ambient Occlusion
Many gamers are familiar with our NVIDIA Control Panel Anisotropic Filtering overrides that increase the clarity and sharpness of textures in many titles, but did you know that the Control Panel can also enhance Anti-Aliasing (AA) and Ambient Occlusion (AO) given the right circumstances and a specially-developed driver profile?
In the case of The Phantom Pain, its features and technology gave us the opportunity to create an Ambient Occlusion profile that greatly improves upon the quality of AO shadowing offered in-game by eliminating unrealistic AO halos, and by increasing the accuracy and fidelity of AO shadows game-wide.

Please excuse the less-than-perfect example; configuring Control Panel HBAO+ requires a game restart, but The Phantom Pain only supports checkpoint saves, limiting the selection of areas that enable us to capture 1:1 comparisons.
To enable NVIDIA Control Panel Ambient Occlusion, switch off Ambient Occlusion in-game, quit to desktop, upgrade to the new Game Ready Metal Gear Solid V: The Phantom Pain driver, open the NVIDIA Control Panel, and apply the setting shown below.
September 7th Update: Having conducted extensive performance testing on the NVIDIA Control Panel HBAO+ Ambient Occlusion enhancement, we can now report that its performance cost is below that of in-game Ambient Occlusion in many locations, but on occasion costs more. If you're playing at 1920x1080 with a locked 60 frames per second, it's likely HBAO+ will have no visible impact on your performance as you'll have plenty of performance to spare; at 3840x2160 and other similarly high resolutions, the impact is more likely to be felt.
Metal Gear Solid V: The Phantom Pain NVIDIA GeForce GTX Bundle
If you've looked at our benchmarks and decided that an upgrade is in order to experience Metal Gear Solid V: The Phantom Pain at its best, with DSR and every other bell and whistle enabled, you may wish to consider the Metal Gear Solid V: The Phantom Pain GeForce GTX Bundle.
When purchased from a participating store you'll get a free copy of The Phantom Pain along with the GeForce GTX 980 Ti, 980, 970 or 960 graphics card or system you selected. Alternatively, if you're an on-the-go gal or guy, you can get a free copy of The Phantom Pain with select GeForce GTX 980M and 970M notebooks.
Learn more on the Metal Gear Solid V: The Phantom Pain GeForce GTX Bundle page.
The Definitive Metal Gear Solid V: The Phantom Pain Experience
Pre-release reviews from the PlayStation 4 edition of Metal Gear Solid V: The Phantom Pain are overwhelmingly positive, praising the story, gameplay, and graphics. But as demonstrated a few thousand words ago, image quality is decreased on consoles to maintain performance. On PC, where performance isn't a limiting factor, you'll see The Phantom Pain as designed by Kojima and Kojima Productions, giving you the definitive experience.
Each scene, from the first to the last, features further detail, higher-quality effects that are more widely used, better and more detailed lighting, richer shadowing with longer view distances and added shadow casters, expanded draw distances, and improved cinematic effects that expose a new layer of cinematic style that Kojima and Kojima Productions are famed for. With humongous wide-open locations, action-packed set pieces, and hours of masterful in-game movies, the PC's capabilities enable Kojima and Kojima Productions' magnum opus to be seen without compromise.