Assassin's Creed IV: Black Flag Graphics & Performance Guide
Featured Stories
,
NVIDIA GameWorks
,
Guides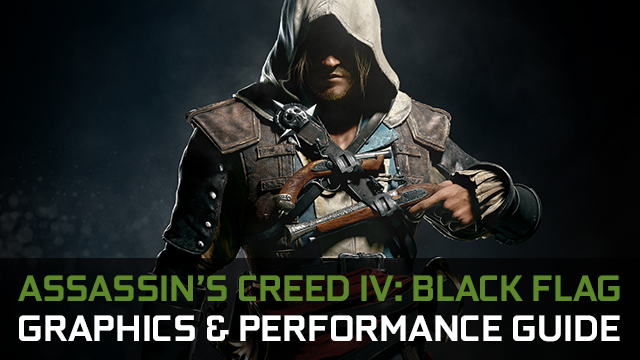 Assassin's Creed IV: Black Flag is the newest installment in Ubisoft's popular open-world franchise, and as you might have already heard, Black Flag marries the franchise's award-winning gameplay with pirating and pillaging, splitting the game evenly between naval warfare and stabby Assassin action on land. The previous-generation console versions were released last month to critical acclaim, and today the PC version launches in North America, with worldwide releases occurring throughout the week in other regions.
In addition to utilizing an upgraded next-gen Anvil engine, which also powers Assassin's Creed IV: Black Flag on PlayStation 4 and Xbox One, the PC version supports resolutions up to 3840x2160, features higher-resolution textures and assets, and includes several PC-exclusive features developed by NVIDIA in concert with Ubisoft. In this article, we'll examine these features, explain how they work, show comparisons that highlight their benefits, and offer optimal playable setting recommendations for the most popular GeForce GTX GPUs.
Article Contents:
System Requirements
Ubisoft's system requirements for Assassin's Creed IV: Black Flag scale well across a wide range of DirectX 9, DirectX 10 and DirectX 11 configurations, enabling players with older systems to enjoy the game. For best results, equip your system with a Quad Core CPU and a DirectX 11 GPU.
Minimum System Requirements
OS: Windows Vista SP or Windows 7 SP1 or Windows 8 (both 32/64bit versions)
Processor: Intel Core2Quad Q8400 @ 2.6 GHz or AMD Athlon II X4 620 @ 2.6 GHz
Memory: 2GB for Windows Vista, Windows 7, Windows 8
Graphics: NVIDIA GeForce GTX 260 (512MB VRAM with Shader Model 4.0 or higher)
DirectX: 9
Hard Drive Space: 30GB
Recommended System Requirements
OS: Windows Vista SP2 or Windows 7 SP1 or Windows 8 (both 32/64bit versions)
Processor: Intel Core i5 2400S @ 2.5 GHz or AMD Phenom II x4 940 @ 3.0 GHz or better
Memory: 4GB RAM or more
Graphics: NVIDIA GeForce GTX 470 (1024MB VRAM with Shader Model 5.0) or better
DirectX: 11
Hard Drive Space: 30GB
Recommendations for a variety of configs can be found here.
AnvilNext – A Next-Gen Graphics Engine
Like many publishers, Ubisoft develops its core franchises on internally-created game engines, enabling maximum control over features and future advancements. For 2007's Assassin's Creed, Ubisoft's internal studios created the Anvil Engine, which enabled the rendering of massive, detailed cities, on platforms that were previously restricted to low fidelity worlds and linear corridors.
In 2012, Ubisoft launched Assassin's Creed III on AnvilNext, using the PC version as a testing ground for new features and technologies that can be seen in Assassin's Creed IV on PC, PlayStation 4, and Xbox One. Despite there being just one year between the two titles, the AnvilNext engine is now unrecognizable, having been upgraded with a half dozen new technologies.
Game-wide, an all-new Global Illumination lighting system upgrades the fidelity and quality of lighting, creating richer, more realistic scenes that fully account for the materials and objects nearby, bouncing light realistically. A dynamic weather engine shifts from day to night, from shower to storm, increasing realism, also. Comprised of several separate systems, such as the rendering of thousands of individual, dynamically-lit rain particles, and the rendering of rain-drop surface ripples that react to wind, the weather system transitions in real-time as you play, in a manner you would expect.
On land, each plant and tree is rendered as a dynamic object, enabling them to be manipulated in a realistic manner by external forces. When a storm is brewing, for instance, the plants move and sway according to the direction and intensity of the wind, and when protagonist Edward Kenway sneaks through undergrowth, it parts and moves as it would in reality.
At sea, the ocean engine debuted in Assassin's Creed III has been radically overhauled, with Beaufort-scale intensity options, increased image quality, significantly improved performance, and most importantly of all, a real-time dynamic physics engine that enables Kenway's ship to ride the waves without clipping through crests unrealistically. Combined with the dynamic weather system and the new lighting engine, the at-sea action is an impressive sight to behold.
Altogether, these and several other additions greatly enhance the fidelity and image quality of Assassin's Creed IV's AnvilNext engine. The video below demonstrates these features in a way static screenshots cannot, so please check it out if you're a fan of advanced features.
Assassin's Creed IV: Black Flag PC-Exclusive Graphics Enhancements
Playing Assassin's Creed IV: Black Flag on a geared-up PC grants you access to all of the game's advanced features, effects, and technologies, including NVIDIA HBAO+, NVIDIA PCSS, NVIDIA TXAA, and NVIDIA GPU-accelerated PhysX. For detailed explanations of each, and demonstrations of their capabilities, keep reading. For more on Ubisoft's work on the PC version, check out the behind the scenes video below:
NVIDIA GPU-Accelerated PhysX Effects
If you played Batman: Arkham Origins, or checked out our Batman: Arkham Origins Graphics & Performance Guide, you'll have seen the game-changing benefits our new GPU-accelerated PhysX APEX Particle system brought to the Batman prequel. As demonstrated in the above below, PhysX adds realistic particle effects to firearms, smoke bombs, chimneys, torches, and camp fires throughout Assassin's Creed IV: Black Flag, enhancing image quality and the believability of the action by a considerable degree.
As with other recent appearances of PhysX in top titles, like Batman: Arkham Origins, each PhysX particle is further enhanced by our new Particle Shadow Mapping technology, enabling particle effects to cast shadows and self-shadow one another. This is particularly beneficial for thick, heavy smoke effects, such as pistol and musket fire, instantly emphasizing their density to the viewer, and further increasing image quality.
To enable PhysX, download the latest game update through Steam or UPlay, and select the PhysX option in Assassin's Creed IV: Black Flag's graphics options menu.
NVIDIA HBAO+ Occlusion
Ambient Occlusion (AO) will be familiar to most gamers due to its frequent use in recent titles, and through the ability to add AO automatically to many more games via the NVIDIA Control Panel. In short, AO adds contact shadows where two surfaces or objects meet, and where an object blocks light from reaching another nearby game element. The AO technique used and the quality of the implementation affect the level of accuracy of the shadowing, and whether new shadows are formed when the level of occlusion is low. Technologically there's more to it of course (if you're interested, learn more here), but the long and short of it is that Ambient Occlusion increases the realism and fidelity of a scene by calculating the occlusion of light. Without Ambient Occlusion, scenes can look flat and unrealistic, and objects can appear as if they are floating on surfaces.
In Assassin's Creed IV: Black Flag, the Ambient Occlusion option enables players to upgrade the game's AO from SSAO to NVIDIA HBAO+. Superior in all respects to other AO variants, HBAO+ is faster, more detailed, and more precise, eliminating the halo effect commonly seen when using older techniques. HBAO+'s added definition and clarity significantly increases image quality; should you wish to learn more about its inner workings, detailed information can be found on our HBAO+ technology page.
In a dark, shadowy game like Batman: Arkham Origins, HBAO+ could be easily seen at every turn. In Assassin's Creed IV: Black Flag, the tropical locale ensures that it's bright and sunny for the most part, making the identification of HBAO+ somewhat trickier. If you know where to look, however, the benefit of HBAO+ is clear, as the following interactive comparisons demonstrate.

Using 36 occlusion samples per pixel, in comparison to SSAO's 11, HBAO+'s accuracy greatly improves the quality of shading across the entire scene.

Our second comparison exemplifies the benefits of HBAO+ on larger objects like buildings and ship exteriors, greatly improving fidelity. In particular, focus on the church's doors and the nearby architecture.

HBAO+'s accurate rendering shades the rope on the bale, and even the cracks between the planks of the wood on the deck. Also note how HBAO+ is visible over long range, something that's particularly evident around the upper windows of the church.
Given the brightness of the game, one may think Ambient Occlusion is an optional extra in Black Flag. Returning to our original example, the following 1:1 comparison shows just how important AO is by comparing a HBAO+-shaded scene to the same scene with AO disabled:
NVIDIA Percentage Closer Soft Shadows
NVIDIA Percentage Closer Soft Shadows (PCSS) are an effective solution for developers wanting to add contact-hardening, realistic soft shadows to their games. As in real life, PCSS shadows progressively soften as the distance from the casting object increases, increasing realism. And as an added benefit, PCSS also includes high-quality shadow filtering techniques that reduce the prominence of shadow aliasing.

On the left of the comparison you see the game's highest-quality, 'standard' shadow setting. Note how every shadow is sharp and clearly defined. On the right, you see the NVIDIA PCSS-enhanced shadows. As in reality, the shadow of the tree's trunk is clearly defined due to its proximity to the ground, and the tree's leaves, which are way up in the air, are soft.
Please note, a game update released December 17th, 2013 further improved the fidelity of PCSS-enhanced shadows, increasing image quality by an even greater extent.
NVIDIA TXAA Anti-Aliasing
NVIDIA TXAA is a custom-developed anti-aliasing technique designed to tackle temporal aliasing, the movement of anti-aliased edges when the player's camera or view point moves. Referred to as crawling and shimmering, this movement is a particular eyesore in games with fine detail, like the rigging of ships in Assassin's Creed IV: Black Flag.
Combining Multisample Anti-Aliasing (MSAA) with a custom CG movie-style resolve, and a temporal filter, TXAA effectively combats temporal aliasing whilst simultaneously anti-aliasing geometry to a degree comparable to that of 2xMSAA and 4xMSAA. An example of the technology can be seen in our Assassin's Creed IV: Black Flag GeForce GTX Technology Trailer:
In addition to GeForce GTX 600 and 700 Series-exclusive TXAA, Assassin's Creed IV: Black Flag gives players the choice of FXAA, SMAA, MSAA, and CSAA anti-aliasing modes.
FXAA and SMAA are post-process anti-aliasing techniques, primarily designed for low and mid-range systems that struggle with hardware anti-aliasing techniques like CSAA, MSAA, and TXAA, which are superior at edge-aliasing. Instead of targeting specific edges, which has a heavy frame rate impact, post-process solutions apply a screen-wide effect to soften all jagged edges and objects. The downside is a reduction in texture clarity, the impact of which varies depending on the technique, the version of the technique, and the skill of the developer. FXAA and SMAA do trump hardware techniques in one key area, however: that of transparency anti-aliasing.
Transparencies are primarily used for foliage texturing in games, though they are used for chain link fences, some effects, and other minor game elements, also. Creating these features with multiple textures or geometry would be inefficient. Instead, artists create one texture and make the necessary areas transparent, like an Internet .png. Because the transparency isn't a piece of geometry comprised of polygons, it has no edges for hardware anti-aliasing to tackle, and so it remains aliased when those modes are used. A high-cost hardware solution called Alpha To Coverage (ATOC) is occasionally found in games, though not in Assassin's Creed IV. Instead, Ubisoft applies FXAA in addition to MSAA and CSAA, minimizing edge aliasing and transparency aliasing, which is particularly evident on the game's many palm trees, as the comparisons below show.
For resolutions up to 1920x1080, 4x MSAA is the ideal choice for anti-aliasing. 8x MSAA is also available, though you'd be hard-pressed to spot the difference, and as for the CSAA modes, they run slightly slower and are visually identical during gameplay (enlarged comparison captures shows a minute increase in image quality that is otherwise imperceptible). At 2560x1440 and higher, 2x MSAA is more than sufficient with the addition of FXAA. For low-end users, we recommend FXAA over SMAA – FXAA softens textures that bit further, but its anti-aliasing is far superior, particularly on transparencies.
Power users wanting the ultimate level of image quality should investigate the possibility of forcibly enabling MSAA and Transparency Multisampling or Supersampling via NVIDIA Inspector. With AA disabled in-game, textures will appear without softening, highlighting the fine detail on Kenway's flower-patterned tunic, for instance. Unfortunately we haven't had the time to investigate such a solution, so if you do discover a working profile please let us know via the Disqus comments and we'll share the solution with all Assassin's Creed IV PC players.
NVIDIA DirectX 11 God Rays
Some folks call them light rays, others light shafts; Ubisoft calls them God Rays. "Them" being crepuscular rays, bright shafts of light that can be seen when looking at the Sun or Moon, or when looking at light shining into a dark room or area. Traditionally, they're rendered in games using performance-intensive ray-marching or viewspace slicing techniques.
In Assassin's Creed IV: Black Flag, NVIDIA has leveraged DirectX 11 to enhance the 'High' God Rays option with tessellated, polygonal light shafts, which use less memory, and are faster to render, improving frame rates. This innovative solution greatly reduces aliasing on visible rays, too, further increasing image quality.

The improvement in image quality is nigh on impossible to discern in static images; of more importance is the increase in performance. A second comparison demonstrates the impact of disabling God Rays.
Please note, a game update released December 17th, 2013 further enhanced the fidelity and performance of NVIDIA DirectX 11, tessellated God Rays.
Assassin's Creed IV: Black Flag: 4K Gaming Ready
As part of our commitment to next-gen 3840x2160 "4K Gaming", we've worked with Ubisoft to enable native support for 4K in Assassin's Creed IV: Black Flag, giving 4K gamers and Downsampling fans a flawless experience at the highly-detailed resolution.
For your viewing pleasure, we've captured a few max-quality, max-setting 3840x2160 "4K" screenshots from the game – for best results download the images to your hard drive.
To learn more about 4K, check out our 4K Gaming editorial.
Additional Graphics Settings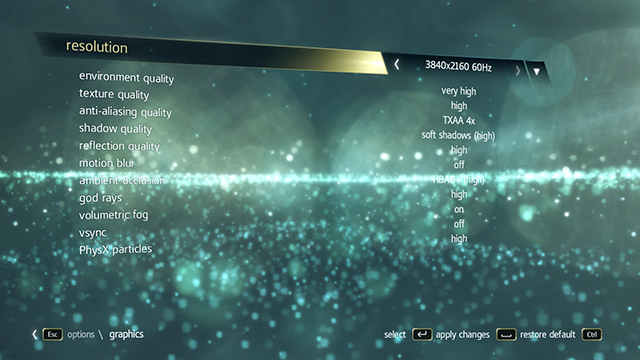 The Assassin's Creed IV: Black Flag PC options menu.
Environment Quality: Adjusts medium and long range fidelity, density and visibility of foliage, rocks, and other terrain features, and adjusts the close-range density of bushes. The example below compares Very High to Very Low, and the individual images show each setting, from highest to lowest.
If you need to save performance, lowering Environment Quality is a good choice, as it has no impact on the fidelity or clarity of close-range features like bushes, and only a minor effect on medium and long-range objects. The biggest impact is felt when looking down from a vantage point – with a lower setting, the ground will appear bare, the cliffs less detailed, and the trees less leafy.
Reflection Quality: Adjusts the fidelity and visibility of reflections on the ocean, and on wet surfaces during rain storms. Between Normal and High there is a minute adjustment in the fidelity of the reflections, though it is imperceptible outside of enlarged comparisons. If the images in this comparison were not labelled, picking 'High' would be pure guesswork. What is clear is the impact of disabling reflections entirely:
With reflections disabled, open bodies of water have a uniform dullness that completely destroys image quality. At sea, where the ocean bed isn't visible, things look even worse – if necessary, sacrifice any and all settings to enable reflections, so you can see scenes like the one below in motion.
Texture Quality: Adjusts the clarity and quality of textures game wide. With 2GB of Video RAM, Assassin's Creed IV: Black Flag should remain playable at 2560x1440 with every setting maxed out, and with 4x MSAA enabled. As Metro: Last Light and Assassin's Creed IV show, with the right coding an engine doesn't have to consume massive amounts of VRAM to power a top-quality title.
Volumetric Fog: Constructed from three-dimensional textures, as opposed to 2D sprite squares, Volumetric Textures allow developers to render low-cost realistic smoke, fog, and fire effects that display a high level of detail when viewed at extremely close range. In Assassin's Creed IV: Black Flag, Ubisoft uses Volumetric Textures to create Volumetric Fog in towns and other locations (the first instance of the effect can be seen after you acquire your initial outfit). As Ubisoft's video demonstrates, Volumetric Fog can be lit by multiple light sources, significantly increasing image quality.
With Volumetric Fog disabled, many of the fog effects are lost, and others are converted to sprite squares, which clip through terrain and objects in a particularly unsightly manner.
GeForce 331.82 WHQL Drivers: A Recommended Upgrade For Assassin's Creed IV: Black Flag
For the best Assassin's Creed IV: Black Flag experience we recommend the GeForce 331.82 WHQL, Game Ready drivers, which feature the latest performance optimizations, and game profiles for SLI and 3D Vision. Download here.
GeForce Experience: Optimal Playable Settings With A Single Click
The best way to automatically configure and apply Assassin's Creed IV: Black Flag many game settings for your specific system configuration is through GeForce Experience, an invaluable tool for all GeForce GTX users. In addition to optimizing over 110 games, the free GeForce Experience application can automatically update drivers and profiles, record gameplay with ShadowPlay Beta, and can wirelessly stream PC games, including Assassin's Creed IV: Black Flag, to NVIDIA SHIELD, the ultimate gaming and entertainment handheld.
Taking into account your GPU and CPU, as well as many additional factors, GeForce Experience's game recommendations can be applied with a single click, and will be updated over time should developer patches and NVIDIA drivers improve performance further still. This one-click solution is perfect for gamers who wish to play instead of fiddling, and for those with little experience in configuring settings for an optimal experience.
Assassin's Creed IV: Black Flag Optimal Playable Settings
If you do like fiddling, here are game setting recommendations for the most popular GPUs, with the aim of maintaining at least forty frames per second at all times at 1920x1080, the most popular gaming resolution. Our settings should be considered a starting point for your own personal config as we're unable to account for differing CPUs and overclocks in this table. Please note that our results may differ greatly from your own if you use a Dual Core CPU or older Quad Core CPU, like the Q6600. Also note that the recommendations below were made using a pre-release build - if significant performance differences are discovered we will update accordingly.
| | | | | | | | | |
| --- | --- | --- | --- | --- | --- | --- | --- | --- |
| 1920x1080 | AA | AO | Env. Quality | God Rays | Reflections | Shadows | Textures | Vol. Fog |
| GTX TITAN | FXAA | HBAO+ (High) | Very High | High | High | Soft (Med) | High | On |
| GTX 780 Ti | MSAA 2x | HBAO+ (High) | Very High | High | High | Soft (High) | High | On |
| GTX 780 | FXAA | HBAO+ (High) | Very High | Low | High | Soft (Med) | High | On |
| GTX 770 | FXAA | HBAO+ (High) | Very High | Low | Normal | Soft (Med) | High | On |
| GTX 760 | FXAA | HBAO+ (High) | Very High | Low | Normal | Very High | High | On |
| GTX 690 | TXAA 4x | HBAO+ (High) | Very High | High | High | Soft (High) | High | On |
| GTX 680 | FXAA | HBAO+ (High) | Very High | Low | Normal | Soft (Med) | High | On |
| GTX 670 | FXAA | HBAO+ (High) | Very High | Low | Normal | Very High | High | On |
| GTX 660 Ti | FXAA | HBAO+ (High) | High | Low | Normal | Very High | High | Off |
| GTX 660 | FXAA | SSAO | High | Off | Normal | High | High | Off |
| GTX 650 Ti Boost | FXAA | SSAO | High | Off | Normal | High | High | Off |
| GTX 650 Ti | FXAA | SSAO | Normal | Off | Normal | High | High | Off |
| GTX 650 | FXAA | SSAO | Low | Off | Normal | Normal | High | Off |
| GTX 590 | FXAA | HBAO+ (High) | Very High | Low | Normal | Soft (Med) | High | On |
| GTX 580 | FXAA | SSAO | High | Off | Normal | High | High | Off |
| GTX 570 | FXAA | SSAO | High | Off | Normal | High | High | Off |
| GTX 560 | FXAA | SSAO | Normal | Off | Normal | High | High | Off |
Conclusion: The Definitive Assassin's Creed IV: Black Flag Experience
With the addition of HBAO+, PhysX, PCSS, DirectX 11 Tessellated God Rays, TXAA, and SLI support with near-perfect scaling, NVIDIA and Ubisoft have created the definitive version of Assassin's Creed IV: Black Flag. Working in tandem with higher-resolution assets, the PC version's image quality is unmatched. Attaining this level of detail is no mean feat, however: in our pre-release build, which lacks the launch-day patch, a GeForce GTX 780 Ti was still some way from maxing the game out, having to drop from 4x TXAA to 2x MSAA to maintain 40 frames per second at all times.
Below the level of a GeForce GTX 780 Ti, an excellent experience can still be had. Lowering Environment Quality, God Rays, Shadows, Reflections and Anti-Aliasing a notch results in only minor image quality changes, which most players will be unable to notice during action-packed gameplay. These small changes enable GPUs down to the GeForce GTX 680 to enjoy an essentially-identical experience with smooth, responsive frame rates.
Beginning with the GeForce GTX 670, tradeoffs do have to be made, initially with the disabling of Soft Shadows, then further reductions and outright disabling of settings as we progress down the list to the GeForce GTX 560, a three and a half year-old GPU. Despite so many settings being minimized and disabled, the game looks far better than you'd expect, as the following screenshots demonstrate:
While it's clear that Assassin's Creed IV: Black Flag scales excellently across a wide range of configurations, those seeking a top-end experience will want a GeForce GTX 680 at minimum, or an overclocked GeForce GTX 670 with comparable speed. For players wanting even higher frame rates and resolutions, SLI is recommended. With 90-100% scaling at all times, a second GPU will effectively double frame rates.
Regardless of your configuration or settings, Assassin's Creed IV: Black Flag is a fun-filled high seas romp, filled to the brim with pirates, intrigue, assassinations, and of course, collectibles. And when you've collected every last bit of booty, there's an engrossing multiplayer mode to entertain you until the new releases sail into harbor early next year.
Assassin's Creed IV: Black Flag is launching worldwide on Steam worldwide this week, and is also included in the NVIDIA GeForce GTX Holiday Bundle, alongside Batman: Arkham Origins and Tom Clancy's Splinter Cell Blacklist. Buyers of the Holiday Bundle will receive up to three games, and up to $100 off the cost of a NVIDIA SHIELD at participating North American e-tailers and retailers, when buying the GeForce GTX TITAN, 780 Ti, 780, 770, 760, 690, 680, 670, 660 Ti, or 660.