Batman: Arkham Origins Graphics & Performance Guide
Featured Stories
,
NVIDIA GameWorks
,
Guides
Batman: Arkham Asylum and Batman: Arkham City are two of the finest open world games of this generation, with engaging side-activities, collectibles galore, and a revolutionary attack-counter attack combat system that can now be found in dozens of other games. With each release the PC version has come out on top, with superior texture and shadow resolutions, and PC-exclusive features like DirectX 11 Tessellation, Multi-View Soft Shadows, NVIDIA Horizon Based Ambient Occlusion, and NVIDIA GPU-Accelerated PhysX effects.
Today, WB Games Montreal launch Batman: Arkham Origins , which puts players in control of Batman before the events of Arkham Asylum, when the caped crusader was at odds with the police, and nothing more than a myth in the eyes of everyday citizens.
Using the previous titles as a starting point, NVIDIA has worked hand-in-hand with WB Games to enhance every element of Batman: Arkham Origins on the PC, resulting in the definitive version of the eagerly-anticipated game. From 3D Vision to DirectX 11-enhanced shadowing, to GPU PhysX, Batman: Arkham Origins has it all.
Below, we'll explain Arkham Origins' enhancements in detail, show comparisons that highlight the improvements, and offer optimal playable setting recommendations for the most popular GeForce GTX GPUs.
Article Contents:
System Requirements
The developer's system requirements for Batman: Arkham Origins scale well across a wide range of DirectX 10 and DirectX 11 graphics cards, enabling folks with five year-old graphics cards to enjoy Batman's latest adventure.
Minimum System Requirements
OS: 32-bit Vista, Win 7, Win 8, Win 8.1
Processor: Intel Core 2 Duo, 2.4 GHz / AMD Athlon X2, 2.8 GHz
Memory: 2GB RAM
Graphics: NVIDIA GeForce 8800 GTS
DirectX: 10
Hard Drive Space: 20 GB
Recommended System Requirements
OS: 64-bit Vista, Win 7, Win 8, Win 8.1
Processor: Intel Core i5-750, 2.67 GHz / AMD Phenom II X4 965, 3.4 GHz
Memory: 4GB RAM
Graphics: NVIDIA GeForce GTX 560
DirectX: 11
Hard Drive Space: 20 GB
If you wish to enable the game's many DirectX 11-enhanced graphics settings, a DirectX 11 GPU will be required, the earliest NVIDIA GPU with this capability being the GeForce GTX 460. Please note that a GPU faster than the recommended GeForce GTX 560 will be required to enable every DirectX 11 effect and NVIDIA enhancement simultaneously. Recommendations for max setting gameplay can be found here .
Batman: Arkham Origins PC-Exclusive Graphics Enhancements
Batman: Arkham Origins is loaded with PC and NVIDIA-exclusive tech, including HBAO+, PCSS, NVDOF, TXAA, and PhysX. For a full explanation of each, and demonstrations of their capabilities, keep on reading.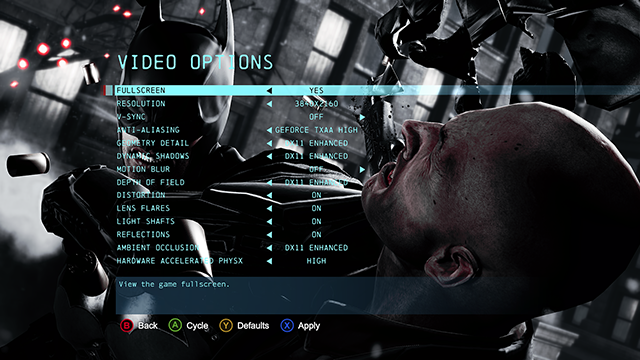 Batman: Arkham Origins running at max settings on a GeForce GTX TITAN SLI PC.
NVIDIA HBAO+ Occlusion
Ambient Occlusion (AO) will be familiar to most gamers due to its frequent use in recent titles, and the ability to add AO automatically to many more games through the NVIDIA Control Panel. In short, AO adds contact shadows where two surfaces or objects meet, and where an object blocks light from reaching another nearby game element. The AO technique used and the quality of the implementation affect the level of accuracy of the shadowing, and whether new shadows are formed when the level of occlusion is low. Technologically there's more to it of course (if you're interested, learn more here ), but the long and short of it is that Ambient Occlusion increases the realism and fidelity of a scene by calculating the occlusion of light. Without Ambient Occlusion, scenes can look flat and unrealistic, and objects can appear as if they are floating on surfaces.
In Batman: Arkham Origins, the "DX11 Enhanced" Ambient Occlusion option upgrades the game's AO to NVIDIA HBAO+ . Superior in all respects to other AO variants, HBAO+ is faster, more detailed, and more precise, eliminating the halo effect commonly seen when using older techniques. HBAO+'s added definition and clarity significantly increases image quality; should you wish to learn more about its inner workings, detailed information can be found on our HBAO+ technology page .
In-game, HBAO+ greatly enhances the shadowy Gotham City, the interiors of its buildings, tessellated snow, enemies, and Batman himself, from his armor to his cowl, to his cape.

Batman's utility belt and gadgets appear uniformly lit without HBAO+ - as you move back and forth across the comparison, you'll note almost every inch of Batman is enriched by the higher-quality ambient occlusion shading.

The wood leaning against the wall perfectly exemplifies the benefits of HBAO+, creating a richer shadow on the wall instead of a halo around the object.

HBAO+'s accuracy enables the missing tiles to be highlighted in the lower-middle of the image, and allows the grate in the upper right to pop against the wall. It also reigns in haloing to the lower left of the grate, removes the uniform look from Batman's armor, and increases the richness of shading across the entire scene.
Using development tools we can strip away all other game elements and show you exactly how HBAO+ shades the environment and the game's characters.

This series of images demonstrates the transition between normal ambient occlusion, HBAO+ ambient occlusion, and the greyscale output that shows only AO, helping emphasize how important AO is to shading and shadowing.
Three further HBAO+ greyscale images are shown below – without AO you can see how flat and unrealistic the game would look.
NVIDIA Percentage Closer Soft Shadows
NVIDIA Percentage Closer Soft Shadows (PCSS) greatly enhance the quality of dynamic shadows in Batman: Arkham Origins when the "DX11 Enhanced" Dynamic Shadows setting is enabled. As the technology's name suggests, PCSS's primary function is the rendering of shadows that progressively soften as the distance from the casting object increases, as the comparison image below demonstrates.

As the shadow stretches away from Batman, it softens and blurs realistically.
A secondary benefit of PCSS is the addition of a shadow buffer capable of compositing individual shadows, avoiding the double-darkening effect of the game's less-intensive, default dynamic shadow renderer.

PCSS combines and softens the shadows on the floor, and also adjusts the fidelity of the dynamic shadows cast on Batman and the NPC.
Last, but by no means least, PCSS introduces a high quality shadow filterer, greatly reducing the visibility and impact of shadow aliasing, which is particularly noticeable on Batman's cape.

Note the difference in shadow fidelity between the folds of Batman's cape, and on the NPC's knee and neck.
Though not of a function of PCSS, it's worth mentioning that the "DX11 Enhanced" Dynamic Shadows setting also cranks shadow resolution up from 512x512 to 2048x2048, increasing the image quality of dynamic shadows throughout the game.
NVIDIA-Enhanced DirectX 11 Tessellation
Unlike other heroes, Batman's cape serves multiple functions instead of simply looking stylish. Its high-tech materials help Batman glide from rooftop to rooftop, its rigid rim can help daze attackers, and in a pinch it can be used for distraction alongside Batman's smoke pellets and other gadgets.
Being such an important tool in Batman's arsenal, it was imperative that his Arkham Origins cape look its best, so when enabling "DX11 Enhanced" Geometry Detail, DirectX 11 Tessellation is applied to the cape, greatly enhancing detail and realism.
To maintain performance and image quality in scenes where Batman is far from the focal point of the camera, an adaptive tessellation scheme is utilized, taking into account not just the distance, but also the orientation of each tessellated triangle (primitive), to dynamically increase and decrease the level of tessellation. If Batman is far from the camera's focal point, for example, tessellation detail is reduced and performance savings applied elsewhere, increasing image quality of more visible scene elements.
At the default camera position, real geometric detail is applied to Batman's cape, creating folds and creases in the cape's material that are self-shaded, self-shadowed, self-occluding, and dynamically affected by external lighting, PCSS, HBAO+, and the game's simulated wind. Combined, the look and reactivity of the cape is increased by a considerable degree, as the following comparisons demonstrate.

The four comparisons highlight the sizeable improvement in image quality that tessellation introduces.
Batman: Arkham Origins is set during Christmas, so naturally Gotham is filled with snow-capped roofs and snowy streets. On all platforms WB Games include an innovative system that simulates the appearance of deformation using relief mapping, increasing realism. Without this system, characters would either walk on top of a white blanket of snow, or simply clip through it.
With the extra performance of modern DirectX 11 GPUs, Warner and NVIDIA were able to take the concept to the next level for the PC release, adding geometric tessellation to thick blankets of snow, game-wide. With this enhancement, snow banks undulate realistically, and character movement deforms snow in real-time, creating real depth and genuine voids.

Creating a direct comparison between snow prints made with relief mapping and tessellation is impossible, unfortunately. Instead, this comparison shows tessellation enabled and disabled. From a higher vantage point, relief mapping and tessellation would appear similar, though in actuality the relief mapping solution would cleverly simulate the effect without affecting geometry (the undulation of the terrain).

The addition of real geometric detail is highlighted by Batman's shadow following the undulation of the snow.
An added benefit of the move to real geometry is the ability for snow banks and snow prints to be self-shadowed and self-shaded. In other words, a void in the snow casts its own shadow on other pieces of tessellated snow, and the banks of displaced snow feature deeper shading because the light source is being occluded. Geometric detail also enables dynamic character shadows to shift and morph with the undulation of the terrain, but more importantly, it enables the application of ambient occlusion, which greatly increases image quality. For best results, HBAO+ is recommended, as shown by the following comparisons.
As exemplified by our comparison images, tessellation greatly increases image quality, which can be further boosted by the addition of other DX11 Enhanced technologies like PCSS and HBAO+. Combined, the three technologies enhance snow, snow banks, snow deformation, and Batman's cape, three of the most commonly seen game elements. As such, we recommend making Geometry Detail a priority if you're forced to turn some settings down.
NVIDIA GPU-Accelerated PhysX Effects
If you've played Batman: Arkham Asylum or Batman: Arkham City, you'll be familiar with the GPU-accelerated PhysX effects integrated into each. Exclusive to NVIDIA GeForce GTX users, these PhysX enhancements have added realistic particle and material effects throughout each game, increasing image quality and realism by a significant degree.
Compared to aforementioned Batman releases, the PhysX system in Arkham Origins reduces the frame rate cost of each effect, enabling the computation of more GPU-accelerated effects simultaneously. The result is the integration of more effects and more particles per scene, for the same frame rate 'cost' as in previous Batman titles.
With PhysX set to "Normal", flags, banners, papers, and more, are added to the scene and simulated in a way you're used to seeing in real life, and in previous Batman games. With PhysX set to "High", APEX Turbulence effects are introduced, enhancing existing particle effects, and adding all-new effects throughout the game.
Compared to PhysX Particles from Arkham Asylum and Arkham City, APEX Particles are more realistic, can be manipulated by game designers in more ways, and most importantly, run faster, optimizing frame rates.
For a look at some of the effects in action, check out the PhysX video below.
Using experience gained on previous Batman titles, our PhysX team have increased the range of 'cloth' effects seen (all flags, banners and papers use a PhysX technique originally designed for cloth), which is particularly noticeable in the game's opening level, and in many other points throughout the game.

As with other PhysX effects, the 'cloth' reacts realistically to external forces, such as character movement and wind.
The introduction of the PhysX APEX Particle system has enabled our team to greatly increase the range and quality of particle effects, culminating in scenes such as the one shown below in our comparisons, featuring smoke, snow particles, and air turbulence interacting dynamically and realistically.

The helicopter's rotors kick-up thousands of snowflakes comprised of hundreds of thousands APEX particles, each reacting realistically to its downdraft. The steam emitted from the vent on the lower-left is manipulated, too, being blown out of the scene by the same downdraft. As each effect comes into contact with geometry and characters, they are further manipulated wrapping around the detail realistically.
Outside of set pieces, combat and movement sees snow particles kicked up by characters, swirling around realistically. Smoke and steam pours out into the chilly, industrialized city of Gotham, snow particles fill the air, emphasizing the Christmas setting, fog fills relevant areas, one of Batman's gadgets is enhanced with thousands of extra particles, and every emitted effect reacts realistically to the world and events, as one would expect.
An added bonus of the move to APEX is the addition of Particle Shadow Mapping (PSM), which enables select particle effects to cast shadows, and self-shadow one another. This is particularly beneficial for thick, heavy smoke effects, instantly emphasizing their density to the viewer, and further increasing image quality.
PhysX is best demonstrated by video, but nonetheless here are a few more PhysX screenshots captured on our travels around Gotham City.
NVIDIA TXAA Anti-Aliasing
NVIDIA TXAA is a custom-developed anti-aliasing technique designed to tackle temporal aliasing, the movement of anti-aliased edges when the player's camera or view point moves. Referred to as crawling and shimmering, this movement is a particular eyesore in games with fine detail, most commonly found in urban environments like Arkham Origins' Gotham City.
Combining Multisample Anti-Aliasing (MSAA) with a custom CG movie-style resolve, and a temporal filter, TXAA effectively combats temporal aliasing whilst simultaneously anti-aliasing geometry to a degree comparable to that of 2xMSAA and 4xMSAA.
In Arkham Origins, we have further enhanced TXAA and MSAA by introducing an additional rendering pass that removes artifacts and visual imperfections seen in other TXAA-enhanced Unreal Engine titles. By splitting anti-aliasing of lighting, geometry and transparencies into per-pixel and per-sample passes, the issue was immediately resolved and the image quality of the final effect increased.
In addition to TXAA, Arkham Origins gives players the choice of MSAA, which benefits from the additional rendering pass detailed above, and FXAA. TXAA and MSAA do an excellent job at edge anti-aliasing, and FXAA does an excellent job at transparency anti-aliasing, but unfortunately you cannot combine the two. We would therefore recommend that players with sufficiently powerful PCs use in-game TXAA or MSAA, and inject FXAA or SMAA to anti-alias transparent textures and effects, such as leaves, bushes, sprite effects, chain link fences, and so on and so forth. FXAA can be injected using the NVIDIA Control Panel, or third-party tools like SweetFX , which can also inject SMAA. Please note that injection should be avoided in multiplayer mode, as the game may believe the injection to in fact be a cheat tool.
NVIDIA Depth of Field
"NVDOF", as it is officially known, enables developers to apply high-quality depth of field rendering to their games. In Batman: Arkham Origins, this "DX11 Enhanced" effect increases the precision and image quality of depth of field effects, and applies Bokeh to lights within the depth of field view. If you're unfamiliar with the term, Bokeh enables developers to apply custom shapes to out of focus lights, turning an in-focus circle into an out of focus hexagon, for example.
NVDOF's impact is most readily seen when using Batman's cryptographic sequencer, when zooming with gadgets and binoculars, and when landing the final blow on a group of enemies.
In the comparison above, note how the default depth of field implementation blurs everything but the cryptographic sequencer, despite the camera being close enough to see Batman's stubble. With DX11 Enhanced NVDOF, Batman and his equipment is clearly visible, and the four background lights are subtly modified with a slight Bokeh effect, improving the overall image quality of the out of focus effect.
Batman: Arkham Origins: 4K Gaming Ready
As part of our commitment to next-gen 3840x2160 " 4K Gaming ", we've worked with WB Games to enable native support for 4K in Batman: Arkham Origins, giving 4K gamers and Downsampling fans a flawless experience at the highly-detailed resolution.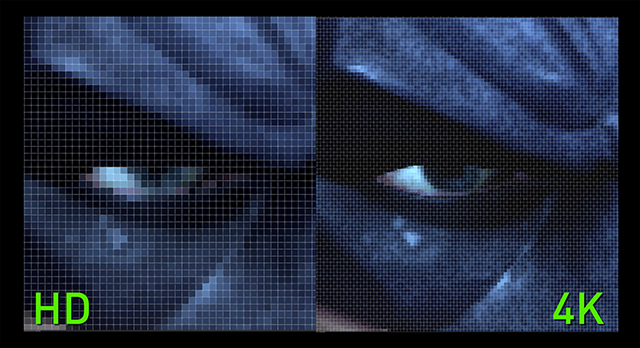 This side-by-side, enlarged 1:1 comparison from Batman: Arkham Origins shows the incredible leap in image quality that 4K brings to the table.
For your viewing pleasure, we've captured nine max-quality, max-setting 3840x2160 "4K" screenshots from the game – for best results download the images to your hard drive.
To learn more about 4K, check out our 4K Gaming editorial .
Batman: Arkham Origins: NVIDIA 3D Vision Ready
Like Arkham Asylum and Arkham City before it, Arkham Origins boasts excellent 3D Vision , 3D Vision Surround , and 2D Surround support. For a sample of the game's stereoscopic 3D check out the embedded image below and a larger gallery on 3DVisionLive.com
For more 3D Vision screenshots head on over to 3DVisionLive.com .
Additional Graphics Settings
Wondering what some of the other settings in Batman: Arkham Origins actually do? Here's a quick rundown.
Distortion
Distorts the image when next to large burning objects, or when being electrocuted. Many other uses can also be found, though none greatly enhance image quality.
Lens Flares
Adds flares and circles of light when the game camera is pointed in the direction of extremely bright light.
Light Shafts
Bright light shining down into dark areas is often referred to as "God Rays", but in this instance they're described as "Light Shafts". Can also be found in exterior locations and when looking at the Moon.
Reflections
At times reflections can have a high impact on performance, but they're always worth having enabled, adding greatly to almost all interior locations.
GeForce 331.58 WHQL Drivers: A Recommended Upgrade For Batman: Arkham Origins
For the best Batman: Arkham Origins experience we recommend the GeForce 331.58 WHQL, Game Ready drivers , which feature the latest performance optimizations, and game profiles for SLI and 3D Vision. Download here .
GeForce Experience: Optimal Playable Settings With A Single Click
The best way to automatically configure and apply Batman: Arkham Origins' many game settings for your specific system configuration is through GeForce Experience , an invaluable tool for all GeForce GTX users. In addition to optimizing over 110 games, the free GeForce Experience application can automatically update drivers and profiles, record gameplay with ShadowPlay beginning October 28th, and can wirelessly stream PC games, including Batman: Arkham Origins, to NVIDIA SHIELD, the ultimate gaming and entertainment handheld.
Taking into account your GPU and CPU, as well as many additional factors, GeForce Experience's game recommendations can be applied with a single click, and will be updated over time should developer patches and NVIDIA drivers improve performance further still. This one-click solution is perfect for gamers who wish to play instead of fiddling, and for those with little experience in configuring settings for an optimal experience.
Batman: Arkham Origins Optimal Playable Settings
If you do like fiddling, here are game setting recommendations for the most popular GPUs, with the aim of maintaining at least forty frames per second at all times. Generated with the aid of the built-in Batman: Arkham Origins benchmark application, our settings should be considered a starting point for your own personal config as we're unable to account for differing CPUs and overclocks in this table. Please note that our results may differ greatly from your own if you use a Dual Core CPU or older Quad Core CPU, like the Q6600.
| | | | | | | | | | | |
| --- | --- | --- | --- | --- | --- | --- | --- | --- | --- | --- |
| 1920x1080 | AA | AO | DoF | Distor-tion | Geom-etry | Lens Flares | Light Shafts | PhysX | Reflec-tions | Shadows |
| GTX TITAN | TXAA High | DX11 | DX11 | On | DX11 | On | On | High | On | DX11 |
| GTX 780 | TXAA High | DX11 | DX11 | On | DX11 | On | On | High | On | DX11 |
| GTX 770 | TXAA High | DX11 | DX11 | On | DX11 | On | On | High | On | DX11 |
| GTX 760 | TXAA Low | DX11 | DX11 | On | DX11 | On | On | High | On | DX11 |
| GTX 690 | TXAA High | DX11 | DX11 | On | DX11 | On | On | High | On | DX11 |
| GTX 680 | TXAA High | DX11 | DX11 | On | DX11 | On | On | High | On | DX11 |
| GTX 670 | TXAA Low | DX11 | DX11 | On | DX11 | On | On | High | On | DX11 |
| GTX 660 Ti | FXAA High | DX11 | Normal | On | DX11 | On | On | High | On | DX11 |
| GTX 660 | FXAA High | DX11 | Normal | On | DX11 | On | On | High | On | DX11 |
| GTX 650 Ti Boost | FXAA High | DX11 | Normal | On | DX11 | On | On | High | On | DX11 |
| GTX 650 Ti | FXAA High | Normal | Normal | On | DX11 | On | On | Normal | On | DX11 |
| GTX 650 | FXAA High | Normal | Normal | On | Normal | On | On | Normal | On | DX11 |
| GTX 590 | MSAA 4x | DX11 | DX11 | On | DX11 | On | On | High | On | DX11 |
| GTX 580 | FXAA High | DX11 | Normal | On | DX11 | On | On | High | On | DX11 |
| GTX 570 | FXAA High | DX11 | Normal | On | DX11 | On | On | High | On | DX11 |
| GTX 560 | FXAA High | Normal | Normal | On | DX11 | On | On | Normal | On | DX11 |
Conclusion: Batman Is Back
Batman: Arkham Asylum and Batman: Arkham City are two of the finest open world games of this generation, and now there's a third, Batman: Arkham Origins. Featuring the same award-winning blend of action, exploration, puzzle-solving, and collectible-hunting, as well as the appearance of fan favorite DC Universe heroes and villains, Batman: Arkham Origins is everything an Arkham fan could hope for. There's a Splash Damage-developed multiplayer mode , too, which will entertain you long after you've finished the lengthy single-player story.
With the addition of GPU PhysX, HBAO+, PCSS, NVDOF, DX11 Tessellation, SLI, and 3D Vision, NVIDIA and WB Games Montreal have created the definitive version of this much-anticipated prequel, and if you've got the system for it you can even play at 3840x2160, the resolution of choice for next-gen 4K Gaming.
Assuming the use of a modern Quad Core CPU, our testing found a GeForce GTX 770 necessary to play the game with a smooth frame rate with every PC-exclusive enhancement and setting cranked to max. An overclocked GeForce GTX 760 also fits the bill, and in previous GPU generations we received similar max-setting performance on the GTX 690 , GTX 680 , an overclocked GTX 670 , and the GTX 590 (with the exception of TXAA, which requires Kepler GTX 600 and 700 Series GPUs).
Slower GPUs like the GeForce GTX 660 Ti , GTX 660 , and GTX 580 receive a near-perfect experience with the drop to FXAA and the loss of NVDOF Depth of Field, which is typically only used during final blows and decryption sequences. Below that level, any combination of settings remains superior to the experience found on consoles, so even if you're 'only' rocking the recommended GTX 560 , you'll still be having a better time as Batman than your console cousins.
Batman: Arkham Origins is launching worldwide on Steam October 24th and October 25th. From October 28th, Batman: Arkham Origins will be included in the NVIDIA GeForce GTX Holiday Bundle , alongside Assassin's Creed IV: Black Flag and Tom Clancy's Splinter Cell Blacklist . Buyers of the Holiday Bundle will receive up to three games, and up to $100 off the cost of a NVIDIA SHIELD at participating North American e-tailers and retailers, when buying the GeForce GTX TITAN, 780, 770, 760, 690, 680, 670, 660 Ti, or 660.