GeForce Garage: How To Build Our GeForce ESports Rig
GeForce Garage
,
Videos
,
Guides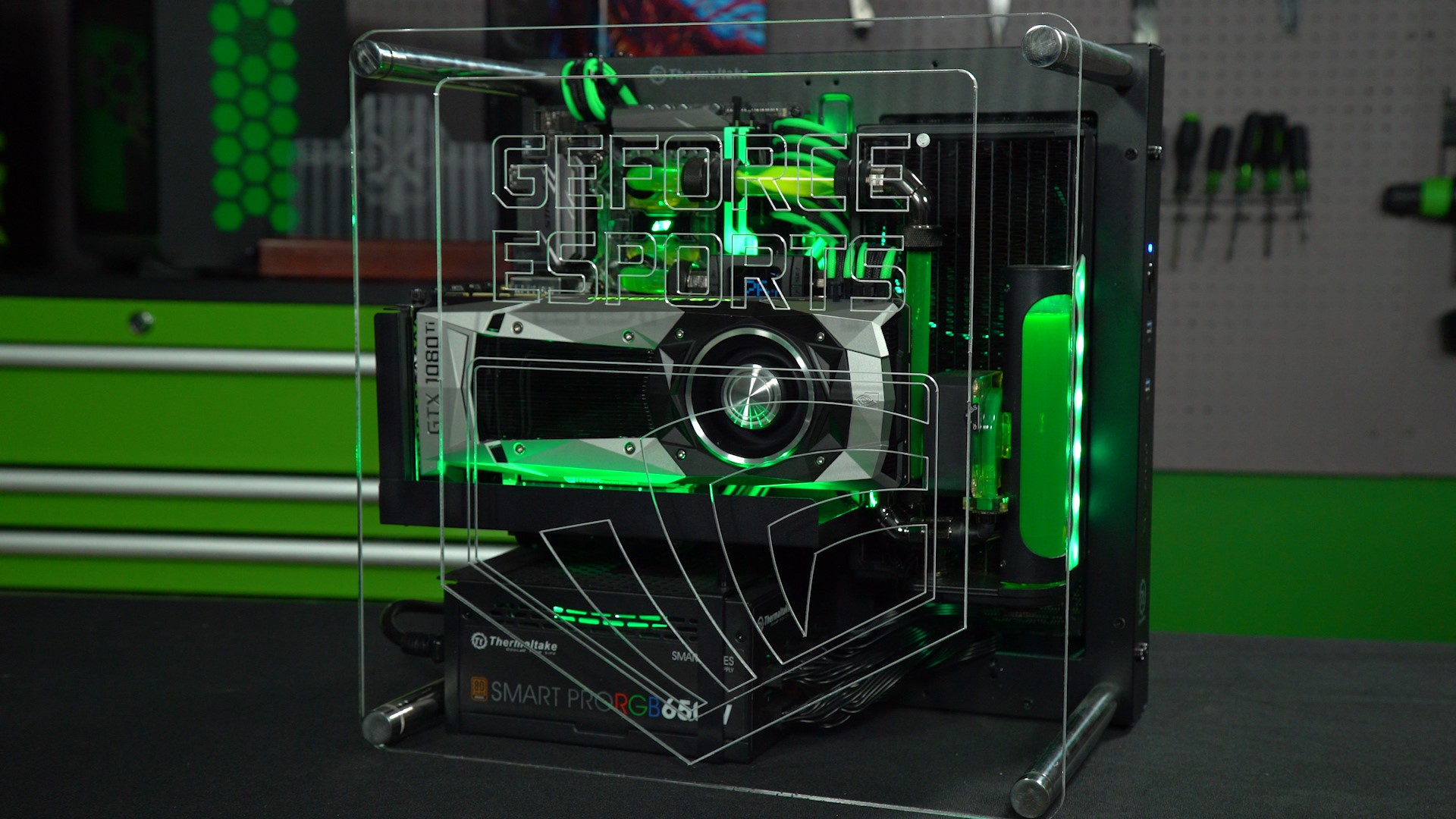 Here at NVIDIA we love ESports and are always thinking of new ways we can help teams better hone their skills to razor sharp precision. For this, GeForce ESports hold bootcamps where we invite teams to come strategize, practice and prepare for upcoming tournaments on our array of custom ESports-ready GeForce GTX powered machines.
So today is very special as we get a peek behind the curtain. GeForce Garage vet Travis Jank of Nerdy Ninjas is in the Garage to guide us through the process he used to create our fleet of iconic open-air GeForce ESports rigs.
An ideal ESports rig will generally adopt a small form factor (SFF) for convenience and portability between ESports events. Yet, while size matters, powerful reliable performance is paramount for a professional gamer. To compliment both needs we've paired our award-winning Pascal-powered FPS-crushing GeForce GTX 1080 Ti GPU with the infectious Thermaltake Core P1 TG Mini-ITX chassis. The open-air design is great to display the components within. While the unique wall-mounting option of this case can ensure the rig is the center piece of any event, or simply secured to a monitor desk mount.
Travis has also carefully cherry-picked components to best take advantage of our powerful GTX 1080 Ti, keep temps in check and give each rig the same classic GeForce look.
---
PC Specs
Component

Product

Price*

Graphics Card

GeForce GTX 1080 Ti

CPU

Intel Core i7-7700k

Motherboard

ASUS Strix Z270i Gaming

RAM

32GB G.SKILL Tridentz RGB

Storage

Intel 600p 512GB

PSU

Thermaltake Smart Pro RGB 650W

Chassis

Thermaltake Core P1

Cooling

CPU Block: SWIFTECH H220X2 AIO with Apogee XL2 Block
Fittings: Primochill Revolver fittings
Fans: Thermaltake Riing Plus 12 RGB Tt Premium Edition 120mm

Cables

Thermaltake Black & Green Sleeve Extensions

Total Price
*Please note: All prices are those at the time of writing.
---
Graphics Cards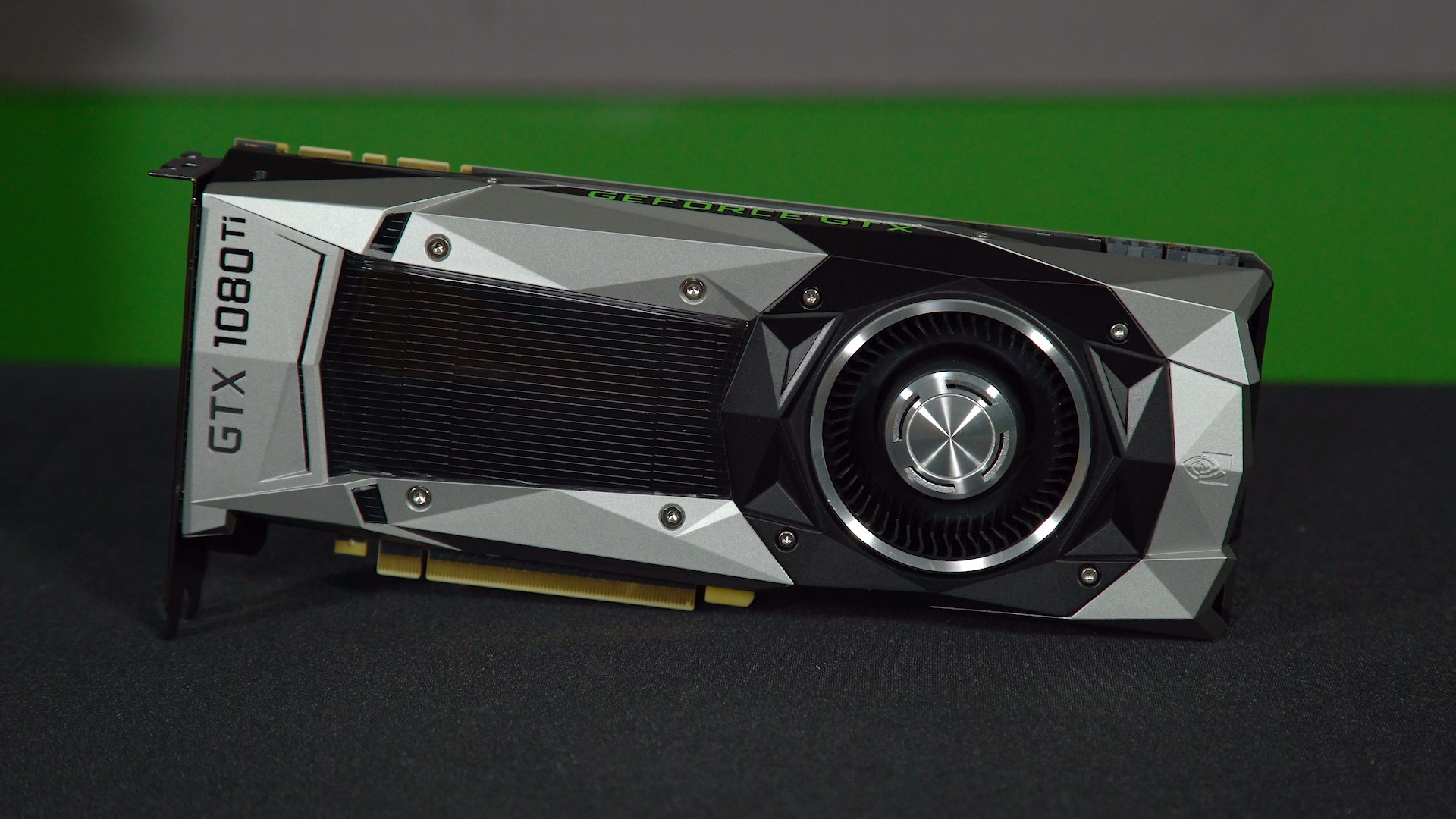 GeForce GTX 1080 Ti
Rock solid performance at a steady 60FPS, in virtually every game on the market -- that's what gamers have come to expect from our 1080 Ti FE. It features a massive 11GB video buffer using GDDR5X video memory clocked at 11Gbs with a 352-bit memory interface. The card sports a 1480MHz Core Clock with a 1582MHz Boost Clock and is carrying 3584 NVIDIA CUDA Cores.
The port and connectivity options include 1x HDMI 2.0, 3x DisplayPort and a single DP-DVI adapter for DVI-support for displays and VR headset devices. The 1080 Ti is the gamer's choice for uncompromised performance and silky smooth gameplay
---
CPU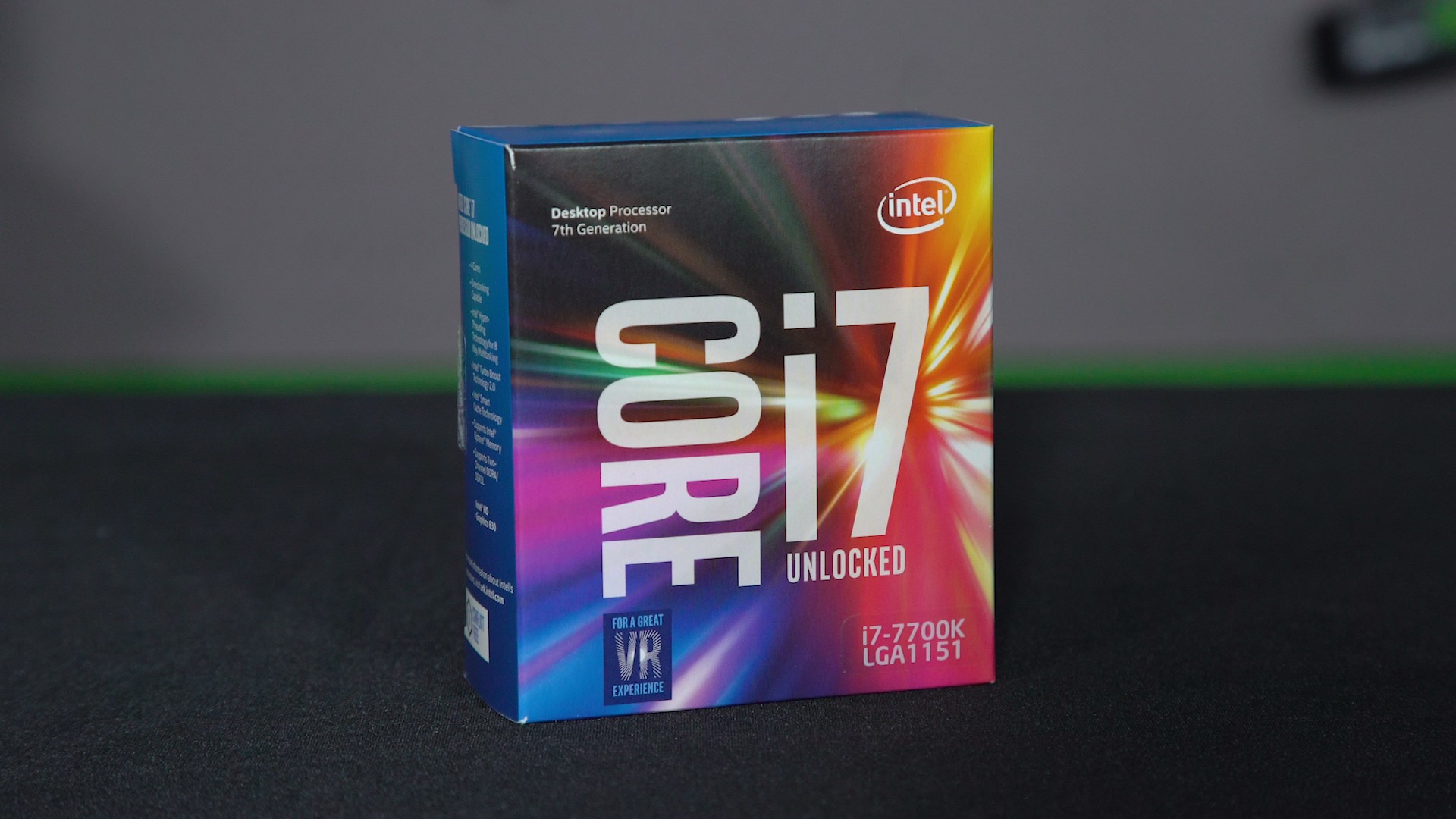 Intel i7-7700k
Our CPU on this diminutive ESports build is Intel's 7th Gen i7-7700K Kaby Lake. The "K" moniker indicates the unlocked multiplier for further overclocking. The processor features a 4-core, 8-thread configuration with a base frequency of 4.2Ghz and the company's Turbo Boost technology to take it to 4.5GHz. We also have support for high bandwidth DDR4/DDR3L 2400/1600 respectively, native support for the company's new Optane Memory, RGB lighting and a general performance bump over previous generations.
---
Motherboard
ASUS Strix Z270i Gaming
For this powerful little number we need a high performing ultra-stable foundation to seat all our components. The ROG STRIX Z270I Mini-ITX Gaming motherboard fits that description perfectly. This RGB-ready socket 1151 board features quite bit in this little package. We get 2x DIMM slots supporting a surprising 32GB of DDR4 memory capable of reaching 4266MHz when overlocked. Our flagship GTX 1080 Ti will slot into the board's single PCIe 3.0/2.0 x16 slot. The board features 2 x M.2 Socket 3, with M keys, (type 2242/2260/2280), 4x SATA 6GB/s ports and features support for RAID 0, 1, 5 and 10 as well as Intel Optane Memory. Cut the cords and stay connected with embedded radios for Bluetooth and Wi-Fi 802.11 a/b/g/n/ac, which also supports dual-band frequency 2.4/5Hz and MU-MIMO. Sound is crucial for a pro gamer but this mainboard comes with the company's ROG SupremeFX 8-channel HD Audio codec with dual headphone amplifiers, High quality 120 dB SNR stereo playback and supports up to 32-Bit/192kHz playback. USB port options include 6 x USB 3.1 Gen 1 ports, 4 x USB 2.0 ports and 1 x USB 3.1 front panel connector port.
---
RAM
G.Skill TridentZ RGB 4x8 32GB 2400MHz
This gorgeous kit of unbuffered 32GB DDR4 2400 memory from G.SKILL comes in a pair of 2x DIMMs featuring the company's new completely exposed light bar to display the vibrant RGB LEDs. The RGB lighting also syncs nicely with ASUS AURA Sync technology found on our mainboard. Each DIMM is draped in the award-winning TridentZ heatspreader for incredible and reliable performance. Additionally G.SKILL offers downloadable software to expand your RGB light options and effects.
---
Storage
Intel 600p 512GB
Slender "gumstick" style storage drives like this speed demon from Intel are highly sought-after. That is no surprise as this little SSD 600p M.2 2280 NVMe drive can hit speeds of 1775/560MB sequential read and write speed respectively to crush game saving and loading times.
---
PSU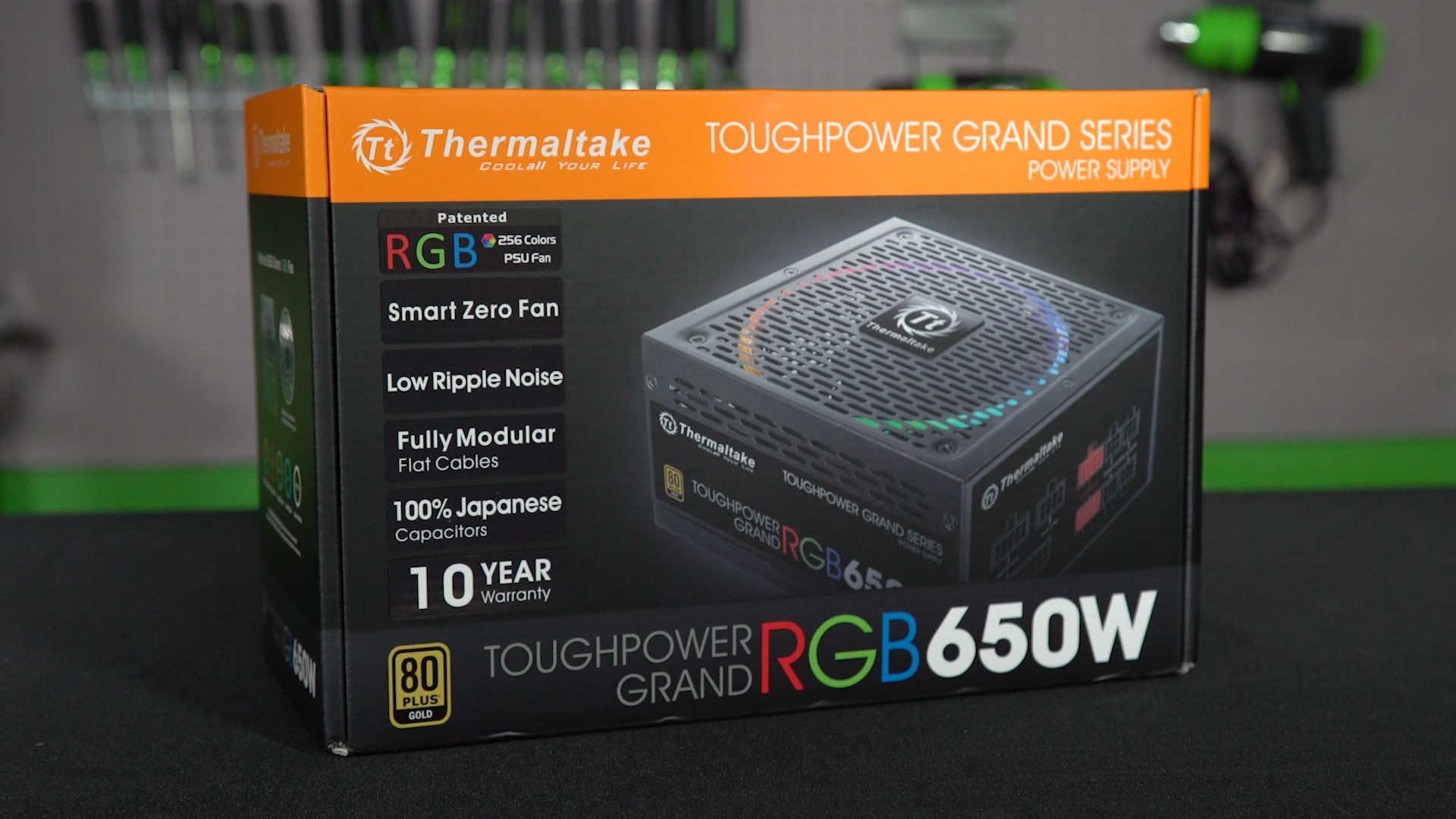 Thermaltake Smart Pro RGB 650W
For our much-needed power source we have one of Thermaltake's best PSU solutions. The RGB ready 650 watt power supply features a host of RGB lighting options with companion software and mobile app to keep track of system and GPU temps, power usage and cost to your utility bill. This ATX PSU is fully modular for Spartan interiors and is 80 Plus GOLD certified for 90% efficiency under typical loads. The PSU is SLI-ready and comes with Over Current, Over Power, Over Voltage, Under Voltage, Over Temperature and Short-Circuit protection measures.
---
Chassis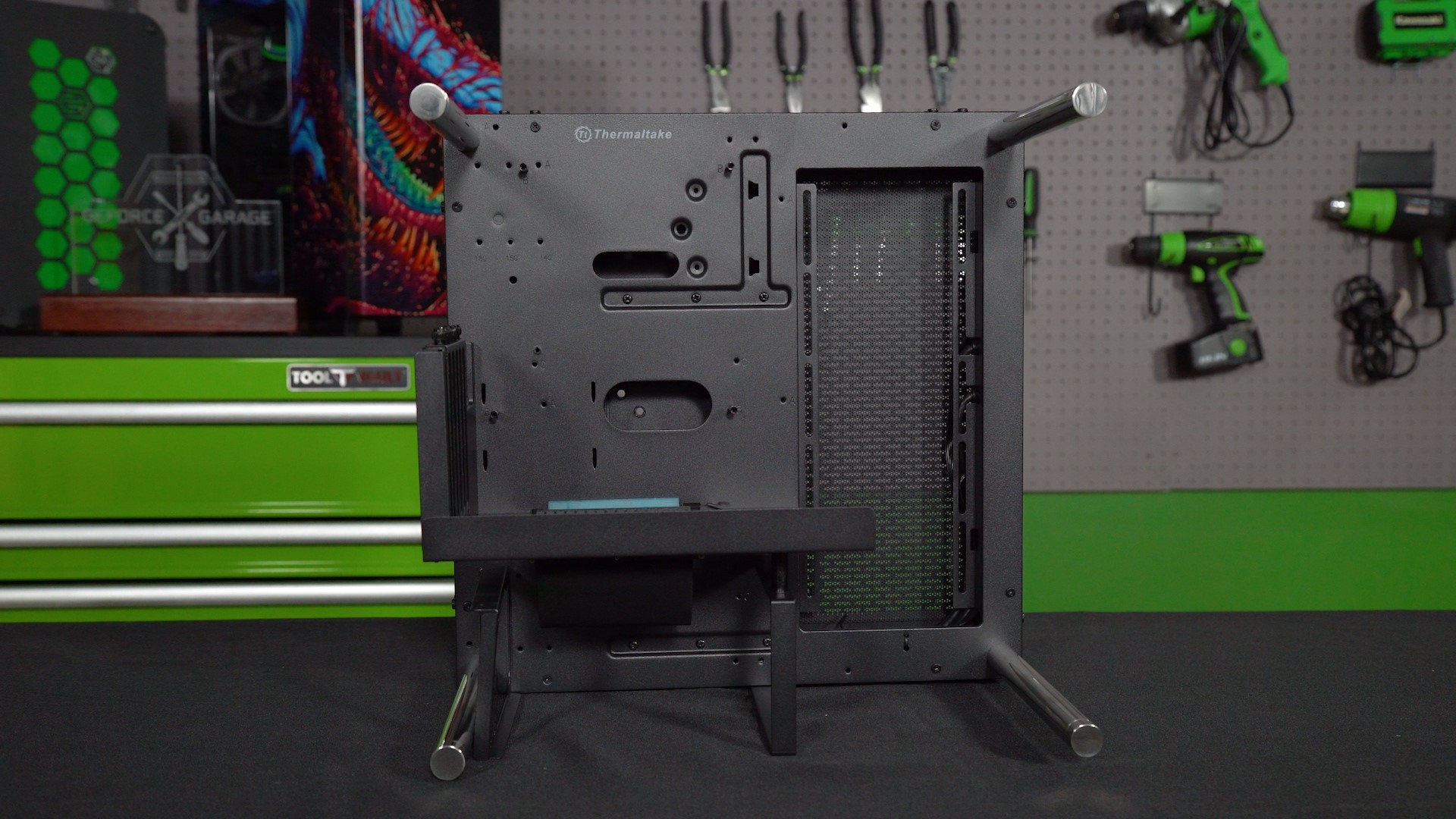 Thermaltake Core P1
Created from a modular design, this open-air SFF chassis is perfect for our various display needs with its wall-mount support and tempered glass side panel. The chassis can also be used vertically and horizontally with ease. For added versatility, the Core P1 comes with a special design brackets and GPU riser cable to show off both PSU and GPU in style. The case also features support for various AIO cooling options, custom water cooling loops, reservoirs and more.
---
Cooling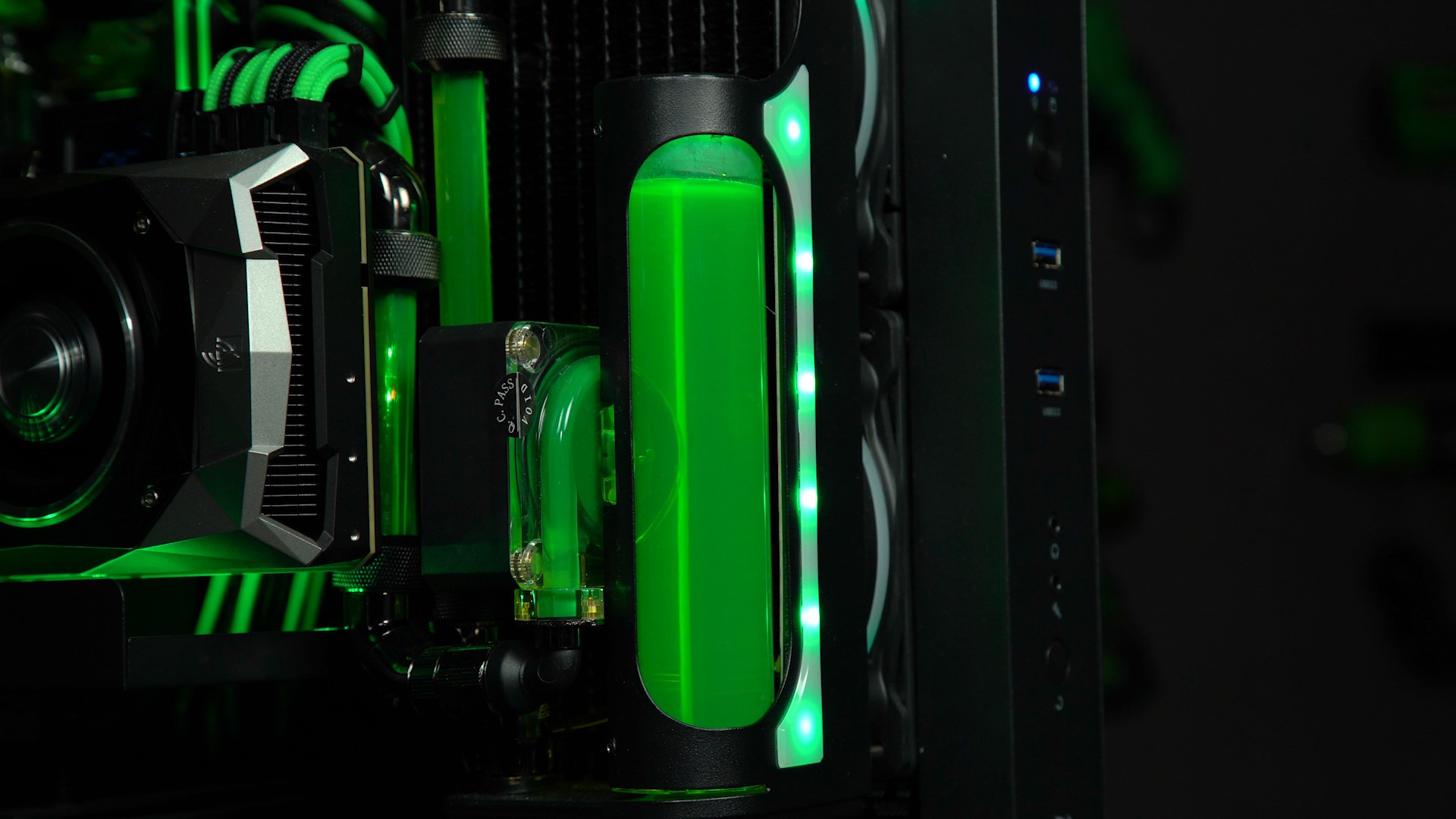 Swiftech H220 X2 AIO CPU Liquid Cooling Sytsem
This AIO CPU water cooling kit is perfect for our SFF ESports rig. It comes ready to go with the company's Apogee XL2 water block, reservoir, PWM-controlled pump, radiator and pre-installed loop. Plus, the loop can be expanded and customized to include other accessories for your particular needs, in our case an analog flow indicator and a digital temp readout.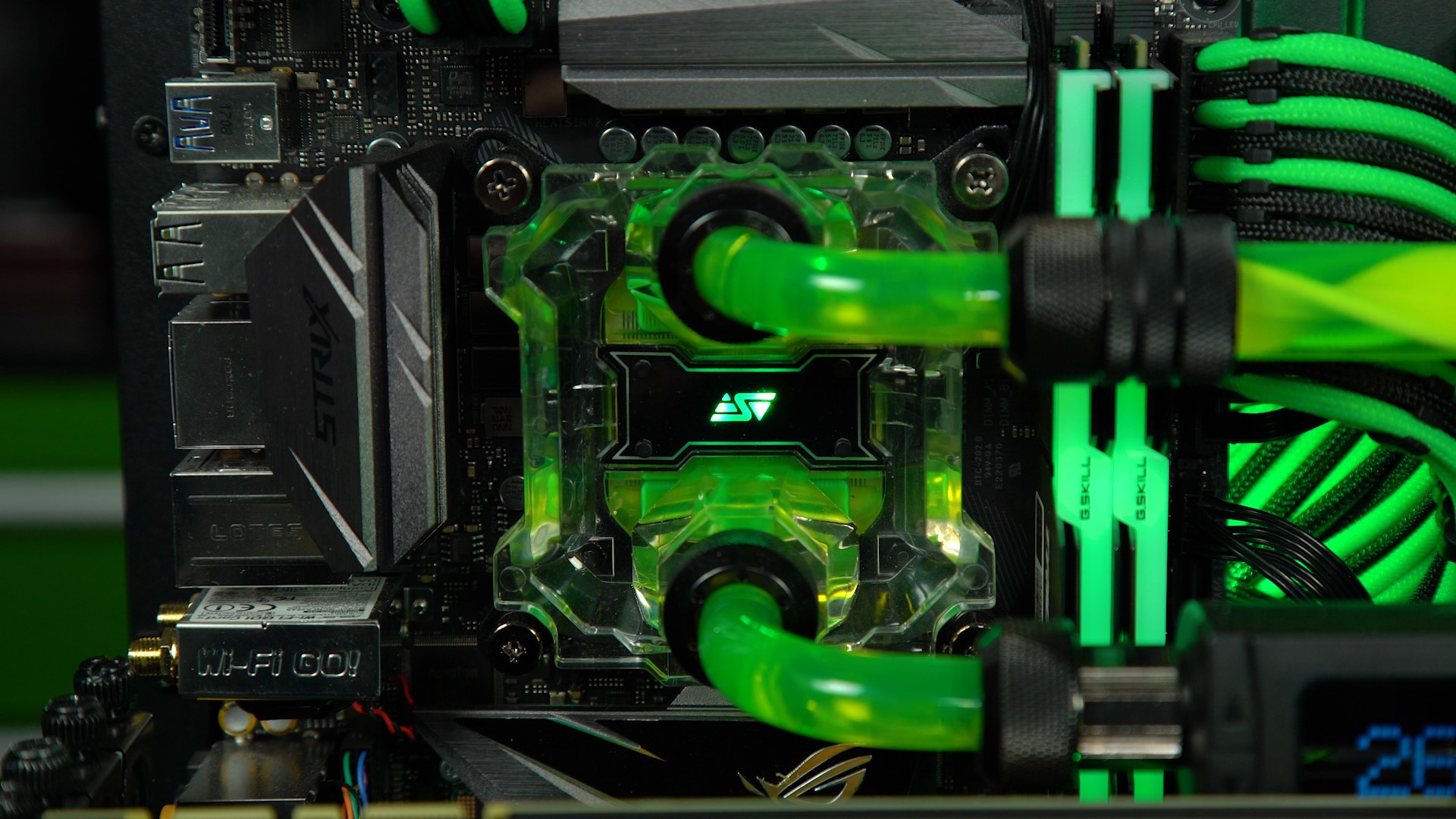 ---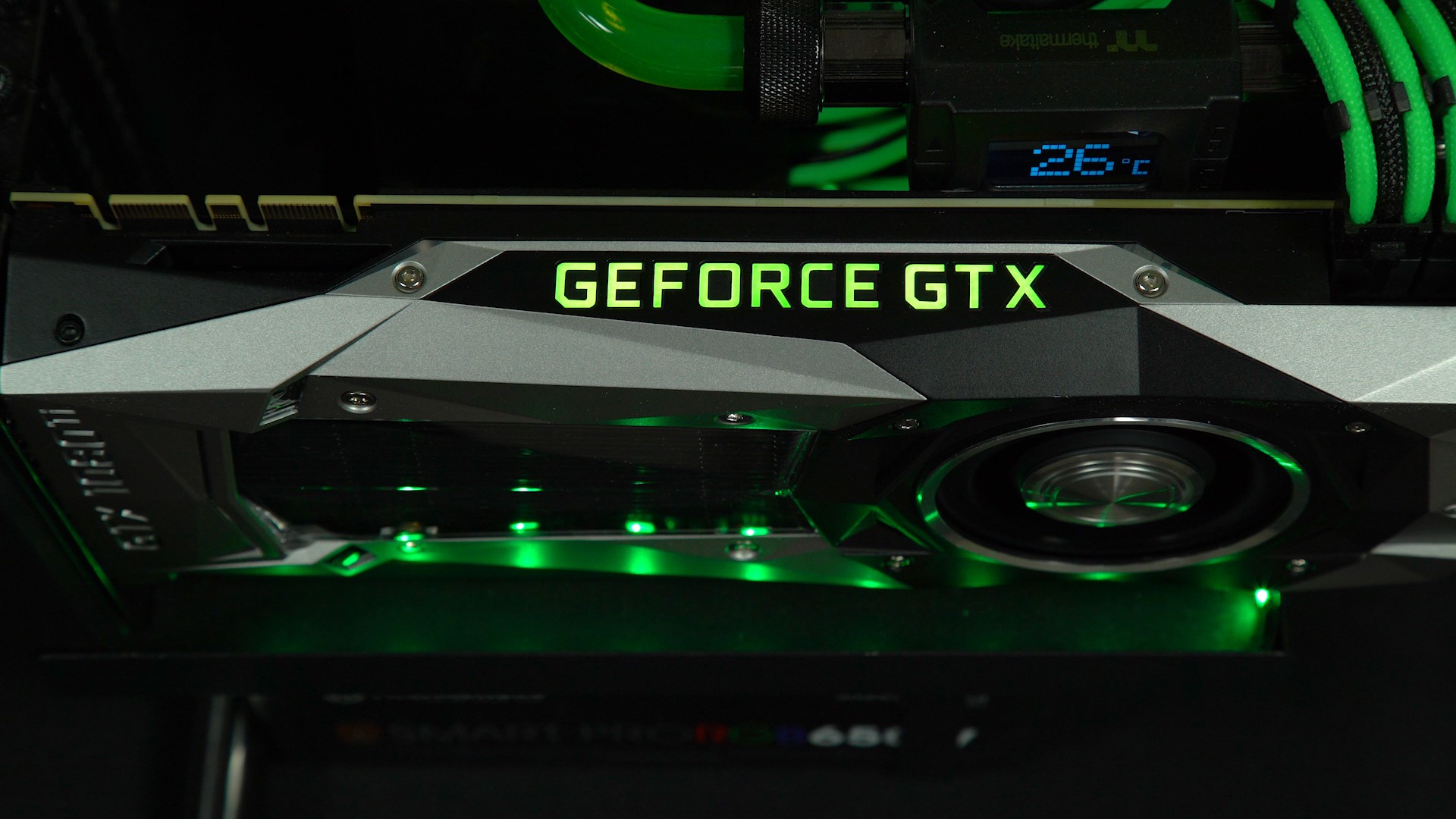 Conclusion
This design and configuration is mirrored across our entire fleet of GeForce ESports rigs and serves as a fantastic guide or template for your own ESports variant. As the numerous benchmarks show, these are more than a gorgeous set of emerald-clad PCs. They're all high performing portable powerhouses capable of taking your pro or casual gaming to the next level.
What would you change to make the optimal ESports rig? Share in the comments below.