Today's the day: GeForce RTX 3080 graphics cards are now available worldwide, and on September 24th they'll be followed by the GeForce RTX 3090! To unlock the full potential of the world's fastest, feature-packed desktop GPUs, you'll need to download and install our new GeForce Game Ready driver.
This driver also includes a ton of exciting features and enhancements for GeForce GPUs new and old:
Fortnite now features ray tracing and NVIDIA DLSS on all GeForce RTX GPUs
Fortnite and Valorant, two leading competitive games, now include latency-reducing NVIDIA Reflex technology, for GPUs dating back to the GeForce GTX 900 Series
Game Ready support for Halo 3: ODST and Mafia: Definitive Edition is included for all GeForce GPUs
GeForce Experience offers new in-game performance monitoring metrics for GPUs dating back to the GeForce GTX 600 Series
GeForce Experience now also offers a new automatic performance tuning feature for GeForce RTX 30 and GeForce RTX 20 series desktop GPUs, instantly improving frame rates
GeForce Experience's much-loved ShadowPlay gameplay recording tech now supports HDR capture on GPUs dating back to the GeForce GTX 900 Series. And on the GeForce RTX 3090, users can capture at 8K 30 FPS with HDR enabled
5 new G-SYNC Compatible gaming monitors are now supported on GeForce GTX 10 Series, GeForce GTX 16 Series and GeForce RTX GPUs
The NVIDIA Broadcast App enables all GeForce RTX users to turn any room into a home studio with new AI-powered voice and video features like noise removal and virtual background
AV1 hardware-based codec decoding enables GeForce RTX 30 Series users to enjoy videos and streams that use up to 50% less bandwidth
13 new GeForce Experience Optimal Playable Setting profiles enable one-click game setting optimization in the latest titles, for GPUs all the way back to the GeForce GTX 600 Series
To download and install our new Game Ready Driver, to get access to all this goodness, simply fire up GeForce Experience and click the "Drivers" tab. To learn more about each new thing, keep reading.
Game Ready For The GeForce RTX 3080 and GeForce RTX 3090
GeForce RTX 3080 graphics cards are now available to purchase from NVIDIA and our partners around the world, including ASUS, Colorful, EVGA, Gainward, Galaxy, Gigabyte, Innovision 3D, MSI, Palit, PNY and Zotac.
GeForce RTX 3080 graphics cards offer up to twice the performance of GeForce RTX 2080 GPUs, giving you the performance to max out the latest titles at 4K. And they feature new 2nd generation Ray Tracing Cores and 3rd generation Tensor Cores, accelerating experiences in Cyberpunk 2077, Watch Dogs: Legion, and other high-fidelity RTX titles.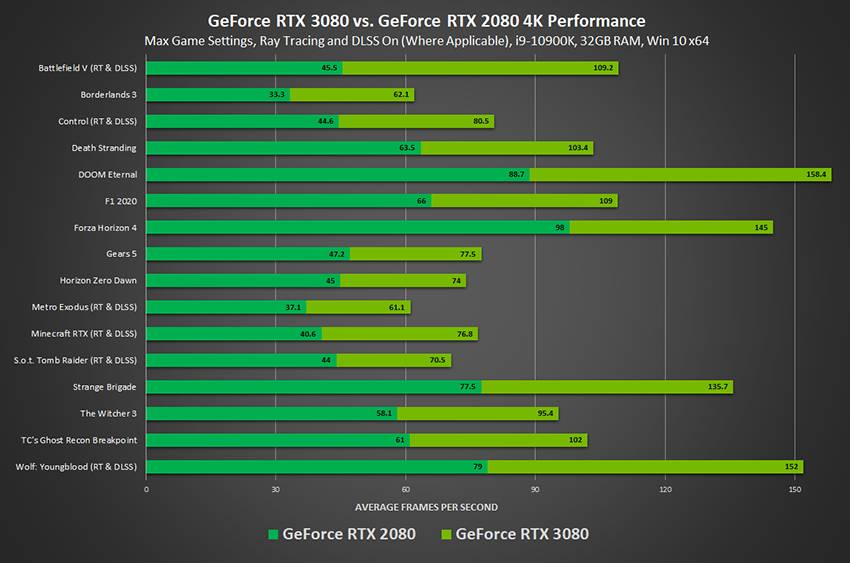 If you are a content creator, RTX 3080 Series GPUs also provide up to 2x performance for rendering, NVIDIA DLSS for creative apps, and 8K HDR video editing. Learn more in our Studio driver article.
To see what reviewers think of the GeForce RTX 3080, head here, and to learn more about the card and all the tech it supports, head to our announcement article.
On September 24th, the GeForce RTX 3090 goes on sale. Capable of ultimate gaming, all the way up to 8K, the GeForce RTX 3090 is the world's most powerful desktop graphics card. Reviews are coming soon, so stay tuned to your favorite hardware sites.
Game Ready For Fortnite RTX
Fortnite, the cultural phenomenon with more than 350 million players, now features ray tracing, NVIDIA DLSS, and NVIDIA Reflex on PC! Grab the latest Fortnite game update from the Epic Games Launcher, update Windows 10, and install our new Game Ready Driver, and you'll instantly have access to all 3 features in-game.
Ray tracing introduces immersive, high-fidelity reflections, shadows, ambient occlusion, and global illumination lighting. NVIDIA DLSS accelerates your frame rates using the power of AI. And NVIDIA Reflex makes gameplay more responsive, improving your experience.
For complete details, head on over to our Fortnite RTX article.
Game Ready For NVIDIA Reflex In Competitive Titles
NVIDIA Reflex is a revolutionary suite of GPU, G-SYNC display, and in-game technologies that measure and reduce system latency in competitive titles. With the release of our new Game Ready Driver, users with GeForce RTX or GeForce GTX 900 Series-and-newer GPUs can reduce system latency in Fortnite and Valorant by up to 33%, making gameplay more responsive.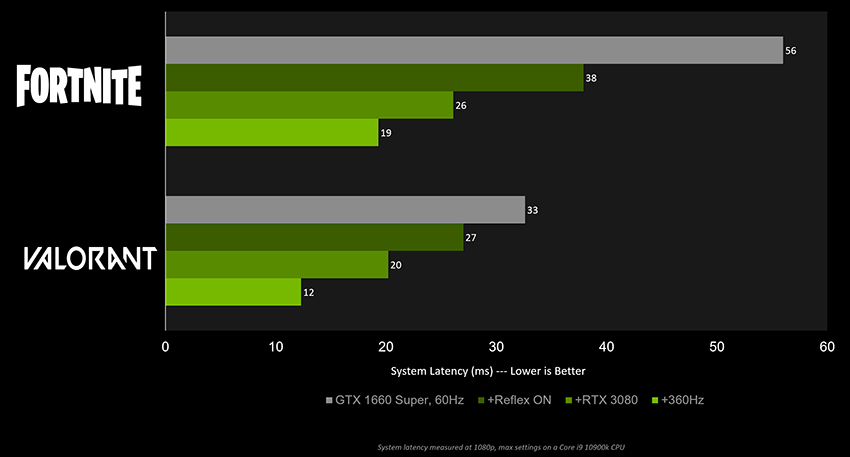 With improved responsiveness, shot accuracy is improved, you can react to enemy actions faster, and peeker's advantage is reduced or even nullified. For the full rundown, set aside some time and check out our comprehensive NVIDIA Reflex and system latency guide.
Support for NVIDIA Reflex is also coming to Apex Legends, Call of Duty: Warzone, Call of Duty: Modern Warfare, Destiny 2 and a host of other titles. For details, stay tuned to GeForce.com.
Game Ready For The NVIDIA Broadcast App
The NVIDIA Broadcast App turns any room into a home studio with audio noise removal, virtual background, and webcam auto frame features. All powered by AI and the Tensor Cores on GeForce RTX GPUs.
Amazing, right? The NVIDIA Broadcast App is available to download now, and we've got a setup guide online to help you configure the app for use in the most popular livestream, voice chat, and video conferencing applications.
Game Ready For New GeForce Experience Features
By installing our new Game Ready Driver and a new GeForce Experience update, GeForce users will unlock new enhancements that further improve the free app that's used by millions of gamers around the world. Update drivers, optimize game settings with a single click, capture and stream gameplay, take screenshots, adjust the look and feel of your games, play remotely with SHIELD, and more, all from one app.
To get our newest features, you'll need to opt in to our GeForce Experience Beta by heading to Settings > General, and ticking "Enable Experimental Features".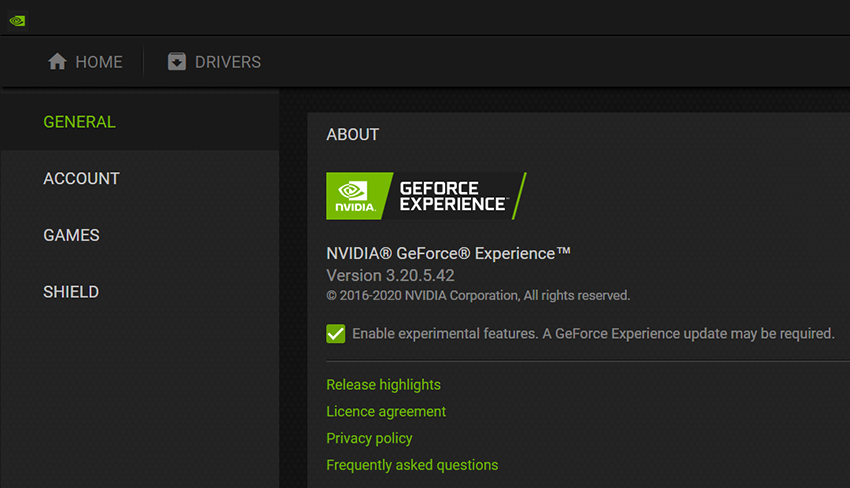 In-Game Performance and Latency Overlay
Desktop and laptop GeForce RTX and GeForce GTX 600 Series-and-newer users can now enable in-game performance-monitoring metrics. See frame rates, clock speeds, GPU temperatures, and more in one overlay. And when new NVIDIA Reflex Latency Analyzer G-SYNC displays arrive this fall, you can monitor system latency, too.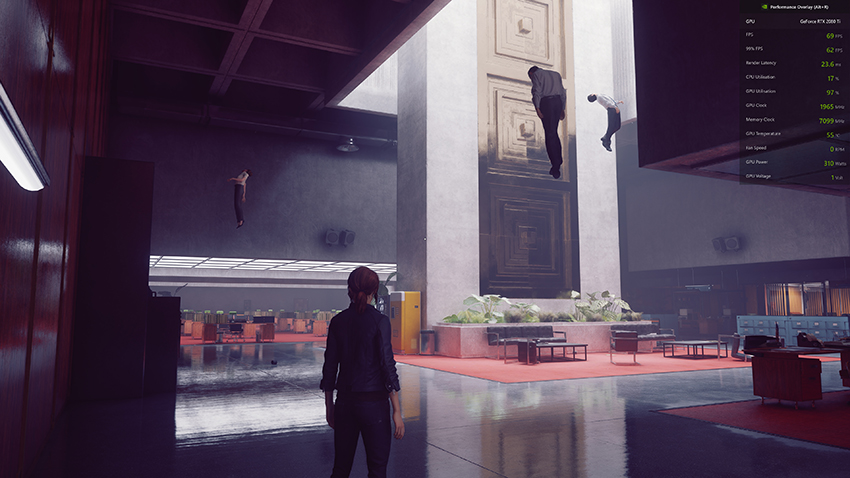 To use this new feature, first ensure "In-Game Overlay" is enabled in Settings > General.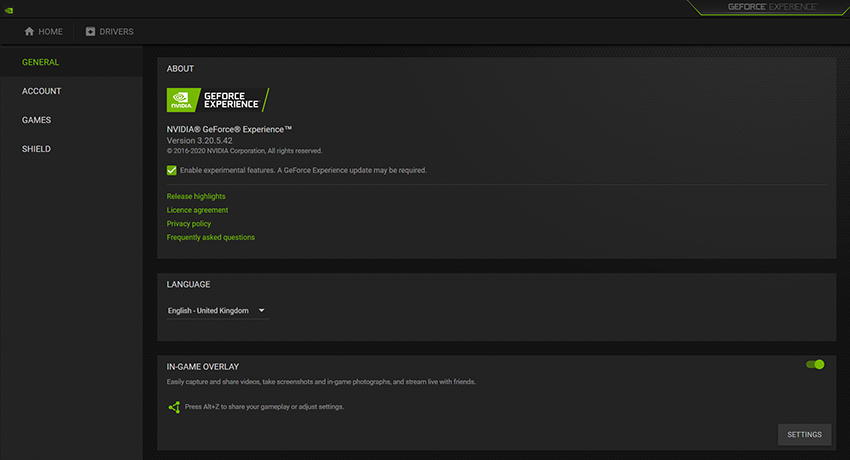 Next, press Alt+Z to load the Share overlay on your desktop or in-game, and click the new "Performance" button.

A new sidebar will appear on the left of your screen. In the topmost portion, click the cog highlighted in our image below: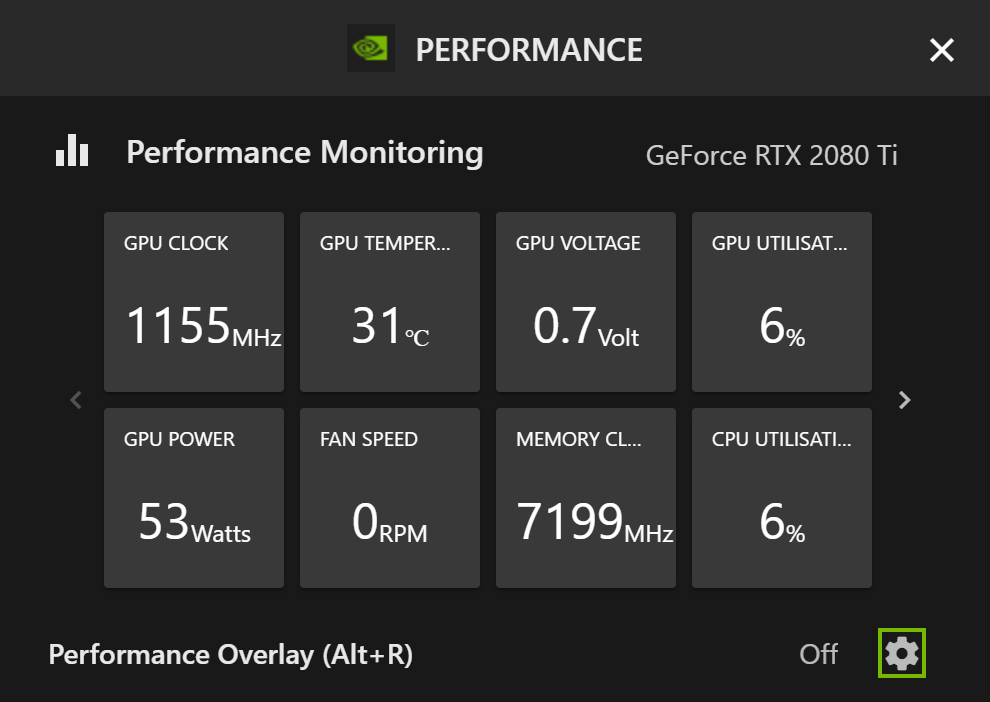 From this new screen, you can select where on your display monitored metrics appear:

Selecting Advanced will display the full suite of tracked stats; Basic will show the key stats most gamers are interested in: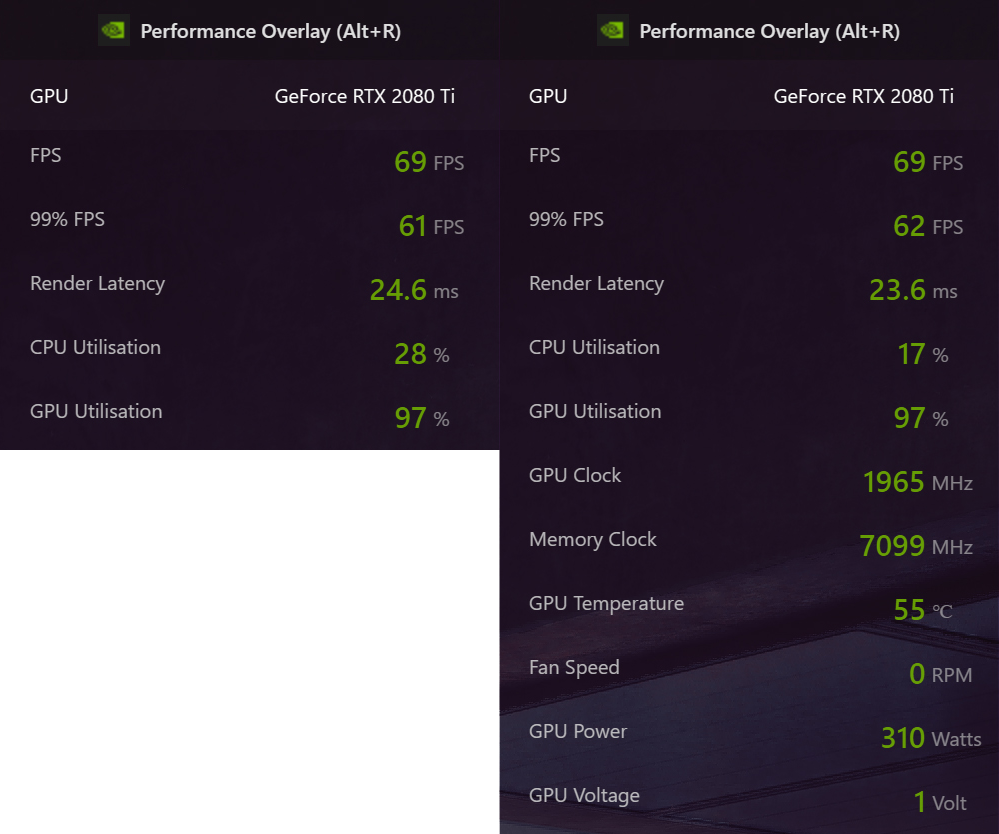 By default, Alt+R will toggle the display of stats at any time. To change this shortcut, and add a shortcut that cycles between the available overlay modes, press Alt+Z, click the Settings Cog, click "Keyboard Shortcuts", scroll down, and configure shortcuts to your liking.
One-Click Performance Tuning
GeForce RTX desktop graphics card users can now easily maximize the potential of their GPUs with the new Performance Tuner. This feature scans your GPU's performance characteristics and automatically overclocks it, improving performance in games. Additionally, the Performance Tuner will perform regular checkup scans on your GPU to ensure you have the best tuning profile.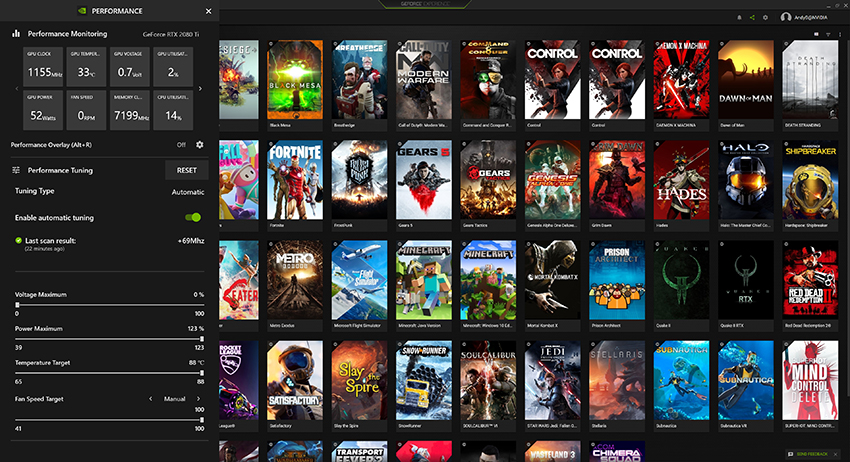 To use One-Click Performance Tuning, open the Performance Overlay (Alt+Z > Performance) and simply click "Enable automatic tuning". GeForce Experience will begin to test your GPU over the course of 20-30 minutes, during which time we recommend letting your system idle, otherwise results may be affected.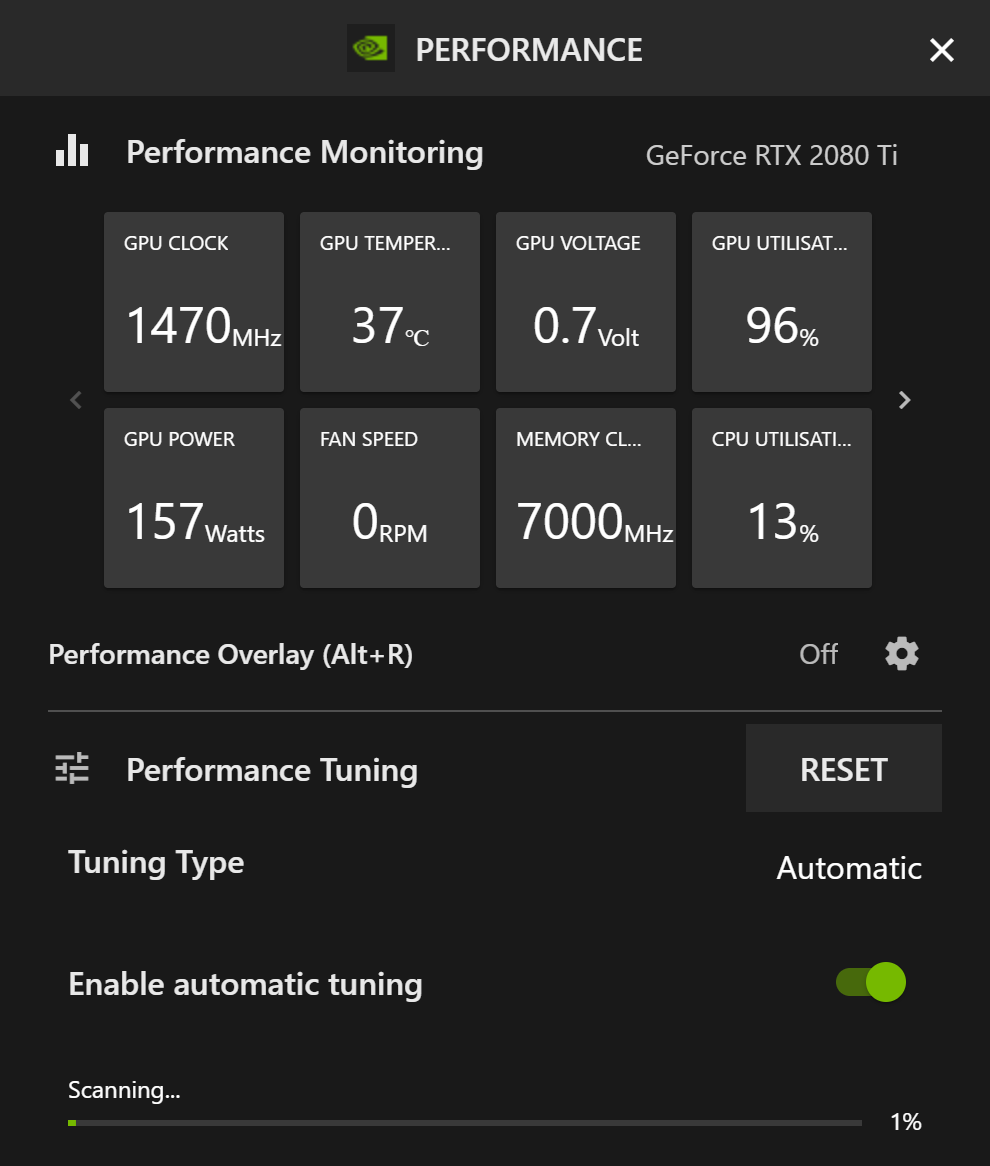 Power users can also adjust voltage, power, temperature and fan speed targets, which will change the parameters used by our advanced performance tuning algorithms. This is useful if you wish, for example, to maximize performance without going above a certain temperature threshold, or want fans to spin at 70% max.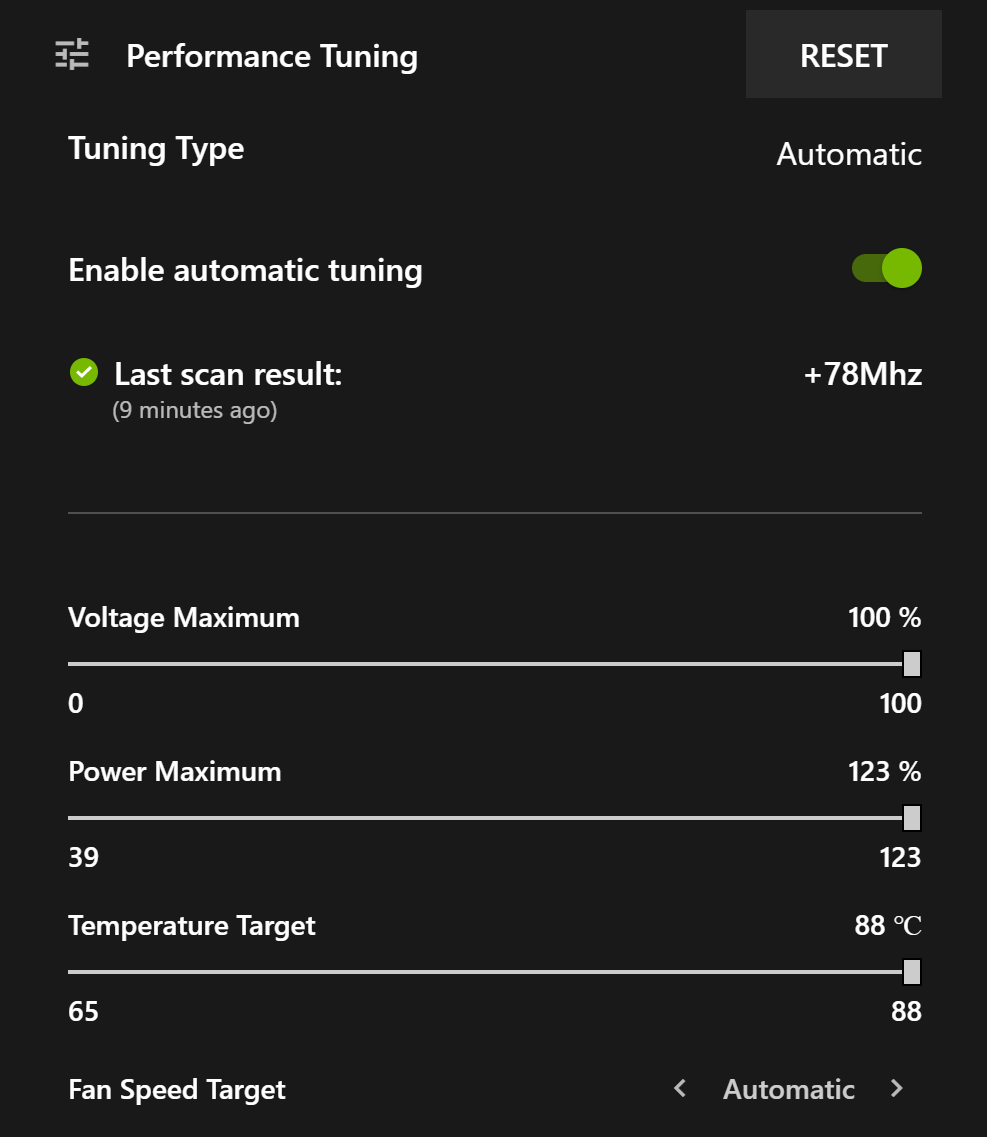 Please note that overclocking your GPU may cause your PC to become unstable or show visual artifacts. However, performance tuning will not harm your GPU.
HDR ShadowPlay Capture
GeForce Experience's ShadowPlay technology revolutionized game capture back in 2013, by using GPU-based hardware encoders to eliminate the massive 30%+ performance penalty incurred when recording with software-based apps. We've continually improved ShadowPlay since, and now we're introducing the ability to record gameplay clips and videos with HDR switched on.
No new steps are required to use the feature, so simply ensure the In-Game Overlay is enabled in Settings > General, and that your games are being rendered in-game with HDR.
GeForce GTX 950-and-newer GPUs can record at up to 4K HDR (8K HDR on the GeForce RTX 3090), removing the need for expensive, dedicated professional capture cards.
After recording, upload to YouTube from within GeForce Experience's Alt+Z Share overlay, or edit first in HDR-compatible apps, such as Adobe Premiere Pro and Davinci Resolve.
Game Ready For AV1 Decoding
GeForce RTX 30 Series GPUs are the world's first to include support for hardware-based decoding of the AV1 codec, which reduces video bandwidth requirements by up to 50%.
To enable decoding on your shiny new GPU, you'll need to:
Use a compatible browser, like Google Chrome version 85
Load AV1 content, which can be readily found on YouTube ( 8K HDR sample). Note: in YouTube's Playback Settings page, you can request it to "Always prefer AV1", ensuring AV1 is used whenever possible.

To learn more about the benefits of AV1 and GeForce RTX 30 Series hardware decoding, head here.
Game Ready For The Latest Releases
Each Game Ready Driver brings you day-0 support for the latest games, giving you an optimized experience with the smoothest and most responsive gameplay possible. Included in our latest release is support for:
Mafia: Definitive Edition: The classic 2002 open-world action-adventure game has been completely remade, with new visuals, new cutscenes, new voice acting, and more. Experience an immersive world, engaging storytelling, and amazing set pieces with modern-day technology and features.
Halo 3: ODST: The next installment in the Halo: The Master Chief Collection launches September 22nd. Now optimized for PC, experience the events preceding Halo 3 through the eyes of Orbital Drop Shock Troopers (ODST) as they return to familiar ground and attempt to uncover the motivations behind the Covenant's invasion of New Mombasa.
Support For Newly Validated G-SYNC Compatible Displays
Our newest Game Ready Driver driver also adds support for five new G-SYNC Compatible displays - gaming monitors that deliver a baseline Variable Refresh Rate (VRR) experience that makes your gaming smoother and more enjoyable.
| | | | | | | |
| --- | --- | --- | --- | --- | --- | --- |
| MANUFACTURER | MODEL | HDR | SIZE | LCD Type | Resolution | VRR Range |
| Acer | XV253Q GW | Yes | 24.5 | IPS | 1920x1080 (FHD) | 50-240Hz |
| ASUS | VG27AQ1A | Yes | 27 | IPS | 2560x1440 (QHD) | 50-144Hz |
| LG | 27GN800 | Yes | 27 | IPS | 2560x1440 (QHD) | 48-144Hz |
| LG | 27GN600 | Yes | 27 | IPS | 1920x1080 (FHD) | 60-144Hz |
| ViewSonic | XG270Q | Yes | 27 | IPS | 2560x1440 (QHD) | 50-165Hz |
These newly-validated monitors give gamers even more choice when searching for a great gaming display. For a complete list of all G-SYNC, G-SYNC ULTIMATE, and G-SYNC Compatible gaming monitors, check out our handy and frequently updated G-SYNC page, which can be sorted and filtered, helping you quickly find the ideal display.
New Games Supported By GeForce Experience's Optimal Game Settings
GeForce Experience's one-click optimal settings enable you to instantly configure game options for your system's hardware, giving you smooth, optimized gameplay. Over 900 titles are supported, and since the release of our previous driver we've added support for 13 more:
Among Us
Crusader Kings III
eFootball PES 2021
Grounded
Gunfire Reborn
Iron Harvest
Madden NFL 21
Marvel's Avengers
Microsoft Flight Simulator
Mortal Shell
Skater XL
Tony Hawk's Pro Skater 1+2
Wasteland 3
GeForce RTX 30 Series Watch Dogs: Legion and GeForce NOW Bundle
To celebrate the launch of our GeForce RTX 30 Series GPUs, we've lined up an amazing bundle! At participating partners, select GeForce RTX 30 Series GPUs and pre-built PCs include a PC digital download copy of Watch Dogs: Legion, and a 1-year membership for GeForce NOW, our cloud gaming service.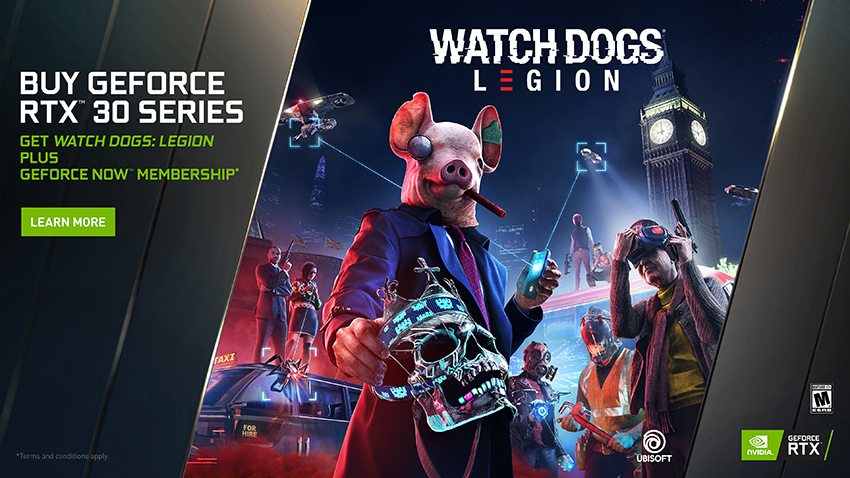 Watch Dogs: Legion features beautiful ray-traced reflections, NVIDIA DLSS, and support for our new DLSS Ultra Performance mode, which makes 8K gaming possible on the GeForce RTX 3090.
For all the details about the GeForce RTX 30 Series bundle, head here. To learn more about Watch Dogs: Legion's RTX features, head here.
GeForce Game Ready Driver - Download Now
To get all of the awesome stuff listed above, download the new GeForce Game Ready 456.38 WHQL driver through GeForce Experience. And be sure to also opt-in to the GeForce Experience Beta.
If you experience any technical issues with the new Game Ready drivers please post a detailed report on the GeForce.com Driver Feedback Forum, where our Customer Care team can better assist you. And if you're looking for a full list of fixes in this driver, for previously-reported issues, head here.
If you experience issues with the GeForce Experience Beta, or wish to share your thoughts about the new features, please use the in-app "Send Feedback" option on the bottom right of the client window.