NVIDIA RTX, ray tracing and NVIDIA DLSS have set a whole new standard in gaming, delivering the ultimate experience, with the highest level of fidelity, incredible immersion, and the fastest possible performance.
In recent months we've added the technologies to over a dozen titles, taking the number of launched games with RTX to 36. RTX powers the top battle royales, 2020's best selling games, and the best selling game of all time, Minecraft.
DLSS enables great ray tracing experience in these titles by delivering a big performance boost with amazing image quality. Check out DLSS's performance gains in this season's most popular games:
Today, we're announcing the addition of RTX technologies to anticipated 2021 games, another top battle royale, and a bunch of new titles. Furthermore, we've got trailers and screenshots showing this tech in action, so keep reading to see and learn more.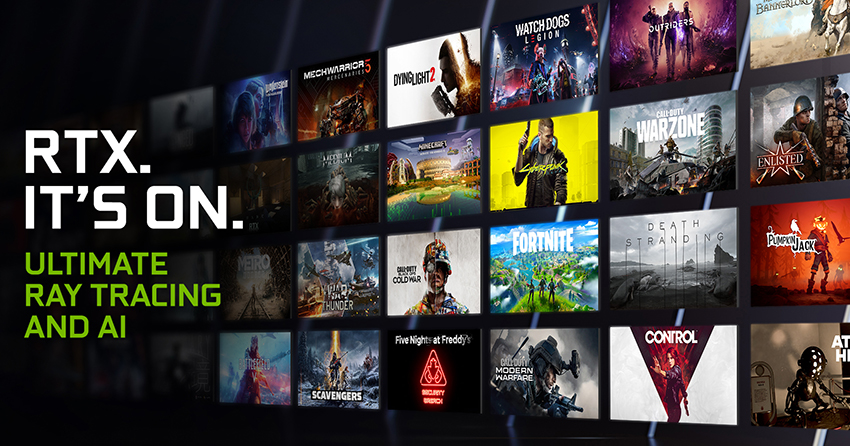 Call of Duty: Warzone Adds NVIDIA DLSS To Its Loadout
Having brought NVIDIA DLSS to Call of Duty: Black Ops Cold War back in November, we're pleased to announce that DLSS is now coming to Call of Duty: Warzone, enabling players to accelerate their frame rates in the popular battle royale.
"We were excited to bring NVIDIA DLSS to Call of Duty®: Black Ops Cold War this year. It was a great addition for our players to increase their game performance on PC and we look forward to bringing this to Warzone." -- Eric Lavoie, Executive Producer at Beenox
This follows the addition of NVIDIA Reflex to Black Ops Cold War, Modern Warfare and Warzone, and the addition of ray tracing to Black Ops Cold War and Modern Warfare.
Outriders Partners With NVIDIA To Add DLSS
Square Enix and People Can Fly's Outriders is an upcoming single-player and co-op sci-fi RPG shooter that's tipped as one of the top 2021 games. Customise your own Outrider and embark on a journey across the hostile planet of Enoch to find the source of a mysterious signal.
Today, we're announcing the addition of NVIDIA DLSS to Outriders, and a technical partnership that'll ensure PC gamers and GeForce RTX users get the best possible experience.
"DLSS is a performance-enhancing game changer!" - Lee Singleton, Head of Studio, Square Enix External Studios
Learn more about Outriders here, and check out a brand new gameplay trailer below:
Five Nights At Freddy's: Security Breach Adds Ray Tracing and DLSS
Scott Cawthon's Five Nights At Freddy's is a global sensation grown from the eponymous breakout hit game that debuted in 2014. Today, the franchise encompasses games, spin-offs, books, music, toys, and even an in-development feature film.
This year, Five Nights At Freddy's fans can sink their teeth into Five Nights At Freddy's: Security Breach, a new mainline game that takes the franchise into the world of high-fidelity graphics for the first time. With a GeForce RTX GPU, you can take those visuals up a notch by enabling ray-traced reflections, global illumination, shadows, ambient occlusion and NVIDIA DLSS, enabling you to enjoy the best possible image quality at higher resolutions and frame rates.
"The game is a massive leap for the franchise in terms of scale and depth of gameplay. Working closely with the wizards at NVIDIA, the PC version of Security Breach is incorporating many of the cutting edge RTX technologies such as Raytracing, Global Illumination and DLSS. These technologies ratchet up the immersion and frights!" -- Andrew Dayton, Co-Founder / CEO Steel Wool Studios
Take a first look at this potent combo of tech in a new, exclusive first look RTX ON video of Five Nights At Freddy's: Security Breach, launching later this year.
The Medium Adds Ray Tracing and DLSS
Bloober Team's Layers of Fear established the Polish studio as masters of psychological horror, and on January 28th they're launching The Medium, their latest horrific game. Featuring a unique mechanic whereby players tackle challenges and puzzles simultaneously in two realities, The Medium brings fresh ideas and gameplay to the table.
GeForce RTX gamers can explore The Medium's creepy areas and mind-bending twists on reality with real-time ray-traced reflections and shadows. And so you can enjoy these spooky ray-traced visuals at smooth frame rates, Bloober Team's also adding support for NVIDIA DLSS at launch on January 28th. Take a look at both technologies in action in our new, exclusive RTX ON trailer:
F.I.S.T.: Forged In Shadow Torch Adds Ray Tracing and DLSS
Shanghai TiGame's F.I.S.T: Forged in Shadow Torch is an action Metroidvania game where you play as a rabbit with a giant mechanic fist, fighting through a dieselpunk world that's as weird and wonderful as the game's premise.
With GeForce RTX, you can take F.I.S.T. to the next level with ray-traced reflections, shadows, global illumination, and water caustics bringing you amazing visuals every step of the way. NVIDIA DLSS will also be in-game at launch, providing a boost in performance and visual fidelity.
Never before has fast-paced arcade action looked so incredible - see for yourself in our debut RTX ON trailer:
F.I.S.T: Forged in Shadow Torch launches later this year. Stay tuned to its Steam page for further updates.
Iron Conflict Launches With DLSS
Iron Conflict is a newly-released Early Access real-time military strategy game (RTS) where players take command of unique unit formations in 10 vs. 10 multiplayer battles. Featuring a vast arsenal of iconic weapons and vehicles from multiple eras of war, including planes and tanks such as the F-35 fighter jet and the M1A1 Abrams, players will unleash offensive and defensive strategies against rival factions across photorealistic battlegrounds, including deserts, rural farmland, and hilltops.
To maximise performance when it's all kicking off, be sure to enable NVIDIA DLSS, which is available now in-game.
Edge of Eternity Brings DLSS To Early Access
Edge of Eternity is an Early Access turn-based RPG. Taking inspiration from classic JRPG games, players will quest and combat through a large world as two heroes. And this January, performance will be accelerated through the addition of NVIDIA DLSS.
New Fortnite RTX Morbid Madhaus Custom Map!
In the past few months, we've worked with some of the best creative map builders in the community to bring you three RTX custom maps, showcasing the amazing effects of ray tracing in Fortnite. Today, we're releasing our latest custom map, RTX Morbid Madhaus, an infection-mode inspired map that will keep you and your friends at the edge of your seats! Players are separated into two groups at the beginning of the match: The Madmen & The Alienists. Your goal is to survive the round without going mad.
It gets better…
As a bonus challenge, we've hid GeForce RTX 30 Series Laptops throughout the map for you to find. Once you've collected all hidden laptops, you'll be able to access a secret room with instructions on how to enter the giveaway to win a GeForce RTX 30 Series laptop.
Access the RTX Morbid Madhaus map today using Map Code 8178-8498-4567.
New Minecraft with RTX On Windows 10 Build Challenge: Powered by GeForce RTX 30 Series Laptops
NVIDIA is announcing the launch of the first ever Minecraft with RTX Build Challenge series. Pairing world-famous Minecrafters with the most prolific build-teams, each series consists of a two-week challenge to create the most epic Minecraft masterpiece possible.
Powered by GeForce RTX 30 Series laptops, each Minecrafter will lead the audience through every step of the build process - all while running RTX ON, enabling stunning visuals with great performance through the combination of ray tracing and DLSS.
Starting off the series is none other than Hermitcraft veteran and fan favourite Bdubs (or BdoubleO100 if you're fancy) who's teaming up with the incredibly talented top build-team, Cyclone Designs. What are they building? You'll just have to find out as the series kicks off January 15th on Bdoubleo100's channel, with more videos to come!
Witness the evolution of laptop gaming -- GeForce RTX 30 Series Laptops built with the award-winning Ampere—NVIDIA's 2nd gen RTX architecture—with new RT Cores, Tensor Cores, and streaming multiprocessors to give you the most realistic ray-traced graphics and cutting-edge AI features. Want to craft a world of your own and get lost in it too, learn more about Minecraft with RTX here.