Following a well-received console launch last month, F.I.S.T.: Forged In Shadow Torch is now available on PC with a whole host of tech enhancements.
Designed by TiGames, F.I.S.T. sees players guiding Rayton the talking rabbit on a Metroidvania-esque adventure to save his friend from the oppressive regime, in the dieselpunk-themed Torch City. Bolt a big robotic fist to your body, and in classic fashion find and buy upgrades that enable access to new areas and potent combat abilities.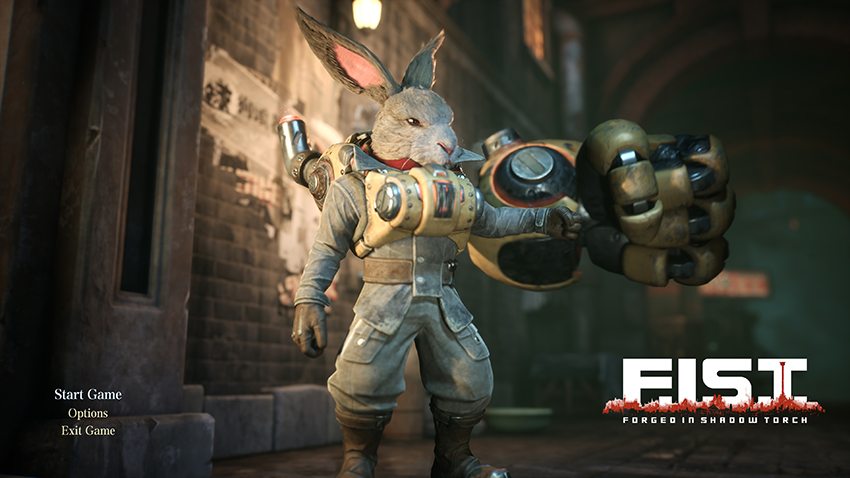 For the PC release, TiGames has gone all-out to deliver the highest-fidelity experience possible, with ray tracing, NVIDIA DLSS-accelerated performance, and latency-optimized NVIDIA Reflex gameplay, courtesy of a technical partnership with NVIDIA. For full details, read on.
F.I.S.T.: Forged In Shadow Torch Real-Time Ray Tracing
Along with higher rendering resolutions and higher levels of detail, TiGames has leveraged the power of the PC to bring immersive real-time ray-traced effects to F.I.S.T.: Forged In Shadow Torch.
Set in a neon-filled Dieselpunk city, TiGames has enabled Unreal Engine 4's ray-traced global illumination feature to realistically illuminate characters and the environment with light from signs, street lamps, and other light sources. With global illumination enabled, surfaces are naturally bathed in colored light, enclosed areas are more naturally illuminated, and city backdrops are more vibrant and visually arresting.
Further enhancing the appearance of virtually every scene, is the addition of real-time ray-traced reflections. These of course add realistic, high-fidelity reflections to puddles and other mirror-like surfaces, but beyond that, improve the appearance of pipes, grates and metallic objects that fill the Dieselpunk environs. And in cutscenes, you can appreciate the added reflective detail on Rayton's combat armor and titular fist.
Abilities acquired on your journey enable Rayton to explore underwater areas. To take their appearance to the next level, TiGames has employed ray-traced caustics, adding realistic detail as light is reflected and refracted through water, and as Rayton disturbs it with his movements and attacks.
Together, the three ray-traced effects greatly enhance your exploration of Torch City, and make combat encounters more exciting with added reflections and illumination. Get a look at all this tech in action in our video below:
Accelerate F.I.S.T. Performance By 3X With NVIDIA DLSS
Maxing out F.I.S.T.: Forged In Shadow Torch's graphics and ray-traced effects at 4K requires significant processing power, which is why TiGames have incorporated NVIDIA DLSS. When activated, performance leaps by up to 3X, allowing anyone with a GeForce RTX 3060 Ti, or a faster GPU, to play at over 60 FPS at 4K, with everything maxed out: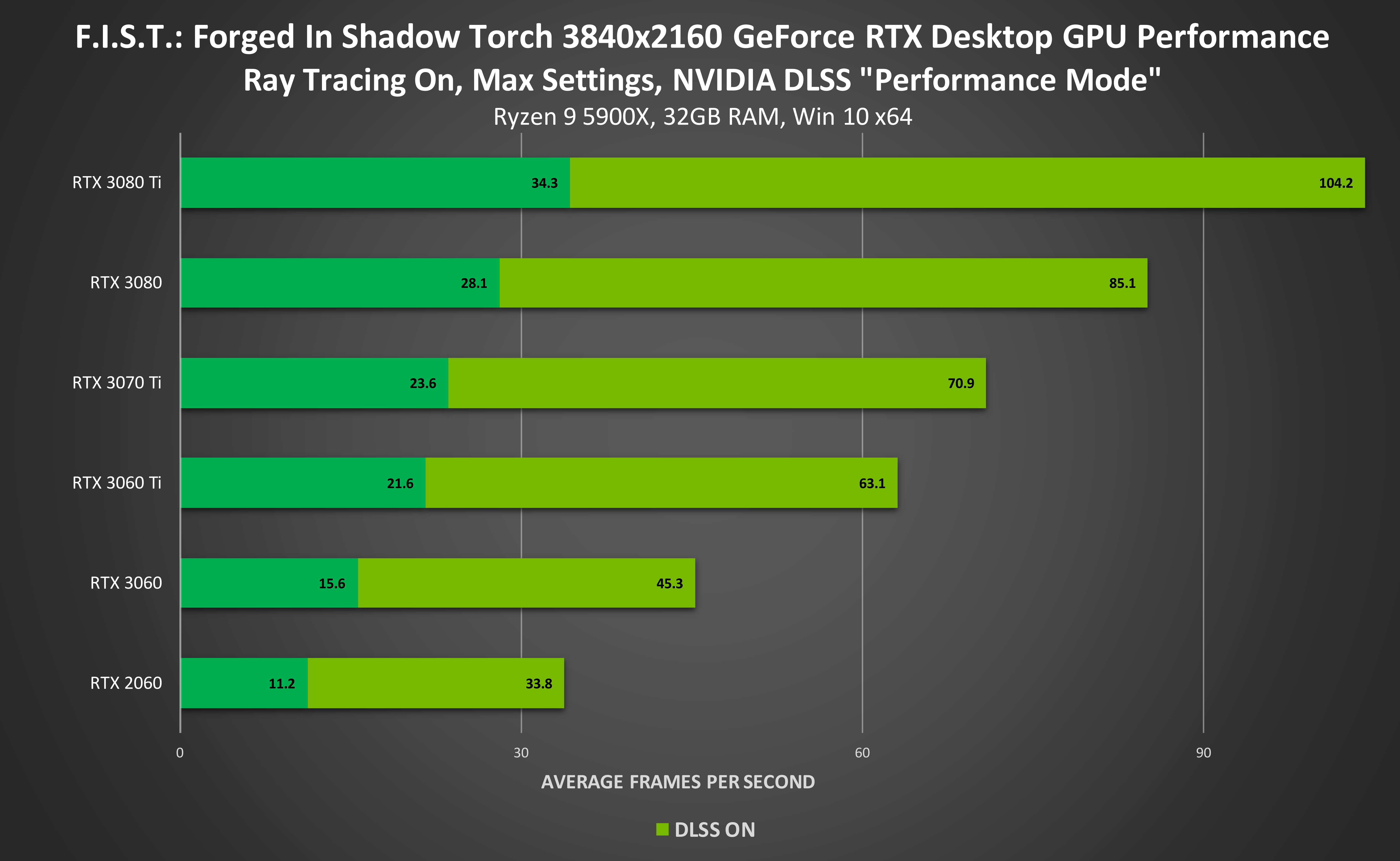 Similarly, NVIDIA DLSS enables GeForce RTX laptop users to experience F.I.S.T.: Forged In Shadow Torch with maxed out settings at fast, fluid frame rates, for ultimate on-the-go gaming: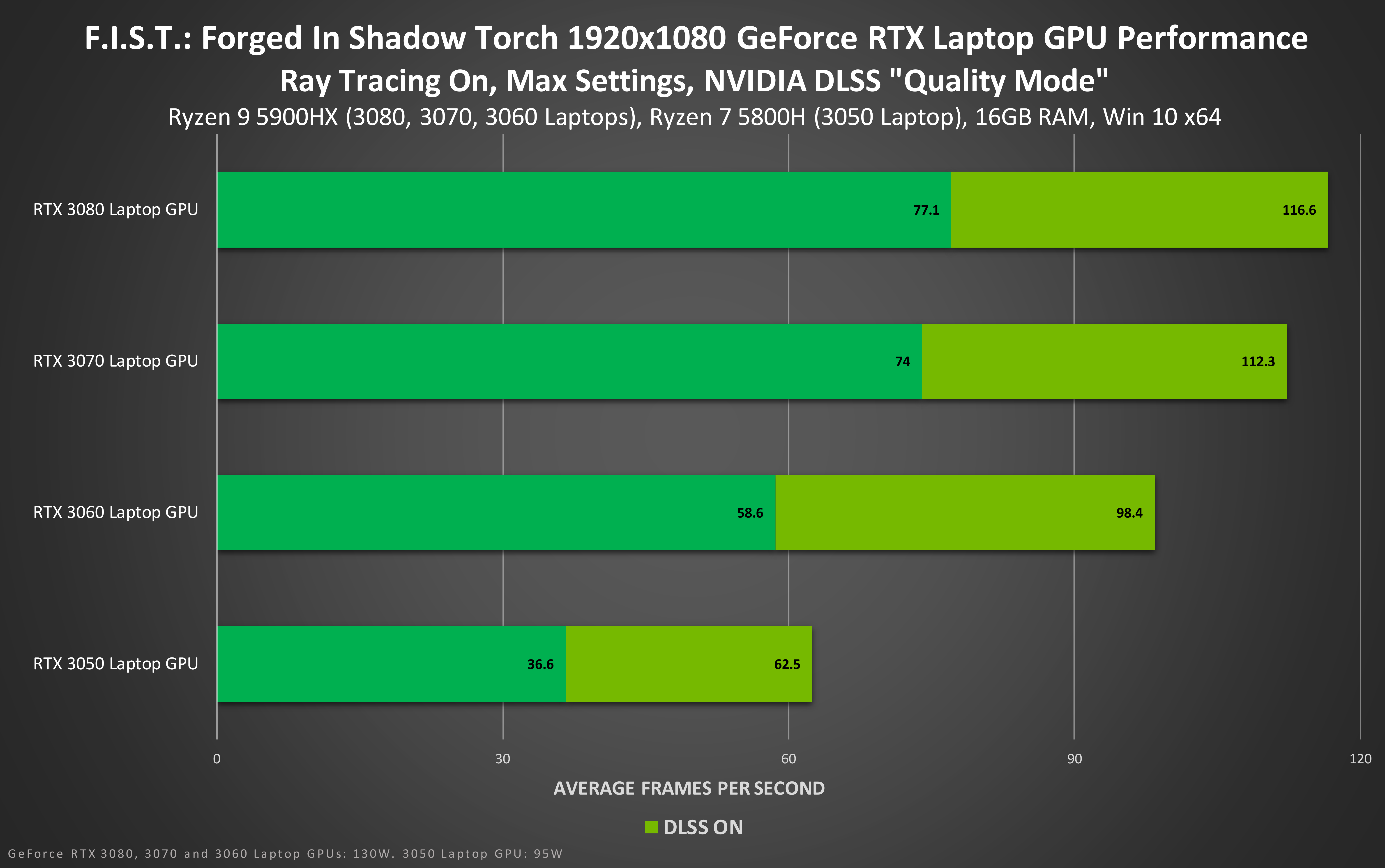 To see NVIDIA DLSS in action, check out our F.I.S.T.: Forged In Shadow Torch NVIDIA DLSS performance video:
Increase F.I.S.T.'s Responsiveness With NVIDIA Reflex
Game controls feel good when they're responsive; you press the button, the action occurs immediately. When they're unresponsive, gameplay feels laggy, timing jumps is harder, and you're more likely to die and become frustrated. With NVIDIA Reflex, we can greatly reduce system latency, one of the main culprits behind unresponsive gameplay.
In F.I.S.T.: Forged In Shadow Torch, TiGames uses this groundbreaking technology to reduce latency by up to 45%: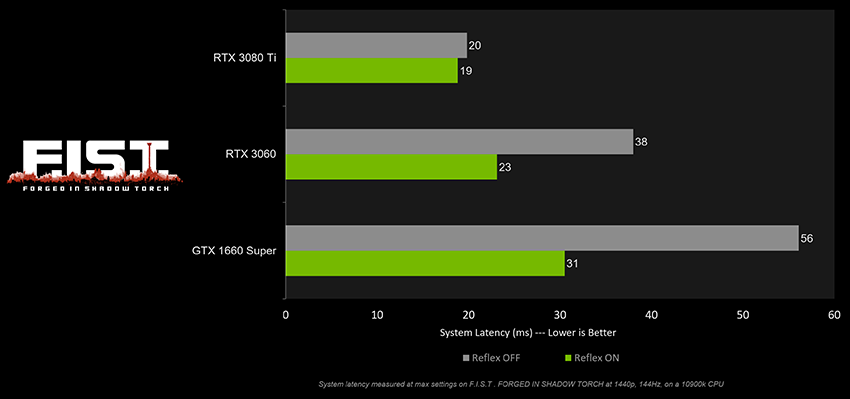 With NVIDIA Reflex enabled, you can pull-off Rayton's dazzling selection of combo-based attacks with ease, make tricky jumps in hazard-filled locations, and explore the world for secrets without fighting the controls.
Get Game Ready For F.I.S.T.: Forged In Shadow Torch With Our Latest Driver
To ensure you receive the best performance and the best experience when playing F.I.S.T.: Forged In Shadow Torch, download and install our newest Game Ready Driver.
And to learn about all the other games leveraging GeForce RTX technology to deliver the definitive gaming experiences, stay tuned to GeForce.com.
In the meantime, head to Steam or the Epic Games Store to grab a copy of F.I.S.T.: Forged In Shadow Torch.