Bright Memory was a well-received short slice of action game excitement, demonstrating how a lone developer could make a polished, high-fidelity game simply using Unreal Engine 4's tools. Today, developer FYQD, assisted by PLAYISM, is launching their much-anticipated sequel, Bright Memory: Infinite.
Set in the year 2036, a strange phenomenon occurs in the skies around the world, so the Supernatural Science Research Organization sends agents to investigate, one being the game's protagonist, Shelia. As Shelia, find the cause of what's happening, and stop it using guns, swords, and abilities in a dazzling action game that on PC is enhanced with five ray-traced effects, performance-accelerating NVIDIA DLSS, and latency-optimizing NVIDIA Reflex.
"We have worked very closely with NVIDIA through the entire process of the game development. As gamers can remember, Bright Memory added ray tracing and NVIDIA DLSS in early 2020, and the Bright Memory: Infinite ray-traced benchmark was released to test next-gen graphics technologies in game. In Bright Memory: Infinite, we made a big upgrade on graphics technologies: on top of DLSS, ray-traced reflections, ray-traced shadows, ray-traced caustics, and ray-traced global illumination, we also added NVIDIA Reflex to help to minimize latency of the game. We are confident these features will give fans the ultimate experience of the game." - FYQD Studio CEO - Xiancheng Zeng
Bright Memory: Infinite Real-Time Ray Tracing
Bright Memory: Infinite is a beautiful game, filled with stunningly-rendered action. On the PC, every setting gets turned up to 11, and if you've got a GeForce RTX graphics card, desktop, or laptop you can leverage our GPU RT Cores to experience the game's five ray-traced effects at Ultra detail levels.
Each enhances the graphics, improving them with natural, realistic properties, for a more refined image that's more immersive. Exemplifying this is NVIDIA ReSTIR Global Illumination, a technique that enables developers to naturally illuminate scenes with bounced lighting at far faster frame rates.
Throughout Bright Memory: Infinite, lamps, light sources, and more fill scenes with realistically bounced colored lighting, aping reality.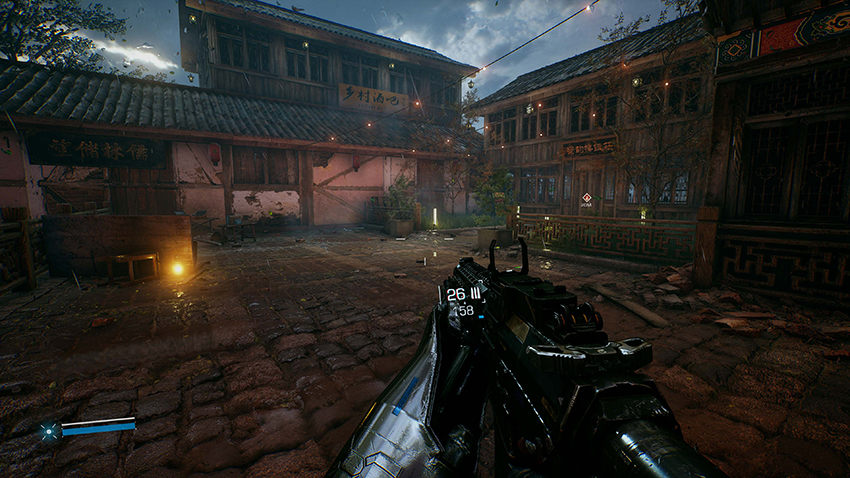 Similarly, Ray-Traced Reflections add naturally occurring reflections to surfaces, weapons, the player's metal gauntlet, enemy armor, puddles, and bodies of water. And reflections rendered via Screen Space techniques are upgraded with ray tracing, for a flawless presentation.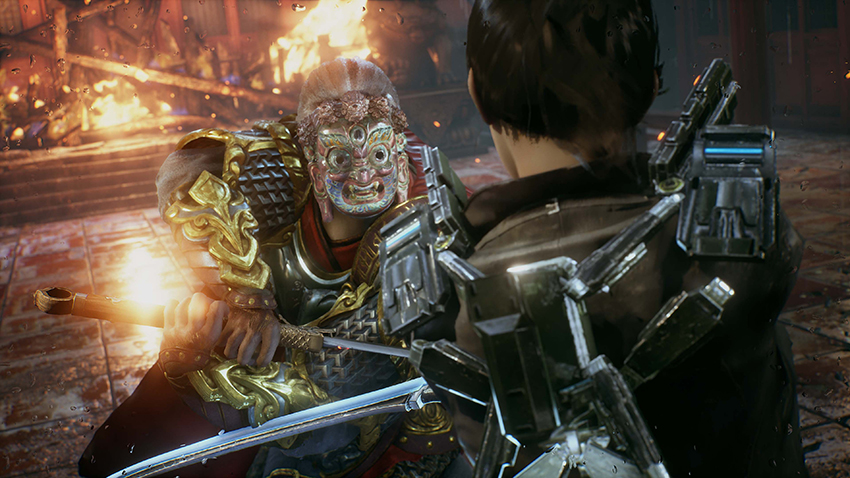 In the detailed environments you explore and fight across, Ray-Traced Ambient Occlusion and Ray-Traced Shadows realistically shadow everything and everyone, to further improve image quality.
And on bodies of water, Ray-Traced Caustics simulate the reflection and refraction of light through water, as an extra visual flourish, as you can see in the trailer below.
Combined, the five ray-traced effects elevate Bright Memory: Infinite's graphics to new heights, creating one of the best-looking shooters ever made.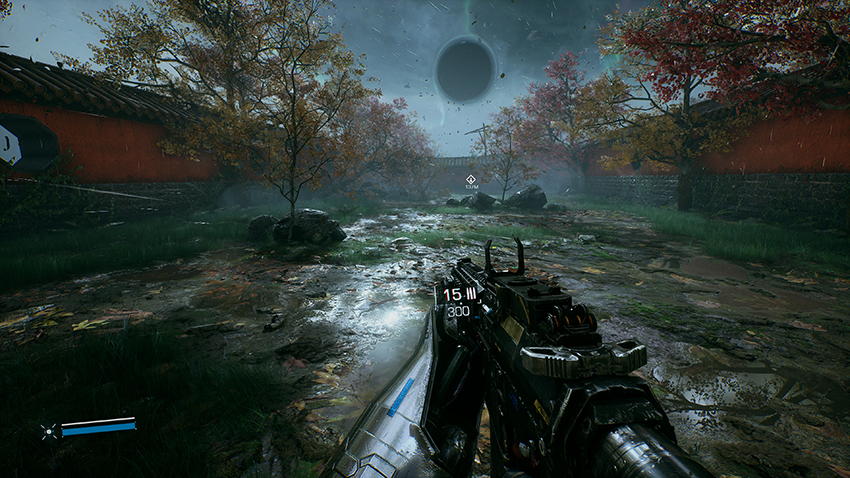 NVIDIA DLSS Boosts Bright Memory: Infinite's Performance By Up To 2.5X
Maxing out Bright Memory: Infinite's graphics and ray-traced effects at higher resolutions requires significant GPU power, which is why the award-winning NVIDIA DLSS is included. When enabled, performance is boosted by up to 2.5X at 4K: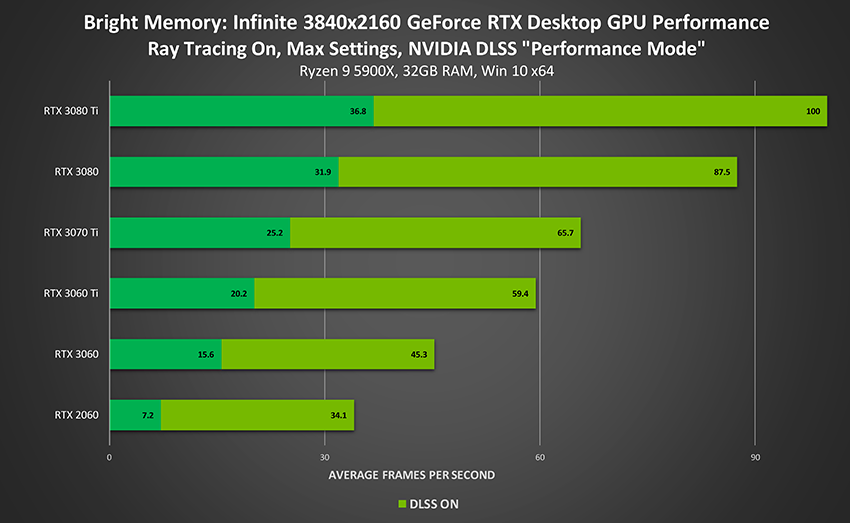 To see NVIDIA DLSS accelerate performance while retaining image quality and clarity, check out our new Bright Memory: Infinite NVIDIA DLSS video:
NVIDIA Reflex Increases Bright Memory: Infinite's Responsiveness
Game controls feel good when they're responsive; you press the button, the action occurs immediately. When they're unresponsive, gameplay feels laggy, gun shots are noticeably delayed, and you're more likely to die and become frustrated. With NVIDIA Reflex, we can greatly reduce system latency, the culprit behind unresponsive gameplay.
In Bright Memory: Infinite, enabling NVIDIA Reflex can improve system latency by up to 49% at 4K on the GeForce RTX 3060: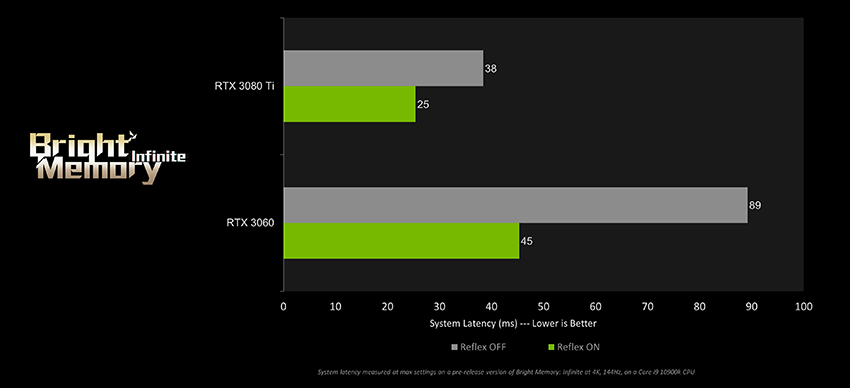 With NVIDIA Reflex enabled, you can dash across the screen to an enemy, parry their attacks with your sword, circle strafe-dash around them, target their weak spot with your heavy weaponry, and blast them to smithereens, all in one smooth, flawless action. To optimize your gameplay, simply switch on NVIDIA Reflex in the options menu.
Play Bright Memory: Infinite On GeForce NOW With RTX ON
If you lack a GeForce RTX desktop or laptop, or are away from your gaming system, you can play RTX-enhanced Bright Memory: Infinite via GeForce NOW, NVIDIA's cloud gaming service. GeForce NOW gives your low-end rig the power to stream Bright Memory: Infinite with ray-traced effects and NVIDIA DLSS.
Keep your progress as you slash through crowds from one device to another, seamlessly, streaming from the cloud. And instantly play your existing PC library from stores like Steam and the Epic Games Store. Head to GeForceNOW.com to learn more about the service, including the new, highest-performance GeForce NOW RTX 3080 membership.
Get Game Ready For Bright Memory: Infinite With Our Latest Driver
To ensure you receive the best performance and the best experience when playing Bright Memory: Infinite, download and install our newest Game Ready Driver.
And to learn about all the other games leveraging GeForce RTX technology to deliver the definitive gaming experiences, stay tuned to GeForce.com.
In the meantime, head to Steam today to grab a copy of the excellent Bright Memory: Infinite.