2018's God of War is one of the best action games ever made, with engrossing characters, an excellent story, a mesmerizing world to explore, and dazzling battles and sequences. On January 14th, the PC edition goes live, featuring enhanced graphics, exclusive PC features, and HDR. And if you play on a GeForce RTX GPU, desktop or laptop, you can enhance God of War with our AI-powered performance accelerating NVIDIA DLSS technology, and the latency-optimizing NVIDIA Reflex, which makes gameplay even more responsive.
Today, Sony Interactive Entertainment and Santa Monica Studio have unveiled a new PC features trailer with new footage and they've shared system requirements so you can get your system ready for God of War on PC.
God of War On PC, Featuring NVIDIA DLSS
NVIDIA DLSS is our groundbreaking AI-powered tech that accelerates performance on GeForce RTX GPUs. Using dedicated GPU Tensor Cores, DLSS taps into the power of a deep learning neural network to boost frame rates and generate beautiful, sharp images in your favorite games.
To date, NVIDIA DLSS has accelerated performance in over 140 games and apps, enabling GeForce RTX players to play with maxed out graphics and high resolutions. And when God of War launches on PC in January, you can use DLSS to boost your frame rate, allowing you to enjoy this amazing game with graphics maxed out.
NVIDIA Reflex Makes God of War On PC More Responsive
God of War is a fast action game with spectacular combos that are key to overcoming the game's most difficult challenges. If your PC's system latency is high, gameplay feels sluggish, and controls unresponsive. Combos are harder to chain, tricky jumps are mistimed, and the experience feels slow.
To ensure God of War is enjoyed on PC, Santa Monica Studio is incorporating NVIDIA Reflex to quickly and easily reduce system latency for GeForce 900 Series GPUs and newer, making gameplay snappy and responsive.
God of War On PC Boasts Enhanced Graphics and Extra Features
God of War on PC boasts numerous graphical and experiential enhancements to make full use of the PC's capabilities.
Graphically, there are higher-resolution shadows, improved screen space reflections, enhanced Ground Truth Ambient Occlusion (GTAO) and Screen Space Directional Occlusion (SSDO) effects, higher detail assets, and higher rendering resolutions, making the God of War world look even more spectacular. Plus, the frame rate is fully uncapped, for a smoother, faster presentation.
You can play in HDR on G-SYNC and G-SYNC ULTIMATE gaming monitors, TVs and displays, and in 21:9 panoramic ultra-widescreen, for the most immersive experience possible.
God of War on PC includes robust controller support and keyboard mapping customization. But if you would prefer playing on a controller, Santa Monica Studio has included support for the PlayStation DUALSHOCK®4 and DUALSENSE® wireless controllers, in addition to a wide range of other gamepads. And there'll be the full range of UI, system options, and other expected settings.
God of War PC System Requirements
Eager to experience God of War at its very best, with all the above enhancements enabled on your PC? Then check out the system requirements and recommendations chart below, and update your PC accordingly: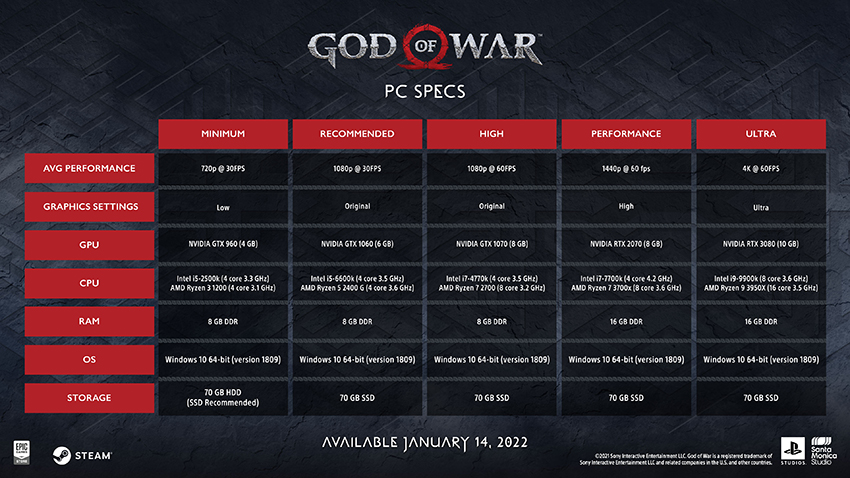 God of War Launches On PC January 14, 2022
We can't wait for gamers to try God of War on PC, and we're excited to collaborate with Sony Interactive Entertainment and Santa Monica Studio to bring GeForce RTX gamers the definitive PC experience, enhanced with NVIDIA DLSS and NVIDIA Reflex.
When you purchase the game on PC, you will get the following extra content:
Death's Vow Armor Sets for Kratos and Atreus

Exile's Guardian Shield Skin

Buckler of the Forge Shield Skin

Shining Elven Soul Shield Skin

Dökkenshieldr Shield Skin
You can pre-purchase God of War for PC now on Steam and the Epic Games Store.
Head back to GeForce.com shortly before God of War PC's January 14, 2022 launch date for further information on the PC edition, plus our NVIDIA DLSS and NVIDIA Reflex performance charts.
©2021 Sony Interactive Entertainment LLC. God of War is a trademark of Sony Interactive Entertainment LLC. "PlayStation Family Mark", "PlayStation", and "PlayStation Studios logo" are registered trademarks or trademarks of Sony Interactive Entertainment Inc.