Each month we're working with developers to bring NVIDIA DLSS and other technologies to the latest and greatest games, and this month's no different, with DLSS coming to Nioh 2 - The Complete Edition and Mount & Blade II: Bannerlord.
Only GeForce RTX GPUs feature Tensor Cores, dedicated AI processors that power revolutionary technologies such as NVIDIA DLSS, which greatly accelerates frame rates. With faster performance you can enjoy smoother gameplay, or reinvest those frames in higher detail levels, higher rendering resolutions, and higher ray tracing settings, giving you the most immersive experience possible.
Nioh 2 - The Complete Edition Adds NVIDIA DLSS
Nioh 2, Koei Tecmo's popular masocore action RPG, recently launched on the PC as Nioh 2 - The Complete Edition. The beautifully crafted, challenging game received excellent reviews on console, and on PC everything's enhanced and all DLC is included.
With a new update available now, you can enjoy Nioh 2 at 4K with maxed out settings at even faster frame rates thanks to the addition of NVIDIA DLSS.
In the most performance-intensive moments of the game, NVIDIA DLSS can accelerate frame rates by up to 58%, enabling all GeForce RTX gamers to enjoy Nioh 2 at over 60 FPS at all times. And during less intensive moments, NVIDIA DLSS will enable you to play at 120 FPS, Nioh 2's max frame rate, for the smoothest, most responsive, most enjoyable experience possible.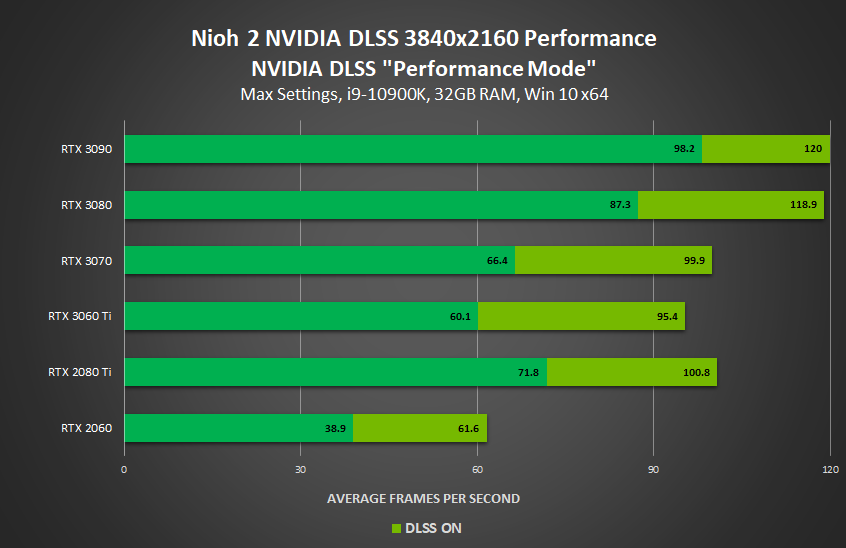 Mount & Blade II: Bannerlord Available Now with NVIDIA DLSS
Mount & Blade II: Bannerlord added NVIDIA DLSS support this month, accelerating performance by up to 50% at 4K, allowing gamers to hit 60+ FPS across all GeForce RTX GPUs.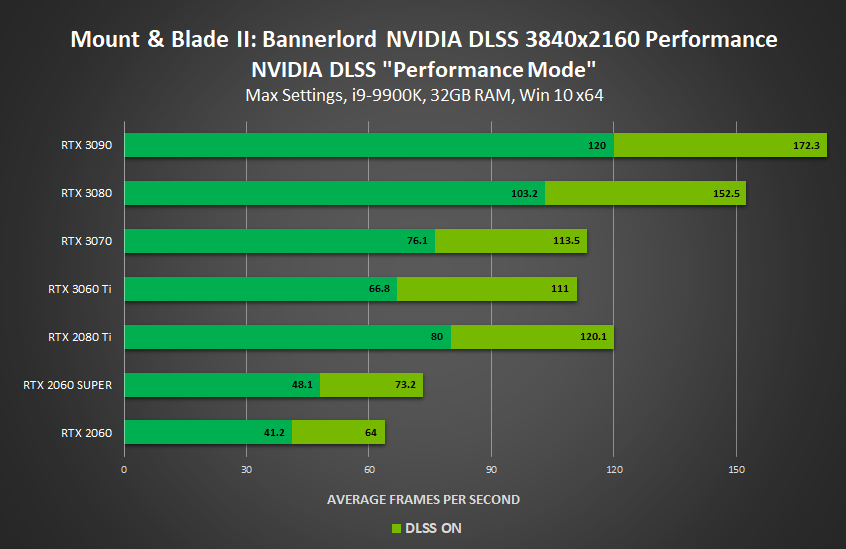 To demonstrate how NVIDIA DLSS makes gameplay faster, smoother and more enjoyable in the action-packed title, check out our new Mount & Blade II: Bannerlord DLSS video:
NVIDIA DLSS Unreal Engine 4 Marketplace Plugin
Unreal Engine 4 is the gaming industry's most used engine, powering hundreds of titles and thousands of indie projects. The tools are simple enough that virtually anyone can make something cool, there are free examples and assets to use, and the documentation is extensive. Unreal Engine is also supported with a massive catalogue of plugins that bring new capabilities to the engine, making development even easier.
To bring DLSS to more games and gamers, we have recently released NVIDIA DLSS as a free plugin via the Unreal Engine marketplace. Once enabled, your players can enjoy great scaling across all GeForce RTX GPUs and resolutions, including the new ultra performance mode for 8K gaming.
For further documentation, new upcoming versions of DLSS, and direct contact with NVIDIA, please join the free NVIDIA DLSS Developer Access Program, and maybe one day we'll see your name in lights on our site.
NVIDIA DLSS Arrives For Creative Apps
DLSS's ability to boost FPS comes in handy for more than just video games. In fact, over a dozen content creation app developers have integrated DLSS to accelerate their creative workflows. 1 World, D5 Render, Goodbye Kansas Studios, Hyundai Motors, Lucasfilm's Industrial Light & Magic (ILM), Orca Studios, and Surreal Film Productions are all using DLSS in apps for architecture, virtual production, product design, and more, to improve productivity.
Learn more in our dedicated article.
As Always, There's More To Come
With today's addition of Nioh 2 - The Complete Edition and Mount & Blade II: Bannerlord, there are nearly 40 titles with NVIDIA DLSS available to play. Plus many more games with ray tracing and NVIDIA Reflex. And of course, there are many more waiting in the wings to be announced and released in the coming weeks and months.
For details, stay tuned to GeForce.com.