NVIDIA Reflex is already improving responsiveness in over a dozen games, including 7 of the top 10 competitive shooters. Today, we're announcing the launch of NVIDIA Reflex in Overwatch, plus the addition of Reflex in Rust and GhostRunner.
NVIDIA Reflex will instantly reduce system latency in each game in GPU bound scenarios, enabling you to see enemies sooner, your shots to fire faster after clicking the mouse, and your shots to have a higher chance of hitting the target.
This month also sees the introduction of a new NVIDIA Reflex optimization in Fortnite and Valorant, which further reduces system latency in CPU bound scenarios, along with the addition of new features to GeForce Experience for the Reflex Latency Analyzer, and the launch of new mice and a new 360Hz monitor that are compatible with the Reflex Latency Analyzer.
For all the details, keep reading.
Overwatch: NVIDIA Reflex Available Now
NVIDIA Reflex support has moved from public test region to the live version of Overwatch, reducing system latency by up to 50%.

"NVIDIA Reflex is a game-changer with up to 50% less system latency." – John Lafleur, Overwatch Technical Director
Get the full lowdown on Overwatch's NVIDIA Reflex integration in our dedicated article, and check out the tech in action in our new slow-mo video below:
NVIDIA Reflex Coming To Rust
Facepunch Studios' phenomenally successful Rust attracts ever more gamers to its high-stakes servers month after month, where everything and everyone is a threat to your survival. Sleep with one eye open, because a raid can occur at any time, and keep your head on a swivel when exploring, resource harvesting, and stalking enemy players.
With just a few hits being deadly, you want the fastest possible response times, your shots to land on the target, and your actions to occur that bit quicker than the enemy's. Enter NVIDIA Reflex, which is coming soon to Rust for all gamers with a GeForce GTX 900 Series or newer GPU.
"I'm excited to have NVIDIA Reflex integrated into Rust. In Rust everyone wants you dead, reduced latency with Reflex will make sure you're staying ahead of the competition. It's as simple as enabling Reflex through the options menu." - Helk, Rust's Project Lead, Designer & Programmer
Ghostrunner To Introduce NVIDIA Reflex
One More Level's Ghostrunner is a unique high-stakes first-person single-player game where one hit leads to death. Navigate high-fidelity ray-traced worlds, accelerated by NVIDIA DLSS, and tackle combat arenas with nothing more than your sword, your wits, and some special abilities. As you play, you'll soon find yourself gracefully dashing and sliding, deflecting bullets with well-timed sword slashes, and speed running like a pro.
To further improve your reactions and the fluidity of the gameplay, Ghostrunner is adding NVIDIA Reflex in the near future.
Fortnite and Valorant NVIDIA Reflex Boost Mode Gets An Upgrade
We're constantly updating and improving our tech through the launch of new Game Ready Drivers, new software development kits, and other advancements. Today it's NVIDIA Reflex's turn to be enhanced, with the release of a new enhancement for "Boost Mode".
Each NVIDIA Reflex game includes "On" and "Boost Mode", which players can opt to enable. Boost Mode increases GPU clock speeds in CPU-bound scenarios, allowing the GPU to submit frames to the display faster, thereby improving Reflex's effectiveness.
With a new NVIDIA Reflex SDK update, Boost Mode further reduces system latency in certain CPU-bound scenarios where the render submission thread is the limiting factor. These types of CPU bound scenarios can occur when there are many objects to render on the screen at once.
Boost optimization is now available in Fortnite, and gamers in these CPU bound situations can see up to a 16% latency reduction. Valorant's Boost optimization will be coming in a future patch. Based on pre-release testing, gamers could see up to a 15% lower latency in these CPU-bound scenarios:
ASUS and Corsair Launch New Reflex Latency Analyzer-Compatible Mice
To help competitive gamers measure and optimize end to end system latency, we created the NVIDIA Reflex Latency Analyzer. Using hardware and software built into mice and monitors, input lag can now easily be measured, allowing you to optimize your setup for the lowest possible system latency.
Already, there are a number of mice that support this technology, and now ASUS and Corsair have launched four new Reflex Latency Analyzer-compatible mice:
ASUS ROG KERIS WIRED

ASUS ROG KERIS WIRELESS

CORSAIR SABRE PRO CHAMPION SERIES

CORSAIR SABRE RGB PRO CHAMPION SERIES
Additionally, several previously announced mice now have firmware updates available to enable Reflex Latency Analyzer:
AOPEN Fire Legend GM310

Acer Predator Cestus 350

Razer Deathadder v2 Pro
Once your mouse firmware has been updated, per click latency metrics will be available with Reflex Latency Analyzer.
Acer Predator X25 360Hz Esports Monitor with Reflex Latency Analyzer Now Available
360Hz esports-class gaming monitors help you achieve the fastest response times, reduce latency, and give you the clearest gaming possible thanks to the hyper speed refresh rates. Which is why professional gamers and enthusiasts use them.
These monitors also feature the NVIDIA Reflex Latency Analyzer, helping pros measure and optimize their system's latency.
The newest monitor to hit store shelves in North America, Japan, Thailand and China with this tech is the Acer Predator X25, a 24.5", 1920x1080, 360Hz G-SYNC, Reflex Latency Analyzer-equipped esports gaming monitor. To learn more about this new super speed monitor, head on over to Acer's site.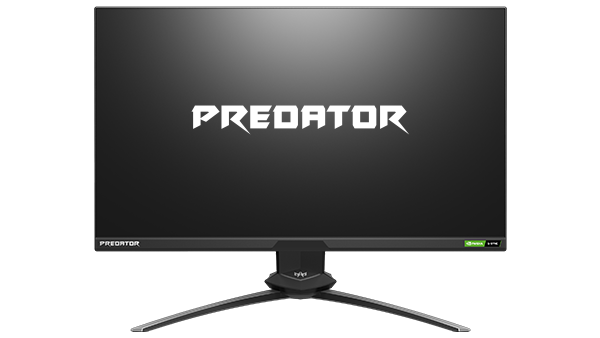 New Reflex Latency Analyzer Features Available Now In GeForce Experience
We've been listening to the community's feedback on Reflex Latency Analyzer and have implemented a number of features to make measuring latency easier and more precise. To access these new features, boot up GeForce Experience to grab an update and enable the "experimental features" option in the settings menu.
First, you can now log all your performance monitoring data to a CSV file - including frame rates as well as latency stats from Reflex Latency Analyzer. Second, Reflex Latency Analyzer users can now choose how many samples they would like to average and reset those averages on demand. Simply bind your preferred key in the settings menu.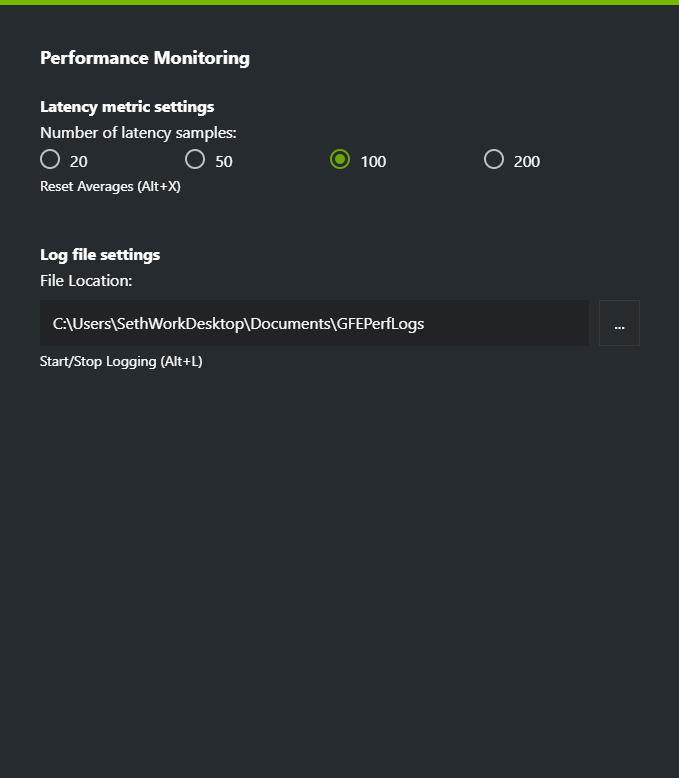 Finally, we have added GPU Utilization to the latency metrics set to help easily identify when you are CPU or GPU bound. In general, if your GPU Utilization is above 96%, you are GPU bound.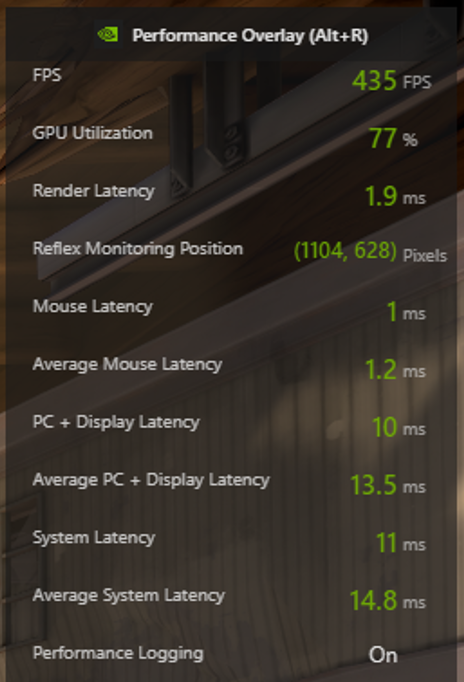 To get started, press [Alt+Z] -> Settings -> "Performance Monitoring Settings" to bind keys and change settings.
Stay Tuned For More Reflex and GeForce Updates
We've got more NVIDIA Reflex announcements in the pipeline, and more games coming with ray tracing and NVIDIA DLSS as well. To be the first to learn about them, bookmark GeForce.com and follow our social media accounts on your platform of choice.