Rainbow Six Siege is one of the most popular competitive shooters around, with over 70 million players. In March, we reduced system latency in Rainbow Six Siege with NVIDIA Reflex, and now we're accelerating performance by up to 50% at 4K, enabling all GeForce RTX GPUs to game at 100+ FPS at 4K with the launch of NVIDIA DLSS. Available as part of the new North Star update, Rainbow Six Siege players with GeForce RTX graphics cards and laptops can enable DLSS with just a few clicks in Options --> Graphics, instantly enhancing their experience.
If you're unfamiliar with NVIDIA DLSS (Deep Learning Super Sampling), it's a groundbreaking AI rendering technology that increases graphics performance using dedicated Tensor Core AI processors on GeForce RTX GPUs. In Rainbow Six Siege, it gives you even faster performance, and the headroom to turn up detail levels and rendering resolutions:
"In Rainbow Six Siege, split-second reactions can be the difference between winning and losing. NVIDIA DLSS ensures that you've got maximum performance and image quality so you've always got victory in your sights." - Anthony De Rochefort, 3D Programmer, Ubisoft
NVIDIA DLSS is supported in the Vulkan version of Rainbow Six Siege and boosts performance by up to 50% at 4K, enabling all GeForce RTX GPUs to game at 100+ FPS at 4K with every setting maxed out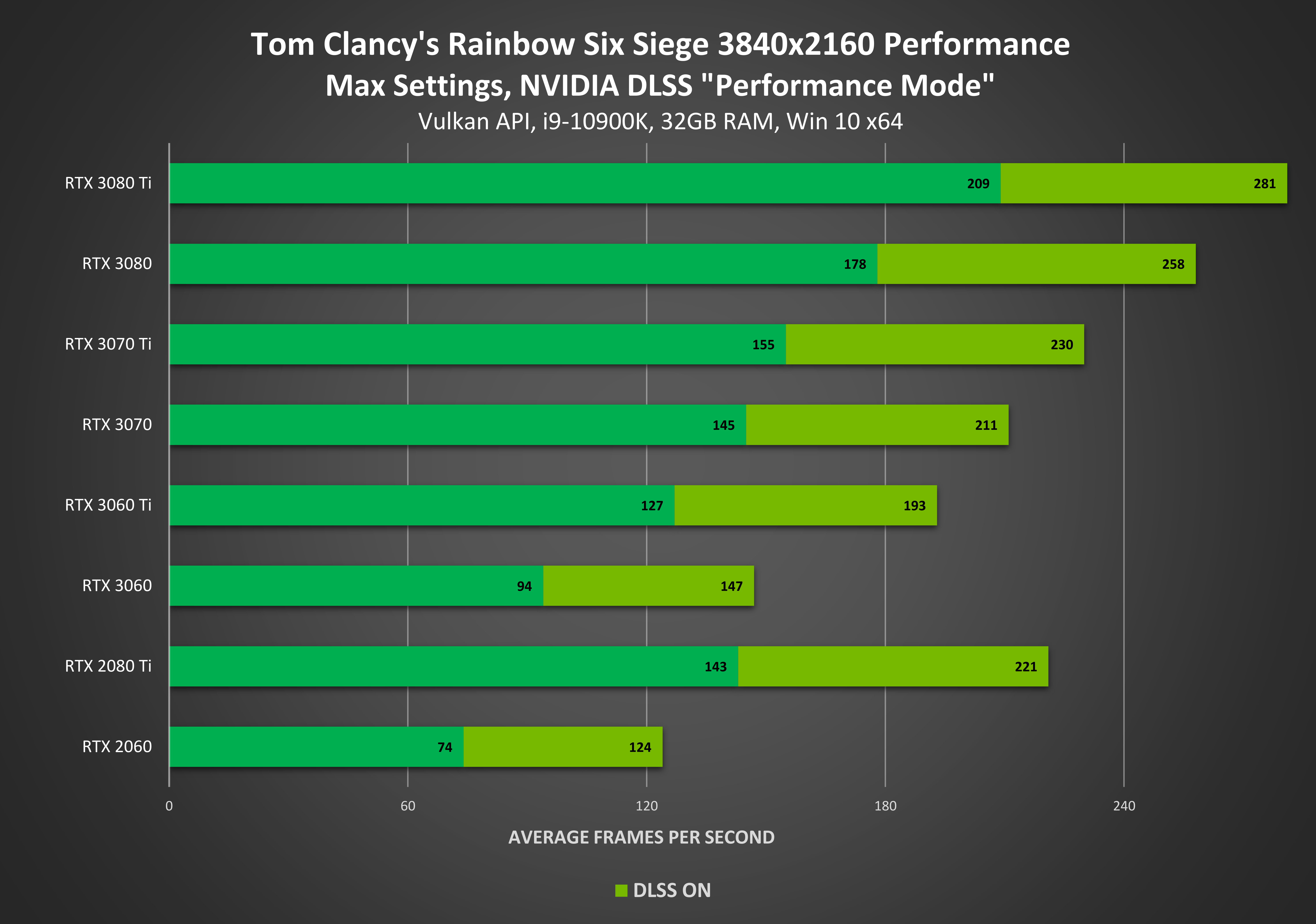 Here's how you enable NVIDIA DLSS in Rainbow Six Siege:
Download and install our latest Game Ready Driver from our website, or via GeForce Experience
Download the North Star Rainbow Six Siege update from the Ubisoft Connect client

Load the game, go to Options --> Graphics, and enable NVIDIA DLSS

Select the NVIDIA DLSS quality level. Quality Mode is recommended for 1920x1080 and 2560x1440, and Performance Mode for 3840x2160. If your resolution differs from the examples, pick the closest setting
While you're in the options menu, you can also enable NVIDIA Reflex, if it isn't already activated. NVIDIA Reflex reduces latency while maintaining FPS, so whenever it's available it's always beneficial to enable, giving you a more responsive experience that'll make you more competitive online. Lower latency reduces the delay between a mouse click and a weapon firing in-game, reduces peeker's advantage, and increases your chance at victory.
With the availability of both NVIDIA DLSS and NVIDIA Reflex in Rainbow Six Siege, players with GeForce RTX GPUs can get the best experience possible, with faster performance and optimized system latency.
To learn about all the other games that have recently added NVIDIA DLSS, NVIDIA Reflex, and ray tracing, head to GeForce.com.