Back in June, the Naraka: Bladepoint open beta was one of Steam's top 10 most played games. Today, the battle royale launches worldwide, and on GeForce desktops and laptops it's enhanced with NVIDIA DLSS and NVIDIA Reflex, for the definitive experience.
"The cooperation between NetEase and NVIDIA on the "Naraka: Bladepoint" project has been very successful. NVIDIA DLSS and Reflex technologies have significantly helped improve the quality and performance of the game. I am very happy to see "Naraka: Bladepoint" become the first Unity DLSS game in China!" - Long Cheng- CTO of NetEase Thunder Fire Studio
But let's recap in case you missed the beta - Naraka: Bladepoint is a 60-person fantasy battle royale, with a mix of melee and ranged combat, built around a grappling hook gadget that enables unprecedented verticality, ambushes, and fresh thinking that brings a new dimension to the BR genre.
Entering the arena with a GeForce RTX GPU in your arsenal will power up your gameplay with NVIDIA DLSS, our critically acclaimed performance accelerating technology. Using AI, deep learning, and the Tensor Cores found exclusively on GeForce RTX graphics cards and laptops, you'll boost performance by up to 60%.
When gameplay's accelerated by NVIDIA DLSS, you'll receive the fastest experience possible, and with the resolution cranked and settings maxed out, you'll have the best possible chance of seeing lurking enemies, incoming arrows, and other gameplay details that'll offer a leg up on the competition.
To make you even more competitive, Naraka: Bladepoint also includes support for NVIDIA Reflex, on all GeForce RTX, and GTX 900 Series and newer GPUs, which reduces system latency by up to 28%. Acquire targets faster, react quicker, and increase aim precision simply by enabling NVIDIA Reflex in a game's settings, and you'll instantly improve your chances of coming out on top online.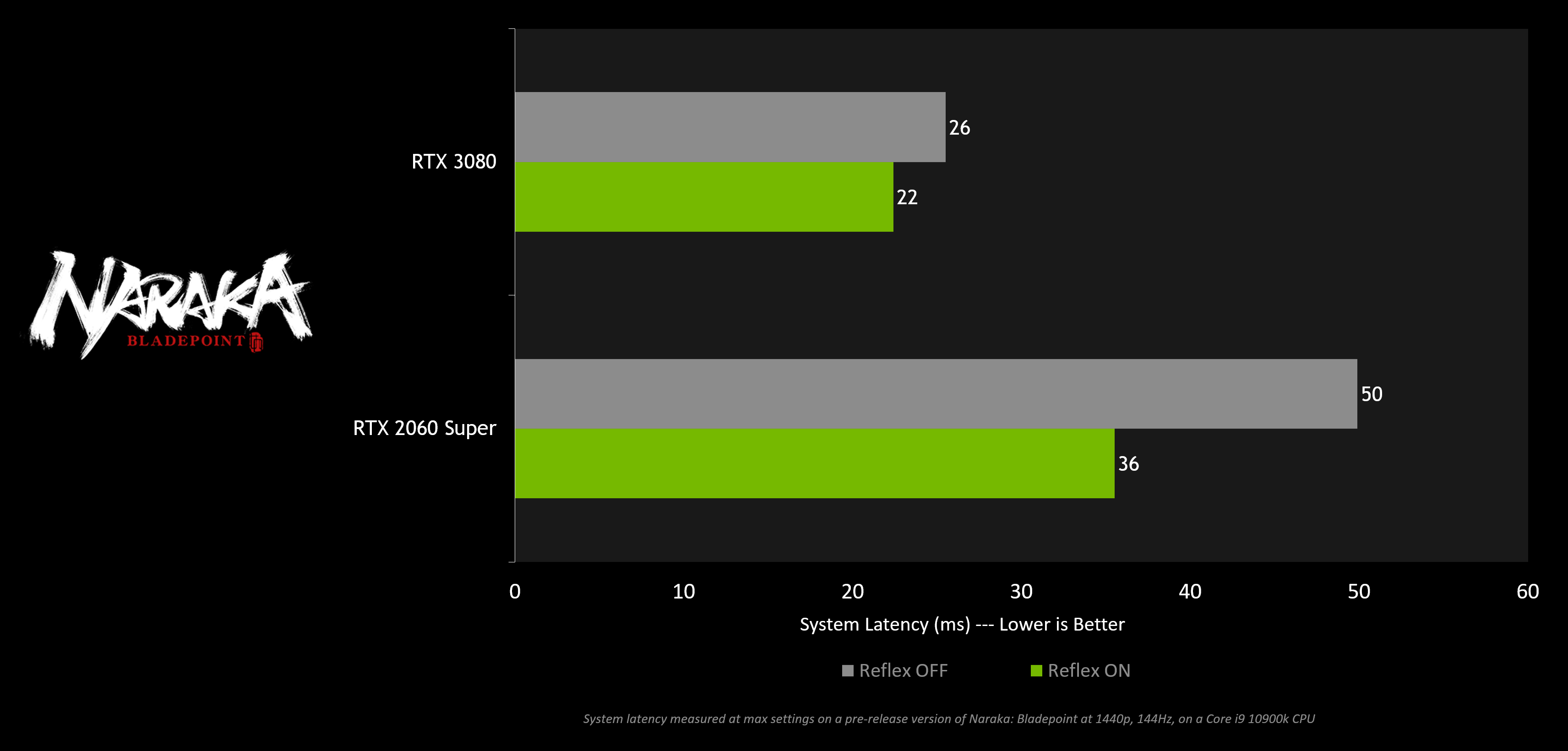 To enable NVIDIA DLSS and NVIDIA Reflex in Naraka: Bladepoint, simply download and install our latest Game Ready Driver, and activate the options in Game Settings -> Video Settings -> DLSS, Reflex. With both enabled, you'll maximize performance and the likelihood of winning against the competition.
To see which titles are adding NVIDIA DLSS, NVIDIA Reflex, ray tracing, and other game-changing NVIDIA technologies, stay tuned to GeForce.com. There are over 70 to date, with plenty more to come this year.