Portal with RTX is launching December 8th, bringing full ray tracing and DLSS 3 to one of the best video games of all time. Wishlist on Steam now.
Free for all Portal owners, Portal with RTX reimagines Valve's 2007 classic using today's cutting edge technology. Full ray tracing illuminates, shades and shadows each test chamber with unparalleled quality. Remade hi-res textures and models react realistically to ray tracing. DLSS 2 enables GeForce RTX 30 series owners to play Portal with RTX in full ray tracing. And NVIDIA DLSS 3 delivers a 2.8x increase to frame rates, giving GeForce RTX 40 series gamers the performance to play Portal with RTX at 4K.
Here's a quick new look at DLSS 3 performance in Portal with RTX:
For a complete rundown of the incredible tech bringing Portal with RTX to life, head to our Portal with RTX announcement article. It talks you through the new RTX features and GeForce RTX 40 Series technologies that are leveraged, explains how our developers built Portal with RTX using RTX Remix, and much more.
NVIDIA will continue work to support the Portal with RTX DLC on GeForce NOW, look for a GFN Thursday update in the weeks ahead.
Portal with RTX System Requirements
Portal with RTX's full ray tracing is incredibly demanding, stressing graphics cards to their limits. But with the help of DLSS 2, owners of the GeForce RTX 3060 will be able to achieve playable frames at 1080p at High settings. For a 60 FPS+ 1080p, High settings experience, we recommend the GeForce RTX 3080, accelerated by DLSS 2.
And to enjoy the ultimate Portal with RTX experience at 4K, with Ultra settings, at over 60 FPS, we recommend the GeForce RTX 4080 with the amazing DLSS 3 enabled.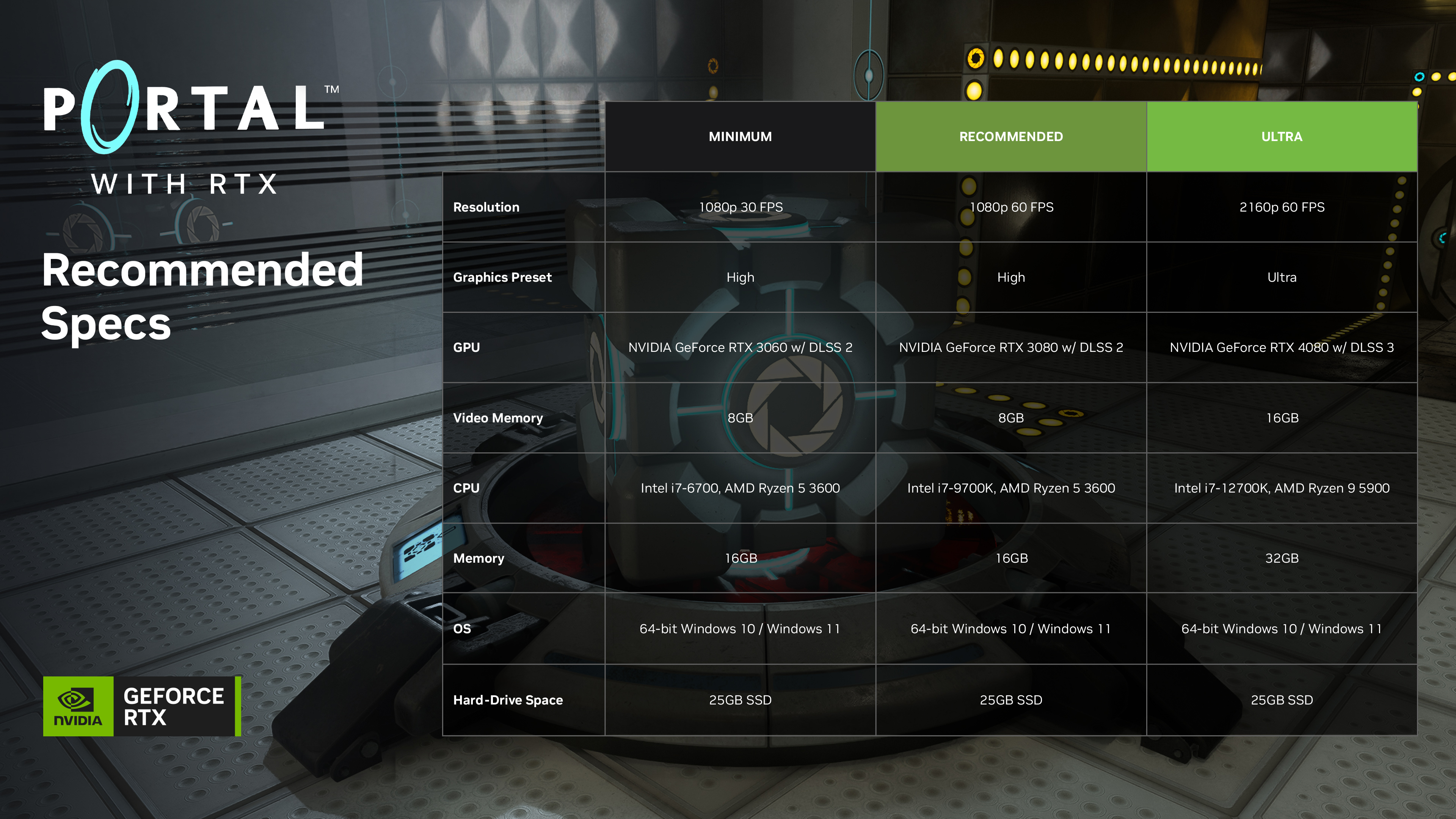 Portal with RTX Launch Party: Everyone's Invited!
To celebrate Portal with RTX's December 8th launch, the entire community is invited to our launch party. Join us live on Twitch and Steam, December 6th, 10am PST for a behind-the-scenes look at the making of Portal with RTX, new gameplay reveals, giveaways of Portal game codes, and a chance to win a GeForce RTX 4090!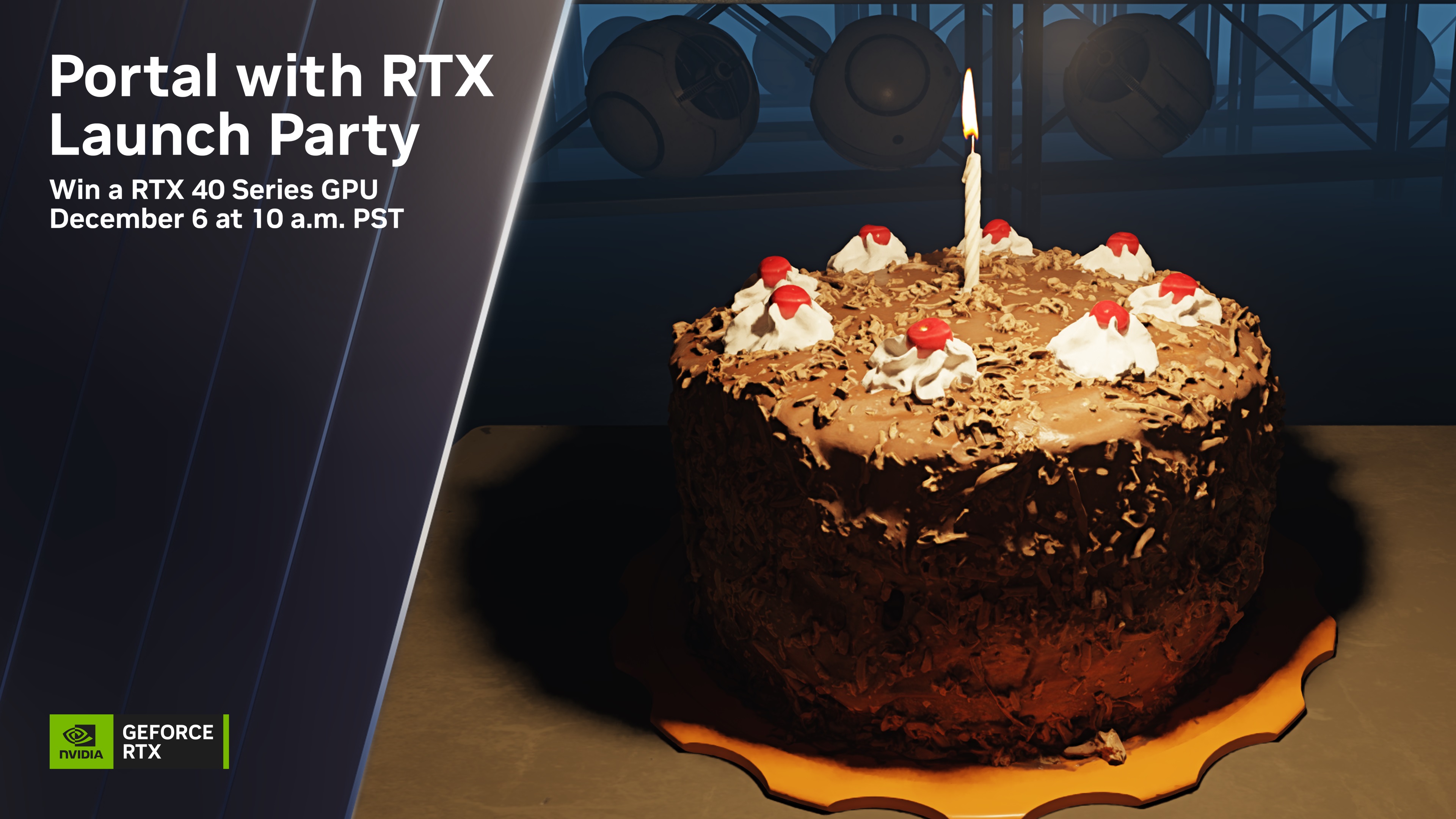 Ahead of the party, you can enter our Portal with RTX giveaway for a chance to win one of two GeForce RTX 4080 Founders Edition graphics cards. Simply:
Follow us on social media (Twitter, Instagram and Facebook) at @NVIDIAGeForce

a. Look out for prompts in our posts to share your favorite Portal memories

Wishlist the free Portal with RTX DLC and share a screenshot of the title in your Steam Wishlist on Twitter, Facebook or Instagram, using #PortalRTX
See the full terms and conditions here.
Portal with RTX Available December 8th
Portal with RTX leverages the capabilities of our new, beyond fast GeForce RTX 40 Series graphics cards to reimagine Valve's classic game with unbelievable detail, realism and immersion.
Upgrade your system with the GeForce RTX 4090 or GeForce RTX 4080 to experience Portal with RTX at its very best, at over 60 FPS at 4K, with settings maxed out.
And while you await Portal with RTX's release, be sure to check out the latest games that have added DLSS and RTX technologies, giving all GeForce RTX users faster performance and even better experiences.