NVIDIA DLSS accelerates performance with uncompromised image quality in over 150 games, and now the game-changing technology is coming to Martha Is Dead, Phantasy Star Online 2 New Genesis, SCP: Pandemic, Shadow Warrior 3, and Sifu, giving GeForce RTX gamers the definitive experience in each title.
Read on to discover how the AI-powered NVIDIA DLSS is boosting frame rates in the latest games.
Dying Light 2 Stay Human Now Available with Ray Tracing & DLSS
Dying Light 2 Stay Human is one of Steam's most played games, and those with GeForce RTX GPUs exploring its massive world since launch on February 4th have enjoyed beautiful ray-traced effects, and DLSS-accelerated performance.
Get a full breakdown of its advanced tech in our Dying Light 2 Stay Human article.
Shadow Warrior 3 Launching With NVIDIA DLSS On March 1st
Fallen corporate shogun Lo Wang and his former employer, turned nemesis, turned sidekick, Orochi Zilla, embark on an improbable mission to recapture an ancient dragon they unwillingly unleashed from its eternal prison. Armed with a punishing mix of blades and bullets, Lo Wang must traverse uncharted parts of the world to track down the dark beast and push the apocalypse back yet again. All it will take is the mask of a dead god, a dragon's egg, a touch of magic, and enough firepower to hold off the impending cataclysm.
When Devolver Digital and Flying Wild Hog's Shadow Warrior 3 arrives March 1st, gamers can enjoy the franchise's ludicrous first-person action with NVIDIA DLSS, accelerating the game's fantastic visuals to even-faster speeds. Stay tuned for more.
Sifu Available Now With NVIDIA DLSS
Sifu is the story of a young Kung Fu student on a path of revenge, hunting for the murderers of his family. One against all, he has no allies, and countless enemies. He has to rely on his unique mastery of Kung Fu as well as a mysterious pendant to prevail, and preserve his family's legacy.
The hunt for your enemies will take you through the hidden corners of the city, from the gang-ridden suburbs to the cold hallways of the corporate towers. You have got one day, and countless enemies on your way. For every mistake, time will be the price to pay.
Careful positioning and clever use of the environment to your advantage are key to your survival. Use everything at your disposal: throwable objects, makeshift weapons, windows and ledges... The odds are stacked against you, and you will be offered no mercy.
The critically acclaimed game is available now, and on PC is enhanced with NVIDIA DLSS, boosting performance by up to 45%, enabling all GeForce RTX users to play at over 100 FPS at 4K, with every setting maxed out, for the definitive experience: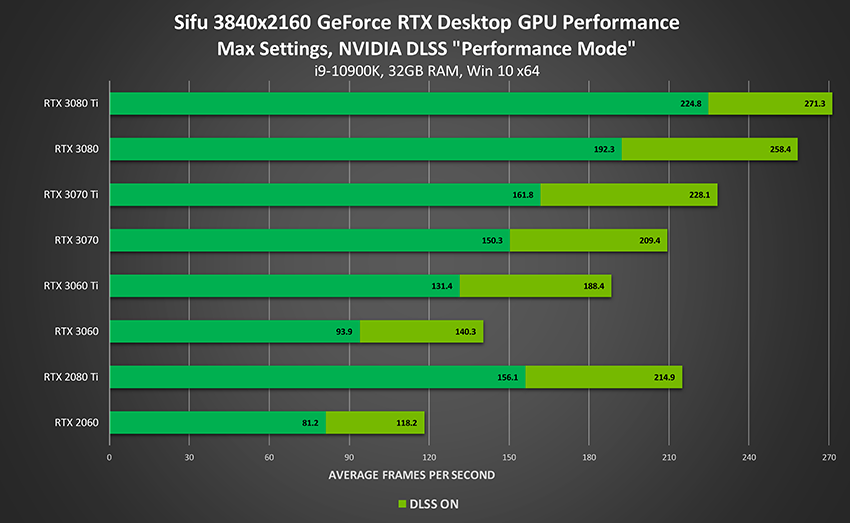 See DLSS in action for yourself in our exclusive Sifu NVIDIA DLSS video:
Phantasy Star Online 2 New Genesis Now Available with NVIDIA DLSS
Phantasy Star Online 2 New Genesis is an online action RPG game by SEGA. Set 1,000 years after the events of Phantasy Star Online 2, PSO2NGS takes place on Halpha, a planet on which players are locked in a battle for dominance against the mysterious DOLLS. It features new and improved action combat and character customization, allowing for more flexibility and expression than ever before. Players can join forces with other operatives to experience unforgettable battles and boss fights in brand new locales, with an emphasis on flowing, flashy mobility to conquer and explore sprawling open environments.
A few days ago, Phantasy Star Online 2 New Genesis received a new update that included support for NVIDIA DLSS, accelerating performance by up to 45% when graphics and rendering resolutions are maxed out, enabling GeForce RTX 3060 and above users to play at over 60 FPS at 4K. See it in action in our DLSS comparison video.
SCP: Pandemic Out February 22 With NVIDIA DLSS
Affray Interactive's upcoming Early Access game uses the lore of the SCP Foundation collaborative writing project to set the stage for their hardcore multiplayer first-person shooter. On one side, the SCP Foundation is trying to end all human life, and on the other, a crack squad of military operators attempting to stop them against all odds.
Activating NVIDIA DLSS in SCP: Pandemic sends frame rates to the stratosphere, jumping by up to 90% at 4K, enabling all GeForce RTX gamers to play at over 100 FPS:
Martha Is Dead Available February 24 With NVIDIA DLSS & Ray Tracing
Martha Is Dead is a dark first-person psychological thriller, set in 1944 Italy, that blurs the lines between reality, superstition and the tragedy of war. As conflict intensifies between German and Allied forces, the desecrated body of the titular Martha is found drowned. Her twin sister Giulia, the young daughter of a German soldier, must alone deal with the acute trauma of loss and the fallout from her murder.
Developer LKA has leveraged Unreal Engine 4's extensive suite of plugins to effortlessly bring NVIDIA DLSS, ray-traced shadows, and ray-traced reflections to Martha Is Dead, giving GeForce RTX gamers a more realistic, immersive experience that runs at a smooth framerate.
Supraland Six Inches Under Available Now With NVIDIA DLSS
Supraland is one of Steam's highest rated titles - it's a unique mix of Portal, Zelda and Metroid, giving players a massive environment to traverse, fight and puzzle through, wrapped up in charming graphics and fantastic gameplay. Now, developer Supra Games has released Supraland Six Inches Under, a new first-person Metroidvania.
Already, Supraland Six Inches Under has an Overwhelmingly Positive rating, making it another of Steam's highest rated games, and if you play with a GeForce RTX GPU, Supraland Six Inches Under gets that much better thanks to the inclusion of NVIDIA DLSS. When enabled, DLSS will accelerate your performance by up to 65%, allowing all GeForce RTX GPUs to play at over 60 FPS at 4K: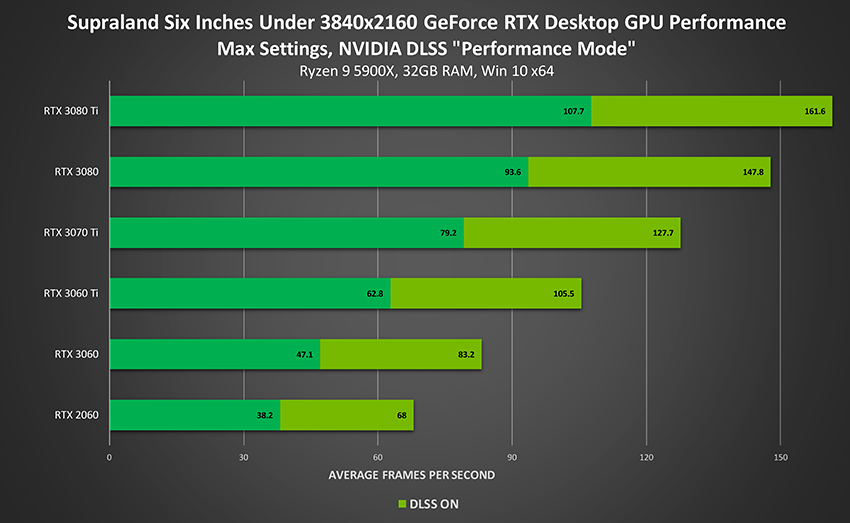 Check out Supraland Six Inches Under running with NVIDIA DLSS at blistering frame rates at 4K, with max settings, in our new DLSS video:
GeForce RTX Keycap Giveaways
PC Gamers are always looking for new and cool ways to customize their rigs with a vibe to match their interests; at long last, behold the official GeForce RTX Keycap!
To celebrate all things GeForce RTX, NVIDIA GeForce has produced a limited quantity of these amazing keycaps to give away worldwide to the GeForce community throughout Winter and Spring 2022. Learn how to get your hands on one.
As Always, There's More To Come
To learn what's next for NVIDIA DLSS, and which games are going to add the game-changing technology in the near future, stay tuned to GeForce.com.