NVIDIA Reflex is a must-have in games, reducing system latency so your actions occur quicker, making you more competitive in multiplayer matches, and making single-player titles more responsive. It's available in the most popular multiplayer and esports games, supported on GeForce graphics cards dating back to the GTX 900 Series, and it takes only a single click to enable.
Shadow Warrior 3 With NVIDIA Reflex Available Now
Fallen corporate shogun Lo Wang and his former employer, turned nemesis, turned sidekick, Orochi Zilla, embark on an improbable mission to recapture an ancient dragon they unwillingly unleashed from its eternal prison. Armed with a punishing mix of blades and bullets, Lo Wang must traverse uncharted parts of the world to track down the dark beast and push the apocalypse back yet again. All it will take is the mask of a dead god, a dragon's egg, a touch of magic, and enough firepower to hold off the impending cataclysm.
Shadow Warrior 3 is available now, and on GeForce GPUs, PCs and laptops is enhanced with both NVIDIA DLSS and NVIDIA Reflex, for the fastest, smoothest gaming experience possible. With DLSS, performance increases by up to 68% at maxed-out 4K, and with Reflex, system latency is reduced by up to 56%, enabling you to hit rapidly moving enemies with ease in this frantic first-person shooter.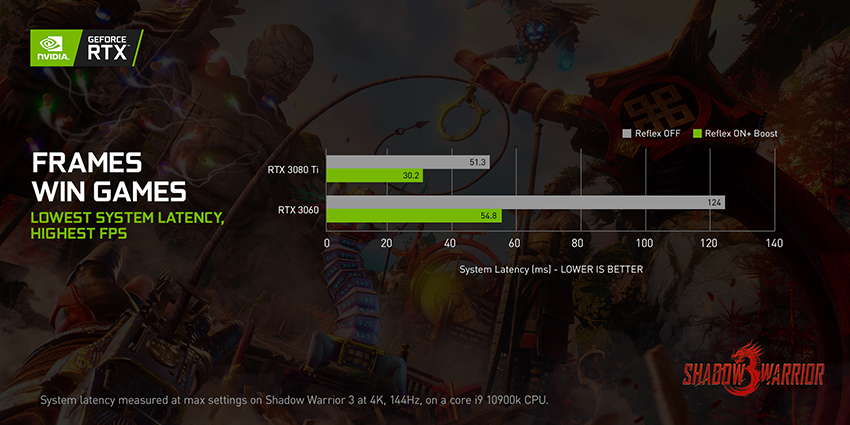 Enabling Reflex in Shadow Warrior 3 is easy. Just check this option in Settings->Video->Nvidia Reflex and enable NVIDIA Reflex to reduce system latency. And don't forget to enable NVIDIA DLSS, accelerating your frame rate.
Ready or Not Available Now With NVIDIA Reflex
Strap on your tactical gear and tackle barricaded suspects in Ready or Not, an Early Access co-operative shooter that's racking up more and more positive user reviews every day.
In Ready or Not's realistic scenarios, milliseconds make the difference between stopping a suspect or losing your life, and with the addition of NVIDIA Reflex you can now get the drop on armed assailants.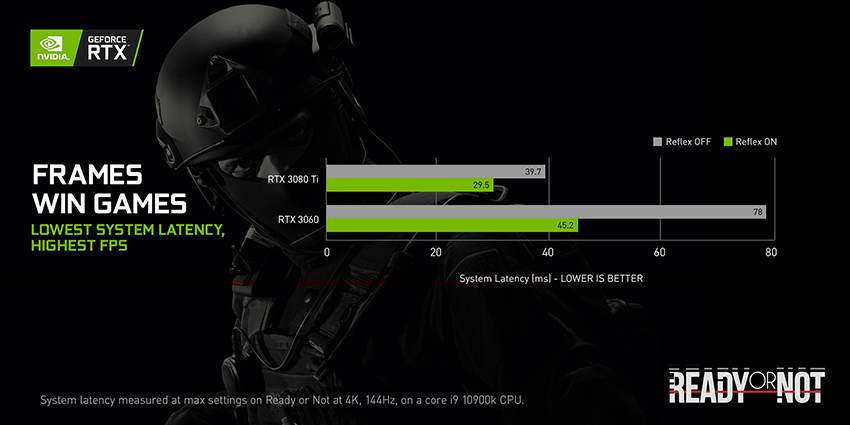 Simply enable NVIDIA Reflex to reduce system latency by up to 42%. And while you're there, enable NVIDIA DLSS, accelerating your frame rate and further reducing system latency.
New G-SYNC NVIDIA Reflex Monitors Available Now
NVIDIA Reflex has become synonymous with esports - Reflex is present in the best competitive games, Reflex gaming monitors have high refresh rates with excellent image clarity, and Reflex mice are primed to up your game. Best of all, with a Reflex mouse and display the measurement of system latency becomes possible.
For competitive players and professionals, we created the NVIDIA Reflex Analyzer, enabling easy, accurate measurement of click-to-photon latency for the very first time. Using GeForce Experience and compatible tech built into Reflex mice and monitors, latency can be measured, players can tweak their setup, then test again to confirm latency is further reduced. When the game is on the line, eliminating any impedance to success is critical.
This month sees the launch of two new Reflex monitors and mice that'll help you reduce system latency and be more competitive. AOC brings their first 360Hz display with the AOC AGON PRO 25" G-SYNC Gaming Monitor (AG254FG), and Viewsonic delivers high refresh rates and high resolution with the 240Hz 27" Viewsonic ELITE XG271QG.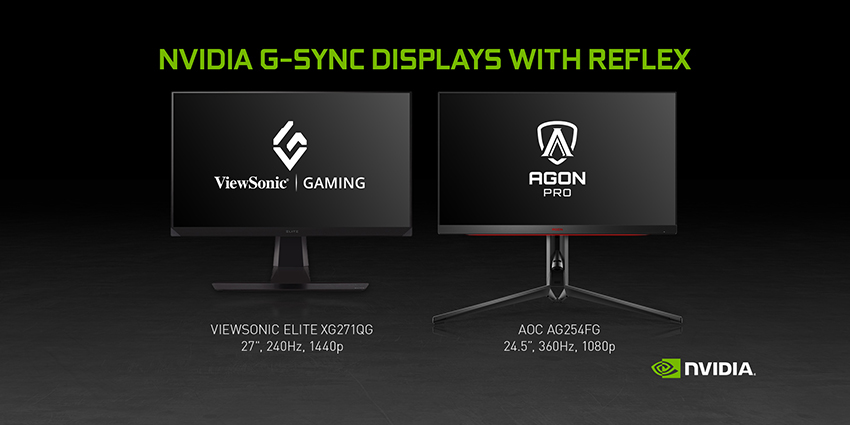 New NVIDIA Reflex Compatible Mice
Plugging a NVIDIA Reflex-compatible mouse into a G-SYNC monitor with NVIDIA Reflex Analyzer technology yields click-to-display system latency measurement. This is the be all and end all of system latency testing, revealing how long it takes for your mouse click to be transmitted through hardware and software before appearing on-screen in the game.
Using any mouse, the Reflex Analyzer can capture PC Latency and Display Latency. But for the most accurate, real-time measurement of mouse latency, we have teamed up with leading mouse vendors to dynamically measure per click latency on the fly with the NVIDIA Reflex Analyzer.
This month, the Alienware Wired Gaming Mouse AW320M and ROCCAT Kone XP Gaming Mouse become the latest NVIDIA Reflex-compatible mice.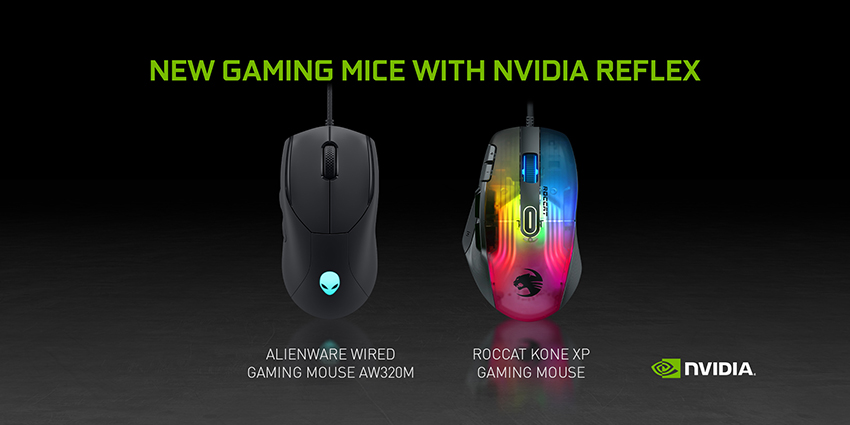 Pick your compatible mouse and monitor, boot up GeForce Experience, load one of your favorite games, and follow our guide to start testing your latency with the Latency Analyzer. And to help you further reduce system latency, we've got another guide that's well worth checking out.
PC Latency coming to GeForce Experience Soon
With the new Reflex 1.6 SDK being released at GDC next week, games upgrading their Reflex integrations will give gamers the ability to get isolated PC Latency within GeForce Experience. All that is required to use this new metric is a GeForce GPU.

As a review, System Latency = Mouse Latency + PC Latency + Display Latency. Stay tuned for more news and updates related to this feature!
More To Come
New NVIDIA Reflex games, monitors and mice are on the way, so stay tuned to GeForce.com to see the news when it drops.