NVIDIA Reflex is a must-have in games, reducing system latency so your actions occur quicker, making you more competitive in multiplayer matches, and making single-player titles more responsive. It's available in the most popular multiplayer and esports games, supported on GeForce graphics cards dating back to the 900 Series, and it takes only a single click to enable.
This month, the list of games has expanded to include Midnight Ghost Hunt, a new, critically acclaimed 4v4 multiplayer game. And to make the measurement of latency even easier, we've added a new feature to GeForce Experience called NVIDIA Reflex Stats. Learn more below.
NVIDIA Reflex Now Available In Midnight Ghost Hunt
Possess everyday objects as ghosts, and hunt them down as humans in Vaulted Sky Games' new PvP multiplayer game, Midnight Ghost Hunt. Lying in wait across a series of cursed locations, relentless spirits stalk the halls. Assigned to eliminate them are the Ghost Hunters, armed to the teeth with the ghoul-busting tech to banish them to another realm. Play both Ghost and Hunter in a chaotic 4v4 struggle between the living and the dead.
Before you go bustin' ghosts, dash into the options menu and ensure NVIDIA Reflex is enabled. When on, Reflex will reduce system latency by up to 40%, making gameplay more responsive, and you more competitive: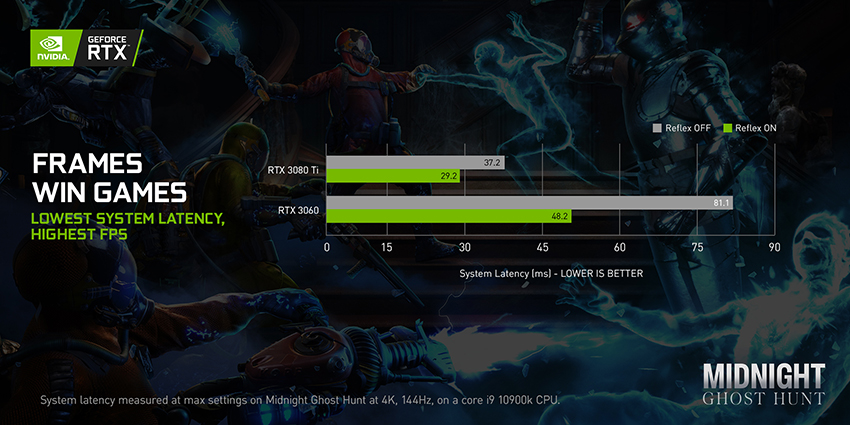 And to ramp up your system's performance, enable NVIDIA DLSS on GeForce RTX desktops, GPUs and laptops.
Introducing NVIDIA Reflex Stats
Earlier in the year we brought you 1-click NVIDIA Reflex Analyzer configuration via GeForce Experience, greatly simplifying the process of evaluating your system latency. Now, we've introduced NVIDIA Reflex Stats that allows you to measure part of the system latency pipeline called PC Latency.

System Latency = Mouse Latency + PC Latency + Display Latency
With PC Latency you can optimize game settings and monitor your performance over time simply by turning on the GeForce Experience overlay and selecting the latency view. While you don't need a Reflex Analyzer display to get this latency metric, you will need to be playing a Reflex SDK 1.6 game to take advantage of Reflex Stats.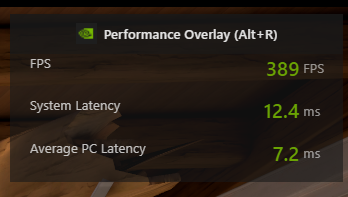 The following games have already been updated to Reflex SDK 1.6 and support Reflex Stats!
Bright Memory Infinite
Fortnite
Rust
Valorant
Keep an eye on the Reflex Compatible Products page for more Reflex Stats updates coming soon.
New G-SYNC NVIDIA Reflex Mice Available Now
NVIDIA Reflex has become synonymous with esports - Reflex is present in the best competitive games, G-SYNC Monitors with Reflex have high refresh rates with excellent image clarity, and Gaming Mice with Reflex are primed to up your game both of which enable you to easily measure system latency.
This month sees the launch of two new NVIDIA Reflex mice, the ROG Chakram X and ROCCAT Burst Pro Air Wireless PC Gaming Mouse. Both come fully equipped to work with G-SYNC Reflex monitors to measure end to end system latency.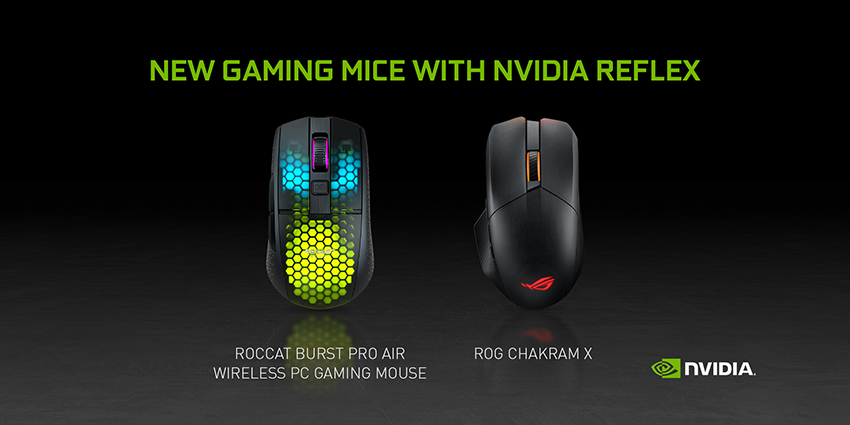 To learn more about measuring system latency with compatible NVIDIA Reflex accessories, follow our guide here.
New NVIDIA Reflex Experiments
In December we teamed up with Meta and their popular aim trainer, Kovaaks, to give everyone a chance to jump in and feel the difference between high and low latency. We called it the System Latency Challenge.
We learned a ton of stuff, which we summarized in a previous article, and have now posted a research blog going into those results in more detail.
More To Come
New NVIDIA Reflex games, monitors and mice are on the way, so stay tuned to GeForce.com to see the news when it drops.