NVIDIA Reflex is a must-have in games, reducing system latency so your actions occur quicker, making you more competitive in multiplayer matches, and making single-player titles more responsive. It's available in the most popular multiplayer and esports games, supported on GeForce graphics cards dating back to the 900 Series, and it takes only a single click to enable.
The word's getting out about Reflex's benefits, as it's now used by over 20 million players each month, making it one of NVIDIA's most successful technologies. And as more players jump on board, more developers do, too. Each month, more add NVIDIA Reflex to their games, with over 35 available already, and another four coming soon.
At COMPUTEX 2022, we're announcing the addition of NVIDIA Reflex to ICARUS, My Time At Sandrock, Soda Crisis, and Warstride Challenges. And to help you achieve the lowest system latency possible, we're debuting next-generation 500Hz display technology.
For all the details, read on.
NVIDIA Reflex Coming Soon To ICARUS
ICARUS, RocketWerkz's 8-player co-op PvE survival game, receives new content updates every week. In June, one of these drops will introduce NVIDIA Reflex, reducing system latency, making gameplay more responsive.
GeForce RTX gamers can further enhance their experience in ICARUS by enabling NVIDIA DLSS and RTX Global Illumination, which launched alongside ICARUS last December. Increase performance by up to 80%, and marvel at realistic lighting with just a few clicks in the options menu. Learn more here, and stay tuned for the release of NVIDIA Reflex in ICARUS.
My Time At Sandrock Early Access Launches With NVIDIA Reflex On May 26
Pathea Games' My Time At Sandrock is the much-anticipated follow-up to the breakout farming and life sim, My Time At Portia. You'll travel to the eponymous desert community of Sandrock and take on the role of a fledgling Builder. Use your trusty toolset to gather resources, construct machines, and turn your run-down workshop into a well-oiled production facility to save the town from the jaws of economic ruin.
At launch on May 26th, My Time At Sandrock Early Access will feature support for NVIDIA Reflex. With NVIDIA Reflex, gamers of GeForce GPUs dating back to the 900 Series can reduce system latency by up to 34% at 1440p.
By enabling NVIDIA Reflex in the settings menu, your extensive time at Sandrock will be more responsive, giving you the definitive experience.
Soda Crisis Available Now With NVIDIA Reflex
Team Soda and bilibili's Soda Crisis is a fast-paced side-scrolling shooter, with devilishly challenging encounters that'll have you reaching for the instant restart button over and over again. Where pixel-perfect precision is required to succeed, high system latency can literally get you killed.
Soda Crisis launched today, and gamers with a GeForce GPU will discover out-of-the-box support for NVIDIA Reflex, which reduces system latency by up to 23%: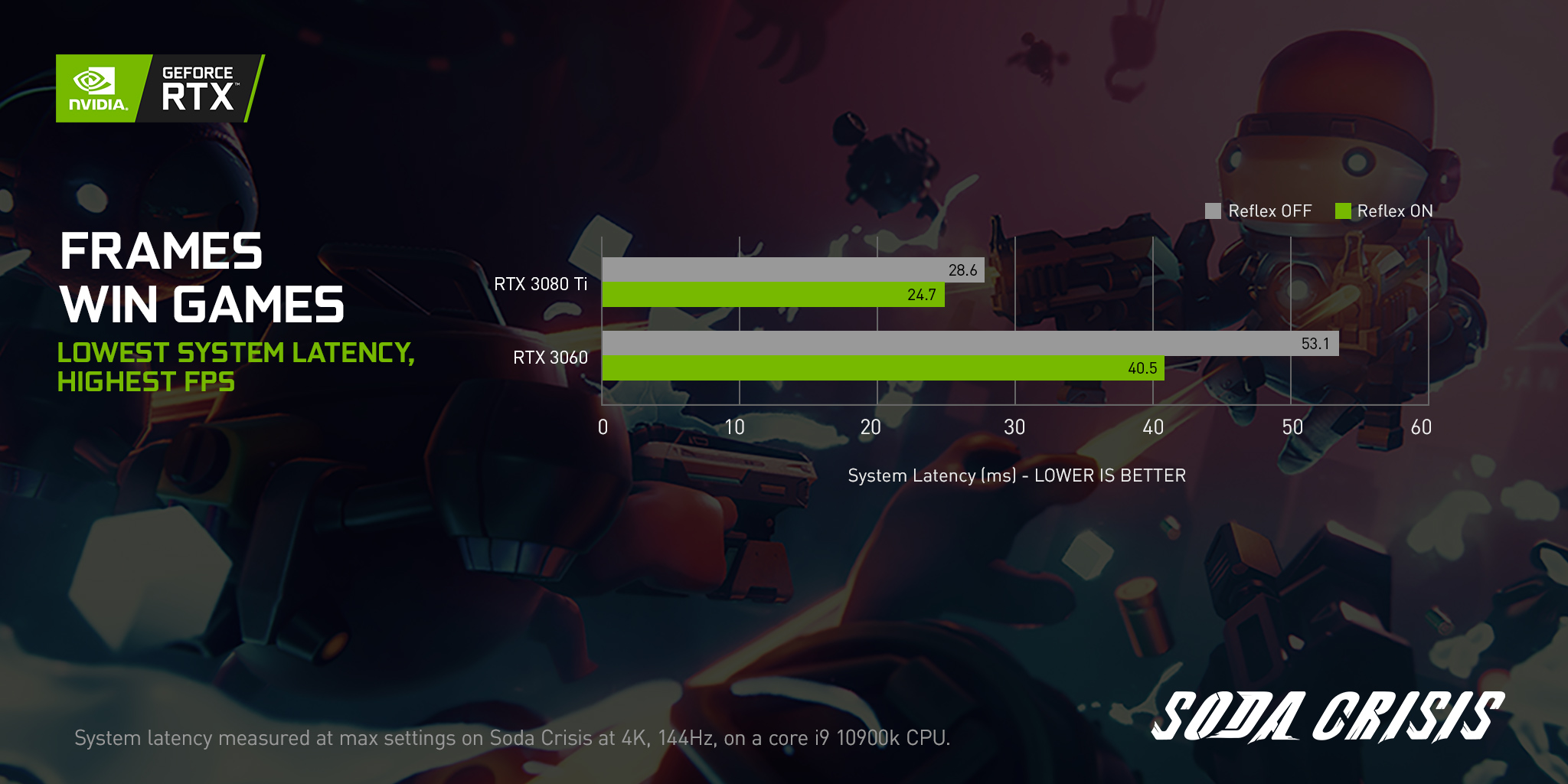 With greatly reduced system latency, controls and gameplay will be far more responsive, helping you conquer Soda Crisis' challenges.
NVIDIA Reflex Available Now In Warstride Challenges
Blast hordes of demons at lightning speed in bloody gunfights, and race against the clock to overcome everything that comes your way, in the recently released Early Access shooter, Warstride Challenges. Die and retry to get the highest score in increasingly intense trials, create and share your own runs, and attempt to be the best at the hundreds of levels created by the community.
In this twitch shooter where speed and aim precision are at the core of the experience, NVIDIA DLSS and NVIDIA Reflex have been added to unlock your full potential. With both enabled, you'll more than double your frame rates at 1440p, and lower system latency by up to 53%:
Introducing Next-Gen 500Hz Esports & NVIDIA Reflex Gaming Monitors
Ever since we revolutionized gaming monitors with the launch of G-SYNC in 2013, we've worked with our OEM partners, and panel manufacturers such as AU Optronics, to craft faster and even-better displays. Less than a decade later, we've now got G-SYNC gaming monitors and TVs in every combination of size, speed and resolution that you could want, but progress still doesn't stop.
At COMPUTEX 2022, we're introducing the newest member of the NVIDIA G-SYNC family - the ASUS ROG Swift 500Hz Gaming Monitor. This 500Hz display has been designed from the ground up for esports, using a brand new E-TN (Esports TN) panel for maximum motion clarity. It also boasts NVIDIA G-SYNC Esports Mode with adjustable esports vibrance and of course, complete NVIDIA Reflex Analyzer support, allowing users to measure end-to-end system latency when using a NVIDIA Reflex mouse and GeForce GPU.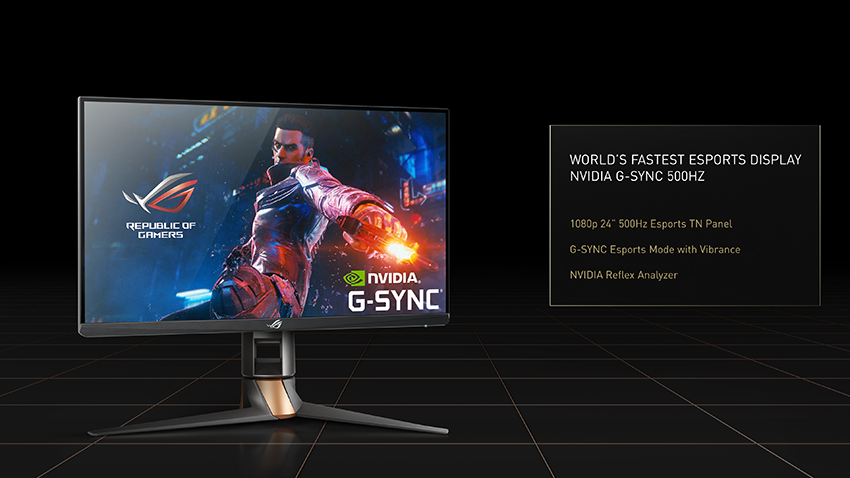 500Hz G-SYNC Esports displays are even faster, have even lower response times, and are specifically tuned for competitive games such as CS:GO, Valorant, Overwatch, and Rainbow Six Siege. Load up the video below to see how this new, cutting-edge display technology further improves target tracking and allows competitive gamers to spot enemies even sooner:
Running at fast frame rates on equally fast G-SYNC gaming monitors greatly reduces system latency, making controls and gameplay more responsive. And paired with a NVIDIA Reflex-compatible game, you can further reduce system latency, something that can be measured using the capabilities of NVIDIA Reflex Analyzer-compatible G-SYNC esports monitors.
This benefits every game and gamer, not just competitive games and esports pros.
In December, we teamed up with The Meta and their popular aim trainer, Kovaaks, to give everyone a chance to jump in and feel the difference between high and low latency, and to see for themselves how it improved their gameplay. We called it the System Latency Challenge.
The challenge was conducted at three latency levels: 85ms, 55ms, and 25ms in a random order per user. The results showed several clear trends.
First, latency improves your score regardless of aiming skill. If we compare the percentile markers at 85ms, 55ms, and 25ms, each percentile shifts to the right as latency decreases. This shows that everyone's scores improved with lower latency.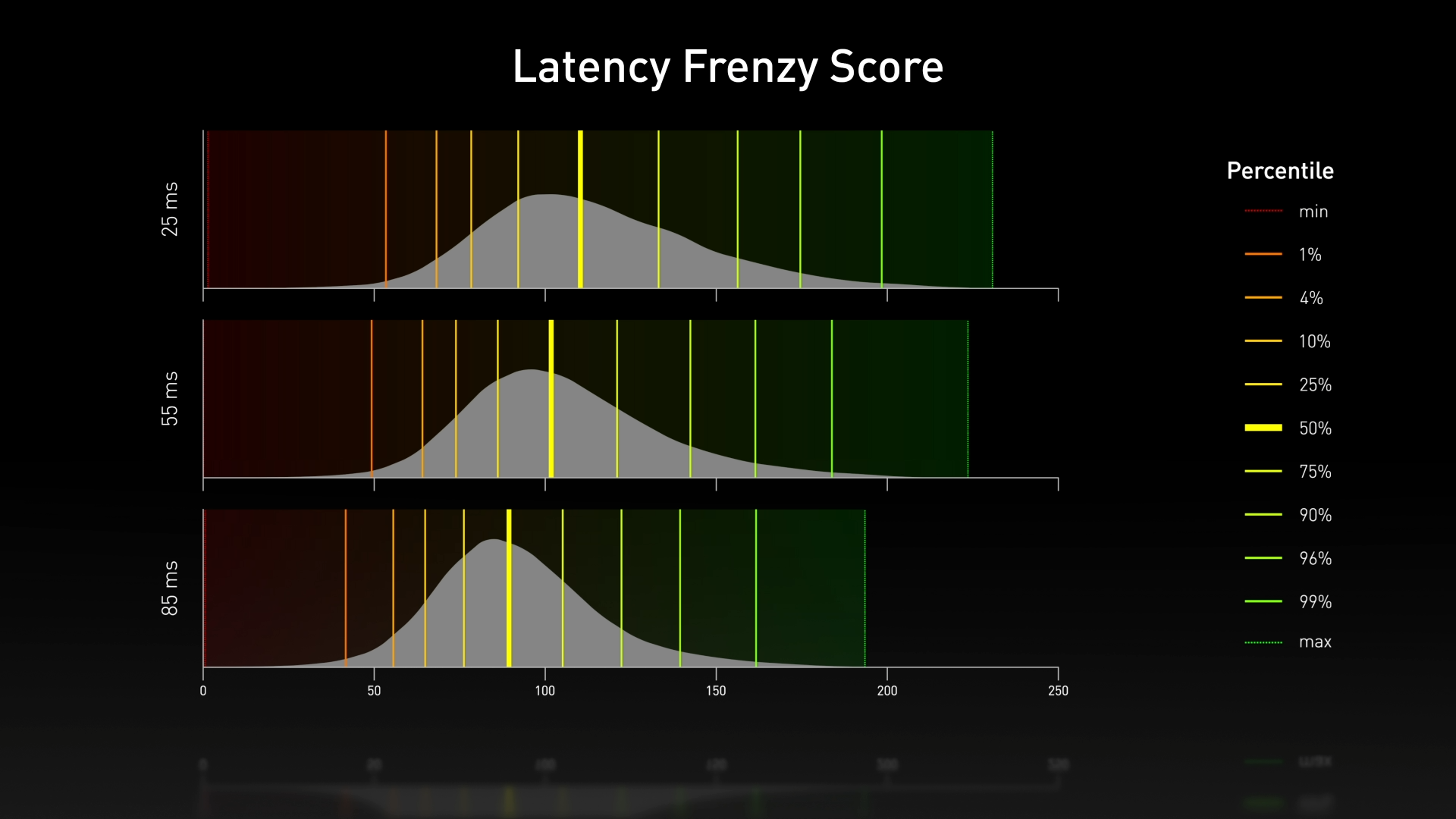 Second, lower latency unlocks player potential. Not only did the curve shift towards higher scores, the range of achieved scores increased. At 85ms, players scored between 0 and 35 points. At 55ms, players scored between 0 and 41 points. And at 25ms, players scored between 0 and 55 points. This shows that as latency decreases, a wider range of scores become possible.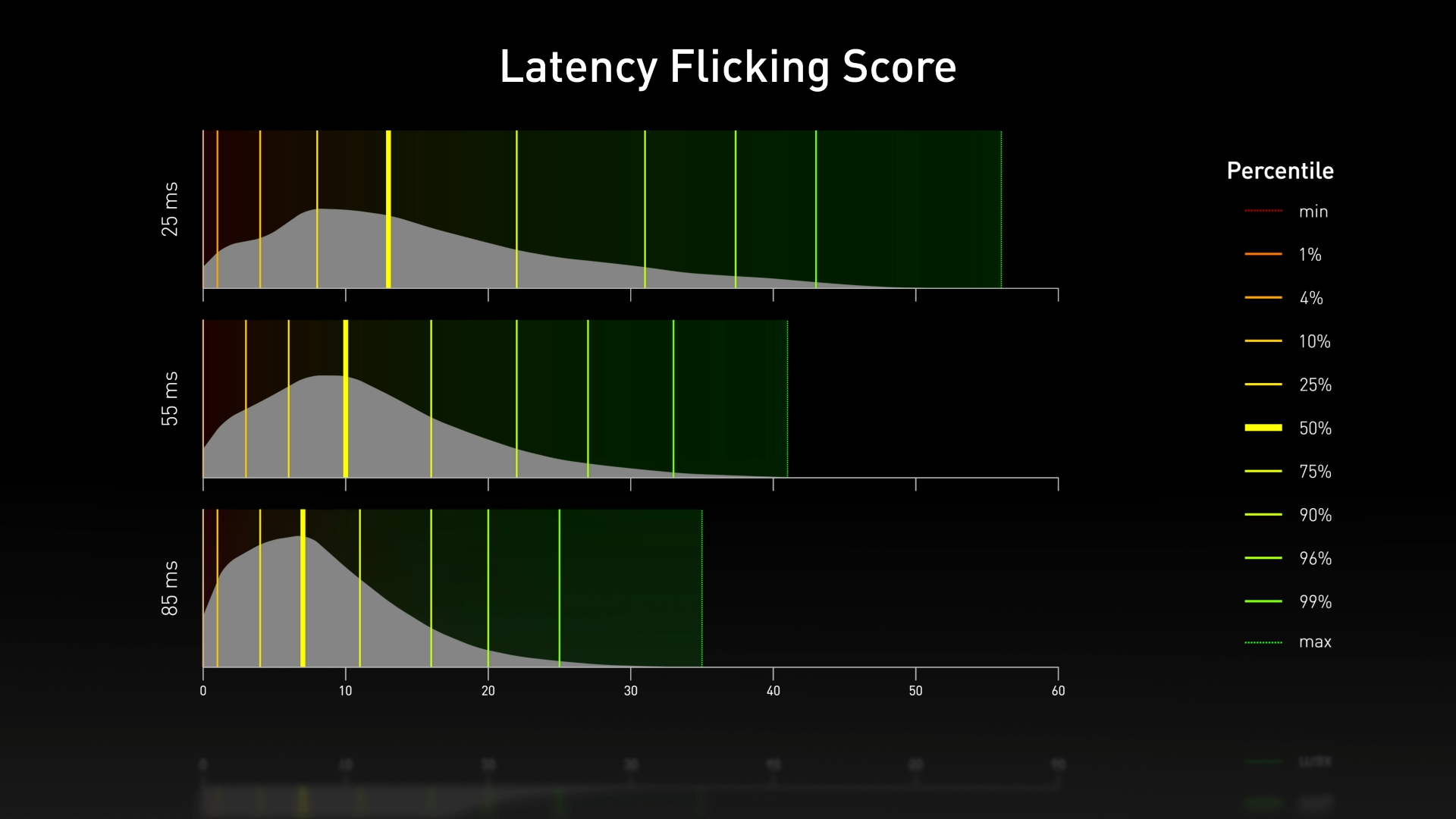 Finally, lower latency can make difficult aiming tasks possible. In Latency Flicking, we saw that 7.5% of players couldn't hit a single shot at 85ms, however at 25ms, only 4% couldn't hit a shot.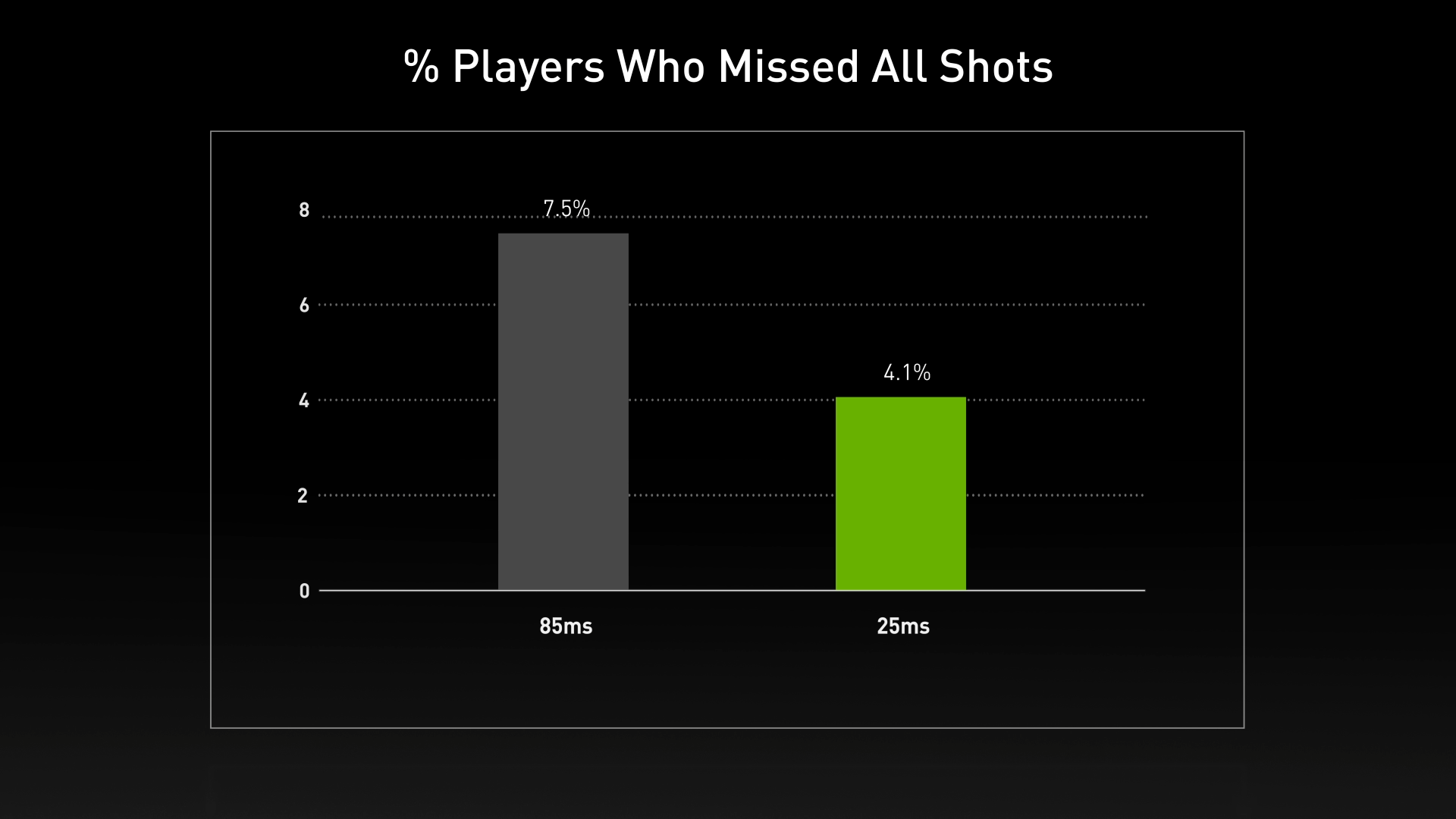 The System Latency Challenge was open to everyone on Steam, not just pros, showing that lower system latency benefits everyone.
ACER Predator X28 G-SYNC Monitor Available Now
If you're looking for a high refresh rate monitor that you can add to your setup today, check out the new ACER Predator X28. This 28" 4K IPS, super slim bezeled monitor runs at a rapid 152Hz, has NVIDIA G-SYNC, and includes NVIDIA Reflex Analyzer support, so you can measure end-to-end system latency.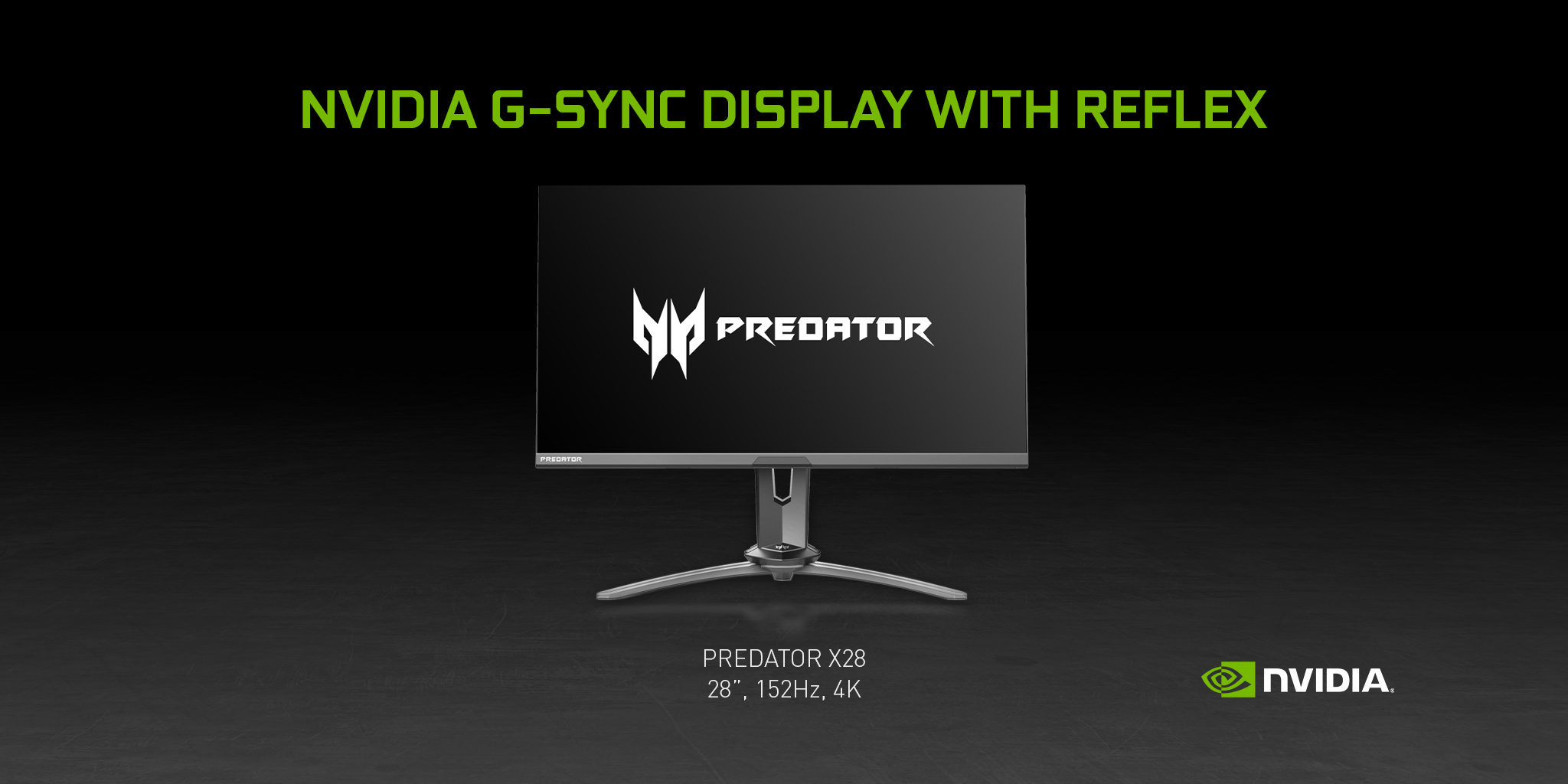 If you'd like a full list of Reflex-compatible G-SYNC gaming monitors and displays, head here.
New Mice With NVIDIA Reflex Analyzer Support Available Now
NVIDIA Reflex has become synonymous with esports - Reflex is present in the best competitive games, G-SYNC Monitors with Reflex have the highest refresh rates with excellent image clarity, and Gaming Mice with Reflex are primed to up your game. To fully measure end-to-end system latency, from click to game, to display, you need a Reflex game, monitor, and mouse.
This month sees the launch of two new NVIDIA Reflex mice, the Cooler Master MM310, and the Cooler Master MM730. Both come fully equipped to work with G-SYNC Reflex monitors to measure end-to-end system latency.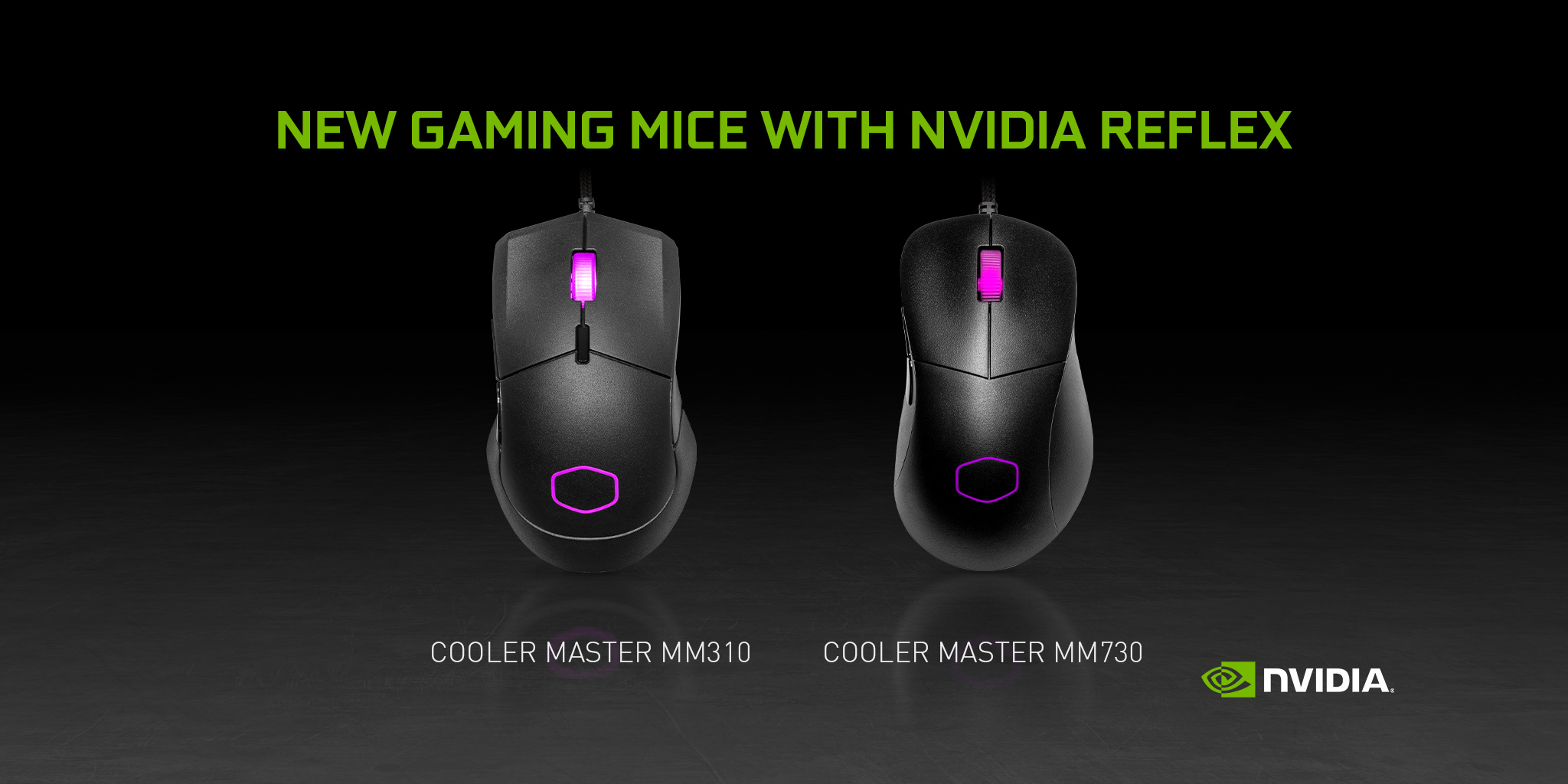 To learn more about measuring system latency with compatible NVIDIA Reflex accessories, follow our guide here.
More To Come
New NVIDIA Reflex games, monitors, and mice are on the way, so stay tuned to GeForce.com to see the news when it drops.
Also, be sure to check out our COMPUTEX 2022 News Roundup. We've announced new NVIDIA DLSS and NVIDIA RTX games, new GeForce RTX and NVIDIA Studio laptops, and more.