Our newest GeForce Game Ready driver introduces launch day support for Evil Dead: The Game and its NVIDIA DLSS tech, which boosts frame rates by up to 85%. Additionally, there's day-0 support for the upcoming release of Dolmen and Vampire: The Masquerade - Swansong.
Read on to learn more, and to download and install on Windows 10 and Windows 11 systems, simply fire up GeForce Experience and click the "Drivers" tab.
Game Ready For Evil Dead: The Game, Enhanced With NVIDIA DLSS
Inspired by the iconic horror, humor and action of the Evil Dead franchise, Evil Dead: The Game brings the series' biggest characters together in a pulse-pounding battle with the forces of darkness. Work as a team of four survivors to kick Deadite butt and banish the vile Kandarian Demon. Or become the Demon yourself, using its powers of possession to stop the good guys dead and swallow their souls in exciting multiplayer matches.
When you're playing with up to three others to stop the forces of evil, using the classic Boomstick and chainsaw combo, or hunting down Ash as evil, you can ramp up performance and image quality using NVIDIA DLSS.
If you own a GeForce RTX graphics card, desktop or laptop, simply enable NVIDIA DLSS in the options and you can accelerate performance by up to 85% at epic settings, allowing all users with a GeForce RTX 3060 Ti or above to play Evil Dead: The Game at over 60 FPS at 4K: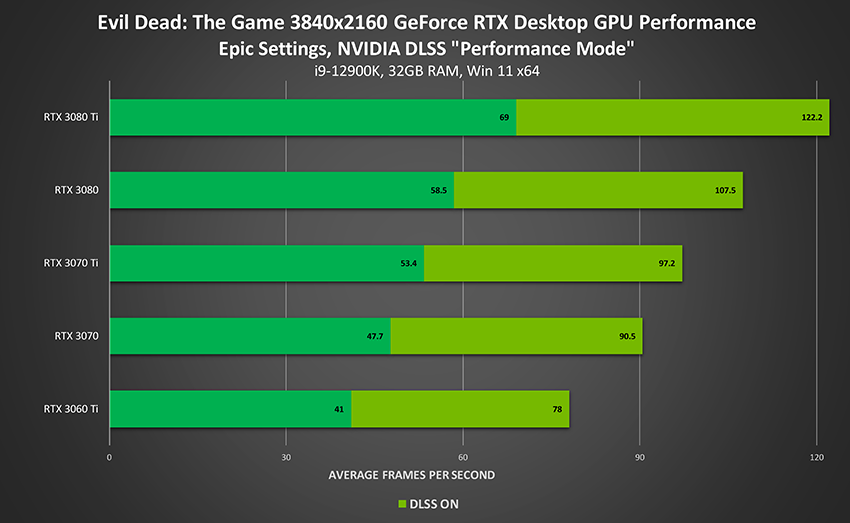 NVIDIA DLSS is our groundbreaking AI rendering technology that's available in over 180 games and apps that increases graphics performance using dedicated Tensor Core AI processors on GeForce RTX GPUs. By tapping into the power of a deep learning neural network, we boost frame rates significantly, and generate beautiful, sharp images for your games.
Download and install our new Game Ready Driver for the optimum experience in Evil Dead: The Game, and the highest levels of performance when enabling NVIDIA DLSS. To learn more about the game, head on over to the official Evil Dead: The Game website.
Game Ready For Dolmen and Vampire: The Masquerade - Swansong
Game Ready Drivers include optimizations, enhancements, and more, to support the latest releases and newest title updates. In this driver, we're also bringing you support for:
Dolmen: Massive Work Studio's horror-action-RPG launches May 20th, taking players to a hostile alien world in search of the titular Dolmen, crystals with world-changing properties.
Vampire: The Masquerade - Swansong: Launching May 19th, Swansong is a new narrative RPG set in the popular Vampire universe, giving players three storylines to shape with important life and death decisions.
Discover How We Build Game Ready Drivers, and Deliver The Best Experience For Your Favorite Games
7 years ago, we created the GeForce Game Ready Driver Program, with the goal of giving GeForce gamers the best possible experience in their favorite games. Game Ready Drivers are finely tuned in collaboration with developers and extensively tested across thousands of hardware configurations for maximum performance and reliability.
Since the program's inception in 2014, NVIDIA has launched over 150 Game Ready Drivers, with Day-0 support for over 400 games; in 2021 alone, there were 20 Game Ready Drivers with support for 75 titles. And beyond the games we list support for in our driver articles and release highlights, we have teams dedicated to Unreal Engine, Unity, and other leading development engines. This ensures the thousands of PC indie games released each year, built exclusively with the tools and features provided by said engines, run fantastically at launch.
This process involves hundreds of developers and engineers, working in tandem, and requires thousands of hours of testing each day. For the first time, we're lifting the lid on the efforts we undertake to bring you the best drivers month after month, year after year.
For even further information, head on over to our dedicated article.
GeForce Game Ready Driver - Download Now
Learn more about GeForce Game Ready Drivers here; download the new GeForce Game Ready 512.77 WHQL driver through GeForce Experience.
If you experience any technical issues with the new Game Ready drivers please post a detailed report on the GeForce.com Driver Feedback Forum, where our Customer Care team can better assist you. And if you're looking for a full list of fixes in this driver, for previously-reported issues, head here.