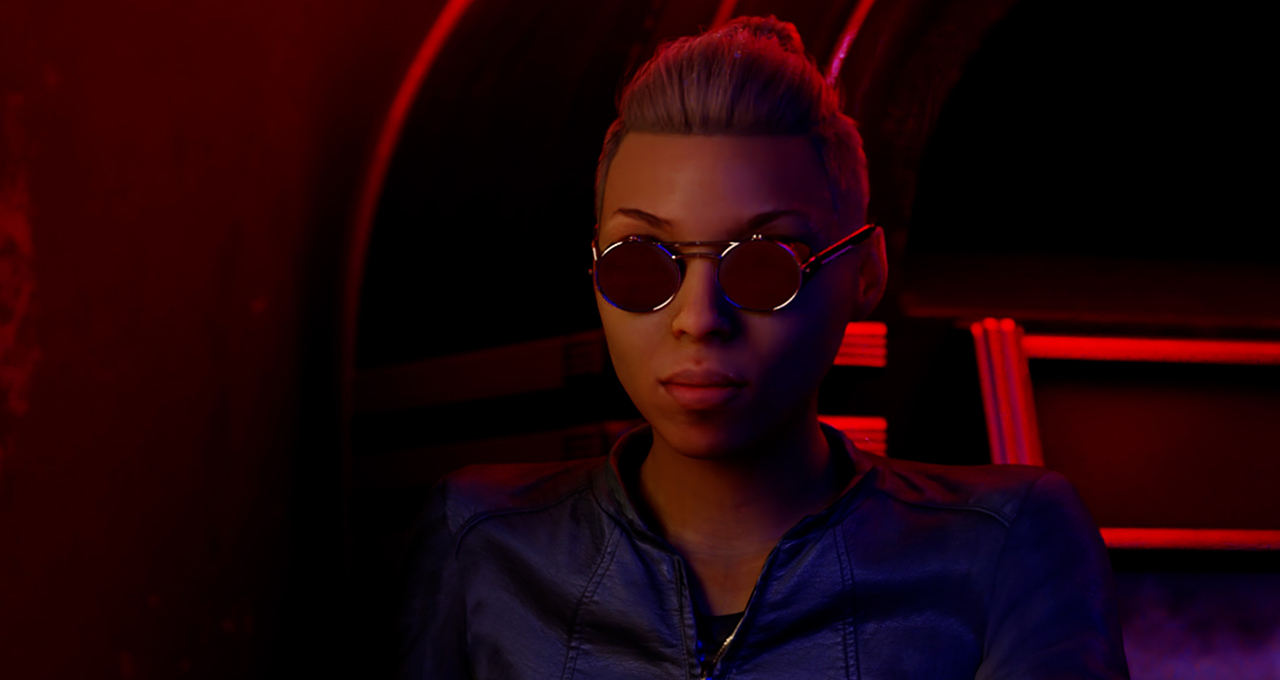 Editor's note: This post is part of our weekly In the NVIDIA Studio series, which celebrates featured artists, offers creative tips and tricks, and demonstrates how NVIDIA Studio technology accelerates creative workflows.
3D artist Jae Solina, who goes by the stage name JSFILMZ, steps In the NVIDIA Studio this week to share his unique 3D creative workflow in the making of Cyberpunk Short Film — a story shrouded in mystery with a tense exchange between two secretive contacts.
As an avid movie buff, JSFILMZ takes inspiration from innovative movie directors Christopher Nolan, David Fincher and Georce Lucas. He admires their abilities to combine technical skill with storytelling heightened by exciting plot twists.
The Cyberpunk Short Film setting displays stunning realism with ray-traced lighting, shadows and reflections — complemented by rich, vibrant colors.
Astonishingly, JSFILMZ created the film in just one day with the NVIDIA Omniverse platform for 3D design collaboration and world simulation, using the Omniverse Machinima app and the Reallusion iClone Connector. He alternated between systems that use an NVIDIA RTX A6000 GPU and a GeForce RTX 3070 Laptop GPU.
The #MadeinMachinima contest ends soon. Omniverse users can build and animate cinematic short stories with Omniverse Machinima for a chance to win RTX-accelerated NVIDIA Studio laptops. Entries are being accepted until Monday, June 27.
An Omniverse Odyssey With Machinima
JSFILMZ's creative journey starts with scene building in Omniverse Machinima, plugging and moving background objects to create the futuristic cyberpunk diner. His RTX GPUs power Omniverse's built-in RTX renderer to achieve fast, interactive movement within the viewport while preserving photorealistic detail. The reduction of distracting denoising allows JSFILMZ to focus on creating without having to wait for his scenes to render.
Ray-traced light reflects off the rim of the character's glasses, achieving impressive photorealism.
Pulling assets from the NVIDIA MDL material library, JSFILMZ achieved peak realism with every surface, material and texture.
The artist then populated the scene with human character models downloaded from the Reallusion content store.
Automated facial animation in Reallusion iClone.
Vocal animation was generated in the Reallusion iClone Connector using the AccuLips feature. It simulates human speech behavior with each mouth shape, naturally taking on the qualities of those that precede or follow them. JSFILMZ simply uploads voiceover files from his actors, and the animations are automatically generated.
To capture animations while sitting, JSFILMZ turned to an Xsens Awinda starter body-motion-capture suit, acting out movements for both characters. Using the Xsens software, he processed, cleaned up and exported the visual effects data.
JSFILMZ integrated unique walking animations for each character by searching and selecting the perfect animation sequences in the Reallusion actorcore store. He returned to the iClone Connector to import and apply separate motion captures to the characters, completing animations for the scene.
The last 3D step was to adjust lighting. For tips on how to light in Omniverse, check out JSFILMZ's live-streamed tutorial, which offers Omniverse know-how and his lighting technique.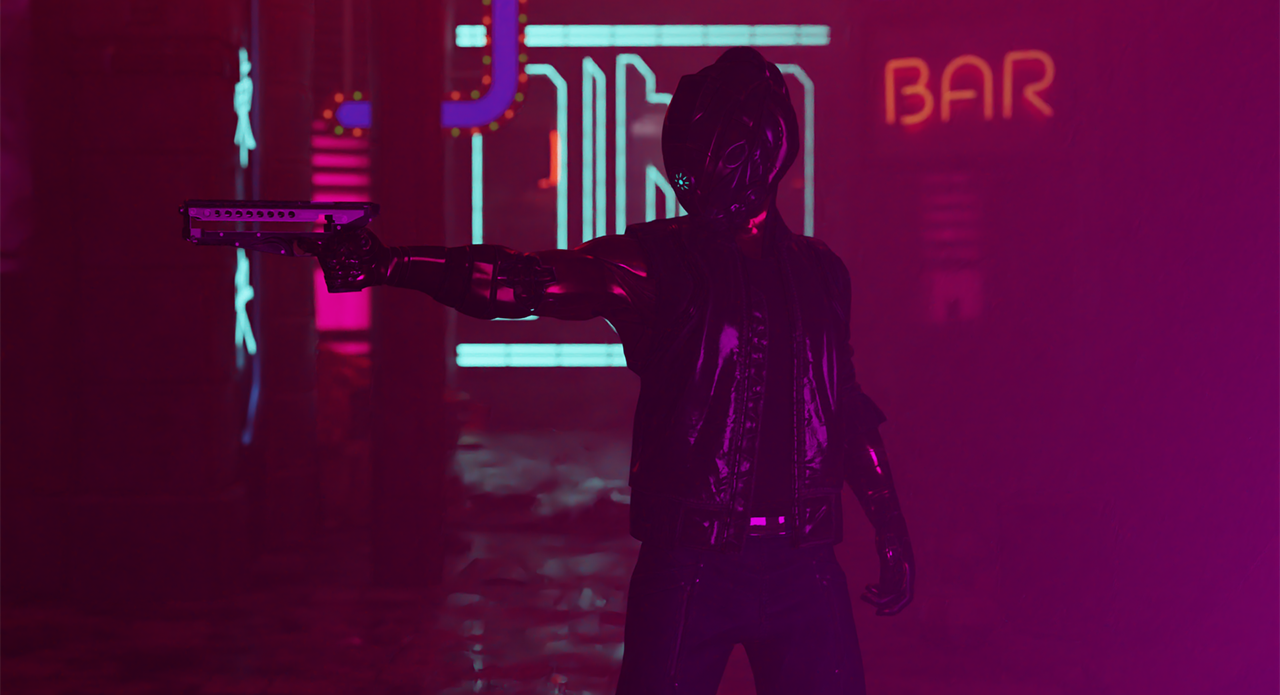 Cyberpunk Short Film by 3D artist JSFILMZ.
According to JSFILMZ, adding and manipulating lights revealed another advantage of using Machinima: the ability to conveniently switch between real-time ray-traced mode for more fluid movement in the viewport and the interactive path-traced mode for the most accurate, detailed view.
He then exported final renders with ray tracing using the Omniverse RTX Renderer, which is powered by NVIDIA RTX or GeForce RTX GPUs.
Working with multiple 3D applications connected by Omniverse saved JSFILMZ countless hours of rendering, downloading files, converting file types, reuploading and more. "It's so crazy that I can do all this, all at home," he said.
Completing Cyberpunk Short Film required editing and color correction in DaVinci Resolve.
The NVIDIA hardware encoder enables speedy exports.
Color grading, video editing and color scope features deployed by JSFILMZ are all accelerated with his GPU, allowing for quick edits. And the NVIDIA hardware encoder and decoder makes the GPU-accelerated export very fast.
And with that, Cyberpunk Short Film was ready for viewing.
3D artists can benefit from JSFILMZ's NVIDIA Omniverse tutorial YouTube playlist. It's an extensive overview of the Omniverse platform for creators, covering the basics from installation and set up to in-app features such as lighting, rendering and animating.

3D artist and YouTube content creator Jae Solina, aka JSFILMZ.
JSFILMZ teaches 3D creative workflows specializing in NVIDIA Omniverse and Unreal Engine 5 on his YouTube channel and via Udemy courses.
Learn more about NVIDIA Omniverse, including tips, tricks and more on the Omniverse YouTube channel. For additional support, explore the Omniverse forums or join the Discord server to chat with the community. Check out the Omniverse Twitter, Instagram and Medium page to stay up to date.
Follow NVIDIA Studio on Instagram, Twitter and Facebook. Access tutorials on the Studio YouTube channel and get updates directly in your inbox by subscribing to the NVIDIA Studio newsletter.