Each week, we bring you news of the latest DLSS and ray tracing integrations in games and apps.
Last week, The Lamplighters League and Lodestar launched with DLSS 2, DESORDRE: A Puzzle Game Adventure upgraded to full ray tracing, and Deliver Us Mars has added NVIDIA Hybrid Ray Tracing Translucency, further enhancing the game's graphics.
This week, Lords of the Fallen launches with DLSS 3, the DLSS and Reflex-enhanced Call of Duty: Modern Warfare III Beta begins, action fans can try a length DLSS 3-enabled RoboCop: Rogue City demo, gamers can grab our new Alan Wake 2 GeForce RTX 40 Series bundle, and we're highlighting Highrise City, another indie title featuring DLSS.
Lords of the Fallen Launches October 13th With DLSS 3
HEXWORKS and CI Games' Lords of the Fallen launches October 13th with day-one support for DLSS 3 Frame Generation, enabling GeForce RTX 40 Series gamers to crank up the settings and multiply their frame rates.
After an age of the cruelest tyranny, the demon God, Adyr, was finally defeated. But Gods do not fall forever. Now, aeons later, Adyr's resurrection draws nigh. As one of the fabled Dark Crusaders, journey through both the realms of the living and the dead in this expansive RPG experience, featuring colossal boss battles, fast challenging combat, thrilling character encounters, and deep, immersive storytelling. Will your legend be one of light… or one of darkness? A vast world awaits in an all-new, dark fantasy action-RPG, featuring a vast, interconnected world more than five times larger than the original game.
With AI-powered Frame Generation, GeForce RTX 40 Series gamers can multiply frame rates by 2.9X on average at 4K at max settings. In our tests, the GeForce RTX 4070 comfortably exceeded 60 FPS, the GeForce RTX 4070 Ti blitzed past 100 FPS, the GeForce RTX 4080 passed 120 FPS, and the GeForce RTX 4090 blast past 144 FPS, giving 4K gamers with high refresh rate displays the definitive Lords of the Fallen PC experience.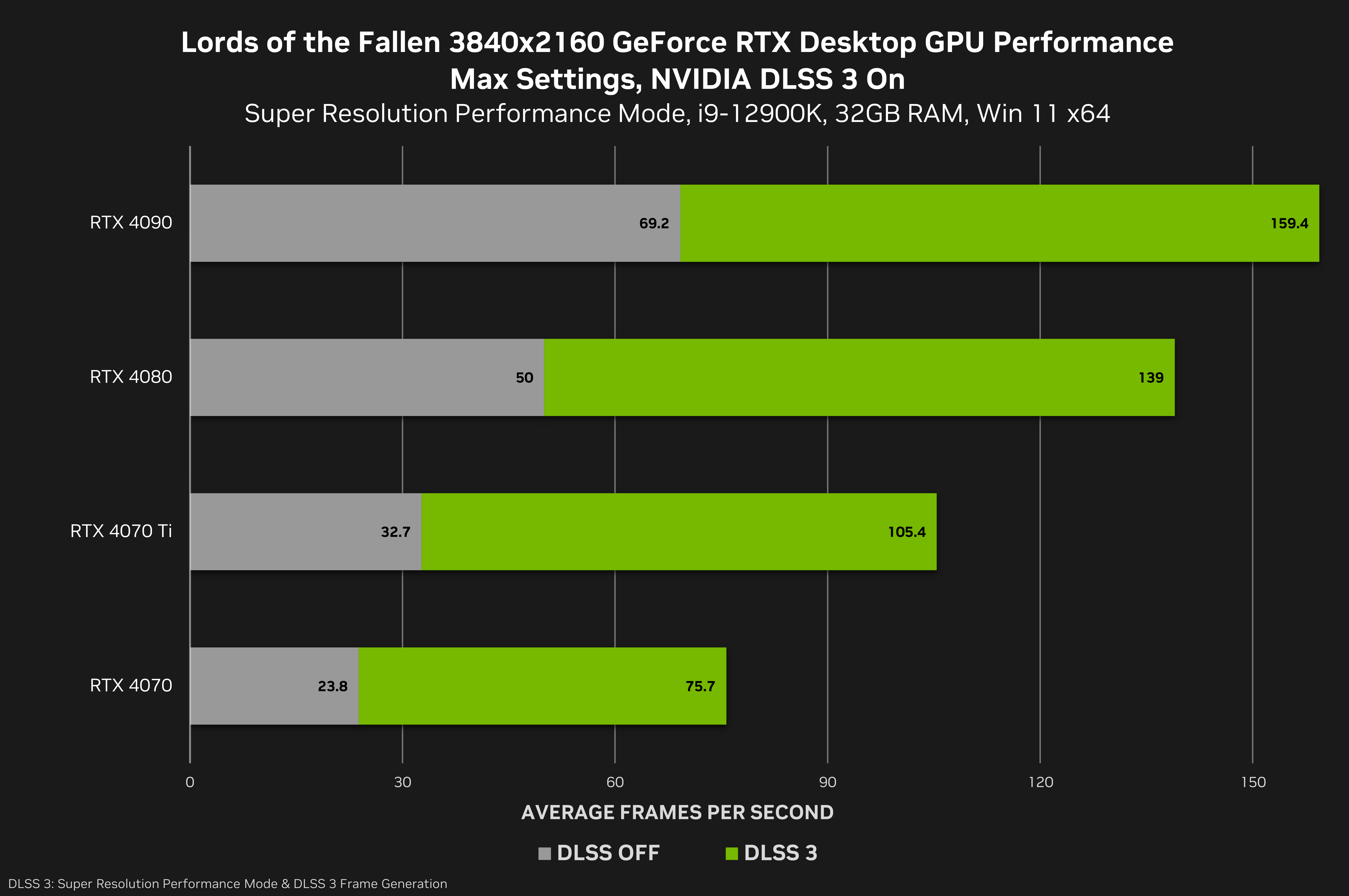 At 2560x1440, DLSS 3 multiplies performance by 2.2X average on average, enabling all GeForce RTX 40 Series desktop GPUs to easily exceed 60 FPS: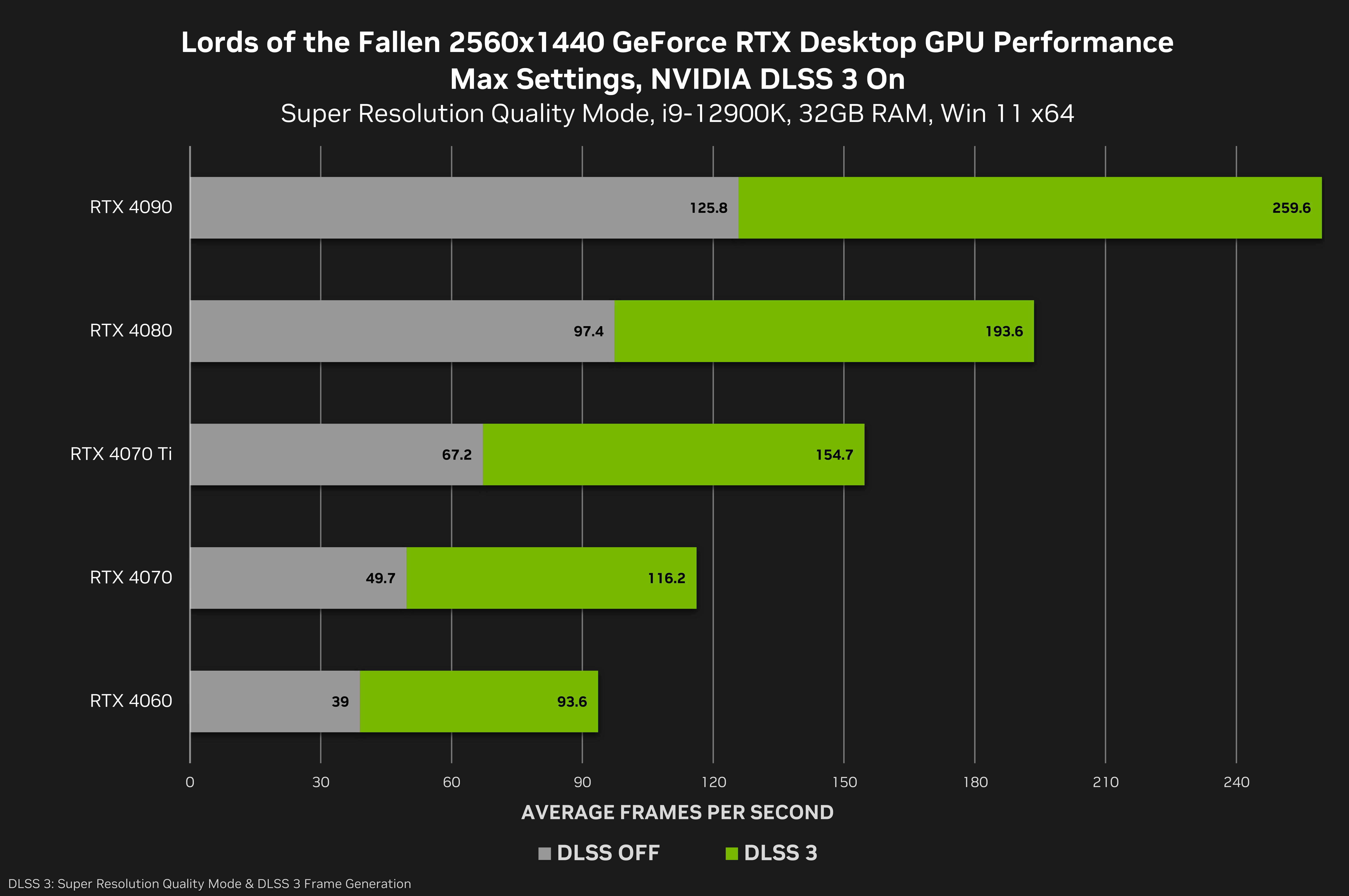 At 1920x1080, all GeForce RTX 40 Series gamers can experience Lords of the Fallen at super fast, monitor-maxing frame rates thanks to Frame Generation's 2.1X average performance multiplication: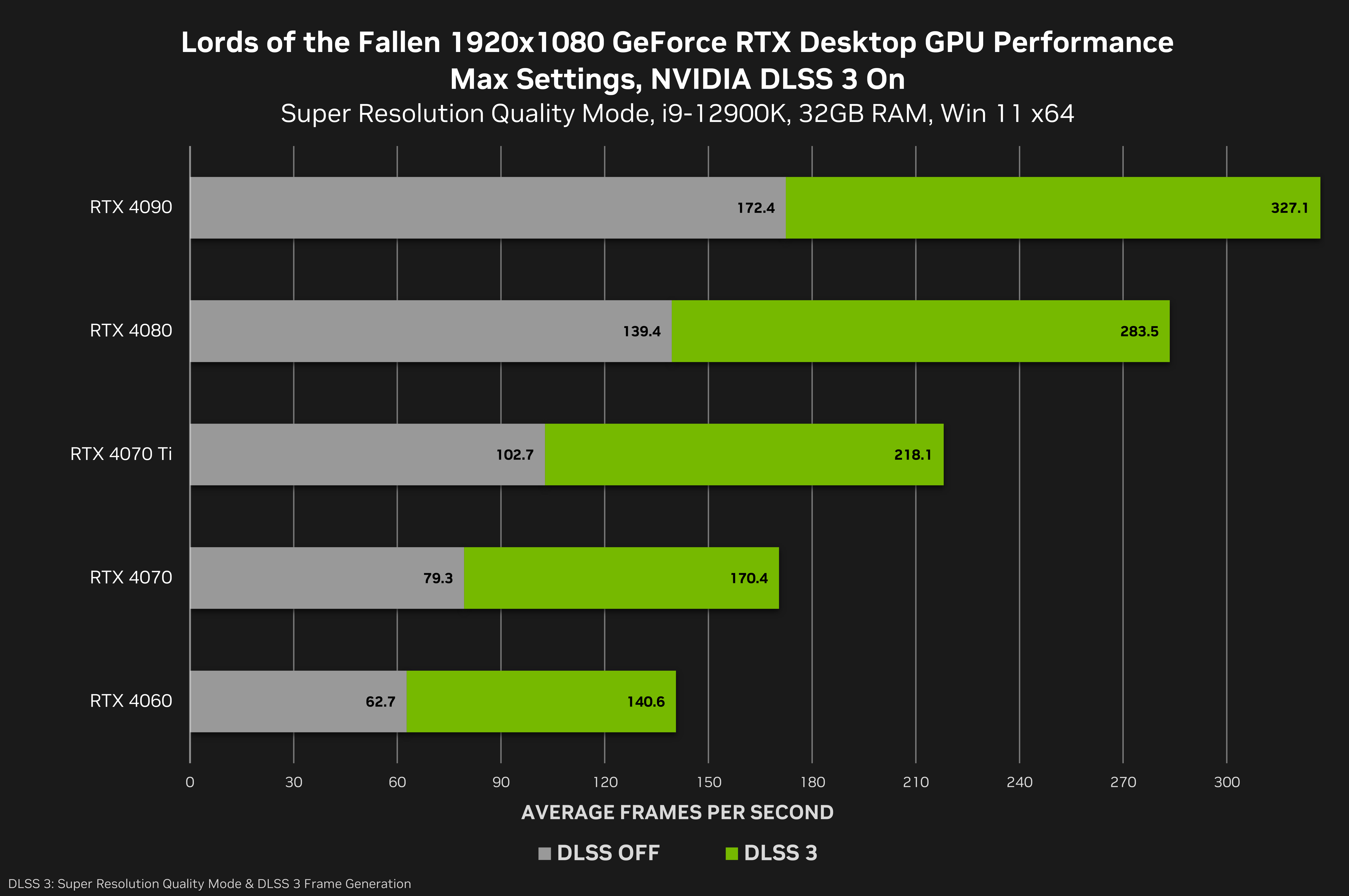 Alan Wake 2 GeForce RTX 40 Series Bundle Available Now
Uncover the source of the supernatural darkness in Remedy Entertainment's Alan Wake 2, with the power of the GeForce RTX 40 Series. Experience two beautiful yet terrifying worlds enhanced with full ray tracing for the highest levels of fidelity, accelerated and enhanced by DLSS 3.5 with Ray Reconstruction. And get the most responsive gameplay possible thanks to NVIDIA Reflex. Solve the deadly mysteries of Alan Wake 2 with RTX On - the definitive way to play.
To celebrate our technical partnership, we're today introducing a new Alan Wake 2 GeForce RTX 40 Series Bundle, available until November 13th. Buyers of eligible GeForce RTX 4070, 4070 Ti, 4080 and 4090 graphics cards and desktop PCs, or a laptop with a GeForce RTX 4090 Laptop GPU, RTX 4080 Laptop GPU, or RTX 4070 Laptop GPU from select retailers and etailers will receive a digital copy of the game*, to play when released on October 27th.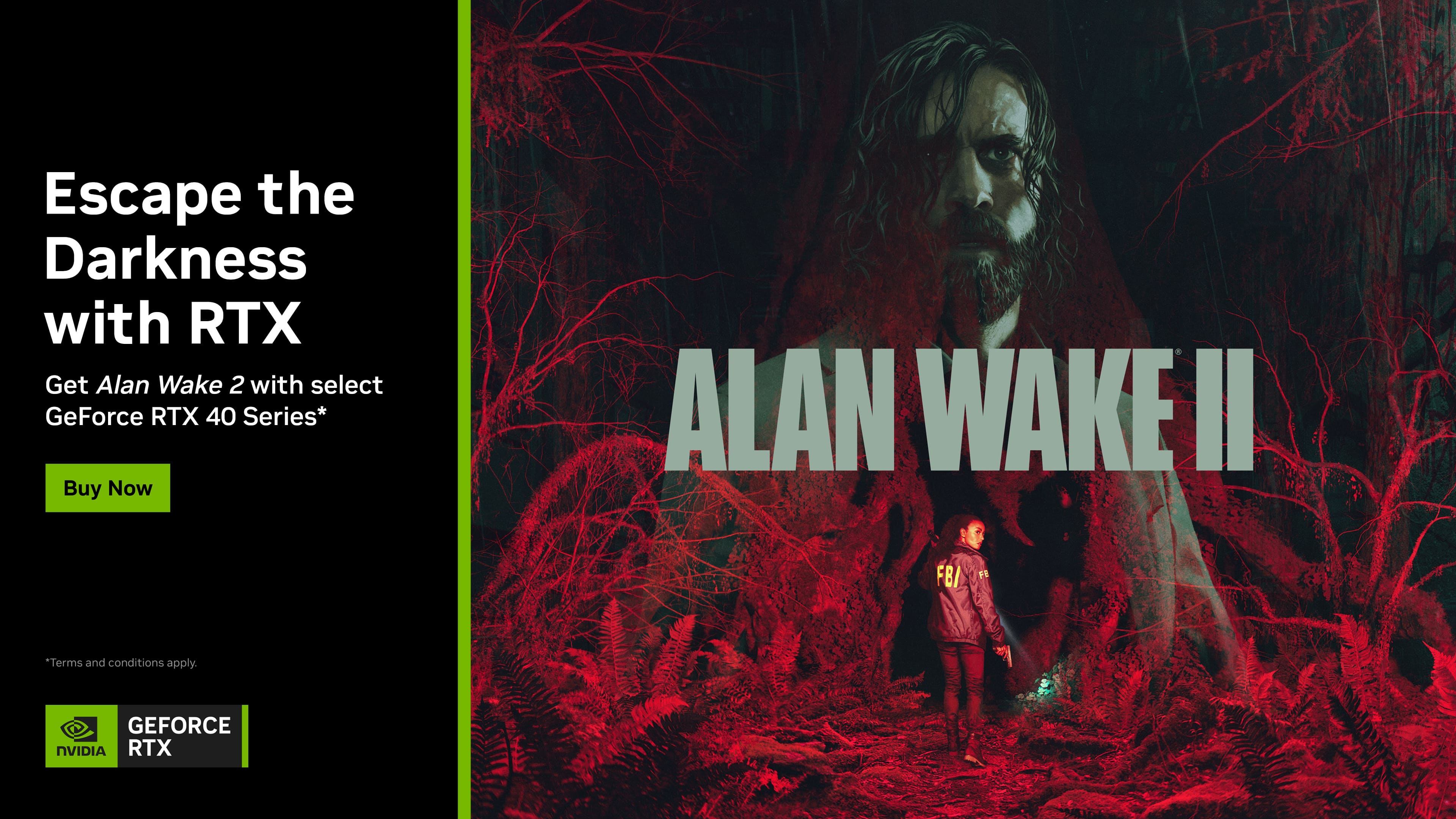 Diablo IV Season Two Begins October 17th
October 17th is a big day for the DLSS 3-enhanced Diablo IV! At 10am PT, the Season of Blood, Diablo IV's second season begins. Unlock and equip 22 vampiric abilities on any class or character, go on a new Season Journey, battle through new quests and season events, and tackle challenging Uber Endgame bosses that drop Unique items and Cosmetics that can be found nowhere else.
At the same time, update 1.2.0 goes live, featuring sweeping changes to Resistances, new Unique items, enhanced mount mechanics, balance changes, and so much more.
And finally, October 17th sees the launch of Diablo IV on Steam with full cross-play and cross-progression so you can play with your friends on any platform and you can continue your journey wherever you play cross-platform and store play. Gamers playing Diablo IV via Steam will have access to Steam achievements, their Steam friends list, and the option to invite those friends to play in-game.
Since launch, Diablo IV has included support for DLSS 3, helping GeForce RTX 40 Series gamers multiply performance at 4K by an average of 2.5X, enabling high frame rate gameplay for all: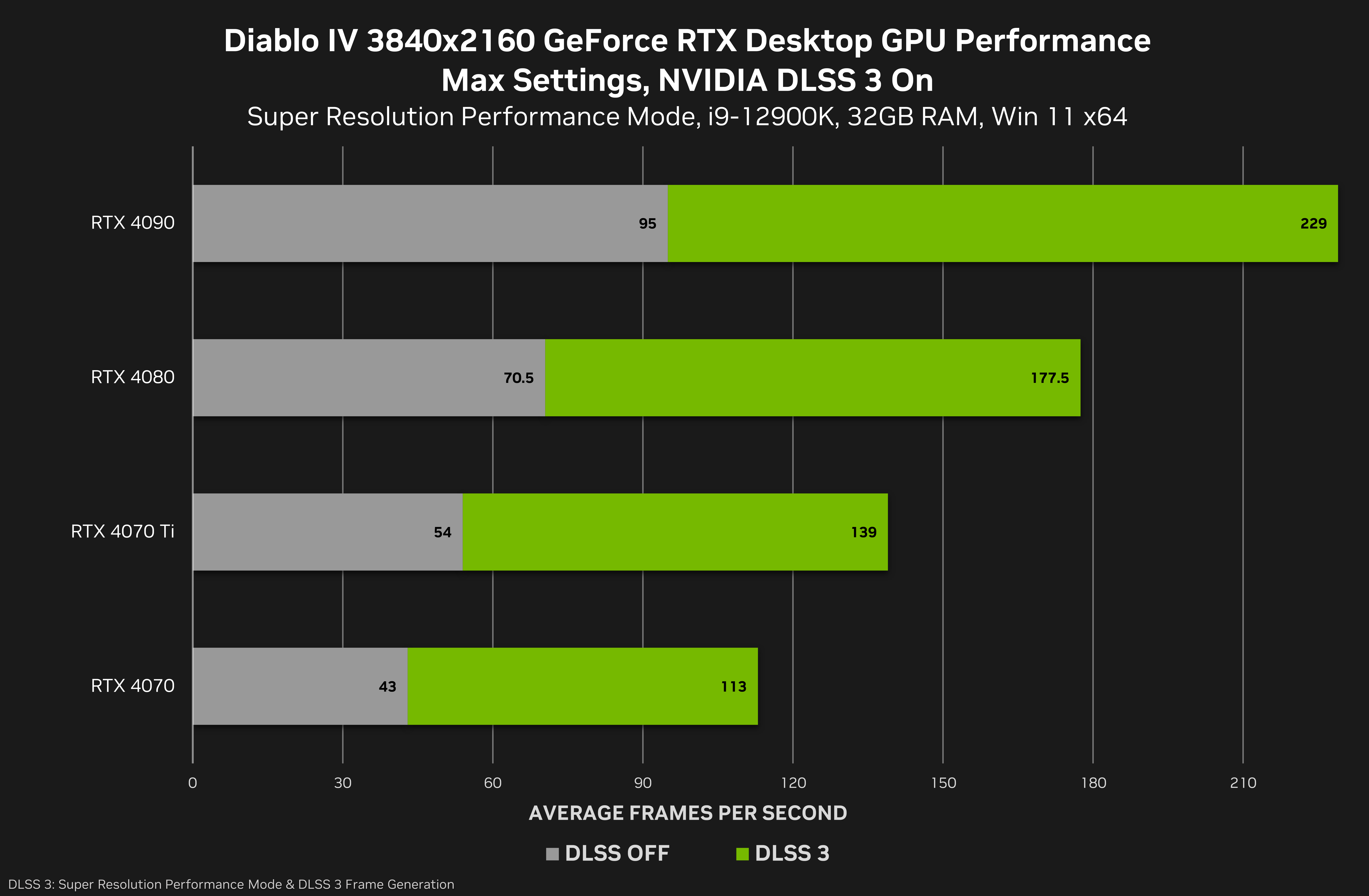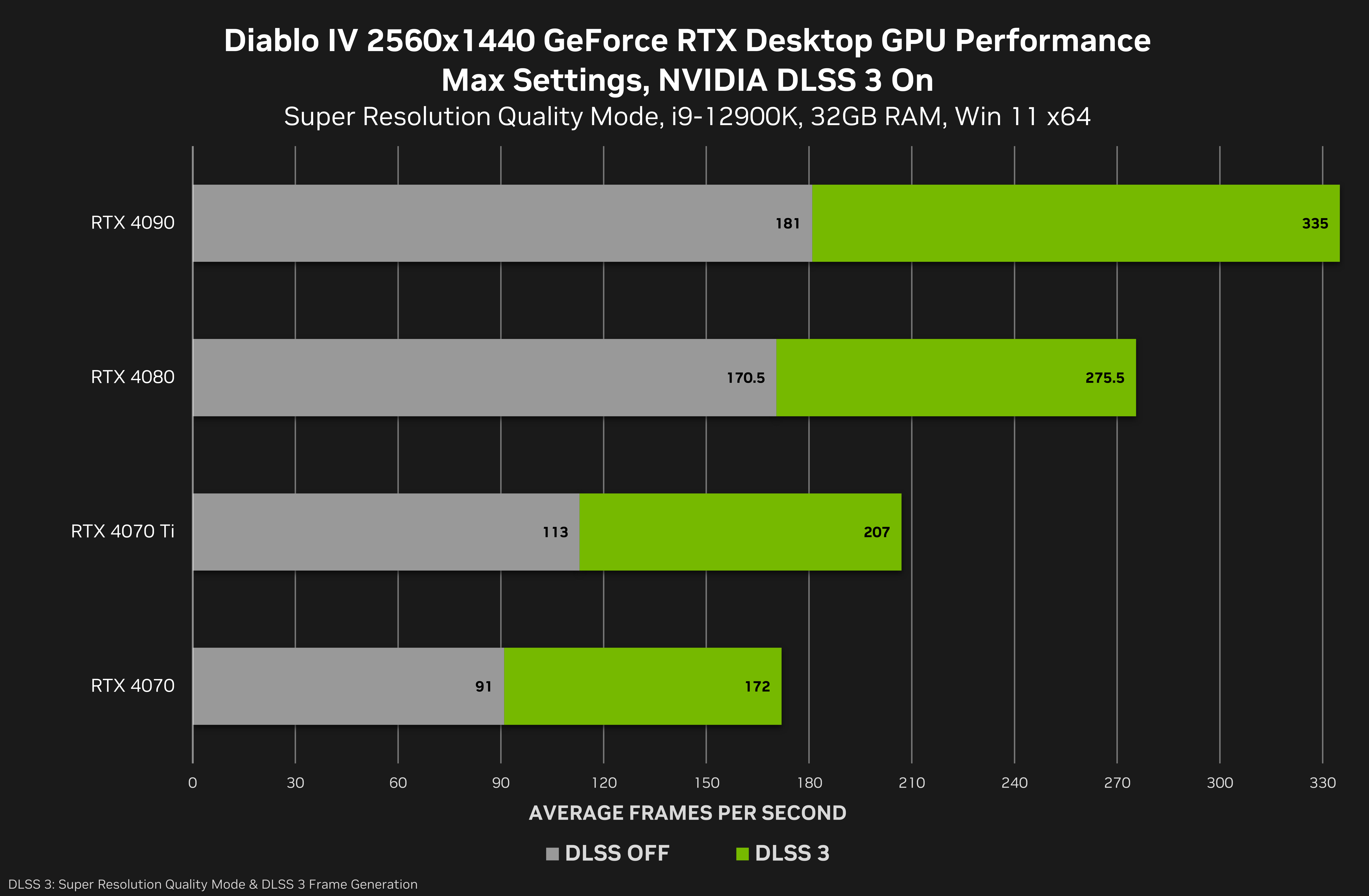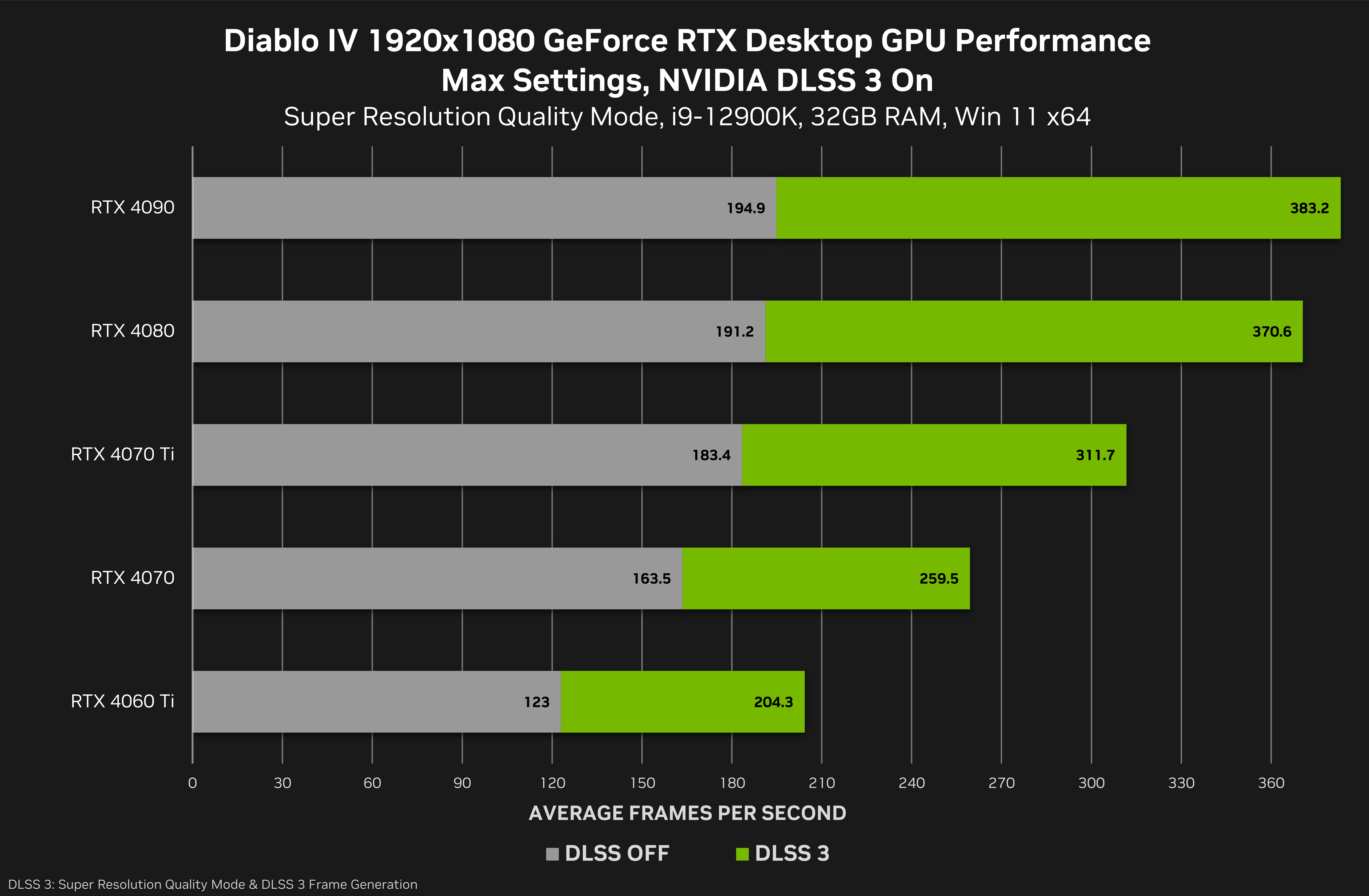 On GeForce RTX 40 Series laptops, DLSS 3 improves performance by an average of 1.8X at 2560x1440, enabling all laptop GPUs to play Diablo IV at over 80 FPS with max settings enabled. At 1080p, DLSS 3 helps all laptop GPUs to run at over 120 FPS, with the power house GeForce RTX 4090 Laptop GPU topping 280 FPS.
With such fast frame rates on many GPUs, you may want to supercharge image quality with NVIDIA DLAA, an AI-based anti-aliasing mode that utilizes the same technology developed for DLSS. DLAA uses a native resolution image to maximize image quality, rather than boosting performance, though in Diablo IV, DLAA can be combined with DLSS Frame Generation for the highest possible image quality, and excellent performance.
If you don't own a GeForce RTX 40 Series GPU you can still enhance your Diablo IV gameplay with DLSS 2 Super Resolution or DLAA.
Learn more about Diablo IV Season of Blood on the official Diablo IV website.
RoboCop: Rogue City Demo Available Now With DLSS 3 & DLAA
The city of Detroit has been hit by a series of crimes, and a new enemy is threatening the public order. Embody RoboCop in an all-new investigation that leads you right into the heart of a shadowy project that takes place between the RoboCop 2 and 3 movies. Explore iconic locations and meet familiar faces from the world of RoboCop, with voice work by Peter Weller, the original RoboCop who's returned to duty in RoboCop: Rogue City, launching November 2nd.
Ahead of RoboCop: Rogue City's release, developer Teyon has released a massive multi-level demo, letting you experience the opening sections of their first-person shooter. GeForce RTX 40 Series gamers can multiply performance with DLSS 3 Frame Generation, while all other RTX gamers can leverage the AI-powered DLSS 2, and players with performance to spare can max out image quality with DLAA.
Call of Duty: Modern Warfare III PC Multiplayer Open Beta Early Access Available October 12th With DLSS Super Resolution & Reflex
Ahead of Call of Duty®: Modern Warfare® III's launch on November 10th, PC gamers can participate in the multiplayer beta, enhanced with DLSS 2 Super Resolution and NVIDIA Reflex. If you've pre-purchased Call of Duty: Modern Warfare III, you can begin playing October 12th, and from October 14th everyone can download and play until October 16th.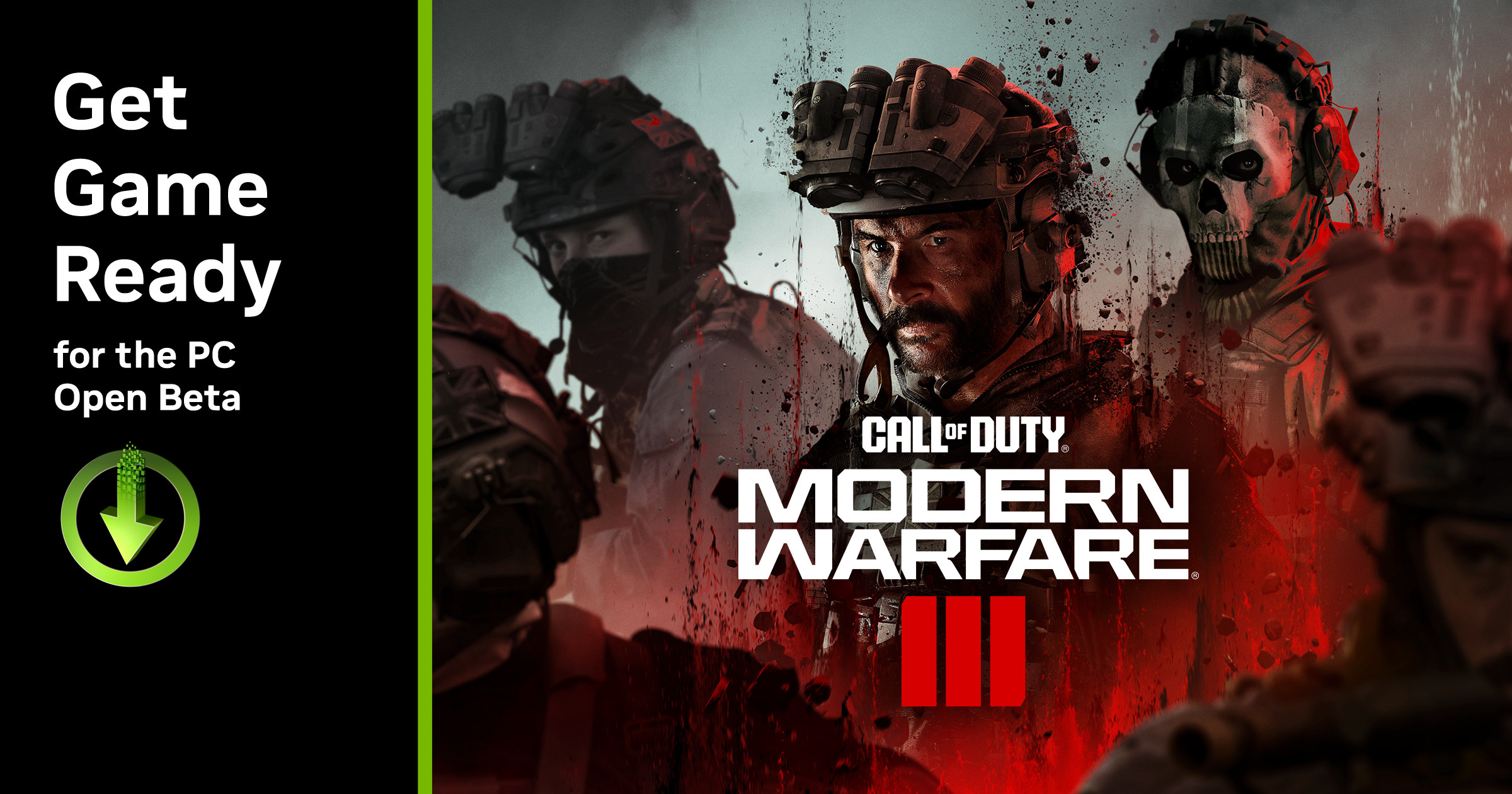 The beta is cross play-enabled, and features a selection of Core Multiplayer maps from the 16 iconic launch maps of 2009's Call of Duty: Modern Warfare 2 that are being brought over and modernized for Call of Duty: Modern Warfare III. And if that wasn't enough, you can also play Ground War to experience new maps, features and vehicles that will be introduced this year.
In the campaign, launching November 2nd for players who have pre-purchased Call of Duty: Modern Warfare III, and in the full game launching November 10th, GeForce RTX 40 Series gamers can also activate DLSS 3 Frame Generation for even faster frame rates. Learn more in our Call of Duty: Modern Warfare III tech article.
For the definitive PC experience at each stage of the game's release, download and install the latest Game Ready Driver.
Highrise City Available Now With DLSS 2
Fourexo Entertainment's Highrise City offers a new spin on city simulations and tycoon games by expanding on aspects of economy and resource management. Experience a modern take on the genre, enriched with a complex resource-based economy system. Highrise City combines City Building and traditional Economy & Resource Management Simulations in interesting ways, offering you challenging gameplay, and all the tools you need to create a living, breathing city - with the right choices, you can make it grow and flourish into a giant metropolis!
Highrise City recently exited Early Access with support for DLSS 2, ensuring GeForce RTX gamers have the highest possible frame rates when cranking settings and rendering resolutions to the max. If you're interested in the game, download the DLSS-enhanced demo from Steam.
Check Back Next Week For Even More RTX Games
Each week there are even more DLSS integrations arriving for an array of games. Check back next week for a rundown of the next DLSS and RTX games, and head here to see the complete list of several hundred DLSS-enhanced games and apps.
*While supplies last. Bundle applies for qualifying GeForce RTX 4090, GeForce RTX 4080, GeForce RTX 4070 Ti, GeForce RTX 4070 desktop or graphics card or laptop with a GeForce RTX 4090 Laptop GPU, GeForce RTX 4080 Laptop GPU, or GeForce RTX 4070 Laptop GPU. Please see Terms & Conditions for a full list of qualifying partner products. Games must be redeemed via GeForce Experience™ application on a qualifying graphics card, desktop or laptop. Customers must meet the age requirement for the game to redeem. Regional/Country Requirements: Some coupons require that they be redeemed in specific regions or countries. Please redeem the code in the appropriate region/country.
Alan Wake 2 is developed by Remedy Entertainment Plc and published by Epic Games Inc. Copyright © Remedy Entertainment Plc 2023. "Alan Wake" is a trademark of Remedy Entertainment Plc, registered in the United States and other countries. All rights reserved.